Haunt O' Ween Is the Perfect Blend of Spooky and Entertaining for All Ages
10/13/22
- By
Amanda Schutt
If you want something where everyone in the family, from your tiniest toddler to your most sullen teen will have a Halloween blast, look no further than Haunt O'Ween! Grab the fam, hop in the car, and head to the hills, Woodland Hills to be exact. Ghosts, ghouls, and more Halloween oddities await you at this immersive family-friendly experience, along with candy, face painting, and other eerie-sistible family-friendly experiences. From green screen witchy fun to bouncy house boos, Haunt O' Ween has skele-fun for everyone. Pardon the puns, but I'm pretty punchy and feeling pleased with finding Halloween entertainment that my whole family adored. Read on to get the scoop on this fabulous haunt.
For more Halloween fun for kids of all ages—from the best not-so-scary Halloween events for preschoolers to super scary Halloween houses for big kids—check out our Halloween Fun and Activities Guide for Los Angeles Kids.

First face painting! Kids can get their faces painted to match costumes or just be their costumes!
Tucked behind the Westfield Topanga Mall, Haunt O' Ween is an ode to Halloween fun. My tweens and my toddler alike had a howlingly good time as we meandered through 200,000sq ft of immersive fa-boo-lous fun. Odd and spooky elements that appeal to the fun spirit of Halloween are what you'll find here; there are no tricks or terrors. Nothing made my toddler cry or scared him, yet my big kids still had a great time, which is a feat in and of itself! Haunt O' Ween truly delivers on the promise of fun for the whole family.
Creeping It Real: Is this Truly an All-Ages Event?
I'm never quite sure what to expect with all of the emerging "experiential events" that keep popping up. It seems like many are all bucks, no bang. But, in my house, we go hard at Halloween, so I'm up for trying anything for kids that plays up Halloween fun, but doesn't give them nightmares for weeks afterward. Haunt O' Ween began as a drive-through event, so I was curious about what the walk-through engagement would look like. Turns out, it's something pretty special (and it's not limited to this coast, as a similar experience is available to your New Jersey friends and family.)
RELATED: Amazing Free Haunted Houses and Halloween Displays in Los Angeles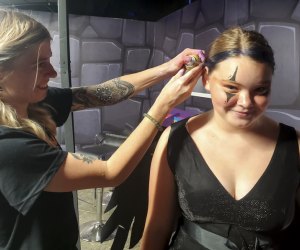 There's even an area for painting your hair to add some spooky flare.
A Wicked Awesome Experience
Your little goblins and teen terrors will skip along Haunt O' Weens' winding path that takes you through various scenes of Halloween spookiness. Here's what you'll find plenty of: Jack-o'-lanterns at every turn, candy, and even an area for painting your hair to add some spooky flare. What you won't find: jump scares and creepiness. Whew. The pathways are wide enough for strollers to easily through and the layout feels spacious—but not so large that I minded my tweens walking ahead a bit while I lagged behind with a meandering toddler.
After photos in the foggy graveyard found right at the entrance, we encountered a country barn decked in its harvest best. We snooped through the barn, then moved onto a cityscape with an old-timey cop car driven by skeletons, a face painting station, a taco cart, and more. Next came what I called "Disco Dome", which is a geodesic dome with a skeleton spinning records with floor space to boo-gie down as a family, while a brightly clad circus performer spins a baton, and a dancer on roller skates flutters by. We continued on to other sections of the Haunt O' Ween experience where every interactive area leads to yet another elaborately staged space to walk, dance, paint, or trick-or-treat through.
RELATED: Free Halloween Events in Los Angeles for Kids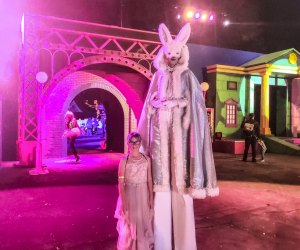 Live performers are in most of the areas that you walk through.
It's Aliiiiiiive!
One unique aspect of Haunt O'Ween that my whole family enjoyed is that there are live performers in most of the areas that you walk through. As you approach the old barn that is staged with harvest props, there is a live scarecrow there who is grinning from ear to ear, dancing, and welcoming you. When you enter the next space, you are greeted by elaborately costumed stilts walkers waving at you as they waver above. Throughout the experience there are baton twirlers, roller skaters, and greeters who beckon you to immerse yourself into whichever imaginary world they inhabit. There are no zombies chasing you and no ax murderers jumping out from dark corners; the experience is populated with a non-terrifying cast of characters who waffle between fun and mildly spooky.
RELATED: Nights of the Jack Is a Bootiful Halloween Adventure for Kids of All Ages

A carousel, photo ops, carnival games, a giant slide, food trucks, and more!
At one point, towards the end, there was a "neighborhood," or a facade of colorful houses where kids can trick or treat from house to house, collecting candy. This was a favorite with my kids for obvious reasons! After the trick-or-treating, you move to the "carnival" area where there is a bouncy house for younger kids, a carousel, colorful podiums to pose on, carnival games (some of these cost money), a giant slide, food trucks, a large eating area, and more. I should mention that while there are several spots throughout the experience to indulge in libations and a few packaged snacks (chips or cookies), not until the very end of the experience is a family able to dine at the food trucks. There is only one other location to get actual food that most parents would consider sufficient for dinner—the taco cart towards the beginning of the experience that I mentioned above. If you get here and your kids are hungry, be sure to eat at the taco cart, or know that real food isn't available until the end of your visit.
Time for Skele-fun for Everyone
I was surprised by how much time we spent at Haunt O'Ween; there were a ton of engaging things to do throughout, which made for a more packed evening than anticipated. Leave more time for this outing than you think you need!
RELATED: Haunted Houses, Horror Nights, and Scary Farms for Los Angeles Teens

Flying on brooms in the greenscreen area is one of the most fun spots for kids.
My tweens had a blast in each space—they especially loved the trick-or-treating, acting like they were flying on brooms in the greenscreen area, and the giant slide. My toddler loved getting his face painted, the carousel, and the baby-sized ball pits.
Like I said, we stayed longer than I thought we would; my family stayed until closing time at 10pm! On the way home, everyone talked about how much fun they had. Haunt O' Ween appeals to the child in all of us and is a playground of Halloween indulgence even for adults!
Meet, Drink, and Be Scary
Parking is plentiful and free at Haunt O' Ween, which is something I always appreciate. It would be a great outing for a group of teens or even a birthday party or scout outing. Upon entering, kids receive a small plastic pumpkin pail for trick or treating, and adults (21+) get a bracelet for access to the beer garden (hosted by Happy Dad Hard Seltzer) and to allow the purchase of adult beverages at the concession stands.

The photo ops never stop!
The photo ops never stop, which is awesome for your Instagram accounts! However, because it's an evening event, lighting can get tricky, so if your camera isn't capturing the fun, tuck it away and live in the moment with your little ghouls.
Costumes are welcome, and the family-friendly vibe seems to be reflected in most costume choices. Coming in civilian clothes is just fine too.
Tips and Trick-or-Treats For a Frightfully Good Time
-It's impossible to start at the end here, and the end is where almost all of the food is! Eat first if your kids are hungry. If you don't have the opportunity to eat first, know that there is a taco cart towards the front of the attraction and another snack stand mid-way through, but if you don't want a hangry meltdown, feed the family first!
-There will be candy handed out. If your child has an allergy to nuts or milk chocolate, best to avoid this section— and prepare the kiddos for this ahead of time.
-The last entrance is an hour before closing. If you're an adult who just wants to take in a little Halloween fun, cool. If you're coming with kids, an hour is not nearly enough time for them to engage in all the activities. Plan for at least 2 hours. We took 2.5 hours and didn't do everything, but certainly did enough to make it a full night. We did not eat during this time at all; if you plan to eat at the end, prepare for the food truck lines and factor in more time for dining.

What you won't find: jump scares and creepiness. Whew.
The Boooooo-ring But Necessary Details:
Haunt O' Ween is a fully immersive spooktacular event taking place September 30 - October 31, 2022 at 6100 Topanga Canyon Blvd. in Woodland Hills. Tickets are available online and start at $36. Kids under 2 are free.
All photos by the author
Places featured in this article:
Sign up for the Mommy Poppins Newsletter today!