34 Amazing Free Haunted Houses and Halloween Displays in Los Angeles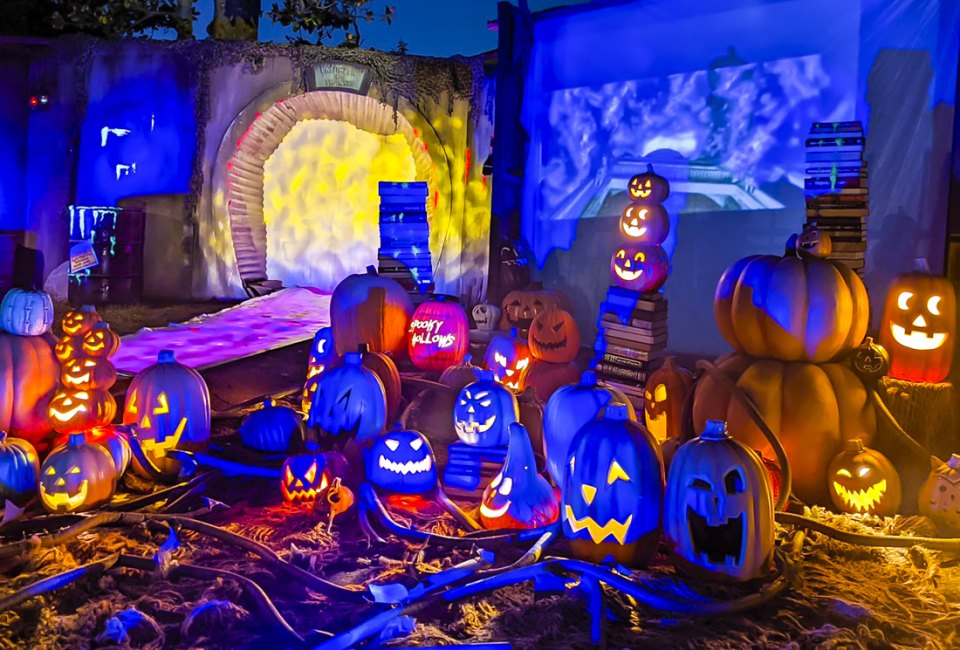 10/7/22
- By
Roberta B
For getting in the Halloween mood, nothing beats checking out the skeletons our neighbors have dragged out of the closets at these amazing (and free) haunted houses and incredible Halloween yard displays. One of the perks of living in the film capital of the world is that the people who make movies bring that same love of spectacle entertainment to their front yards. Some homes go all out with spooky, creepy, and cool Halloween decorations, while others create private haunted houses that rival the spectacles at big theme parks. And frankly, for showing our kids that Halloween is all about creepy creativity, I would genuinely take a visit to any of these incredible spots over a trip to Disneyland. There, I said it!
Immerse yourself in the spooky season by visiting one of these free house haunts or wandering through a street full of movie-ready Halloween decorations. For more Halloween fun, from the best Halloween events in Los Angeles to Halloween trains near LA, check our Los Angeles Halloween Events and Activities Guide.
Subscribe to our free weekly newsletter to keep up with all of the Halloween fun coming up this season!
It's difficult to ascribe appropriate ages to many of these haunts and displays. Some young kids love the atmospheric chills, some big kids can't stand them. The beauty of these free haunted homes and displays is that for the most part, you can view from a distance, and edge closer if your kids aren't scared. We've noted when the creators of these haunts have specifically said that these are intended for older kids, but you know your kids best! These haunts range from adorable lit-up lawns to haunted house walkthroughs with jump scares. It may help give you a sense of the level of terror by checking out Instagram or Facebook pages, which we've linked to where available.
Free Haunted Houses and Amazing Halloween Decorations in the Valleys
1. The Haunted Storage Yard at Burbank Self-Storage — 3203 N. San Fernando Blvd., Burbank
October 1-31, 2022 7pm - 9pm Sundays through Thursdays, 7pm - 10pm Fridays and Saturdays, and on Halloween from 6pm - 11pm
You won't find a peep about this Halloween display on the website, but locals know that Burbank Self-Storage puts on a free haunted house in its warehouse annually. This walking tour takes guests of all ages inside the warehouse to see terrifying displays. There's candy for trick-or-treaters on Halloween.
2. Beachwood Haunt — 702 N Beachwood Dr., Burbank
Check Instagram for the 2022 dates and latest information
Enter the old barn if you dare, but make sure that you avoid the crows at this fun and spooky walk-through.
RELATED: The Best Halloween Events in Los Angeles for Kids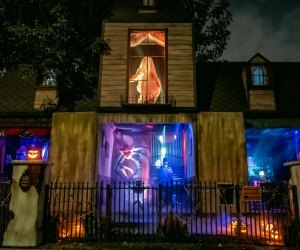 Each year at Rotten Apple there's a different theme. Photo courtesy of the Rotten Apple 907
October 22, 23, 29, 30, & 31 from 7pm - 9 pm
The family who lives at #907 takes the holiday very seriously and has for decades. Preparations for this private haunt begin months in advance, with a different theme every year to entertain their neighbors and lure other people's neighbors. Admission is free, but donations are collected for VBAS (Volunteers of Burbank Animal Shelter). 2022's theme is SSSSSSSSS (it's a snake theme!).
Shows are October 21 - 23 and 28 - 31
Rumor has it that a group of devoted followers has set up a camp near the Sepulveda Basin to await the awakening of Mr. Sticky. The Cult of Mr. Sticky is a show/display that visitors can watch for free from the sidewalk. Shows last 15 minutes and run from 7pm - 10pm with five-minute breaks in between performances. This free display and show (not a walkthrough!) takes place in front of a private residence, so please be respectful of the neighborhood and neighbors. There is plenty of parking on Odessa, next to the golf course.
Open for viewing evenings in October 2022
This year, The Hatteras Halloween House is prepared for an extraterrestrial alien invasion—and these little green men do not come in peace. Get ready for another season of thrills and spooks at this fantastic yard display in Van Nuys. While viewing is free, the team has set up a Go Fund Me page to raise money for next season. Beware, there are some spooky surprises and pop-outs in this yard.
RELATED: Incredible Free Halloween Events in Los Angeles for Kids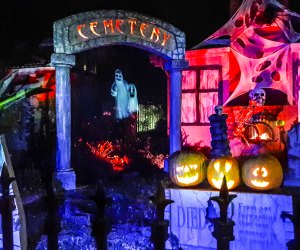 The special effects at Haunted Groundz will knock your socks off. Photo courtesy of Haunted Groundz
6. Haunted Groundz — 13243 Mission Tierra Way, Granada Hills
Check the Facebook page for 2022 updates
These guys take their spooking and special effects seriously, making for a home haunt worth a drive from any neighborhood. Expect animatronics, top-notch design, and plenty of surprises.
7. 999 Happy Haunts — 3552 Prospect Ave., Glendale
October 8 - 31, 2022 from 7 - 10pm
There are 999 happy haunts in The Haunted Mansion at Disneyland, but you can see 999 happy haunts for free at this creatively decorated house in Glendale. Come see the singing pumpkins, plenty of ghouls, and so much more at this fun yard display.
8. Nightmare Before Christmas House — Parkmore Rd. near Lupin Elementary School, Calabasas
This house has been decking the yard and home for over 15 years with handmade Night Before Christmas characters. All your favorites are here: Jack Skellington, Sally, Oogie Boogie, Zero, and more. The decorations are amazing, original, and delightful and perhaps best of all, this house is not at all scary and fun for even tiny toddlers.
Scare Nights: October 8,15, 22, 20, and 31. Non-scare nights: October 7,14,21, and 28, 2022 from 7pm - 10pm.
This cemetery is sure to scare even the most hearty of Halloween goers. But if you have a little one who's not so sure about braving this haunt, Fridays are non-scare nights and are kid-friendly. On Fridays, there are no "live" haunted creatures and guests are welcome to check out the decorations without worrying about ghouls jumping out.
10. Five Point Haunt — 26949 Winding Trail Ct., Valencia
October 1-31, 2022
Formerly known as the "Stoney Point Haunt," this terrifying cemetery is sure to give you the spooks. There is a creepy clown merry-go-round, a haunted graveyard, demon-possessed dolls, and more.
11. Witch City — 25420 Via Jardin, Santa Clarita
October 1-31, 2022 from 7pm - 12am
A coven of evil witches is seeking to satisfy their spells and may even attempt to cast a hex on passersby at this elaborate yard display.
RELATED: The Best Safe-and-Spooky Trick-or-Treat Neighborhoods in Los Angeles

The thrills here are tropical! Also, this one is scary and just for the big kids. Photo courtesy of Haunted Tiki Island
12. Haunted Tiki Island — 20205 Soladera Way, Santa Clarita
October 29-31, 2022 from 7pm - 10pm
Insane Haunt Productions puts on a creative, spooky home haunted house every year. This year, the theme is haunted tiki island, with terrifying, tropical thrills inside. It's on the scary side and is recommended for ages 13 & up.
This haunt usually pops up in the middle of October
This yard haunt has an eerie abandoned cemetery feel with old shacks and tombstones. And, of course, lots of jack-o'-lanterns. Because this is a home haunt, and isn't on any haunt lists, you do run the risk of it being a quiet evening. But there's almost always something spectacular to see here, including lots of singing jack-o'-lanterns!
October 8 - November 7, 2022, 7pm - 10pm (open until 11pm on weekends)
Three animated ghouls perform a song and dance outside the home in North Hollywood. The show repeats every five minutes during operating hours. Check Instagram for updates.
RELATED: Best Pumpkin Patches near Los Angeles For Picking the Perfect Pumpkin

The Wexler House in Toluca Lake goes all out every year! Photo by Daniel Deitch
15. Toluca Lake — South of Riverside Drive and north of the golf course
As the turrets of Hogwarts silhouette against the evening sky, Toluca Lake is a fantastic place to amble and take in the amazing decorations. The neighborhood that is South of Riverside, and between the lake and Ledge Ave. is a great place to stroll and see the sights. The old Bob Hope estate on Moorpark was Halloween central for decades (parents who grew up locally tell stories of getting full-sized candy from the Hopes), and now that street is a perfect place to begin your sightseeing adventure.
16. Burbank — California Street, N. Clybourn Ave., and N. Valley Street are all good starting points
Burbank just might be Halloween central in Los Angeles. With so many studios located here, this has long been the home of the people who make the magic happen behind the cameras. And during the Halloween season, they tend to bring that magic home and set it up on their lawns. Cruise around in your car, and when you see a great neighborhood, park and explore on foot.
17. Pasadena — Hudson Ave. and Claremont St.
Pasadena charm meets spooky celebration in this residential neighborhood in Pasadena that goes all for Halloween.
RELATED: Nights of the Jack Is a Bootiful Halloween Adventure for Kids of All Ages

The Witch's House was built in the 1920s as a movie set and needs no decorations. Photo by Ricardo Herrera
Free Haunted Houses and Amazing Halloween Decorations Westside and Mid-City
18. The Witch's House (Spadena House) — Walden Dr. and Carmelita Ave., Beverly Hills
It's not that this house is decorated for Halloween—the house itself is kind of a Halloween decoration! The house was built in the 1920s as a movie set, for films that include Hansel and Gretel. So this truly was built to look like a dilapidated Witch House. It's Halloween and Los Angeles history rolled into one, and it's a great place to see something naturally spooky.
Locals only night is October 30, 2022; open to the public October 31, 2022 from 7pm - 10pm. Kid-friendly on Halloween before 7pm
Come join the party on Halloween night; see the sights and trick-or-treat, too! Stop by with younger kids before 7pm on Halloween, as the night event may be too scary for those under 10.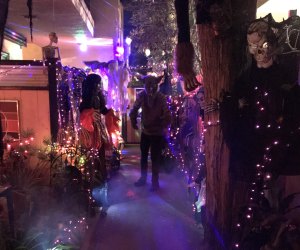 The walk gets spookier as the sun sets at the 10th Street Spooky Walk. Photo by Roberta Brown
20. 10th Street Spooky Walk — 942 10th Street, Santa Monica
October 28-31, 2022 6pm-9:30pm
This neighborly haunt has been entertaining local families for 20 years, with a spooky path through a haunted garden maze and plenty to look at for Halloween enthusiasts of all ages. Timid visitors are welcome by daylight, but the walk is definitely spookier on Friday and Saturday nights and on Halloween.
21. Poison Oak Street Haunted House — 1349 Oak Street, Santa Monica
October 30-31, 2022, 6pm-11pm
This Sunset Park haunt has been eliciting screams for more than 25 years, with professional quality animatronics and jump scares galore. The home owner builds all of the props himself (and does a sideline selling haunted props as well), and good-spirited neighbors allow his monsters to spill over into their yards for the occasion, making for a memorable screamfest. Not for the faint of heart!
RELATED: Haunted Houses, Horror Nights, Scary Farms, and More for Los Angeles Teens Who Like a Good Scare

The Holiday House is a treat for little kids with loads of atmosphere, but no scares. Photo courtesy of the Holiday House
22. The Holiday House — McLaughlin Ave. & Charnock Road, Mar Vista
This house goes all out with inflatables, decorations, and even music playing. Light displays and musical shows started on September 20, 2022 and runs through Halloween at 7pm, 8pm, and 9pm.
Free Haunted Houses and Amazing Halloween Decorations in South LA and the South Bay
23. The Haunted Dome — *New location this year* 8330 Flallon Ave. Whittier
October 29 - 31, 2022 from 6:30pm - 10pm
This free home haunt and maze were new to the scene in 2019, with live actors and special effects. Themes follow scary movies like Friday the 13th and The Exorcist, so best not to bring young kids under the age of 7 or 8. Clues on the Haunted Dome Instagram hint that the theme this year will be "pirates."
The lights are on Thursday - Sunday in October (and on Halloween) for 2022
The fog seeps onto the street from this spook yard display in Alhambra. Approach if you dare, there are monsters afoot!
Check Instagram for the 2022 dates and times
Far and away the coolest spot in Torrance for trick-or-treating, the draw at this house is actually not the candy. The maze and special effects are planned for ages 6 and up—higher on the scare and surprise scale, lower on the gore scale. The haunt is free, but donations are taken for the Cancer Support Community, South Bay via a collection box or Venmo.
26. Casa de los Muertos — 2172 Eucalyptus Ave., Long Beach
The Day of the Dead reigns over this spooky house in Long Beach with plenty of skeletons, music, and a cemetery. The house is lit up and on display from mid-September through October 31st, 2022.
October 1-31, 2022 from 6pm - 9pm
A host of spooky souls are ready to scare at this home/yard display in Los Alamitos. There is a 13 and over scare area on the property for extra-brave visitors.
Fall into Tim Burton's world at this fun and whimsical display in Manhattan Beach. The lights typically turn on in mid-October, check the Facebook page for updates.
29. Hocus Pocus House — Off Aviation and Artesia Blvds., Manhattan Beach
This one came to us from a reader, who recommended her own Halloween house, which is decorated in an homage to Hocus Pocus this year. So cool!

Scare House on Quill puts on an elaborate display with a changing theme. Photo courtesy of socalhauntlist.com
October 5-31, 2022, Sunday through Thursday from 7pm - 10pm, Friday and Saturday from 7pm - 12am
If you are a fan of Stranger Things, you'll want to stop by this elaborate yard display in Downey based on the popular Netflix show.
31. Torrance — Seaside Ranchos Neighborhood
While this neighborhood is known for the elaborately decorated homes at Christmastime, don't sleep on the haunted Halloween decorations. Basically, this is a spot where people adore their decor. And we are just thrilled to appreciate their labors.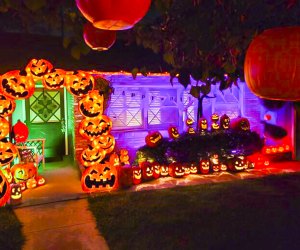 Ghostly Gourds of Glenhaven is sweet, not scary, and perfect for little ghouls. Photo courtesy of socalhauntlist.com
Free Haunted Houses and Amazing Halloween Decorations Worth a Drive
An enchanting display of ghostly gourds and ghouls awaits visitors at this residence in Riverside. The whimsical setup has been lighting up Glenhaven Avenue since mid-September and will continue to do so until November 1, 2022.
33. Haunted Reed Manor — 8073 Calendula Dr., Buena Park
October 1-31, 2022 from 7pm to 10pm
Larger-than-life animatronic skeletons, ghouls, and jack-o-lanterns wait to spook visitors at this home in Buena Park.
Saturdays in October and Sunday, October 30, 2022 from 6pm - 10pm
This haunt may require a little more of a drive, but this family has been producing yard haunts for decades and does it up in style. Bones Gulch was once known as The Dark Realm, but the attraction has moved to an LA County Jail property. Now, there are three different haunted attractions to explore. Please note that children under ten are not encouraged to attend. The new Bones Gulch is $20 per person- there is also a free daytime event on October 30th for younger kids that has all the Halloween spirit without all the spooks.
Originally published September 20, 2011
Sign up for the Mommy Poppins Newsletter today!
i