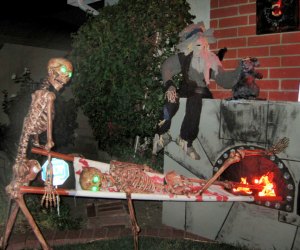 Halloween's Best Home Haunts, Haunted Houses, Yard Displays, Decorations, and Spooky Mazes in LA
If you want to get your Halloween on without being scared by those haunting Halloween theme park prices, there are lots of free Halloween yard haunts across Los Angeles. Our house loves Halloween so much it's super scary. We reconnect with neighbors hanging ghosts in trees, weaving skeletons into the jasmine, and smearing cobwebs in the shrubbery. Our normally zen rock garden becomes a graveyard, with last year's Halloween costumes for inhabitants. And we feed our macabre creativity by avidly checking out other Halloween addicts' handiwork; we love ghost trains, festivals, pumpkin patches, and a good scream at the Queen Mary—but the real beauty of living in the film capital of the world is that private haunted houses frequently rival the spectacles at the big theme parks. For real. We've collected the scream of the crop below.
Subscribe to our free weekly newsletter to keep up with all of the Halloween fun coming up this season!
Free Home Haunts
The Rotten Apple 907
October 19-20 & 26-27 & 31, 2019
Free
7pm-10pm
907 N. California Street
Burbank, CA 91505
818.841.3140
The family who lives at #907 takes the holiday very seriously and has done for decades. Preparations for this private haunt begin months in advance, with a different theme every year to entertain their neighbors and lure other people's neighbors. Admission is free, but a box is put out to collect for VBAS (Volunteers of Burbank Animal Shelter).
The Spooky Hollows Home Haunt
October 26-27 & 31, November 1-2, 2019
Free
Fri-Sat, dusk to 10pm
16418 Gilmore Street
Van Nuys, CA 91406
This home haunt has a decorated yard and some impressively scary (and punny) scares (though this haunt is family-friendly). The walk-through maze portion is taking a break in 2019, but the decorated lawn is still very worth a visit. Bring a can of food, and it will be donated to a local charity.
Fillmore Graves Jack-o-Lantern Farm
October 25, 26, 30, 31, 2019
Free
6:30-9:30pm nightly
14318 Emelita Street
Sherman Oaks, CA 91401
This yard haunt has an eerie abandoned cemetery feel with old shacks and tombstones. And, of course, lots of jack-o-lanterns.
Forbidden Woods Cemetery
October 30, 31, 2019
Free
5pm-10pm nightly
11238 Califa Street
North Hollywood, CA 91601
Nothing like building the anticipation of fear by calling your yard haunt, the "Forbidden Woods." Forbidden definitely motivates one to explore further. This foggy yard is haunted and follows a path through Halloween ghosts and spooky creatures to a fully decorated garage where more screams await.
The House at Haunted Hill
October 31, November 1 & 2, 2019
Free
4400 Saltillo Street
Woodland Hills, CA 91364
818.884.1917
The Valley classic, scaring the socks off the neighbors since 2000, is back after a year off. This private haunt models itself on the Haunted Mansion at Disneyland. Follow the spooky tale of a Hollywood starlet who mysteriously disappears, amid a cast of scary characters, haunting music, and creepy special effects. The city obligingly shuts down the street to traffic on haunt nights.
The Haunted Dome
October 26 & 31, 2019
Free
6:30pm -10pm
8029 Wisner Avenue
Panorama City, CA 91402
This home haunt and maze are new to the scene in 2019 (so new it has no website yet), promising live actors and multiple scary rooms with special effects. Themes follow scary movies like Friday the 13th and The Exorcist, so best not to bring young kids under the age of 7 or 8.
Haunted Groundz
October 30, 31, 2019
Free
7pm-10pm nightly
13243 Mission Tierra Way
Granada Hills, CA 91344
These guys take their spooking and special effects seriously, making for a home haunt worth a drive from any neighborhood. Expect animatronics, top-notch design, and plenty of surprises.
Beware the Dark Realm
October 12, 18, 19, 25, 26, 2019
Free (donations benefit the local nonprofit SCV Domestic Violence Center)
7pm-10pm
28621 Sugar Pine Way
Santa Clarita, CA 91390
This haunt may require a little more of a drive, but this family has been producing yard haunts for decades and does it up in style. The Dark Realm is based on a medieval castle, with flickering torches, stone walls, a torture chamber, three-dimensional ghosts, live scare actors, and a fire-breathing creature. Please note that children under ten are not encouraged to attend.
Club Fear Twisted Manor
October 25-26, 31, 2019
Free
23501 Clearidge Drive
Valencia, CA 91354
7-10pm
This Valencia family goes all out, preparing a haunted maze with special effects, performers, and more to a different theme every year. The haunt is free, but VIP passes are available ($10 for all nights, $5 for one) with proceeds going to the VHS Baseball program.
Coffinwood Cemetary
October 12, 18, 19, 25, 26, 31, 2019
Free
7pm-10pm nightly
27159 Waterford Drive
Valencia, CA 91354
This cemetery is sure to scare even the most hearty of Halloween goers. But if you have a little one who's not so sure about braving this haunt, the first day is a non-scare preview—meaning there are no "live" haunted creatures and guests are welcome to check out the decorations without worrying about ghouls jumping out.
Murder House Productions
October 16, 18, 19, 20, 25, 26, 30, 31, 2019 (7-10pm)
Free
2240 Ranch View Place
Thousand Oaks, CA 91362
This professional haunt holds auditions for its spooky ghosts. The 2019 them is "Wendingo." For Murder House Productions superfans, there is even event "merch" for sale on the Facebook page.
The Haunted Shack
October 31 & November 1, 2019
Free
5112 Maricopa Street
Torrance, CA 90503
310.371.1136
Doubtless the coolest spot in Torrance for trick-or-treating, the draw at this house is not the candy. The maze and special effects are planned for ages 5 and up—higher on the scare and surprise scale, lower on the gore scale. The haunt is free, but donations are taken for Susan G. Komen for the Cure.
Boot Hill Halloween Yard Haunt
October 11, 12, 14, 18, 19, 20, 25, 26, 27, 2019
Free
7pm-10pm nightly
16 Goldenrod
Irvine, CA 92614
Celebrating 20 years of Halloween haunts, this residence transforms into an old church and cemetery. Donations are accepted and go to Children's Hospital of Orange County. Parking is extremely limited.
The Pirate's Cave
October 26, 27, 31, November 1
Free ($1 suggested donation but not required)
7pm-10pm nightly (no scare 5:45-6:45pm)
2548 E. Garfield Ave
Orange, CA 92867
This haunt in the OC features a long-forgotten Pirate's Cave. If you dare, take a stroll through the graveyard, dodge sea monsters, to see if you can find the pirate treasure.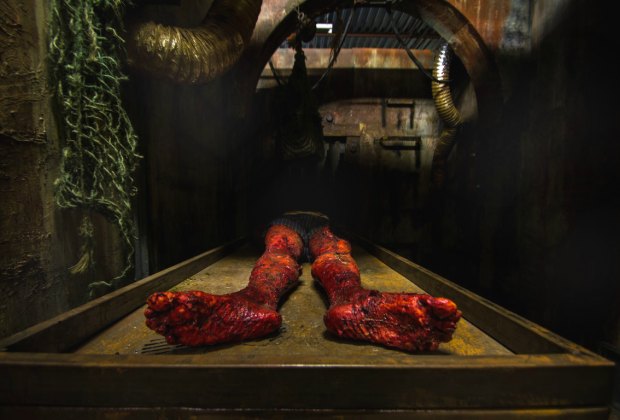 Photo courtesy of Reign of Terror Haunted House
Halloween Haunts that Charge Admission
Haunted Adventure
October 11 12, & 18, 2019
$5
Stough Canyon Park & Nature Center
1335 Lockheed View Dr.
Burbank, CA 91504
Stough Canyon Park and the Starlight Bowl host this haunted event each year, with food trucks and carnival games to round out the evening. The Haunted Adventure is a fifteen-minute walk among the ghouls, suitable for kids over the age of 6. Proceeds benefit the Burbank Park, Recreation & Community Services Department's Nature Program.
Reign of Terror Haunted House
September 28 and October 4-5, 11-13, 18-20, 24-27, and 30-31, & November 2, 2019
Kids' daytime tours October 19 & 26, 2019
Adult/Teen tour $15 & up; Kids Lights On tour $5 (parents free)
7pm-10pm; open until 11pm on Saturdays
197 N. Moorpark Road
Thousand Oaks, CA 91360
A thoroughly terrifying treat for teens and adults by night, the Reign of Terror Haunted House offers two special Lights On Tours for spook-loving tykes on the afternoons of October 21 and 28. Parents are admitted free of charge for the afternoon version, which has no scary actors or dark corners.
Grier Musser Museum Haunted House Tour
October 27, 2019
Adults $12; Children $6
403 South Bonnie Brae Street
Los Angeles, CA 90057
213.413.1814
This one isn't a private home, but it used to be. The Grier Musser gussies up for Halloween with pleasantly spooky tours of the Victorian mansion. This is high on Halloween spirit, low on creeps and gore. The tour isn't free, but refreshments and parking are.
Dearly Departed Haunts:
We keep these listed in case you're assuming that they will be around, as they were in the past. There's little worse than promising a kid a cool haunt and producing an empty lawn...
Boney Island
No longer a free home haunt, watch for it at a new location in 2020.
The skeletons have packed up and moved to Griffith Park, where animated (and bony) host Maestro Maxilla is set to amuse, amaze, but not scare (this is a family-friendly haunt) visitors. Water will dance and leap from cauldron to cauldron as music plays, grinning Jack-o-lanterns will perform, and surprises are likely in store, especially for those who never saw Boney Island's house haunt.
The Backwoods Maze Yard Haunt
Closed for 2019, hoping to return in 2020
Free
1912 North Pepper Street
Burbank, CA 91505
Creepier than your average backyard haunt, this one is set in post-apocalyptic Texas and features every horror movie extra you can imagine. For sure this private spookfest is too intense for the average trick-or-treater, but older kids who are ready for something more wicked than that "smell my feet" rhyme won't be disappointed.
The House of the Restless Spirits
Closed
1008 Euclid Street
Santa Monica. CA 90403
The private haunt was a legend in this Santa Monica neighborhood for decades, telling a spooky tale from days gone by. Alas, those days have now gone by. Thanks for the memories, restless spirits.

Venice Haunted House
Closed
414 Rosa Avenue
Venice, CA 90291
The Eternal Rest Cemetery, aka the Venice Haunted House, threatens to return each year; check the website to see how to help that happen.
Don't forget we have a whole separate page for theme park haunts and Halloween festivals!
Originally published September 20, 2011