Best Places to Trick-or-Treat on Halloween in Los Angeles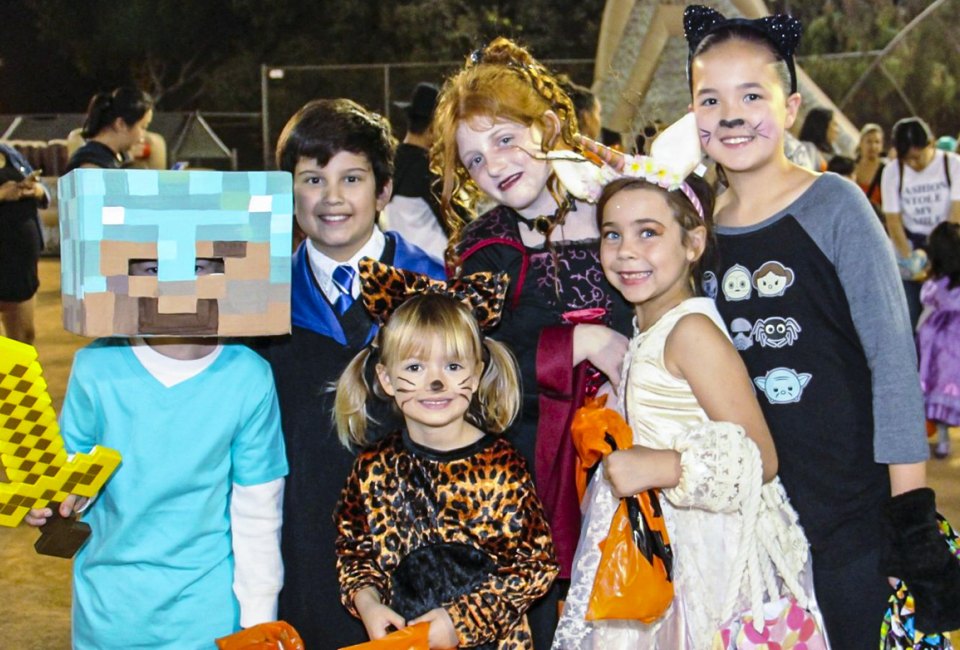 10/27/23
- By
Kylie Williams
The best places to trick-or-treat in Los Angeles just happen to also be the best places to trick-or-treat in the whole country! Granted, we might be a little biased, but here are the facts: the Halloween decorations on local homes are second to none, and many blocks across the city close off streets to traffic to have trick-or-treat parties. And LA movie magic often finds its way onto neighborhood streets in the form of elaborately decorated houses and incredible special effects.
But in a city this big, some neighborhoods go all out on Halloween, and some remain pretty quiet. Where should you go? We've compiled a list of the most legendary trick-or-treat neighborhoods in Los Angeles. Here's where to go to find lots of treats—not to mention some prime photo ops.
To keep busy until it's time to trick-or-treat, discover the best Halloween events for kids in Los Angeles, enjoy not-so-scary Halloween events for preschoolers, save your Halloween budget for candy and costumes with the top free Halloween events in LA, and find more Halloween fun in our Halloween Fun and Activities Guide for Los Angeles Kids.
Wherever you plan to trick-or-treat on Halloween night, please carry lights and watch out for traffic. And if you're visiting a neighborhood that isn't your own, please be extra considerate about candy wrappers and other litter on the ground. The residents of all the neighborhoods below show tremendous generosity each Halloween; we don't want them to wake up to their lawns looking like Dodger Stadium after a playoff game!
Best Places to Trick-or-Treat on the Eastside
1. Larchmont / Hancock Park Trick-or-Treating
If you live within range of Larchmont and Hancock Park, then Windsor Square is where you should go. This area—often confused with Hancock Park—runs from Wilshire to Beverly, from Arden to Van Ness (including the mayor's mansion), and is quite the Halloween scene.
Expect lots of company enjoying the decorations and abundance of treats. Norton and Van Ness south of Beverly are particularly good. The houses in Hancock Park along Rossmore are also recommended.
2. Eagle Rock's Hill Drive
Those hip folks in Eagle Rock seem to have the edge on everything, and Halloween is no exception. Hill Drive is the pride of the East Side when it comes to trick-or-treating. The passion with which these folks decorate their homes leads to everything from pedestrian traffic jams to camera-toting news crews. Oh—and loads of candy.
RELATED: The Best Halloween Events in Los Angeles for Kids

Angelino Heights is one of the oldest neighborhoods in LA. Photo by Anna Aran/CC BY 2.0
3. Angelino Heights Victorian Neighborhood
If you've got older kids who can handle hills and spooky mansions, Angelino Heights might be your perfect Halloween destination. At 125 years old, it's one of the oldest neighborhoods in LA—some call it the city's first suburb—and the Victorian homes take very little effort to spook up. That's not to say that the residents don't put in effort because they surely do. Following the streets between Sunset Blvd. and the Hollywood Freeway leads to a memorable Halloween.
4. Silverlake / Los Feliz
There are a couple of great neighborhoods for trick-or-treating by Griffith Park. One is the Franklin Hills area, just south of Prospect Studios in Silverlake. These homes go all out with decor, and it's an eminently walkable neighborhood.
Some years, there are smaller haunted houses hosted by neighborhood kids, which is a real treat. Another great spot is the homes in Los Feliz between Franklin Ave. and Los Feliz Blvd. Not only are the decorations here fabulous, but the homes are also generous with their sweets.
Great Places to Trick-Or-Treat on the Westside
RELATED: Amazing Free Haunted Houses and Halloween Displays in Los Angeles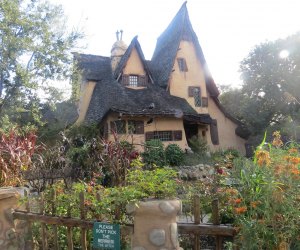 The Witch's House in Beverly Hills is naturally spooky and really gets into the spirit. Photo by Andy Nystrom/CC BY 2.0
5. Beverly Hills — Stick to the Flats
The Beverly Hills Flats neighborhood—so-called to distinguish it from the hills—is a prime spot to enjoy good treats and memorable decorations. The area is roughly defined by Sunset Boulevard on the north, Doheny on the east, Whittier on the west, and Santa Monica Blvd. to the south. And the most memorable doorbell to ring? That would be the Witch's House at 516 N. Walden. There's no question which one it is, as it's a witch's house!
6. Culver City Trick-or-Treating is Tops
Culver City gives South Pasadena a run for its money, stucco houses and all. The homes in the neighborhood around Veterans Park and Culver High School go wild decorating, while neighbors just across Ballona Creek, around Lindberg Park, would argue that they own Halloween. On either side of the creek, there is a whole lot of spookin' and a whole lot of treatin' going on.
RELATED: Nights of the Jack Is a Bootiful Halloween Adventure for Kids of All Ages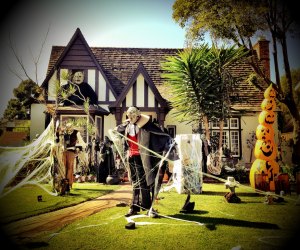 See the hills decked for Halloween in Cheviot Hills. Photo by Lostinawave/CC BY 2.0
7. Cheviot Hills — Start on Motor
The folks over at LA Curbed consistently rate Cheviot Hills as the top trick-or-treat locale in the city. Beverlywood and Rancho Park kids seem to agree, as these two neighborhoods usually empty west into Cheviot Hills on Halloween evening. There is one house in particular on Motor that draws crowds of admirers of all ages, but anywhere in the Cheviot Hills neighborhood, kids get way more treats than tricks.
8. Brentwood Heights
You can't go wrong anywhere in Brentwood. You could kick off your evening trick-or-treating at the Brentwood Country Mart, then hit the streets at the Santa Monica end of the neighborhood. But if you want your evening to include some over-the-top decorations, treat yourself to the block of Crescenda up north of Sunset in Brentwood Heights. Theme parks have nothing on this neighborhood.
9. Pacific Palisades — Visit the Alphabet Streets
Fresh sea air beckons in the Palisades, and neighbors get in the spirit every year with plenty of treats and first-class decorations. The narrow Alphabet Streets north of Sunset (also known as North Village) are some of the best, most trick-or-treater-friendly streets, with names that go in alphabetical order, which is good for remembering where you started and how to get back!
RELATED: Haunted Houses, Horror Nights, Scary Farms, and More for Los Angeles Teens Who Like a Good Scare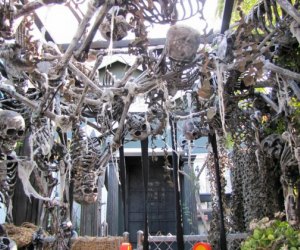 A home on the Venice canals is properly eerie. Photo by Trevor Mattea via Flickr
10. Venice Canals
And now for something completely different. The Venice Canals are beautiful to walk around any evening you name; add the effort that locals put into decorating their homes and boats, and you've got a Halloween feast for the eyes. Take Dell into the neighborhood, where pedestrian-only streets offer another bonus for trick-or-treaters. And you can add great candy to scenic and safe; the canal residents set kids up with plenty of sweets.
RELATED: Not-So-Scary Halloween Events in Los Angeles for Toddlers and Preschoolers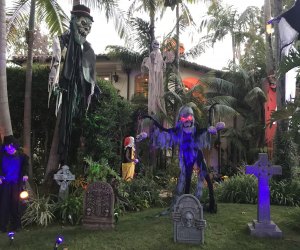 The epic Halloween display at this pair of Santa Monica homes features a walk-through Haunted House.
11. North Santa Monica — North of Montana
There is plenty of fine trick-or-treating in Santa Monica and memorably decorated houses heading north on almost any street from Montana Avenue, but 16th and Georgina is so legendary that it's spoken as one word.
The parade of trick-or-treaters heading up 16th Street becomes a denser crowd with every passing block heading north, past extravagantly decorated houses, with many homeowners out on the curb. The climax of the evening is the haunted house at 16th and Georgina, where the wait can be as much as an hour, but you'll see every kid in Santa Monica.
Top Spots to Trick-Or-Treat in the Valley
12. Toluca Lake — Bob Hope's Trick-or-Treat Legacy Lives On
Legend has it that it's Bob Hope's fault everyone flocks to Toluca on Halloween. Generations of Tolucans tell tales of the full-size candy bars and signature toys that the King of Comedy handed out until he died in 2003 (after which his wife carried the torch a little longer).
The crowds that his generosity lured inspired the rest of the neighborhood, and these days, the area from Riverside Drive down to the lake is as decorated as a neighborhood can be. And, while there are plenty of film industry folks giving out generous supplies of candy, the houses are close enough together to be easily walkable (unlike some affluent areas).
RELATED: Incredible Free Halloween Events in Los Angeles for Kids

Homeowners get their spooks on with gusto every year in Burbank. Photo by Cory Doctorow via Flickr
13. Burbank — Mariposa & Valley Heart
Keep heading east along Riverside Drive, and just before the Equestrian Center in Burbank, you'll encounter another optimum spot on Halloween night. Below Riverside, where Mariposa meets Valley Heart, the homeowners get their spooks on with gusto annually. Plentiful treats accompany the spooky surroundings—a perfect recipe for an October evening.
14. South Pasadena — Trick-or-Treat Anywhere!
Word on the street is you can't go wrong anywhere in South Pasadena; just pick a street. South Pasadena residents take tremendous pride in doing Halloween right, dressing up their hundred-year-old Craftsman homes to look far more haunted than stucco ever could.
They also take pride in playing host to the original Halloween house (from the movie)—an honor they take so seriously that the place has been moved at least once to protect it from demolition. Streets like Mission, El Centro, Oxley, and Montrose hand out upwards of 800 pieces of candy throughout the evening; most residents just stay on the porch to enjoy the spectacle.
RELATED: Haunt O' Ween Is the Perfect Blend of Spooky and Entertaining for All Ages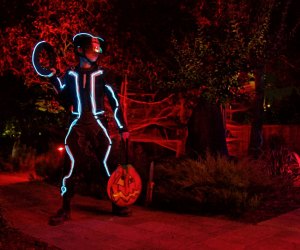 Don't forget to carry lights and watch out for traffic! Photo by Josh J via Flickr
15. Northridge — Sherwood Forest
Your kid doesn't need to be dressed as Robin Hood to appreciate this hidden gem neighborhood west of the 405. Sherwood Forest attracts big groups of costumed revelers to its decorated homes in the area south of Nordhoff and west of Balboa.
16. Santa Clarita — The ABC Neighborhood
This is the Halloween hot spot of the SCV, a little neighborhood known as the American Beauty Classics in Canyon Country, off of Soledad Canyon Road. Halloween transforms the quaint streets into a Halloween hullabaloo with live music and elaborate yard displays (check out the Halloween House on Terri Ct.). Residents average 800-1,000 pieces of candy a year, and several communities bus in families to trick-or-treat here.
Rumor has it that the reason homeowners sit in their driveways with tables to pass out candy is that so many doorbells were broken from the sheer volume of trick-or-treaters. Another great neighborhood in Santa Clarita is Cross St. and the connecting streets in Newhall (off of Market St. behind Hart Park), where an elaborate Halloween display attracts flocks of costumed kiddos.
Where to Trick-or-Treat in the South Bay
17. Long Beach — Bluff Park, Belmont Shore, & Naples
Work your Fitbit into your costume because Long Beach families could start walking down First or Second Street in Bluff Park and keep right on going all the way through Belmont Shore and onto Naples Island without running out of trick-or-treating options! Start at Cherry by Bixby Park and start working your way east along either First or Second, and the treats just keep flowing.
In Belmont Shore, the 2nd Street businesses often join in the fun, and on Naples Island, the decorations are well worth a visit. Pick any stretch your little ones can handle along the way for a Halloween night to remember.
Other LA Neighborhoods for Trick-or-Treating
RELATED: Best Pumpkin Patches near Los Angeles For Picking the Perfect Pumpkin

The trick-or-treating is great near Alegria Avenue in Sierra Madre. Photo courtesy of Alberta Mayo via Flickr
18. Sierra Madre's Alegria Street
In the foothills of the San Gabriel Mountains, this Mayberry-like town doesn't feel much like LA County. Pinned between the Halloween-loving communities of Pasadena and Altadena, Sierra Madre is home to enough creative types to make Halloween a supremely creative night; the trick is to check out Alegria Street between Baldwin and Mountain Trail for the treat of Halloween-decorated craftsman homes.
19. Monrovia —Myrtle & Foothill
We often poll our Facebook friends in October to see if they have found any neighborhoods that flew under our radar—LA is such a big city that we really need eyes everywhere to find these hidden gems. One of our readers tipped us off to an awesome neighborhood in Monrovia on Myrtle Street, north of Foothill, where candy and costumes are plentiful, and the neighbors are sweet and welcoming.
Originally published October 2012
Sign up for the Mommy Poppins Newsletter today!