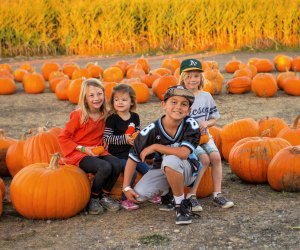 Best Pumpkin Patches for LA, Ventura, & Orange County Pumpkin Picking
Ready to talk pumpkin patch? Even in 2020, the Great Pumpkin is spoiled for choice around the Southland throughout the Halloween season. We would never presume to call one pumpkin patch more sincere than the others, but LA's pumpkin patches (and pseudo pumpkin patches) run a gamut from small to large, folksy to commercial. Although extra activities are scaled back dramatically for social distancing, at a time when any outing is appreciated, these outdoor adventures are a breath of fresh air. Choose a pumpkin, pick some fresh veggies, snap a Halloween photo, and maybe even take a pony ride at one of these 2020 pumpkin patches. If you're looking for bigger adventures, check out our full list of 2020 Halloween activities.
Be sure to subscribe to our free weekly newsletter to keep up with all of the fun coming up this Halloween season!
Orange County Pumpkin Patches
• Tanaka Farms
September 19 - October 31, 2020
5380 3/4 University Drive
Irvine 92612
949.653.2100
Hours: 9am-5pm

One of the few patches where LA kids can actually pick a pumpkin off the vine, Tanaka Farms has found a way to make its seasonal event work in 2020. Advance registration is necessary for every visit; weekdays feature a tractor-pulled wagon ride past farm animals and a pumpkin cannon en route to pumpkin and vegetable picking. Weekends offer a drive-through experience. Tickets go on sale September 15.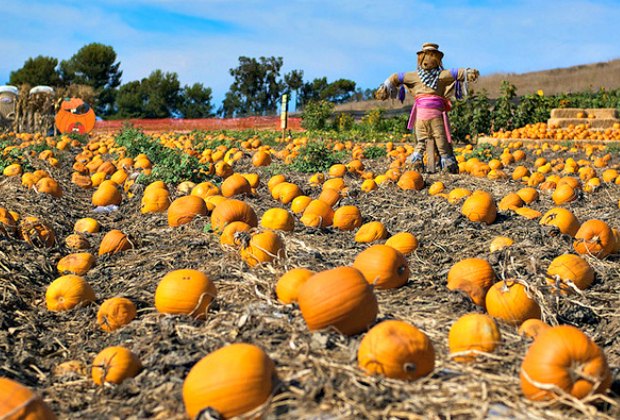 The pumpkins are on the vine at Tanaka Farms. Photo courtesy of the farm
• Irvine Park Railroad Pumpkin Patch
October 1-31, 2020
1 Irvine Park Road
Orange 92862
714.997.3968
Hours: Weekdays 10am-5pm; Weekends 10am-6pm

This year's event is somewhat scaled back, but the folks at Irvine Railroad are making it work. Kids can ride the Pumpkin Train and go on a hayride before choosing a pumpkin, as well as playing a few carnival games and taking some fun photos. The Pumpkin Patch is located just behind the train station, and admission is free, but the County of Orange charges a gate entrance fee ($5 weekends, $3 weekdays) to drive into Irvine Regional Park.
Valley Pumpkin Patches
• Underwood Farms
October 1-31, 2020
3370 Sunset Valley Road
Moorpark 93021
805.529.3690
Hours: 9am-6pm
Moorpark's pick-your-own paradise, has come up with a way to keep its annual harvest festival and pumpkin patch alive in the COVID era, converting to a 40-acre pumpkin patch with wagon rides and adding entertainment like a ride-through corn trail, a hay pyramid, animal viewing from a safe distance, and a misting tunnel to cool off after a while picking veggies in the sun.. Admission is higher on weekends.
• Forneris Farms
October 1 - 31, 2020
15200 Rinaldi Street
Mission Hills 91345
818.730.7709
Weekdays 1pm-5pm; Weekends 9am-5pm
Forneris Farms promises to have pumpkins this October, but other activities are still TBD. There won't be a corn maze, petting zoo, or pony rides, but other entertainment may still be possible. Parking and entry to the farm and pumpkin patch are free.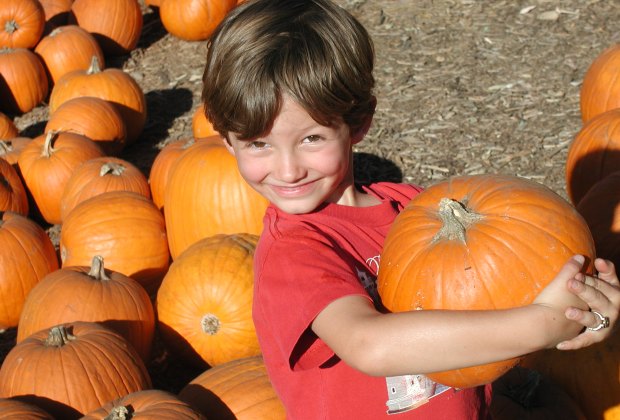 Photo by Mommy Poppins
• Toluca Lake Pumpkin Patch
October 1-31, 2020
10601 Riverside Drive
Toluca Lake
818.505.8039
Hours: 8am-9pm
Valley-dwellers can generally find an impressive selection at the Toluca Lake Pumpkin Patch; colors and shapes vary much more widely than we thought possible. Little kids can get up close and cuddly at the petting zoo, wander the mildly haunted maze, or enjoy little tyke rides. On the weekends there are pony rides and camel rides as well.
• Tapia Bros.
October 3-31, 2020
5251 Hayvenhurst Avenue
Encino 91316
818.905.6155
Hours: 9am-6pm
The other side of the Valley greets the Great Pumpkin at the decades-old, family-run Tapia Bros. urban farm stand. The competitively priced pumpkins, squash, and gourds are accompanied by some adorable farm animals. The normal children's activities have been curtailed this year, but the photo ops and fresh air are still a pleasure. Non-fans of Monsanto will be glad to know that Tapia Bros. has non-GMO crops. No admission fee.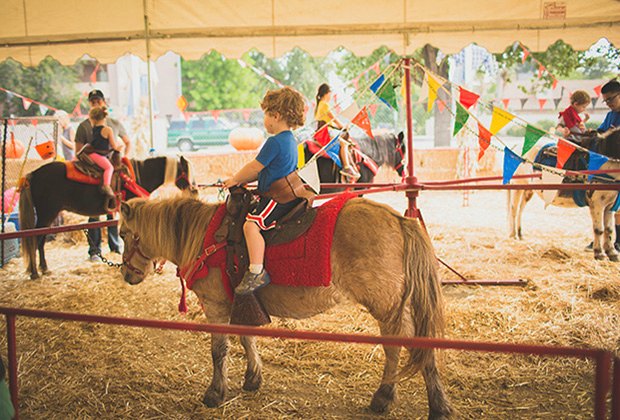 Take a pony ride at a pumpkin patch—why not? Photo courtesy of Tina's Pumpkin Patch
• Tina's Pumpkin Patch
October 2 - 31, 2020
4827 Sepulveda Blvd.
Sherman Oaks 91403
818.495.8750
Sun-Thu 10am-8pm; Fri-Sat 10am-9pm
This Valley patch is squeezed between the 101 and the Galleria. Tina's is definitely a city patch, but even in 2020 the entertainment includes pony rides. How much more Tina manages to fit in with social distance requirements remains to be seen.
• Prancers Pumpkin Patch
October 3-31, 2020
18540 East Telegraph Rd.
Santa Paula, CA 93060
Daily 10am-6pm
Prancers Farm is a real pumpkin patch, with 10 acres of pick-your-own pumpkins. There's no shortage of other entertainment as well, including train and wagon rides, farm animals, corn field photo ops, and horseback riding (extra charge). Make a full day of it by taking the Pumpkinliner Train from Fillmore & Western to get there. Reservations for the patch are strongly recommended, and required for the train.

Westside Pumpkin Patches
• Shawn's Pumpkin Patch
October 8-31 (Plus opening weekend Oct 3&4)
3443 South Sepulveda Blvd.
Los Angeles, CA 90034
10am-8pm (Fridays-Sundays), 1pm-8pm (Tuesdays-Thursdays), Closed Mondays. Check exceptions
Whoever Shawn is, we crown him king of the parking lot pumpkin patches. Admission is free, with charges for the various forms of entertainment; this year's activities include a petting zoo, a little train, and games that are santized after each use. Numbers are limited, so there may be a wait. Note that this year's location is in Mar Vista.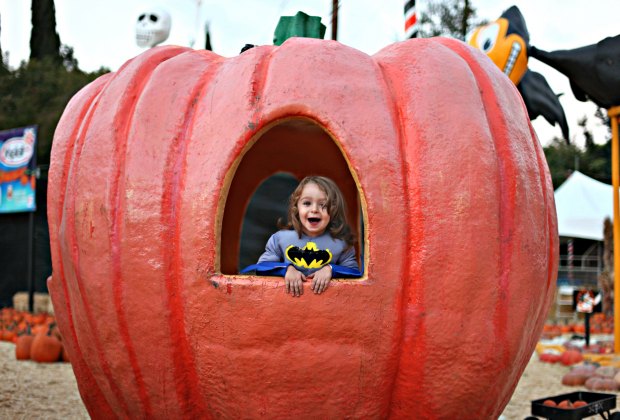 Who knew the Bat Cave was in a pumpkin? Photo courtesy of Mr. Bones
• Mr. Bones
Online in 2020 - returning live in 2021
10100 Jefferson Blvd.
Culver City 90232
310.276.9827
Making no bones about it, Mr. Bones is not opening in 2020 but is offering an online pumpkin patch experience, Mr. Bones @ Home, launching October 3 and offering pumpkins and Halloween goodies for pick-up or delivery, as well as carving and painting classes, live music, and more.
• Palisades YMCA Pumpkin Patch
October 10-31 2020
Simon Meadow
15551 Sunset Blvd.
Pacific Palisades, CA 90272
310.454.5591
Weekdays 3pm-6pm; Weekends 9am-6pm
One of our family's favorite patches has long been the unpretentious and inviting patch at the front of Temescal Gateway Park in the Palisades. Simon Meadow, as the grove is called, is a corner of the park controlled by the Palisades YMCA, and the pumpkin patch there is large, tree-filled, and fenced in – in short, perfect for a playdate. No one counts how long or how often your kids visit the bounce house or walk through the hay maze, and the location makes for great photo ops - as does the late afternoon sun filtering through the trees. Admission and parking are free, and pumpkin purchases support the YMCA.
• Lopez Ranch Pumpkin Patch
October 10-31, 2020
Venice United Methodist Church
1020 Victoria Ave.
Venice, CA 90291
323.804.5618
Daily 11am-9pm
Lopez Ranch has moved its patch around a few times in recent years, but the family ranch has a long history in Culver City. Although the urban farm closed years ago, the Lopez family has continued setting up a patch and selling pumpkins since 1967 to a loyal local following. This year's location is at the Venice United Methodist Church.

Hollywood Pumpkin Patches
• Mr. Jack O'Lantern's Pumpkin Patch
October 3-30, 2020
1841 N. Highland Ave.
Los Angeles, CA 90028
844.452.2567
It's not so easy finding a pumpkin patch in the city this year, but Mr. Jack O'Lantern has Hollywood families covered in the classic 2020 fashion, offering everything from delivery, to contactless pick-up, to an in-person, COVID-friendly experience. Anyone wanting to purchase in person and experience the games and activities needs to wear a mask.
South Bay Pumpkin Patches
• South Bay Galleria Pumpkin Patch
October 1 - 31, 2020
South Bay Galleria
1815 Hawthorne Blvd
Redondo Beach 90278
310.371.7546
Daily 10am-8pm
The patch at South Bay Galleria includes a trackless train, video games, and other activities. It's not a farm visit, but it's one-stop shopping for pumpkins, clothes shopping, and dinner al fresco.
Eastside Pumpkin Patches
• Whittier Pumpkin Patch
October 1 - 31, 2020
11760 Whittier Blvd.
Whittier 90605
562.567.7043
Daily 9am-9pm

This small Eastside patch brings pumpkins a little closer to the city for lots of families, with free admission and plenty of a la carte entertainment. Before picking the perfect pumpkin, kids can enjoy a zip line, pet critters in the petting zoo, jump in the bounce house, ride a pony or tractor, and slide the giant slide. Wagons are available to borrow for free.
• College of Agriculture Pumpkin Festival
Canceled for 2020
Cal Poly Pomona
4102 S. University Drive
Pomona 91768
909.869.2215

Cal Poly Pomona's Pumpkin Festival celebrated its 27th year. The drive east is rewarded with a large patch, a corn maze, games, a petting farm, horse rides, live music, contests, storytelling, an Insect Fair, and more. Family packs are cheaper purchased in advance on the website. The pumpkin patch, one of the largest in California with over 70,000 pumpkins, continues after the opening weekend festival.
Originally published September 14, 2011