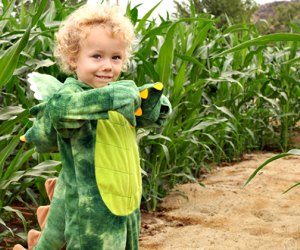 Corn Mazes and Haunted Mazes Closest to LA and Orange County
Note that none of the corn mazes below are operating in 2020. We look forward to their return in 2021!
As kids are mostly settled into the new school year, and local orchards are open for apple picking, the next sign of autumn is the corn maze.
Corn mazes are created by a tractor in a growing field of corn—usually following a fairly intricate design. For large mazes, GPS is often used to create a picture that can be seen from the air. A mature corn maze is a true adventure, with walls of corn that are taller than most adults; children (and adults) can for sure lose their way! Most operators recommend kids be at least 5-8 years old before going in alone; use your judgment, of course. Closed-toe shoes are recommended for comfort (sneakers are best), as corn mazes involve walking on uneven ground amid broken cornstalks. And if you head into the maze at dusk, be sure to bring a flashlight!
The corn mazes below generally open for the season during the last week of September and stay open through Halloween.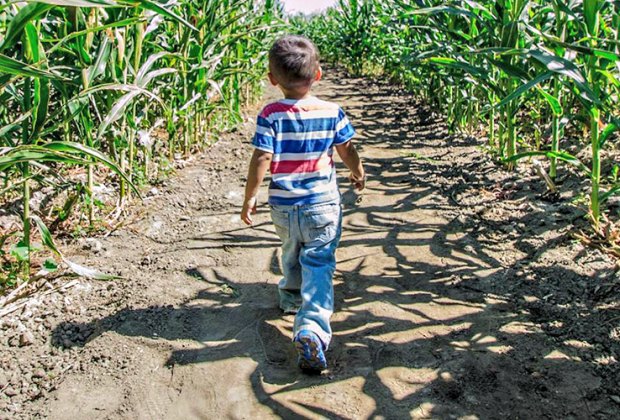 Big Horse's corn maze
Corn Mazes in the Valley
Tapia Brothers
5251 Hayvenhurst Avenue
Encino 91436
818.905.6155
This corn maze is a bit larger, but Tapia suggests that kids ages 5 and up can go in alone, with consideration to the child's temperament. There is also a pumpkin patch and farm stand; be sure to try the fresh roasted corn after a trip through the maze.
Underwood Family Farms
3370 Sunset Valley Road
Moorpark 93021
805.529.3690
Speaking of closer to home, Underwood's corn maze in Ventura County is part of the Fall Harvest Festival (and included in the admission ticket). Approximately 2.5 acres in size, it requires some time to get through. The Fall Harvest Festival features many other activities, some of which require additional tickets—and there are more activities available on weekends. Underwood also has a pick your own area; check the farm's calendar to see what's available.
Forneris Farms
15200 Rinaldi Street
Mission Hills 91345
818.361.0714
This corn maze is four acres of fun—complete with a treasure hunt of riddles inside the maze. Find all the answers and enter your scorecard to win a raffle prize. Kids ages 13 and under must be with an adult. The maze is closed on Wednesdays and in rain; last entry tickets on all other days are sold at 5pm. This corn maze is never haunted, but may be muddy.
Riverside County Corn Mazes
Big Horse Corn Maze and Harvest Festival
33320 Temecula Parkway
Temecula 92592
951.389.4621
Temecula is in the heart of Riverside County and so a bit far afield, but this relatively new corn maze stakes a claim to be the biggest in Southern California. There are certainly options closer to home for Angelenos, but the magnitude of this one makes it worth driving for. Needless to say, there are also pumpkins here, and the weekends feature bigger, themed festivities throughout October.
Ventura County Corn Mazes
Limoneira Ranch
Foothill Rd.
Santa Paula 93060
888.522.1884
The Pumpkin Patch at Limoneira Ranch in Santa Paula is a good bet for Valley families in particular, with its 5-acre maze set amidst plenty of pumpkins, wagon rides, live entertainment, and other harvest fun. The challenge level is high here; expert trackers can make their way out in half an hour, but most visitors take longer. The maze is open by daylight only, ever Saturday and Sunday in October.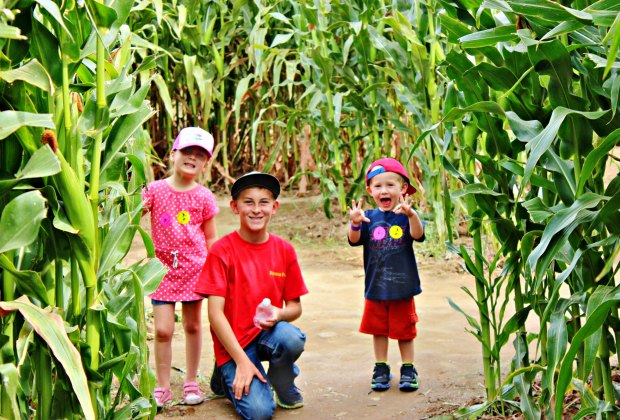 Corn maze at Forneris Farms
San Bernadino County Corn Mazes
Live Oak Canyon Christmas Tree Farm and Pumpkin Patch
32335 Live Oak Canyon Rd.
Yucaipa 92373
909.795.8733
In addition to featuring more than 12,000 feet of pathways, this corn maze also has a game within. Find the hidden numbers, as they provide the combination to pass into the next section of the maze. Everyone who finishes receives a small prize. Kids' rides, pony rides, petting zoo and aviary, hay castle, and live music (see schedule) are all part of the fun.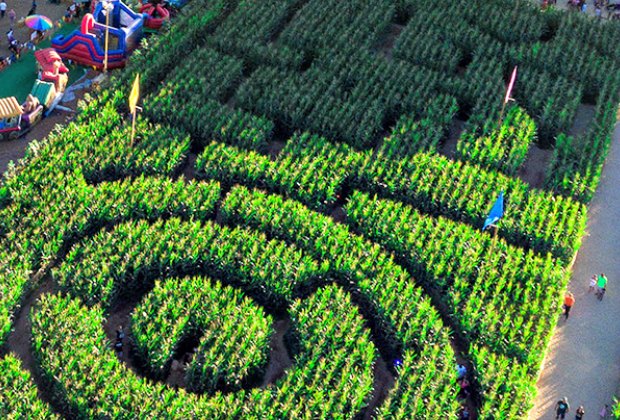 The Pumpkin Factory's Live Oak Canyon Corn Maze
Corn Mazes in Orange County
Tanaka Farms
5380 University Drive
Irvine 92612
949.653.2100
Tanaka Farms' corn maze is much smaller than the others on this list—which means it is great for younger kids; even preschoolers can negotiate it alone. And if kids do get lost, parents can hear them calling from inside or outside of the maze. The farm has no parking or entrance charges for the corn maze or pumpkin patch. Wagon rides, petting zoo, u-pick vegetables, pumpkins, and other activities can all be purchased individually.
Looking for more harvest-themed fun? Our Fall Fun Guide has plenty more ideas!
All photos courtesy of the venues
Originally published September 25, 2013