Find the Best Corn Maze near Los Angeles for Harvest Fun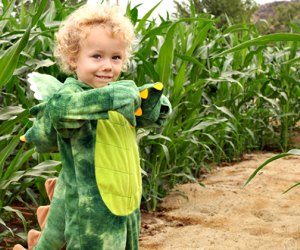 As soon as local orchards are open for apple picking, the next sign of autumn is the corn maze, and it's actually easier to find a corn maze near Los Angeles than it is an apple orchard. A corn maze is created by a tractor in a growing field of corn—usually following a fairly intricate design. A mature corn maze is a true adventure, with walls of corn that are taller than most adults; children (and adults) can definitely lose their way! If you head into the maze at dusk, be sure to bring a flashlight, though you won't find a haunted corn maze on our list—for the scary stuff check out our list of scary Halloween haunts for big kids.
Find pumpkin patches near LA and more things to do in Los Angeles in the fall in our Fall Fun Guide for Los Angeles and OC Kids.
There's not really enough space in the heart of the city for a corn maze, so most of the best corn mazes are a slight drive from Los Angeles. We've organized this list according to county, so you can easily find the corn maze near you.
Check with the venue when you get there before sending kids in alone, as most have age recommendations (or requirements) based on how big and tricky the maze is. Closed-toe shoes are recommended for comfort (sneakers are best), as corn mazes involve walking on uneven ground amid broken cornstalks.
Open daily in October 2022
This corn maze is pretty darn huge, but Tapia suggests that kids ages 5 and up can go in alone, with consideration to the child's temperament. There is also a pumpkin patch, a zucchini patch, and a farm stand; be sure to try the fresh-roasted corn after a trip through the maze.
Open Friday-Sunday, October 1- 30, 2022
Don't get lost here in the giant corn maze! The corn is as high as an elephant's eye (12 feet) and with all the twists and turns, it's actually easy to get lost. If your kids are older, try doing the maze at night, for a little added atmosphere. There's a separate fee to enter the corn maze, tickets can be purchased online. The corn maze closes earlier than other attractions at the fest, so be sure to plan accordingly.
Ventura County Corn Mazes
Open daily October 1 - 31, 2022
Speaking of closer to home, Underwood's corn maze in Ventura County is part of the Fall Harvest Festival (and included in the admission ticket). Approximately 2.5 acres in size, it requires some time to get through. The Fall Harvest Festival features many other activities, some of which require additional tickets—and there are more activities available on weekends. Underwood also has a pick-your-own area; check the farm's calendar to see what's available. On weekdays you have to buy the tickets at the gate, but if you're planning on visiting on a weekend, you will need to purchase the tickets online.
Open Saturdays and Sundays in October 2022
The Pumpkin Patch at Limoneira Ranch in Santa Paula is a good bet for Valley families, with its 5-acre maze set amidst plenty of pumpkins, wagon rides, live entertainment, and other harvest fun. The challenge level is high here; expert trackers can make their way out in half an hour, but most visitors take longer. The maze is open only during daylight hours.
RELATED: Find Fall Foliage near Los Angeles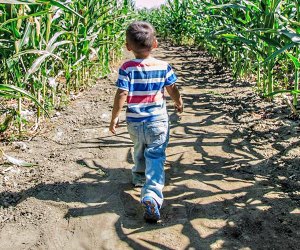 Big Horse's corn maze claims to be the biggest in SoCal.
Corn Mazes in Riverside County
Open October 1 - 31, 2022
Temecula is in the heart of Riverside County and so a bit far afield, but this relatively new corn maze stakes a claim to be the biggest in Southern California. There are certainly options closer to home for Angelenos, but the magnitude of this one makes it worth the drive, especially for bigger kids who relish the challenge. Needless to say, there are also pumpkins here, and the weekends feature bigger, themed festivities throughout October.
RELATED: Los Angeles Fall Bucket List for Kids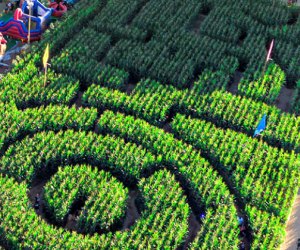 The Pumpkin Factory's Live Oak Canyon corn maze contains a game.
San Bernardino County Corn Mazes
Open from September 16 - 31, 2022
In addition to featuring more than 12,000 feet of pathways, this corn maze also has a game within. Find the hidden numbers, as they provide the combination to pass into the next section of the maze. Everyone who finishes receives a small prize. Kids' rides, pony rides, petting zoo and aviary, hay castle, and live music (see schedule) are all part of the fun.
The farm is open from August 25 - October 31 (Check the website for corn maze dates.)
It might be a little far to drive just for a corn maze, but if you happen to have an apple picking trip planned to Oak Glen, definitely stop at Los Rios Rancho, where not only can you pick apples, press cider, take tractor and horse-drawn wagon rides, make candles, and visit the petting zoo, and leave some time to get lost in the corn maze.
All photos courtesy of the venues
Originally published September 25, 2013