Hana Field is an Urban Secret Garden for Pick Your Own Flowers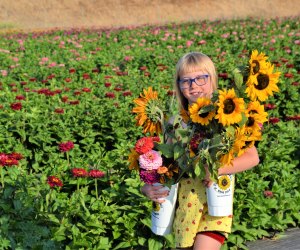 Sandwiched between two freeways, adjacent to a hub for rental cars, and below wires buzzing from the electricity pulsing through them, you'll find a special sort of secret garden. Giant sunflowers and rows of zinnias & snapdragons make you forget that you're actually still very much in an urban jungle. Hana Field, which is the name of this secret garden, is part of the better-known Tanaka Farms in Irvine, about ten minutes away. Tanaka has long been a staple for hayrides, pumpkin patches, veggie-picking, and their awesome produce stand, but this flower field (where you can wander, take Instagram-worthy pics, and even pick your own flowers) is well worth a visit all its own this summer.
For more flower adventures in the summer in Los Angeles, when the spring wildflower blooms have finished for the year, visit the lavender fields at 123 Farm.
A New Flower Field at the 405
I will admit, at first I was a skeptic but pulling into the field, but my first impression was something most Southern Californians can't deny winning them over at least a little bit: free and plentiful parking!
At Hana Field in Costa Mesa, you really do go immediately from a bustling city scene right on into the natural respite of a garden. Yes, you end up cropping some of the freeway out of images before posting them, but Hana Field's charms thrive in spite of this. While most farms are set apart in solitude from the city, Hana Field embraces the juxtaposition of having a backdrop that's riddled with urban sprawl. Somehow it all works. In the end, nature wins, and the nearby freeway off-ramp dissolves away. By the end of our visit, our arms overflowing with fresh flowers, my kids and I were thrilled to have spent an afternoon meandering through such a conveniently accessible patch of natural beauty.

Picking the perfect sunflower!
Snip Flowers and Savor Sights
Upon checking in, I purchased two large vases and pruning shears to cut our own flowers and create giant bouquets.
If you want to pick some flowers to take home (Hint: you will definitely want to do this!) you will need to purchase a container to put your stems in as you go. When I visited, there was a keepsake flower cup for $15 which gets you up to 15 flowers.
My kids wandered through the fields examining flowers up close and choosing the exact perfect ones for their bouquets. They snipped stems with precision, which really prompted them to be intentional about their surroundings and what they were a part of. I found my kids really slowing down the process, forcing us to walk and observe the small things—the way a zinnia has an elevated middle, how that particular bloom has darker petals on the outside, a ladybug voyaging over the surface of a giant sunflower or a bee bumbling its way over bright green leaves, how it feels to run fingers over the seeds bursting from the center of a sunflower.
We visited in the early evening in order to catch that glorious "golden hour" for photos; it worked out perfectly both for getting great pics, and made us miss the midday heat, as well!

The gift shop has goodies to bring home, and shears if you forget yours.
Other Areas to Explore at Hana Gardens
There is a small gift shop at the entry that carries items like gardening gloves, garden decor, some bottled drinks, and kettle corn. Also sold here are huge sunflower centers that are bursting with seeds ready to be taken home and roasted. At a few bucks a flower, you can't afford not to grab one on the way out so you can continue the fun at home as you prep the seeds for eating.
Save time to hop on over to the bunny barn! We saved this for our last thing to do and then ended up not being able to see the rabbits because they close the barn early. So, if you want to see the bunnies, skip over that way first thing.

The best ones are somehow always at the top!
Tips & Tricks To Make Your Garden Stroll More Magical
1. Bring Your Own Shears
I have three pairs in my garage and it never crossed my mind to pack them to the field! They do have shears to purchase at the front for $8, and there is no way to snip the flowers without them. Needless to say, I now have four pairs of shears in my garage...
2. Bring Kiddie Scissors
If your children are quite young and you're considering a visit here, I'd suggest bringing your own set of kiddie scissors and focusing the little ones on snipping the zinnias and snapdragons, which are more manageable than the sunflowers—kiddie scissors won't be heavy duty enough for these tough guys. (That's why you need to bring shears for yourself, as well. There's really no way to cut the sunflower stems without them.)
Review scissor safety with kids beforehand. Keep in mind that open fields invite children to run, so it's tricky if they're carrying scissors around with them!
3. Dress for the Farm
Wear shoes that are farm-worthy. If your child is sensitive to things like brambles and bushes at their ankles, long pants are appropriate. The sunflower fields can get pretty overgrown.
4. Leave the Stroller at Home
The main walkways are manageable to navigate with a stroller but the inlets to the flowers are not; leave the stroller at home unless you really need it.

A staff member wearing a yellow t-shirt showed us how sunflower seeds are harvested
5. Ask Questions!
Strolling through Hana Gardens are staff members in bright yellow shirts. They are really knowledgeable; feel free to ask questions to enrich the learning experience.
6. Consider the Weather
There is little to no shade in the fields and visiting midday on the weekend could induce heat meltdowns for kids! Bring water bottles and hats or visit later in the afternoon.
7. Call Ahead If You Love Sunflowers
The crops are planted on a rotating schedule so be sure to call ahead if you want to see the big sunflower fields in bloom. Sunflowers have relatively short lifespans and are in full bloom only about two weeks. (More on this below.)

Watering the plants before the car ride home...
When To Visit Hana Field
The sunflowers are planted in rotation, so a large field of them blooms every four weeks through summer. When we visited, a lot of the sunflowers had died, but there was a decent-sized area that was still filled with bright greens and yellows. It was certainly enough to snag some great photos, and even enough to pick. But keep in mind, if you want the most robust sunflower field, give the field a call first and plan your visit to align with an anticipated big bloom.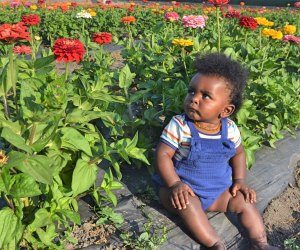 Babies love all the colors.
This year Hana Field is taking reservations through June for field visits. As with most farms, nature has all the say in when blooms happen and when their season is over. The Hana Field website is updated regularly with updated dates. The field hours are currently Saturdays and Sundays from 10am-5pm.
Tickets are $10 per person (plus the cost of flowers if you want to cut a bouquet) and can be reserved online or purchased at the field.