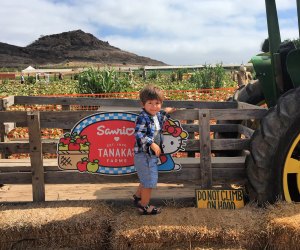 Tanaka Farms and Hello Kitty Make a Purrfect Pumpkin Patch
When two fantastic worlds collide, something great happens. Last year, the charming Irvine-based Tanaka Farms and Sanrio, the global brand known for creating pop icons such as Hello Kitty and her friends Keroppi, Chococat, My Melody, and Pochacco, launched a collaboration to celebrate all things healthy and cute — and the result is nothing short of magical.
What can a family-owned farm possibly have in common with a fictional kitty? More than you might think. Since 1940, Tanaka Farms has been a staple in the Orange County community by cultivating quality produce and practicing responsible farming and sustainability, while Sanrio has been increasingly focused on promoting the importance of healthy eating and lifestyle among its legion of fans. Both entities share a goal of getting kids interested in eating more veggies, so the partnership happened organically (no pun intended). Hello Kitty and friends are ambassadors to the farm in Tanaka Farms' year-round educational programming and during seasonal celebrations.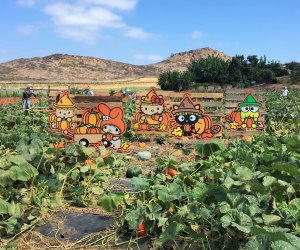 Kitties, bunnies, and froggies are everywhere!
At the farm's famed Pumpkin Patch, which runs through October 31, Hello Kitty and Sanrio's other iconic characters are decked out in adorable farmer's outfits and ready to be integrated into photo ops. They pop up as cardboard figures everywhere, and finding them can be a sweet but challenging scavenger hunt.
Virtually every corner at Tanaka Farms overflows with vivid fall colors, cheerful sounds, and tantalizing aromas; the best way to regain your perspective is by taking a wagon ride circling the 30-acre farm. On the wagon, guests can spot at least a half dozen Instagrammable cardboard silhouettes of Hello Kitty and friends, and a few more by the activity stands and food court area. The Hello Kitty statue right at the entrance of Tanaka Grill is definitely the one kiddos love to hug the most. Past the grill — which serves tornado potatoes, corn on the cob, hot dogs, pulled pork sandwiches, lemonade, and shaved ice on the weekends — there's a cute petting zoo with lambs, sheep, goats, and an alpaca. Directly across is a small corn maze perfect for little ones, too.
To the top of the pumpkin pile in search of the perfect pumpkin
During the Weekend Fall Harvest Festival (every week from Friday through Sunday), the farm becomes a big playground with activities such as ATV rides, face painting, arts and crafts, carnival games, and the amazing pumpkin cannon, which shoots out pumpkins in the air every time a wagon ride passes by. But the most fun of all is handpicking (with your little farmers' help) perfect pumpkins directly from the vine and veggies (including carrots, cilantro, radishes, turnips, and green onions) to the right of the U-Pick vegetable garden's ground.
One stop kids love is the market stand, which is stocked with soda, juices, and snacks — but also the exclusive Sanrio-Tanaka Farms merchandise that includes sweet plush toys of Hello Kitty and friends, t-shirts, hats, and tote bags in seasonal looks and designs.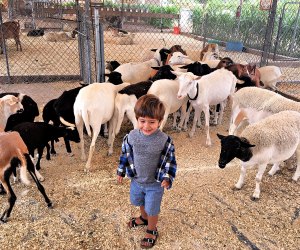 Sweetness overload!
Hours are 9am to 6pm (gates close at 5:30pm). Admission is $4 per person (2 and under get in free) and the Entry Package (which includes admission, wagon ride, petting zoo, and a commemorative Hello Kitty cardboard tiara) is $12 per person. Parking passes ($5) are required on weekends only. Can't make it to the Pumpkin Patch? No worries: Hello Kitty is coming back to Tanaka Farms in December for the farm's Christmas Trees & Holiday Market, then again during the following events: Strawberry Tours (March-June), Watermelon Tours (July-August), and U-Pick Tours (March-August). Get ready for more magic.
All photos by author