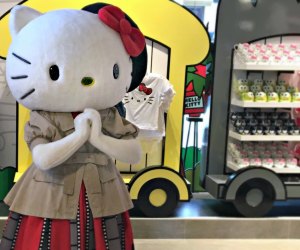 Hello Kitty Goes to Hollywood, in Her Own Studio Store
Harry Potter isn't the only reason to head to Universal Studios Hollywood these days. A trip to the theme park in the Hollywood Hills also gives Hello Kitty fans a chance to indulge their cravings, as the iconic pop culture feline is the big star of the brand new Universal Studios' Animation Studio Store.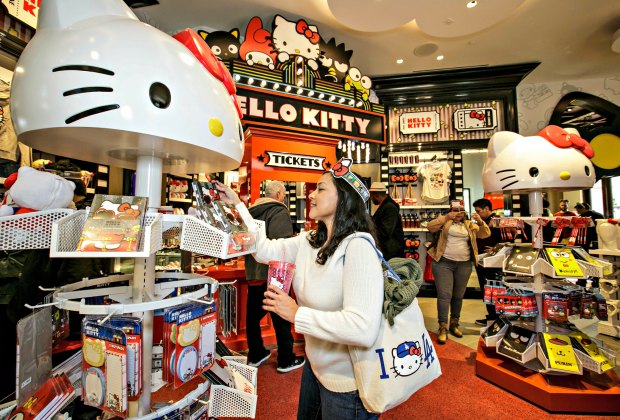 Photo by David Sprague/Universal Studios Hollywood
The park's new Hello Kitty emporium is a shop inside the shop, and a visit generally includes a chance to say "Hello" to Kitty herself. Merchandise pays homage to classic films such as Back to the Future, E.T., Jaws, Jurassic Park, King Kong, and Psycho. From apparel, accessories, and stationery to collectibles and souvenirs, the store is endless eye candy.
A red box office with a bright marquee featuring Hello Kitty and her Sanrio friends, including Keroppi, My Melody, and Chococat, cheerfully welcomes shoppers and carries 3-D glasses, mugs, cups, plush pop corns, and some delectable sweets—such as fudge, cupcakes, s'mores, and caramel apples—made fresh daily. Sanrio characters-themed plush toys, slippers, socks, handbags, and backpacks cover the walls from top to bottom.
There's even a Hello Kitty Build-A-Bow display, where guests can customize headbands with different kittyriffic bows.
RELATED: New Magic in the Skies Above Hogwarts at Universal's Wizarding World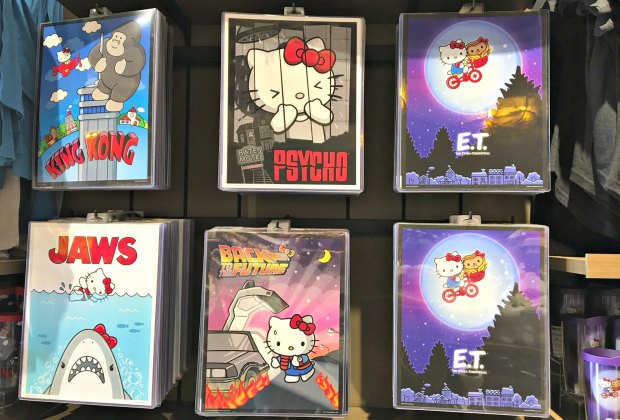 Classic Universal titles with a kitty twist
The park-exclusive products revisiting familiar Universal titles with Hello Kitty are probably going to be a bigger hit with grownups than kids. The designs on the posters, T-shirts, tanks, beach towels, coasters, and cups, are an adorable pop culture mashup sure to engage movie fans, though even kids who may not know E.T. from an electrical outlet will still be overwhelmed by the cuteness factor (though parents may have to explain why Hello Kitty looks so miserable in Psycho and what that shark intends to do in Jaws). New products featuring more titles will be released regularly.
If others in your family are not into kitties, they can wander around the rest of the Animation Studio Store, which includes merchandise of cartoon character favorites Minions, Dr. Seuss, Curious George, and The Simpsons, among others. But if your kids love Hello Kitty, consider this your opportunity to get the little ones interested in seeing beloved classic movies you might enjoy seeing again as a family. Back to the Future, anyone?
Hello Kitty herself makes special appearances just outside the store entrance for photo ops, high fives, and hugs.
RELATED: Los Angeles Theme Park Guide for Families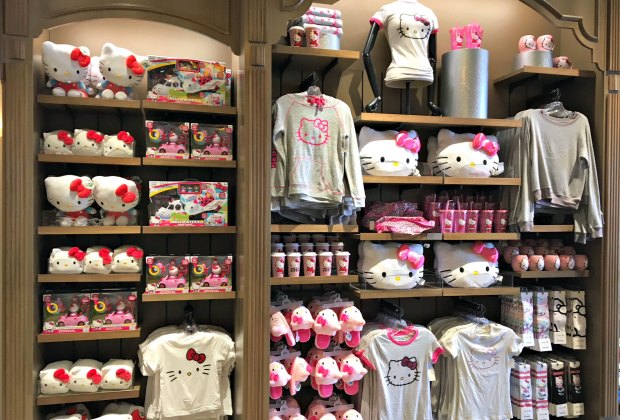 Photos by author unless otherwise noted