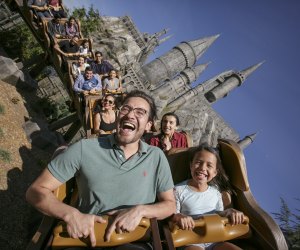 Hogwarts in Hollywood: Wizarding World of Harry Potter at Universal Studios
Hollywood is the original home of Universal Studios, so it never really sat right that Orlando got not just one but two Harry Potter attractions before we did. The injustice is finally set right this week, as Southern California gets its very own Wizarding World of Harry Potter just off the Hollywood Freeway, where Hogwarts ought to be. The magical treat is included in normal theme park admission, though in the coming weeks calling admission to Universal Studios "normal" is a little optimistic. Most of opening weekend is completely sold out to potty Potter fans. Something else that isn't normal? I got to experience the entire attraction a day early with only a handful of press, a few cast members from the film, and not a single line to wait in. Not to gloat, of course: I only bring it up so I can tell you what wonderful wizardry you can expect to find at Hollywood's new Harry Potter World. And to share some cool stories of meeting the actors. And to help you to not vomit. But more of that anon.
The Wizarding World's main attraction is the multidimensional thrill ride called Harry Potter and the Forbidden Journey. To house this ride, a full replica of Hogwarts has been created, and the designers are justifiably proud of an illusion that truly makes the castle appear to be as towering and imposing as it ought to be. Lines for the ride are evidently expected to approach two hours, since that's how long the Hogwarts lockers are provided free of charge. The good news is that the wait is part of the experience; in fact for me, it was my favorite part. Even without anyone in front of me, I chose to spend time in each of the rooms, as the queue travels through an intricately designed Hogwarts Castle. The designers have included details worthy of fan scrutiny, and we're told that several props from the actual film are used as well (like the desks and blackboard in Professor Binn's classroom).
RELATED: New Magic in the Skies above Hogwarts at Universal's Wizarding World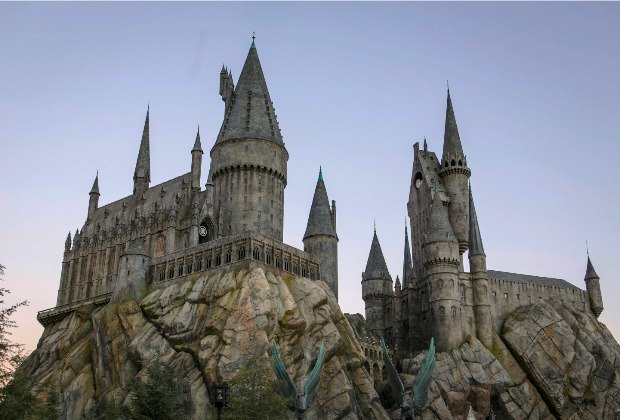 Film techniques make the castle appear to be 700 feet tall.
What particularly delighted me were the holograms. Without giving too much away, I will say that Dumbledore never took his eyes off me, no matter where I stood, which sent a delightful chill down my spine! The winding path through magical rooms, the greetings by familiar portraits, and the rendez-vous with beloved characters are all worth standing in line for. The cast members we met at the preview (Draco Malfoy, Luna Lovegood, the Weasley twins, and Prof. Flitwick) all commented on what a thrill it is for them to walk through Hogwarts, too, since it was never constructed in its entirety for the film; the actors only ever knew Hogwarts as a series of sound stages. Only Universal Studios guests get to walk through it as a real place.
The 3D-HD ride, however, was not my cup of potion. In fact, I finished it rather in need of a potion—a feeling that did not subside for nearly 48 hours. The lingering nausea caused me to do a little Googling, and I was astonished at the volumes that have already been written about the vomitous nature of this ride. If you doubt, search any synonym for retch or puke combined with any word relating to Harry Potter and see how many Potter fans are hurling at Hogwarts Hollywood. When you see the signs below (of which there are a foreboding number in one hallway), take them very, very seriously.
UPDATE DECEMBER 2016: Universal has removed the 3D component from the Forbidden Journey ride. Although the official word is that this allows people to see the broomsticks ahead of them, it seems more likely that the park has faced the sickening reality that 3D on this ride was too much for most us us.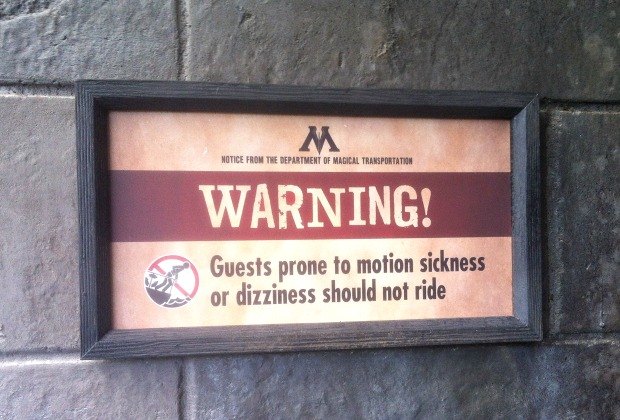 Even if you know someone prone to motion sickness...
The outdoor ride, Flight of the Hippogriff, is a more straightforward rollercoaster and a relatively tame one at that, clearly intended to be accessible for the entire family. Warwick Davis, who plays Professor Flitwick, commented that it's the first roller coaster he's encountered that even he is tall enough to ride! The thrill level of this ride is about on a par with the coaster at Santa Monica Pier, though it's slightly shorter; start to finish the Hippogriff flies for just under a minute. That minute does offer some great views of the park, though, including brochure worthy vistas of Hogwarts and Hogsmeade.
RELATED: Free Admission for Kids at Southern California's Biggest Attractions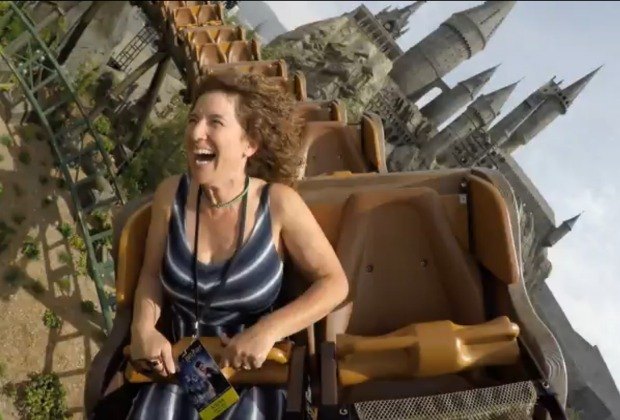 I still can't quite believe I had a roller coaster to myself!
Moving on from the rides, the other main attraction is Hogsmeade, which has also been meticulously created to fulfill every Potter fan's dreams. I'd swear I felt the Hollywood Hills mercury drop as I approached the convincingly snow-covered rooftops and grey cobbled streets. In Hogsmeade you can buy Butterbeer (both liquid and slushy, and that frozen variety is just as scrumptious as JK Rowling led us to believe), have a meal at the Three Broomsticks, and consume all manner of bewitching sweets at Honeydukes (best not tried before riding Forbidden Journey). And if your purse is heavy, every shop you might expect to find on Diagon Alley has a branch in Universal's Hogsmeade. Tell your kids to save up their pocket money if they're likely to want robes, hats, school ties, quidditch equipment, wizard chess, marauders maps, and any other bit of Potterphernalia you can imagine. There is an owlerie stocked with ridiculously cute plush owls and Zonko's Joke Shop for Weasley wannabes.
RELATED: 10 Insider Tips for Universal Studios, Hollywood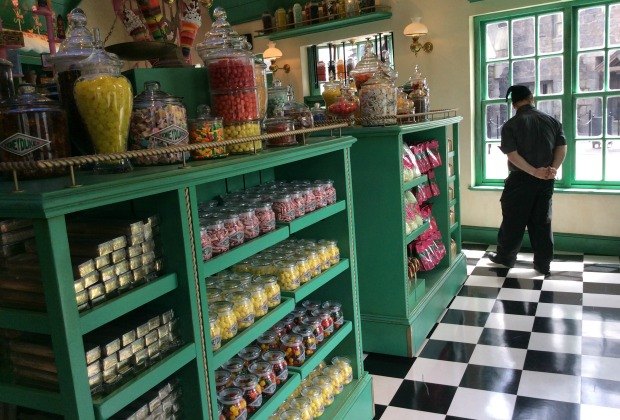 Every Flavour Beans and then some.
The most exciting stop on the Hogsmeade tour, though, is Ollivanders, which explains the formidable wait to get inside. Visitors get a session with a wand expert who, through a few bits of magic and (some might say) special effects, locates the perfect wand for his customer. The interactive performance is fun, and the wandsmith I met was able to handle whatever was thrown at him in a session that quickly descended into Whose Wand Is It Anyway. It should be noted that purchasing the wand that is offered is not required, though that might be hard to explain to your kid. If you are ready to take the plunge, Universal does its best to give you your $48 worth: each wand comes with a map of the 11 spots in Hogsmeade where the wand can be used to cast a successful spell. Note that the magic will not continue at home.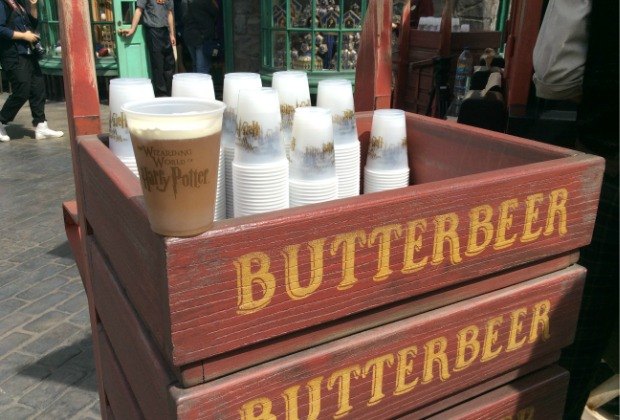 Fred and George Weasley gave frozen Butterbeer a big thumbs up!
Perhaps the best thing about the Wizarding World of Harry Potter, though, is just being able to walk the streets, window shop, wander the halls of Hogwarts, and pretend. Wearing costumes is heartily encouraged. This immersive experience is actually the very thing the five cast members with us on preview day said that they enjoy the most. Only in the theme park can you find the world of Harry Potter as it looks in the movies, or in our heads when we read the books. Even the Warner Bros. Harry Potter Tour outside London can't quite offer that; it offers the experience the actors had—a series of way-cool sound stages—but not this fantasy world.
The final thought I was left with at the end of the day, though, came from Warwick Davis, Professor Flitwick, who made one very compelling point: what other theme park inspires us to go home and read a book? Priceless.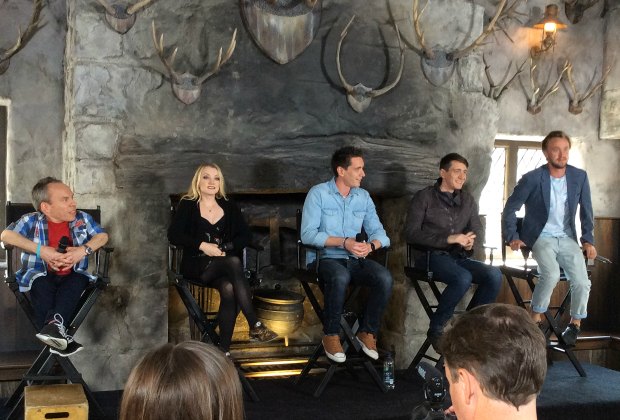 Warwick Davis (Flitwick), Evanna Lynch (Luna) James Phelps (Fred), Oliver Phelps (George), Tom Felton (Draco)
Top two photos courtesy of Universal Studios; all others by the author.