Tyra Banks' ModelLand Gives Kids a Taste of the Supermodel Life—and Ice Cream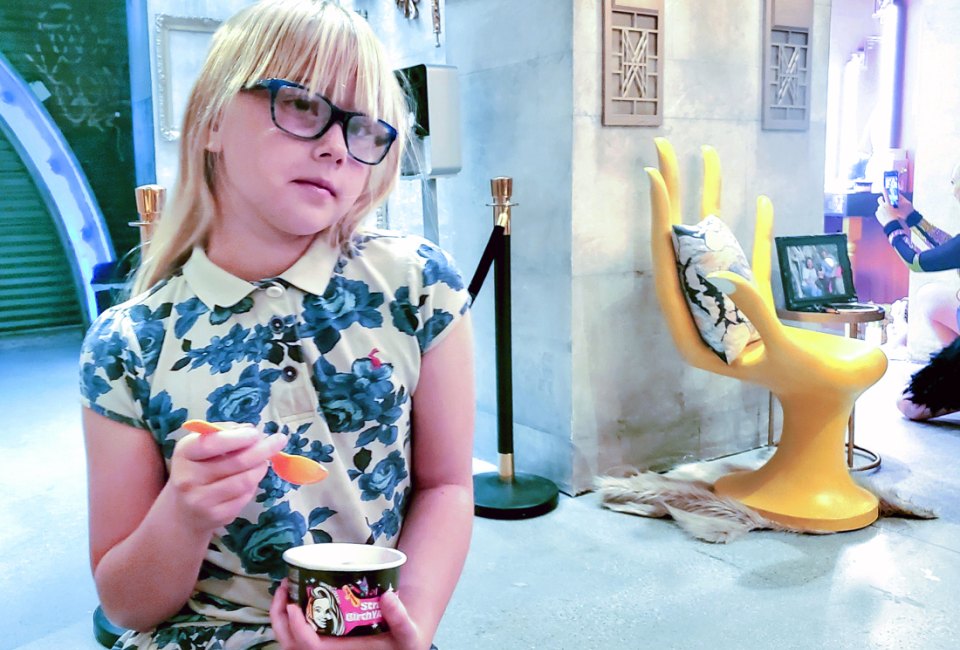 9/20/22
- By
Amanda Schutt
With ModelLand, Tyra Banks has stepped off the runway and brought her fiercest modeling secrets to Santa Monica. When news first broke that ModelLand was coming, we speculated. Rumors suggested this would be anything from a new amusement park to a simple ice cream shop. Well, it opened in September and now we know: It's a little bit of each, giving the Instagram generation lessons on striking a pose, finding your light, and experiencing the supermodel VIP treatment.
ModelLand is a multi-sensory experience where those with tickets (and a cell phone with a camera) are escorted through elaborately staged rooms, all with unique lighting and props. Selfie opportunities abound, and glammed-up staff will teach you how to find your best angels and accentuate your most fabulous self! Is it for kids? How's the ice cream? Read on for the inside scoop on ModelLand.
While you're in Santa Monica, be sure to explore more kid-friendly fun from our list of 30 Awesome Things To Do in Santa Monica with Kids, like visiting the Santa Monica Pier.

Outside ModelLand at Santa Monica Place, getting ready to smize and snap.
Unlike other immersive experiences, ModelLand is not self-led; instead, each group has a fashion and modeling mentor on each step of your ModelLand journey. We began our tour with a guide who called herself Sweet Cream, who was dressed to the nines in an outfit fit for Fashion Week.
Sweet Cream guided our small group of 5 adults, 2 kids, and one toddler. My family of 4 was matched with 4 other visitors, as I was told that "larger groups enhance the experience," which is absolutely correct.
RELATED: Hollywood's Museum of Illusions, Where Kids Can Defy the Laws of Gravity and Physics

Finding her light in a selfie sesh!
ModelLand Lessons: Find Your Light & Height
Sweet Cream encouraged us all to take a bad selfie (backlit, camera low, chin tucked) and then juxtaposed those dowdy, shadowy shots against her prescribed recipe for a perfect selfie based primarily on "finding our light," lifting the camera, and extending our necks.
She explained the rules of touring ModelLand to us: you always move forward through the rooms, never backward. (More on this later and how that played out with a toddler in tow!) And that we could take as many photos in each room as we wanted. She then sent us out onto the runway leading us into the next room, all the while encouraging us to be our "fiercest" selves. (Tyra's vernacular runs deep throughout the script of every guide at ModelLand!)
We then continued to other rooms and were passed off to a different modeling mentor who escorted us through a few more rooms.
ModelLand Offers Ice Cream and Accessories
Every few rooms had options for items to purchase: wigs, fingerless gloves, t-shirts, leather accessories, etc. No one in our group bought anything and additional purchases are not at all necessary to have fun. But I forgot to prep my kids with the "we're not buying anything" speech before entering, and had to put up with some serious begging. Learn from my mistake, and set expectations before your visit!
Also, in every few rooms, the guide brought in colorful cardboard containers with small scoops of ice cream in them. Very small scoops, about the size of a melon ball. This aspect was a bit different from the website's claim of feasting on ice cream. Additionally, managing a sticky cardboard cup while taking selfies proved to be awkward, and we were a little at a loss as to how to throw away the empty cups. Luckily, we quickly realized the scoops were probably small so we could eat them quickly and just leave them in the room, as a staff person collects them all as you pass to the next room. So again, to be forewarned is to be prepared, because once we figured out the logistics, it's hard to complain about being offered delicious ice cream! Non-dairy and allergen-friendly alternatives are available which I really appreciated.
A side note about that ice cream: It's called SMiZE Cream, and you can order it online (and presumably is coming soon to a grocery store near you). It's actually a frozen custard and at the bottom of the pints, there's a surprise cookie dough ball. It's actually pretty tasty, and when it's available locally, I wouldn't kick it out of my freezer.
RELATED: Top Attractions in Los Angeles: Best Things To Do and See with Kids

Posing inside the Mirror Room
Strike a Pose
We made our way through each ornate room, including one covered in mirrors, where we were instructed by our third and final guide, dressed in extravagant fashionista clothing, on how to pose.
Lights flashed, mirrors reflected, music pumped. To this middle-aged mama, it had a "nightclub for narcissists" vibe, but my kids adored it. The room offered us all enough space to move freely and to look at ourselves from all angles. My girls posed, strutted, and tossed in some dance moves for good measure. Our crowd of peers and the guide were super encouraging with their shouts of "You go girl!" and"Werk it! Yaaaas!!!" There's a tone of building each other up that is absorbed by the audience and feels really fun and positive.
Upon exiting, more ice cream was offered.
This event has been a decade in the making. It is Tyra's blood, sweat, and tears. It's her attempt to bring the elite world of modeling to the masses. While aspiring models won't get discovered at ModelLand, it's a great way to get everyone to pose, selfie, and smize their hearts out, making it a fun group outing, especially for out-of-town visitors, who want a little LA VIP experience.
RELATED: Visiting the Original Farmers Market with Kids

Time for toddlers to stir up trouble!
Is ModelLand for Kids?
As a mom with a toddler in tow, honestly, it was a bit rough. While all ages are welcome, strollers are not easily accommodated, and I even found myself being annoyed with the eyesore it became in photos—as it turns out, strollers are not aesthetically pleasing! There is no convenient spot to ditch the stroller, and if you have one, your toddler will inevitably want to get out and dance or run around the various rooms with flashing lights and fun beats! They will also want to get their hands on all the shiny, glitzy, props which are absolutely not baby-proof.
My little one went straight for the most delicate and expensive prop in each room, which had me jumping over suede sofas in one leap to avert the potential crisis! He also would not be contained to the room we were in and would often run backward into the rooms we had just come from, which was a no-no. This proved difficult for me, constantly dashing into forbidden territory to chase after my toddler gone rogue!
I offer my experience as a lesson to readers: while the staff was only kind and gracious towards both my two-year-old and his mother bounding after him, this experience will not bring out your toddler's best self. If your kiddo isn't old enough to have a phone capable of selfies, consider splitting your party in two and taking the younger ones one floor up to the Cayton Children's Museum.
RELATED: Tips on Visiting the Santa Monica Pier with Kids
My 9-year-old and 12-year-old, dancing and posing with adults, and having a blast.
My nine-year-old, who does not yet have a cell phone, needed to borrow my phone to really get anything from the experience. This was a little bit of a surprise and tricky issue to manage, rendering one of us void of a camera at all times. (That said, I had very few selfie moments with my trouble-seeking two-year-old in tow, so que sera, sera!)
My tween, however, had a grand time experimenting with her camera phone and snagging selfies to send to her friends. ModelLand is great fun for tweens and older kids. My family joined two adult couples for the experience, and they added a lot to the experience and embraced every opportunity to hoot, holler, take photos, and encourage my kids. It was very sweet!

The camera just loves you. And you. And you. Honestly, the camera loves everyone.
Tips For Visiting ModelLand with Kids
Don't bring littles with you, find a babysitter or friend to hang out with tots at the Cayton Children's Museum upstairs.
Make sure kids without their own phones have one to use, borrowing one just for this experience if necessary. Without a phone, you miss a lot.
Gather a group to go with tweens and teens; it's really an event where "the more the merrier" rings true. The experience is far more fun with group dynamics at play. (Birthday party groups are welcome, and for the right teen, I can see that being a very fun way to spend an afternoon with friends!)
Dressed for the occasion! This calls for a little snaz-up from yoga pants and a tee. When you're going to Tyra's brainchild, and will be placed in a group with legit models as your peers, that calls for lipstick and a smokey eye.
Take the Metro. The end of the Expo line at the Santa Monica stop plops you right in front of ModelLand in Santa Monica Place. It's way better than managing rush hour traffic.
Feed kids before you go. There are no food purchase options available at ModelLand, only the ice cream that you taste throughout the experience.
Tell your kids who Tyra Banks is. I know, I know, this seems shocking—who doesn't know Tyra Banks? Kids. She's closing in on 50 y'all. And I'm not saying she is no longer relevant, I'm just saying: how many celebrities do modern kids know who are over the age of 25? Give kids a little Top Model history before you visit.
ModelLand is a work in progress and will definitely continue to evolve as time goes on; it's clear a lot of resources and heart have gone into this project. A lot of the old media hype about it describes a very different—more elaborate (and much more expensive!)—experience. I'm glad that ModelLand chose to scale it back a bit, making it more attainable for families to enjoy.

Each room is different, and has loads of photo ops.
The staff informed me that ModelLand will evolve as various needs arise, trends are set, and audiences walk through it over the coming months. There is no doubt that Tyra Banks has revolutionized the world of modeling and opened doors for a new, more inclusive modeling community. This is another attempt by Tyra to encourage and embrace all types of beauty—even the sort that walks in wearing yoga pants and pushing a stroller! I may not be camera ready, but I did genuinely feel embraced and accepted by the encouraging staff at ModelLand. I think, and hope, that's what kids will talk away from this—feeling embraced, accepted, and encouraged.
The Smize Cream Posing Experience at ModelLand is located in Santa Monica Place and timed tickets are currently on sale on the website.
All photos are courtesy of the author.
Places featured in this article:
Sign up for the Mommy Poppins Newsletter today!
i