The Expo Line Arrives! Santa Monica to Downtown LA in 46 Minutes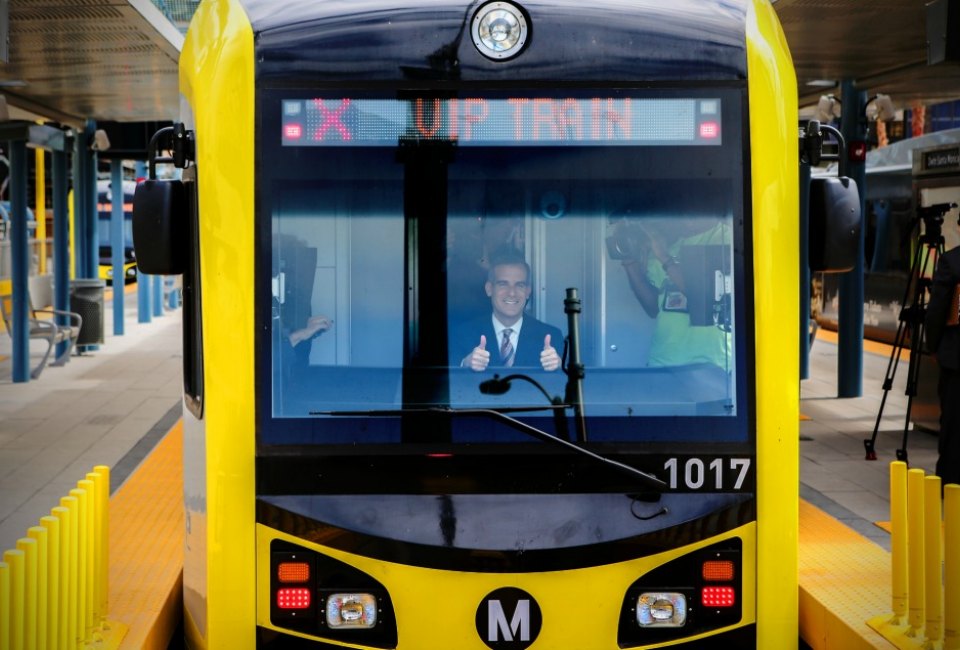 5/17/16
- By
Roberta B
They've been working on the railroad—all the livelong decade, it feels like. There are kids in high school who have heard all their lives about the light rail someday reaching the sea. Well, this weekend, on May 20, 2016 to be exact, the Santa Monica extension of the Expo Line finally opens up, and people will be able to travel between the Pier and DTLA without touching their car keys. Los Angeles Metro is celebrating the much anticipated event with parties and free rides for everyone. In all, 7 new stations are opening up, so that's 7 parties with live music, food trucks, bounce houses, and other entertainment from Culver City to Santa Monica. Hop on a train, and pretty much anywhere you hop off, there'll be a party going on. Yes, that's how novel public transport is to people on the Westside of LA.
The free rides are on offer from noon on Friday through the end of Saturday. After that, riders need to have a TAP card ($1 in vending machines, $2 on buses or at retail locations) loaded up with enough credit for travel; each journey costs $1.75 ($1 for kids in grades K-12), including transfers. And the good news is that several new Big Blue Bus routes have been added to meet the train—as well as a few other creative ways to get to and from the station.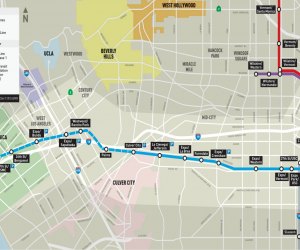 As of Friday, this entire line is ready to ride! Map courtesy of LA Metro
Bikeshare
The most fun way to get to an Expo Line station is with one of Santa Monica's new Breeze Bikeshare bikes. Hubs with these bikes are now located all over the beach city, as well as in some adjacent neighborhoods, and bikes can be picked up or returned at any of them. An app on your phone or a balance on your TAP card unlocks the bike, either on a pay-as-you-go or a monthly plan. Like the train, these rides are also free for Friday and Saturday's celebration. Download the app before leaving home, hop on a bike at the nearest hub, and then leave it at the station as you hop on a party train.
Big Blue Bus
Santa Monica's Big Blue Bus has added 6 new routes to make the Metro a more convenient choice for people, and this month passes are BOGO (buy one get one free). Plus, in case you're starting to see a pattern here, bus rides are also free all day on Saturday. Plotting the path from your house to the nearest stop shouldn't cost a thing this weekend.
Blue at Night - Who needs Uber?
Starting in June, the Blue at Night program will allow passengers to request a pick-up at 17th Street Station between 8pm and 3am on Friday and Saturday nights. These late evening rides will cost a flat fee of $3 within the Santa Monica service area. That means Westsiders can go to, say, a concert at Staples Center or the Hollywood Bowl, and then get back home safely for under $5!
Bike racks and lockers
If you have your own bike to ride to the station, all Expo stations have free bike racks waiting for you. If you prefer a little extra security, the 17th and 26th Street stations offer bike lockers for rent. The 4th Street station goes a step further, with the Santa Monica Bike Center adjacent. Here, cyclists can not only park; they can also valet (first 2 hours free), get repairs, or even take a shower. Does it get more civilized?
Parking
Finally, if you must drive your car to the station, your best bet is the station at Bundy (250 parking spaces) or Sepulveda (260 parking spaces). The station at SMC/17th Street only has 70 spaces, but if you can bag one, you'll only pay $2 to park for the day.
Trains are promised every 12 minutes along the Expo Line, with the full journey from 7th Street in Downtown LA to 4th Street in Downtown Santa Monica predicted to take 46 minutes. As anyone who's ever attempted to leave Santa Monica after 2pm can tell you, that amount of time can easily be spent on the 10 without ever leaving Santa Monica.
So look out, world; a whole bunch of Santa Monicans are about to be freed up to move around the LA basin at any time of day they want; and for everyone else, the Santa Monica Pier just got a whole lot closer .
RELATED: 7 Family-Friendly Outings on the Eastside via Metro Rail
Photo credit: Mayor Eric Garcetti via flickr
Sign up for the Mommy Poppins Newsletter today!