Visiting the Original Farmers Market with Kids: 27 Top Things To Eat, See, & Do
7/29/22
- By
Amanda Schutt
Plopped in the middle of the hubbub on 3rd and Fairfax, touching toes with The Grove and its infamous dancing fountain, trendy shops, and celeb sightings, sits the Original Farmers Market with its unassuming mint-colored chairs, multicolored Formica tabletops, and rows and rows of glorious vendor stalls. You can eat your way around the world within the space of these stalls—each one with a story behind it. It's a perfect spot for people watching and sampling a smorgasbord of enticing treats. It's a trip to the past, a respite from the heat, and an LA icon.
I can't get enough of the Original Farmers Market, and here I'll give you tips and tricks to blending in like a local (not a contestant on The Price is Right, which films nearby), and if you are a local, to finding the coolest hidden spots here you didn't even know about. Read on for the scoop on one of the top attractions in Los Angeles for kids and families.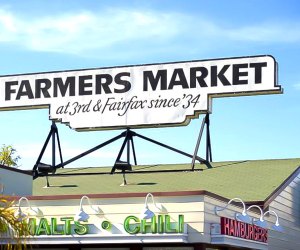 It's an LA icon. Photo courtesy of the Original Farmers Market, Facebook
The Original Farmers Market offers families a shaded space to roam during a hot summer day. Breakfast play dates happen next to business meetings here, novels and movie scripts are written at tables next to tourists from the other side of the globe. Live music is enjoyed in the evening, seasonal decor offers a multitude of year-round photo ops, and treasures are found in the market's many shops. You might catch a glimpse of a celebrity, and you definitely will run into someone of many hoping to make it big in Hollywood. Because anyone who is anyone will pass through the Original Farmers Market at some point. It's real LA history.
The Original Farmers Market: First We Talk Parking
The Original Farmers Market expands farther than most imagine. There is the well-known covered shopping space with rows of vendors, ending at Du-par's Restaurant (best diner pancakes in LA!) right at the corner of 3rd and Fairfax—but a lot of people don't realize that when they walk out of this covered space, you are still in the market! Look east at Marmalade Cafe and Dylan's Candy Bar: still the market! Look northeast at Zara and The Coffee Bean: still the market! Now look north, across the parking lot to the Container Store: you guessed it, this is all part of the market! This northern area of the Original Farmers Market borders CBS Studios.
This is all important information because it concerns one of LA's most crucial topics: parking! You can get Farmers Market parking validation at any of these locations, including Cost Plus World Market, the Container Store, and even Chipotle, as well as any of the Farmers Market stands, but you must be parked in the Farmers Market parking lots, not the Grove Parking Structure. If you park in the Grove structure, you must get Grove validation.
Then We Talk Bathrooms
There are several bathrooms, complete with changing tables, in the Original Farmers Market. Which is very handy for when kids really need to go right this second. But if you have a baby and need a changing table, or are looking for a private, quiet spot to nurse, I really recommend taking a walk to the Nordstrom's in The Grove. The ladies' lounge on the first floor has peace and quiet and is a great place to take toddlers who need more time using a public restroom or babies who need to be changed and fed without a million distractions. Now for the fun stuff!
The Original Farmers Market Has a Rich History
The history of the market is a fascinating bit of Los Angeles trivia! The Gilmore family owns the market, having purchased land for their dairy farming endeavors in 1880. That's right, before it was a hub of LA social life, it was a dairy farm! A few years after establishing their farm, the Gilmores discovered oil on their property. At that, the Gilmore Oil Company became the largest oil distributor west of the Mississippi. (You can still see an ode to this era at the market where there is a replica of an old Gilmore Gas Station, where kids love to play.) At this time, LA County was a huge agricultural center in the country and farmers wanted a place to sell their goods directly to the public. The Gilmores were presented with an idea to open their pasture area up to these farmers, and in 1934 the first farmers market event happened at 3rd and Fairfax. The market grew quickly and the rest is history.
Today the Gilmore family not only owns the land the Original Farmers Market sits on, the family still oversees the day-to-day operations there and is actively involved in management. If you visit the market regularly, it's almost certain you've seen a Gilmore at work. They are a pretty down-to-earth crew who strive to create a family feel amongst their staff—and that certainly rubs off on us visitors!

It just might be the cleanest tourist attraction in town. This is a view from the Local Ice counter.
Now, More Than Ever, We're Grateful for the Cleanliness
A highlight of the market, besides the amazing vendors, has always been their cleaning staff. There are thousands of locals and tourists who pass through this space on any given day, but it's rare to find a tabletop that's not inviting and clean! When you go, notice how quickly a staff member clears a table, or how many times you see someone with a broom disappearing that wayward scrunched receipt or napkin. The vendors make this place a draw, but the cleanliness of the market makes it a place we want to keep coming back to!
Family-Friendly Vendors at the Original Farmers Market
Let's preface this list by saying: apart from a couple of great bars at the market, it's ALL family-friendly! I've been taking my kids to the market for over a decade and there is something that each of them can enjoy at every age. (My tween enjoys the sticker store just as much as she did when she was three!) That said, these are some of our very favorites:
Where To Eat at the Original Farmers Market
The Original Farmers Market is open for breakfast, lunch, and dinner! If you're looking for a mellow scene with less crowds and lines, you might be a morning marketer. If you want to head out of the house after baby's nap for a bite and some people-watching, head there for lunch. If you're in it for the wholesome night energy and maybe even some live music, you simply must head there for dinner, and be sure to check out the schedule of live events before you go. You also want to check the schedule for special family days that take place throughout the year. The St. Patrick's Day and Mardi Gras Celebrations are always a blast!

Choose your pasta, choose your sauce! Pasta Corner feels like it was designed by and for picky kids.
1. Pasta Corner
This is the latest addition to the market and I was SO excited when I saw this place! You can choose your own homemade pasta from their pasta bar, then you get to choose your sauce. It's the new "must try" at the market, especially for picky kids who can't have yucky things anywhere near their plates.
2. Charlie's Coffee Shop
Charlie's food is exactly what you expect when you order it. Think, "diner food" with less stale air as ambiance, and that's Charlie's in a nutshell. The line cook is always on point, the cashier never misses a beat, and the neon construction paper notes scattered across the menu board always make me grin.
3. Du-par's Restaurant and Bakery
Du-par's Restaurant and Bakery makes up the southwest corner of the market- you can see their patio when driving by on Fairfax. Big fan of the potpie, pancakes, meatloaf, and cinnamon rolls! Du-par's is your classic diner with your classic diner menu. Their rich, red vinyl booth seats are a throwback to simpler times, as are all their menu choices. During weekend peak hours, there can be a line sometimes because this place is an institution! Remember that you can always get any of their desserts at Du-par's Pie Shop, right outside of their restaurant, where there is rarely a line.
4. Magee's Kitchen
Long ago, when farmers pulled their trucks into a dirt lot to sell their produce, Blanche Magee filled a picnic hamper with meals to sell to the masses, too! Corned beef, ham, and turkey are all staples here and can be enjoyed in a sandwich or as part of a platter. Additives and preservatives are not used in the meats, which a lot of parents appreciate. They also offer some kid favorites like mac and cheese, hotdogs, corn on the cob, and mashed potatoes.

Crepes are always a hit. Photo courtesy of the Original Farmers Market, Facebook
5. French Crepe Company
Is it a meal or is it a dessert? It's both! Sweet crepes, savory crepes, cold sandwiches, and waffles are all available here. I love the French feel of this adorable little spot. Sneaking some veggies and protein into a thin pancake is a sort of brilliant that every parent needs to thank the French for. Vive la crêpe!
6. Fritzi Coop
Fritzi Coop serves amazing fried chicken sandwiches that are so thick and mighty, they are almost too hard for little mouths to handle! Instead, opt for some fresh curly fries or tots and some yummy chicken fingers for the kids. (But order a sandwich for yourself—it's so good!)
7. Patsy D'Amore's Pizza
Pizza by the slice! Need I say more? Not really, but I will … Patsy's Pizza is a solid choice for anyone who loves a thin slice of pizza pie, and sometimes this is all kids will eat. James Dean and Frank Sinatra enjoyed a slice here in their day, and who can argue with that? A market classic, for sure.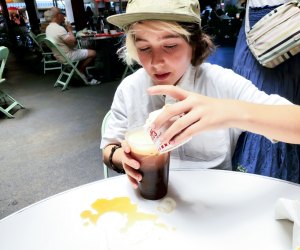 Combine treats from several spots for your own tasty concoction.
Sweets & Treats at the Original Farmers Market
Warning: it is really difficult to leave the Original Farmers Market without trying at least one of these tempting treats! Sweets are a mainstay at the market and there are lots of options to choose from. Here are some of our faves:
8. Du-Pars Pie Shop
Directly outside of Du-Pars Restaurant and Bakery, you will find the Pie Counter. There is always a selection of gorgeous pies at the counter, but the cinnamon rolls, cookies, cakes, donuts, and muffins are equally tantalizing. And the market's very best bargain is found right here: Ice cream cones for kids for 99 cents.
9. T&Y Bakery
Oh my goodness, where to start? It's all so good! Strudel, bread, cookies, cake, croissants, baklava, and the love of my life: Chocolate Chip Rugelach! It's the best I've tasted and will have my heart forever.
10. Zia Valentina
A fun little spot serving sips of espresso (or chocolate milk) in small, edible chocolate-covered cone cups! Not ready for your coffee buzz yet? That's ok, take some of the edible cups home to serve up tea in at your next teddy bear tea party and be the hostess with the mostest!
11. Magic Nut and Candy Company
While also offering a rainbow of candies from chocolate to gummies, this store has flavored popcorn and a delightful array of dried fruit, nuts, and caramel apples. There is also a solid sugar-free candy section. The cherry on top: shipping! You can send a little sweetness from LA to your out-of-town friends.

Bob's is an all-time market fave with kids. Just remember that it's cash only!
12. & 13. Bennet's and Bob's
Bennet's Ice Cream and its neighbor, Bob's Donuts are the epitome of Farmers Market staples. Both of these vendors have been at the market for ages and little about their appearance or their product has changed since the 1960s. Be it a warm, fresh donut from Bob's—preferably the one shaped like a dinosaur—or a handmade frozen treat from Bennet's, each comes with a sweet side of nostalgia. (Note that Bob's only accepts cash. I have, more than once, ordered doughnuts and had them boxed up, only to realize that Bob's still does not accept anything but cash. That said, the policy is in sync with the retro vibe.)
14. Local Ice
I prefer this ice cream spot to the better-known Bennet's (however, I'll still take Bennet's any day). The service is always super friendly, the ice cream is organic, and there are lots of fun offerings here including Italian Ices, handcrafted sodas, and of course all sorts of ice cream concoctions! Many specialty ingredients are sourced from fellow vendors at the market, including the Apple Pie Ice Cream which uses real apple pies from Du-Pars! It's a delectable two-for-one.
15. Little John's English Toffee House
Little John's makes toffee right in front of your eyes! My kids can stand here and watch treats being made for ages in front of the giant glass windows. Chocolate fountains and sheets of sugar come together to make Little John's famous toffee. The toffee uses high-quality, perishable ingredients and is packaged in adorable vintage boxes which make their treats a perfect gift for anyone with a sweet tooth. Not into toffee? Little John's offers other specialty candies sure to delight anyone. A little warning: these are not your everyday candies, thus don't have an everyday price tag. May I suggest sneaking a box of toffee to enjoy at home WITHOUT the kids? It really is so good!
16. Dylan's Candy Bar
A wonderland of candy, Dylan's is just a few paces outside of the covered area with stalls, right on the border of the market and The Grove. Dylan's is a Willy Wonka paradise; bins and bins of every candy imaginable with a jelly bean wall, an ice cream counter, gummies galore, chocolate treats, and seasonal specialties all contained within a rainbow-colored bastion of cavity-inducing sweet decor. It's basically kid-heaven, and you don't want to darken the doorstep unless you're prepared to buy something for your wheedling wee ones.
Produce Perfection at the Original Farmers Market
Almost every time I have visited the market with kiddos, I hit up one of these spots. Lots of exotic fruit and veggie options to pick from, but they all offer fresh juices and cut fruit as well. Enjoy at the market or grab your dinner veg at one of these spots:
17. & 18. Farm Boy Produce and Farm Fresh Produce
These stands sit at a very close diagonal to one another in the northwest corner of the market. Both are excellent options for fresh produce and juices and have been at the market for as long as most of us have been in LA!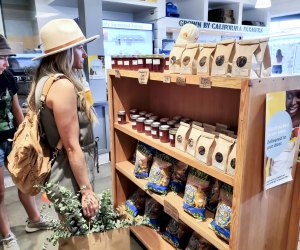 Rick's Produce offers a fresh spin on farm goods.
19. Rick's Produce
This is the new kid on the produce block. Rick's offers some fun additions to the produce game, like cut flowers and herbs, acai bowls, and guacamole. I love this fresh, younger take on a produce market and my daughter loves the acai bowls!
The Original Farmers Market Specialty Foods Kids Love
20. Nonna's Empanadas
Get two for a meal or one for a quick snack! Nonna's took the traditional Argentinian empanada flavors and spun them on their head. Yes, you can find your standard chicken and beef options here, but how about trying their mac and cheese or Nutella empanada? There is no waiting around for your order to be ready, which in the case of hungry toddlers can be clutch. Bonus: you can sit and eat these handheld meals, eat them while walking, or pack a dozen up for dinner tonight. Nonna's can be a tad skimpy (or run out!) on their delish Chimichurri sauce—my kids prefer their empanadas without sauce, which usually means I have just enough for myself.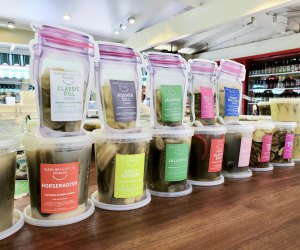 Kaylin + Kaylin Pickles offers a pickle tasting bar that will put a pucker on your kisser.
21. Kaylin & Kaylin Pickles
Kaylin & Kaylin is a newer vendor with a fun pickle tasting bar that offers some flavors that grown-ups are more likely to enjoy (jalapeno, horseradish) but if your kiddo loves pickles, they are gonna love the honey mustard and dill options. Pickle packaging is cute and fun to take home or gift.
22. Magee's House of Nuts
Magee's is a must-stop for everyone without a nut allergy. If you're allergic to nuts, keep your distance! If not, come see whole peanuts being churned into butter at the front of this shop. The "peanut butter machine" here is from the early 1900s and there's just something mesmerizing about it. By today's standards, it's a fairly simple machine but celebs like President Eisenhower and The Beatles once stood and wondered at its magic.
The Original Farmers Market Shops and Stops
23. Sticker Planet
Thousands and thousands of stickers! This awesome shop has been there since 199, so parents who visited the shop as kids are now bringing another generation of sticker-lovers into this cool shop. Big, small, glittery, unusual-—Sticker Planet has a variety of stickers that is out of this world.

Help your kids unplug at Kip's Toyland, the best toy store in town that's purposefully lacking in power cords.
24. Kip's Toyland
Kip's is the oldest toy store in Los Angeles and you simply must go here, with or without kids! This is a family-run store that's been delighting children and their parents since 1945 and moved to this spot in the market eleven years later. Kip's sells a lot of the toys parents remember loving as kids, with a good mix of newer toys as well. Kip's does not sell toys that you plug in, which makes it a special spot for igniting old-fashioned play.
25. & 26. Photo Ops: Gilmore Gas Station Replica & Market Truck
Just on the other side of Kip's Toyland is a historic replica of an old Gilmore Gas station. It's perfect for snagging great photos with a vintage vibe, and kids enjoy peeking through the truck's windows and posing by the old gas pumps. Be sure to wave at the man on the roof holding the checkered flag. (His name is Dominic, btw!) Next photo stop: the Market Truck which is in front of Marmalade Cafe, right at the border of the market and The Grove. The Market Truck is always thematically decorated for the season.
27. The Travel Angel
In 2001 there was a city-wide art installation where artists painted and personalized statues of angels, which were then placed around the city in public spots. "The Travel Angel," as this particular angel has been named, still hangs out at the Original Farmers Market, blessing travelers and tourists who pass by. It's reminiscent of vacationing dads in the early 2000s, and I kinda love it for that.
For All Your Shopping, Grab a Green Cart!
At several of the market entrances, you will find tall, wooden, green carts with a deep basket—those are for hauling your goods. If you're visiting with a stroller, the carts are redundant, but they are a piece of the market history that are fun to use if needed. These are extra useful when visiting in colder months when tossing all the bulky jackets into one of these will free up some helping hands.

The not-so-secret upstairs dining area has tons of tables with a view!
One Last Original Farmers Market Secret
Want to know a secret that's not really a secret? There are signs declaring its presence and it's right in front of every single person walking by but it took me years to acknowledge its existence and every single family I've shown it to has been surprised by it. Are you ready?
The market has a second story.
On the north side of the stalls, at two different places, there are large stairs going up. A lot of people assume these lead up to the offices—which they do—but there is also a huge space for eating! Some of the tables have the best view in the market. It's always quieter up there, and like the rest of the market, it's spic and span clean. There are only stairs, so wheelchairs and strollers can't access it easily, but if you're here with a group during busier hours and you all want to sit together, or if your child is on sensory overload, head on up.
The Original Farmers Market is located at 6333 West 3rd Street in Los Angeles. It is open seven days a week year-round. Each stall, shop, and vendor at the market has their own hours, so check online before visiting.
Places featured in this article:
---
The Original Farmers Market
Sign up for the Mommy Poppins Newsletter today!