Top Attractions in Los Angeles: Best Things To Do and See with Kids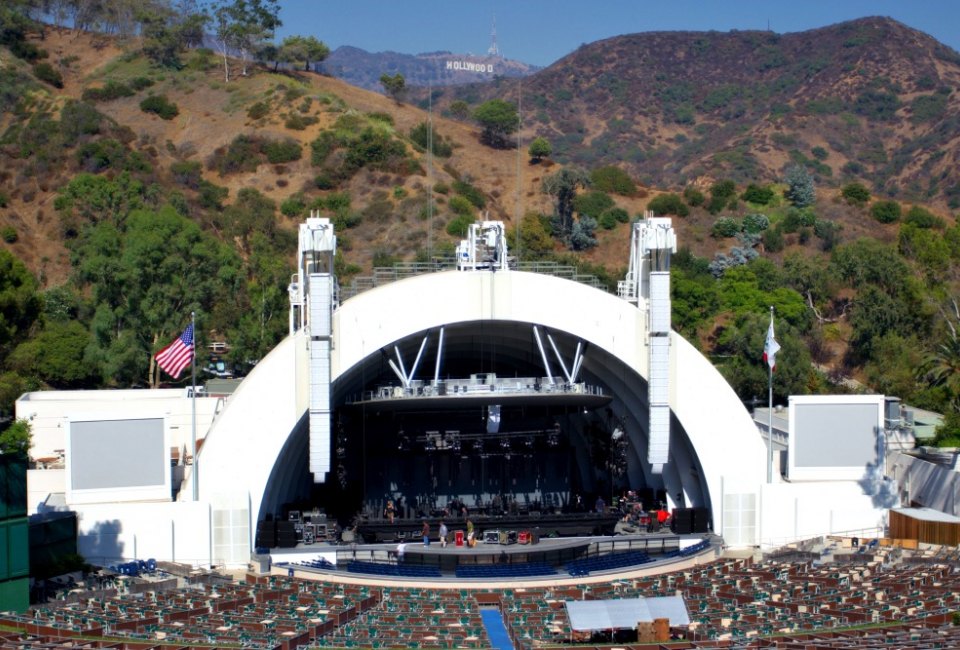 2/11/22
- By
Matt Matasci
We love LA! There are SO many things to do in Los Angeles with kids for visitors and native Angelenos alike. Whether you're visiting Los Angeles for the first time, or have guests in town who don't know where to start, we've gathered a list of all the top attractions in LA for families with kids. You'll find history and culture in just about every neighborhood of the city from Santa Monica to Echo Park—it's impossible to see everything in just one visit. But with this handy list, you'll know where to start and just what to do with kids once you're there.
Looking for more kid-friendly activities in Los Angeles? Check out our Los Angeles Visitors Guide for Families, which covers everything from the Best Hidden Gem Beaches to 12 Disneyland Hacks Locals Know to Where You Can Get Free Admission for Kids—and so much more.
Money Saving Tip: If you have plans to visit multiple attractions in the Los Angeles area (we're looking at you visitors to LA, Angelenos with visiting relatives you'll be squiring around town, and even locals who want to explore the city during summer vacation!), it's worth it to look into a Go City - Los Angeles All-Inclusive Pass or Explorer Pass which includes entry to Legoland, Universal, Warner Bros., Knott's Berry Farm, Six Flags Magic Mountain, the Aquarium of the Pacific, the San Diego Zoo, and the LA Zoo. There are two options which allow you to use your pass within either 14 or 60 days.
Top Tourist Attractions in Los Angeles for Families
There's not a bad seat in the house at the Hollywood Bowl, where you can catch everything from rock concerts to performances by the Los Angeles Philharmonic. Nestled in the Hollywood Hills, there are few experiences like golden hour at the Bowl. If you're going to a show by the Phil, you're able to bring in outside food and drinks, perfect for a picnic before the show.
Hot tip for those not from LA: if you're here when the Bowl is closed for the winter, you can visit the Hollywood Bowl Museum, which is always free, and peek inside the Bowl itself. And if you're here in the summer but don't want to spring for tickets, when the LA Phil is scheduled for a concert, the orchestra rehearses in the morning from 9am-noon. These rehearsals are free and open to the public. Call the box office to see when rehearsals are being held.

Photo courtesy of Muppet Wiki, muppetfandom.com
Perhaps one of the most well-known attractions in Los Angeles is the Hollywood Walk of Fame. For about a mile between La Brea Ave. and Gower St., the street is lined with stars for stars from TV, movies, radio, and entertainment. It's certainly the most touristy part of the city with gift shops, kitschy museums, and of course the famous characters that are stationed around Hollywood and Highland. Just walk around, and soak up the sights. Don't forget to look at the famous hand and footprints at the TCL Chinese Theatre.
RELATED: 30 Things To Do in Hollywood with Kids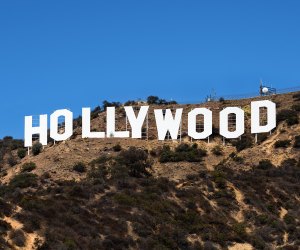 Photo by Thomas Wolf, Wikimedia CC BY-SA 3.0
On a clear day, it's not hard to see the Hollywood Sign from all over the LA basin—we've even been able to see it from the Disneyland Hotel in Anaheim! But the best place to see the sign without hiking is at Hollywood and Highland where the complex was built in such a way that it provides several picturesque views of the sign. Or, if your kids are up for a fairly easy hike, hike up to one of the best viewing spots below the sign.
4. Take a Studio Tour
Los Angeles is famous for its studios, and there are still several prominent old-school campuses you can tour like Paramount, Warner Brothers, and Universal Studios. Paramount is the only major studio that's still in Hollywood, and the grounds have a great classic vibe.
RELATED: Hiking in Los Angeles with Kids: The Best Trails for Families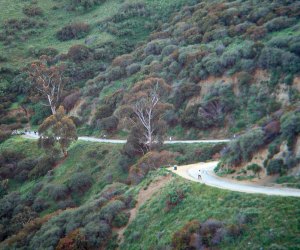 Runyon Canyon Paved Trail photo by Alain Demour via Wikimedia CC-BY-2.0
5. Hike Runyon Canyon
Outdoors-loving families will want to be sure to check out Runyon Canyon. Located just north of Hollywood Boulevard, this mountainside park has a very gently sloping path that leads to Inspiration Point. Between dodging selfie-taking social media influencers, look out for some bonafide entertainment industry members enjoying a little rest and relaxation. You can't blame the influencers for taking selfies at Runyon, it provides hikers with some of the most breathtaking panoramic views of the city, from the base of the San Gabriel Mountains all the way to Long Beach and Santa Monica on clear days. It gives you a great idea of the scope and beauty of LA.
Runyon Canyon is hardly the only great place to hike in Los Angeles. Griffith Park is located at the eastern end of the Santa Monica Mountains between Hollywood and Glendale. This sprawling park has miles of hiking trails that range from easy to difficult, all giving hikers different views of the city below. There are plenty of attractions on this list that are part of the park—like the LA Zoo, the Autry Museum, and Griffith Observatory. Our favorite hidden gem in Griffith Park is Ferndell with its babbling brook, lush greenery, yummy cafe, and a great playground for kids. Nestled in the shadow of the Observatory, it's a perfect place to recharge and let kids run wild, all while soaking up the very essence of Los Angeles.
RELATED: An Insider's Guide to Griffith Park

Photo courtesy of Griffith Observatory, Facebook
The studios aren't the only place to catch a glimpse of a star in Los Angeles! The Griffith Observatory features interactive exhibits, the Samuel Oschin Planetarium, artwork, and murals all for free, except the planetarium shows which are just a few dollars per person. It's no surprise that in just a few decades the Observatory has become a must-see attraction for visitors to the City of Angels. Be sure to check out the place where Rebel Without a Cause was filmed (and the bronze bust of James Dean) as well as one of the best places to see from downtown to the sea, plus fabulous views of the Hollywood Sign.
The Grove and the Original Farmers Market are certainly tourist attractions, but they have a bit more of a local feel than Hollywood. The Grove is an upscale outdoor mall with your standard range of high-end chains; the streetcar that connects it with the Original Farmer's Market is a callback to the days when LA's streets were lined with similar trolleys. You can often find huge artists performing by the dancing fountains, TV shows taping, and celebrities shopping. CBS Television City is also right next door, and if you have a free day there's no experience like participating in a The Price Is Right taping. If you think it's crazy to call a mall a must-visit tourist attraction, consider this: more people visit the Grove each year than Disneyland or the Great Wall of China.
If your family loves to shop (or just window shop), then head a few miles west from Hollywood to Beverly Hills. At the center of the city's downtown is Rodeo Drive, which is lined with palm trees and retail shops for some of the biggest names in fashion. If you're not into shopping but love high-end cars, there are always a few six-figure cars parked along the famed shopping street.
RELATED: 25 Things To Do in Beverly Hills with Kids

Olvera Street photo courtesy of Mommy Poppins
It's pretty unbelievable that 150 years ago Los Angeles was just a small, rough-and-tumble outpost. Olvera Street and the Pueblo are two vibrant tourist attractions with regular street performances and some of the oldest buildings in Southern California. Shop, snack, and see some history.
One of the world's shortest railways is right here in Los Angeles. In Los Angeles' early days, Angel's Flight was an important connector between Bunker Hill and the rest of Downtown. Today it's more of a tourist attraction, though it certainly still provides some commuting service, connecting the museums and businesses on Grand Ave. with the Metro subway. A great time to go is at night, when you can take in the views of the city from California Plaza. It's a nice stop on a downtown tour that includes the Disney Concert Hall and Grand Central Market...
While you are at Angel's Flight, you can't miss the Grand Central Market. This historic building is still a functioning marketplace where you can buy produce, meats, bread, and other sundries. Like the surrounding neighborhood, the market has gentrified a bit with new restaurants, cafes, and even a Golden Road outpost. There are few places in the United States that have the ambiance of this bustling marketplace—it's certainly an "only in LA" establishment, and a great place to sample local favorite foods, all in one spot.
RELATED: 20 Things To Do in Echo Park with Kids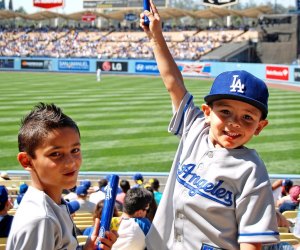 Take kids out to the ballgame! Photo "Dodger Fan" by 4X4 Blazer 1776 is licensed under CC
Even if you're not a local or a fan of the team, catching a Dodgers game at the historic stadium in Elysian Park is an essential LA experience. One of the oldest stadiums in the MLB, Dodger Stadium gives fans incredible views of the San Gabriel Mountains. It doesn't hurt that over the last few years, the Dodgers have fielded one of the best teams in the league! If you're not in town during baseball season, you can take a behind-the-scenes tour of the whole stadium. It's a fascinating tour that puts kids in the dugout and sometimes you'll see stars warming up on the field.

The Santa Monica Pier is stunning any time of the day or night. Photo courtesy of Bigstock
The iconic Santa Monica pier is a must-do for any visitor (or local). Many kids love it for Pacific Park: With carnival games, rides, and food, Pacific Park is a slice of beachside Americana. Much smaller than the other theme parks on this list (below), Pacific Park can be enjoyed in just a few hours. It's free to enter, with tickets sold for each ride or game—though there are day passes available. While you can fish off the end of the Pier and ride the carousel, the only can't-miss Pier activity is a ride on the Ferris wheel, preferably at sunset. It's the perfect way to begin or end any LA vacation.
Malibu is an iconic Southern California destination and one of the best places to experience the coastal enclave is at Paradise Cove. There are several options for enjoying Paradise Cove. If you're on a tight budget, you can park at PCH, walk down to the pier, and use the area of the beach that's below the mean high tide line (a state law). The other option is paying for parking ($35 weekdays, $50 weekends and holidays) and using the beach, or for the big spenders, renting a chaise lounge or palapa for the day. Hint: If you get your parking ticket validated at the restaurant, parking is only $8-$10 for 4 hours with a $30 purchase. It's well worth it for easy access to the private beach and clean restrooms; and after hours at the beach, you'll be ready for a huge plate of calamari and a giant slice of chocolate cake.
RELATED: 25 Things To Do in Venice Beach with Kids

Venice Beach Boardwalk photo by Marc Cooper, CC BY-SA 3.0
While you're at the coast, be sure to check out Venice Beach and the nearby Venice Canals. One of the biggest draws of Venice is the people-watching. You can check out the world-famous Muscle Beach Gym, rent kayaks or paddleboards, go sand sledding, or keep it simple and let the kids get some energy out at one of two beach playgrounds. Just a few blocks inland from the beach are the canals, which are modeled on the ones in Venice, Italy, and make for a picturesque walk and great photos.
One way to enjoy the SoCal coastline without spending a ton of money is renting a bike and taking a ride along The Strand, aka the Marvin Braude Bike Trail. This bike path runs almost continuously from Santa Monica to Redondo Beach (there's a slight inland jaunt at Marina Del Rey). Biking any part of this gorgeous oceanside path will make you feel like you were born in Southern California.
RELATED: Mommy Poppins' Guide to the Best Zoos and Gardens in Los Angeles

Photo courtesy of the Natural History Museum
Kid-Friendly Activities in Los Angeles: Museums & Garden
While it's not free, the Museum of Natural History is another must-visit science museum in the city. Dinosaur lovers won't want to miss the giant skeletons in the Dinosaur Hall and the interactive exhibits at the Dino Lab, while the Diorama Halls are a classic of natural history museums. Other attractions at the NHM include the brilliant Gem Hall and the history lessons in Becoming Los Angeles. In the summer you can catch the Butterfly Pavilion and in the fall you can visit the Spider Pavilion.
The California Science Center is free! Located in Expo Park right next door to the Museum of Natural History (see below), the Science Center has exhibits that every kid from preschool to high school will love, including the Space Shuttle Endeavour. Also, while it's not free, take a break from the famous LA sunshine by catching one of the movies at the IMAX theater at the Science Center.
Designed by Frank Gehry, the Walt Disney Concert Hall instantly became an architectural icon. Even if you don't have time for a show, you can take a tour of the building and learn about its history and design. It's the winter home of the LA Phil, and during the season there are often concerts for kids on Saturday mornings as part of the Toyota Symphony for Youth program. Here's an inside tip for this spot: if you don't have the time (or money) for a formal tour, you can walk around the building yourself—and don't forget to check out the hidden Blue Ribbon Garden at the top of the stairs. It's a lovely oasis in the middle of the city.
Los Angeles County Museum of Art is a sprawling complex on Wilshire Blvd. While the museum is currently undergoing massive renovations and most of the art is in storage, it's still open to visitors and there's plenty to see and do. If you don't have time to visit the museum itself, check out the iconic Urban Light installation and the Levitated Mass, both on LACMA grounds.
RELATED: The Butterfly Pavilion at the Natural History Museum of Los Angeles

Photo courtesy of the La Brea Tar Pits, Facebook
The La Brea Tar Pits have to be one of the most unique tourist attractions in any major city. Smack-dab in the center of town is the iconic lake with the mommy Mammoth trapped in sticky tar. The park is much more than just a single exhibit, in fact, it's a working excavation site! The outdoor areas are free to view and provide info on what exactly is going on beyond the fenced areas. While it's a small museum, the Page Museum is worth the price of admission, with several interactive exhibits about LA's prehistoric past.

Photo courtesy of the Academy Museum
While you're at LACMA or the Tar Pits, swing by the brand new Academy Museum, which showcases the very beating heart of Los Angeles: the movie industry. See Dorothy's ruby slippers and practice your own acceptance speech, then catch a movie and any of the amazing permanent or rotating exhibits.
While it may not be as famous as the San Diego Zoo, Los Angeles' Zoo is one of the largest in the state. The zoo has a simple layout that makes it easy to see every exhibit in one day. Don't miss the bird show, which is a surprise hit with kids, as well as a ride on the carousel.
RELATED: 50 Best Things To Do in San Diego Besides the San Diego Zoo

Photo courtesy of getty.edu
There are few museums as unique as The Getty. Half of the reason to visit is to explore this wonder of architecture and landscaping—not to mention it has arguably the best panoramic view of the city. The Getty Villa is in Pacific Palisades and is home to antiquities, and is a re-assembles Roman villa, which is gorgeous. Both museums are free (the only charge is for parking), but the Getty Villa requires a reservation. Before you visit, check out the schedule of events, as both locations have fantastic concerts, plays, and Family Days.

Yayoi Kusama Infinity Mirror - photo courtesy of The Broad
One of the biggest draws at one of LA's newest major museums is its free admission! Housing the modern art collection of Eli Broad, this Downtown museum features eye-catching artist installations and galleries. While you may think there's nothing here for kids, there is a surprising amount of kid-pleasing art, especially Yayoi Kusama's Infinity Mirror Rooms.

Huntington Gardens, photo courtesy of the American Public Gardens Association
The Huntington Museum and Gardens in tony San Marino, just south of Pasadena, gives kids the chance to explore other continents without leaving the city. There is a Japanese Garden, Chinese Garden, Mediterranean Garden, Australian Garden, a Conifer and Fern Garden, and more! But good luck getting your kids out of the Children's Garden, where they could happily play all day. Perhaps if you entice them with tea in the Rose Garden...
Another place to feel like you're in the country without leaving the city is the LA Arboretum in Arcadia. In addition to winding paths, lush landscaping, and beautiful fountains, there's diverse native wildlife. Just keep an eye out for the peacocks, because they aren't always friendly! (They are, however, stunning. And fearless. And will spruce up all your pictures and hound you for scraps at the cafe.)

Descanso Gardens, photo courtesy of socalmuseums.org
Kids love an afternoon at Descanso. Located in the foothills of La Canada, these botanical gardens feature a bit of an artistic touch. There are so many things to see and do here that you might want to prioritize: Our favorites are the koi pond at the Japanese Gardens, the Mulberry Pond, and the Camellia Gardens. Hop on the train when it's running and check the website for concerts or special events that might be taking place when you visit; they're worth planning around.
RELATED: Mommy Poppins' Museum Guide for Kids in Los Angeles and Orange County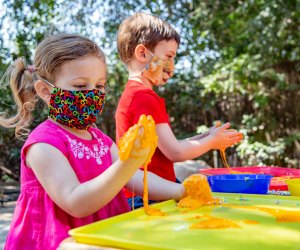 Kidspace is an indoor and outdoor wonderland for kids. Photo courtesy of Kidspace
Located right next to the Rose Bowl, Kidspace is an indoor and outdoor wonderland for kids. On a hot day, don't miss the babbling brook in the back area of the museum. It's easily one of the best places for water play in Los Angeles. There are science-themed interactive exhibits that kids love, plus plenty of indoor fun as well. While LA doesn't lack great children's museums, if you've only got time for one, this is our pick.
Can't-Miss Theme Parks in Los Angeles

Photo courtesy of Universal Studios, Hollywood
Universal Studios is the only major theme park that's in the city of Los Angeles (though technically Universal City is an unincorporated enclave within the city—it has its own zip code and fire department!). Your experience at the park will depend on the age of the kids you're bringing, as the park has attractions for every age. There are tons of reasons to come, but your list will probably start and end with Harry Potter if your kids are over the age of 5. Don't miss the Butterbeer. It's worth the price of admission.

Photo courtesy of Knott's Berry Farm
With its affordable ticket prices and compact layout, Knott's is one of our favorite theme parks in Southern California. Like Universal, there are attractions for every age group. For the littles, head to Camp Snoopy for some easy-going rides. If you have adrenaline-addicted teenagers, they'll want to ride the coasters over and over. On hot days, take a break to grab some lunch at Mrs. Knott's Chicken Dinner Restaurant.
Here's a park that's mostly geared towards roller coaster lovers. There are a few attractions for smaller kids but the bulk of the rides are meant to get your heart racing. However, if you're visiting with a range of ages, we do have tips on having a fabulous time here with everyone from babies to teens to grandparents.
RELATED: The Ultimate SoCal Theme Parks and Water Parks Guide

Photo courtesy of Disneyland
When it comes to theme parks in Southern California, the conversation always begins with Disneyland. The Magic Kingdom is legendary for a reason, giving kids hours of enchantment and fun. If you have the time and budget, try to give yourself two full days to take in the park because there's just so much to see and do—and depending on the time of the year, the lines can get very long. If you've never visited, you'll quickly discover why it's called the Happiest Place on Earth. If you're bringing a baby, don't miss our tips for having fun here with a wee one.
Main photo of Hollywood Bowl by Matthew Field, CC BY-SA 2.5
We may earn a small commission if you click through our link and make a purchase. This revenue helps us maintain this site, so thank you for supporting us.​
Sign up for the Mommy Poppins Newsletter today!
i