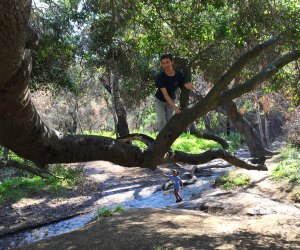 The Best Los Angeles Area Hiking Trails for Families
Some days, you just need everyone to take a hike. Long weekends, weekday afternoons, random days off from school—if the kids are starting to climb the walls, the answer on most LA days is head for the trails.
We've compiled a list of some of LA's best hiking destinations for you and your little ones (though if you're pushing someone up that mountain, you may want the stroller-friendly hikes). Each of the self-led hikes below is an LA classic. Of course, if you like to add a goal to hike toward, you might try this list of hikes with waterfalls, or maybe even do a little geocaching along the way.
Remember the sunscreen, hats, sunglasses, snacks, and lots of water!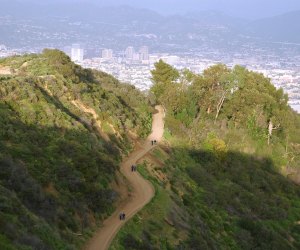 Griffith Park hiking trail with downtown Glendale in the distance. Photo by Clinton Steeds/CC BY 2.0
4730 Crystal Springs Parkway
Los Angeles, CA 90027
Park hours: 5:30am- 10:30pm; trails close at sunset.
Parking: Free
Dogs on leashes allowed on trails
Certainly one of LA's jewels, Griffith Park might very well have it all: a merry-go-round, an observatory, and an old train park. What's more, there are trails – and lots of them.

Insiders recommend the Charlie Turner Trail. Park at the Observatory and begin your climb up Mt. Hollywood. On a clear day, you'll be rewarded with views of the San Fernando Valley, Glendale, and the Westside, as well as a closer peek at the Hollywood Sign. The round-trip is less than three miles, with an elevation of roughly 1,000 feet. Eat a snack on picnic tables at the top of the trail. Or grab lunch at Wolfgang Puck's Cafe at the End of the Universe located in the Observatory. Beware of crowds on the weekends (the trail is a popular destination), the sun on a hot day (hydrate and wear sunscreen), and horse poop.

Or, hike to the Observatory from another direction. Start the two-mile loop at Ferndell Gardens (scroll down for parking directions), breezing by a shady fern and succulent-lined brook, past stone retaining walls, and over footbridges. Continue along a dusty road through chaparral to the Observatory. Grab some pre- or post-hike grub at The Trails Cafe. The trail is well-traveled on the weekend, so beware of crowds. Morning or late afternoon hiking is best on hot days. Dogs are welcome

For an easier Griffith Park hike, try the Fern Canyon Trail. Park at the first Merry-Go-Round parking lot and head beyond the T-bar gate. The trail goes uphill and passes the old zoo. You will most likely see people-friendly gophers, squirrels, and woodpeckers along the way, as well as picnic tables for your snack-time use. Trail length varies depending on which way you choose to walk. Enjoy views of Glendale and Pasadena at the top of the full 400-foot elevation trail.

2600 Franklin Canyon Drive
Beverly Hills, CA 90210
310.858.7272
Park Hours: Daily, sunrise to sunset
Dogs on leashes allowed

Why is this area such a favorite? The Sooky Goldman Nature Center, duck pond, reservoir, and traditional kish (Tongva hut) might have something to do with it. Add the fact that it's 605 acres and has five miles of trails to explore, and you get the idea. Trails vary from simple to moderately strenuous. Favorites include the roughly two-mile Hastain Trail with elevations that often offer an ocean view on a clear day. The trailhead can be reached by entering the park from either Beverly Hills or the Valley, and heading south on Lake Drive. Two trailheads and parking are available on the left side. Or meander around Franklin Canyon Lake (the opening sequence of the Andy Griffith Show was filmed here). Kids of all ages can also enjoy an easy stroll around Heavenly Pond with its ducks and sometimes noisy bullfrogs. This trail map might help orient you, as will an initial visit to the Nature Center (310.858.7272, ext. 131).
Note: Be sure to stop at all stop signs in the park, to avoid unpleasant surprises in the mail a few weeks later!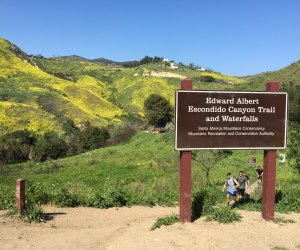 This gentle trail goes past fields and creeks to a waterfall. Photo by Mommy Poppins
27807 Pacific Coast Highway
Malibu, CA 90265
Dogs on leashes allowed
Parking $8
The Edward Albert Escondido Canyon Trail leads families on a fairly gentle 3.8-mile loop, past climbing trees, wildflowers, and babbling creeks to a satisfying waterfall (in season). After a good rain, the water is generally gushing at Escondido Falls, the highest waterfall in the Santa Monica Mountains. The first .75 mile is along a paved road in front of expensive Malibu homes, but the trail turns more rustic once you join the dirt road marked Edward Albert Escondido Canyon Trail and Waterfall. Be prepared to get your feet wet crossing streams along the way, and then take a plunge in the inviting lower falls.
To get to the trailhead: Take PCH to Winding Way in Malibu. Winding Way is a minor street 4.5 miles west of Malibu Canyon Road and 1.4 miles east of Kanan Dune Road, on the north side of PCH. Turn up Winding Way and into a parking lot for the trail on the left at the bottom of Winding Way. Parking in this lot is pay-and-display. Overflow parking along PCH is free, but read the signs carefully.
15601 Sunset Blvd.
Pacific Palisades, CA 90272
310.454.1395
Park Hours: Every day, dawn to dusk
Dogs on leashes allowed
Easy to get to and bursting with things to see and do, Temescal Gateway Park is a simple and satisfying destination. Popular trails include the four-mile Temescal Canyon Loop, complete with ocean views, seasonal waterfall, and rock "climbing." Or park in the first lot as you enter the park (closest to Sunset Blvd.) and chart your own route along the creek. Have lunch or a snack at the big tree with a platform for seating.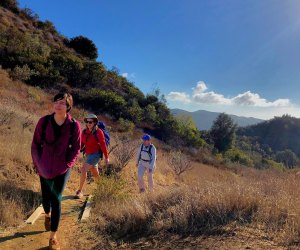 Topanga is a great place for a hike. Photo courtesy of National Park Service
20829 Entrada Road
Topanga Canyon, CA 90290
310.455.2465
Park Hours: 8am - sunset
Parking: $4
Dogs not allowed on trails.

Considered "the largest wildland within the boundaries of a major city," Topanga Canyon State Park offers acres to explore (14,000, to be exact). Park at Trippet Ranch (map) and start off on several fascinating trails. For the adventurous, try the four- to five-mile (depending on how you go) loop around Eagle Rock (see photos). The trailhead is at the southeast corner of the Trippet Ranch parking lot. Or meander through lush meadows (especially after rainy season) on the shorter Musch Trail. Or choose how long a hike you want in Santa Ynez Canyon. While there are several ways to access Topanga Canyon trails, Trippet Ranch is a favorite as it provides picnic tables, information, and restrooms (phew).
4100 South La Cienega
Los Angeles, CA 90056
323.298.3660
Park Hours: Daily 6am - sunset
Parking: $6 on weekends and holidays, free on weekdays
Dogs on leashes allowed

Another multi-activity destination, Kenneth Hahn not only has trails to explore but also delights with playgrounds, a duck pond, playing fields, and lots of open green space. This is a great hiking or walking spot if you have young kids. Trails are more like walking paths, and you can walk for as little or as much as you like, with a place to picnic and run around once you're done. Trail maps can be found in the park office, located in the second parking lot on the right (after passing the entrance kiosk). The office is open daily from 8:30am-5:00pm.
RELATED: 8 Waterfall Hikes Every LA Family Should Know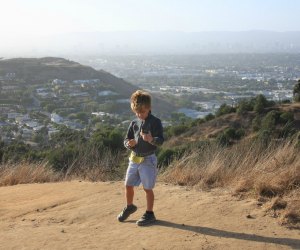 Geocaching in Kenneth Hahn Recreation Area. Photo by Jeremy Miles/CC BY 2.0
3600 Dixie Canyon Place
Sherman Oaks, CA 91423
Want a shady, relaxed hike next to a stream? This is your place. Located in a California black walnut and oak woodland above the San Fernando Valley in Sherman Oaks, Dixie Canyon Park is a shaded twenty-acre open-space preserve donated to the Conservancy by actor Warren Beatty (yes, that Warren Beatty) in 1986. A hiking-only trail runs up the center of the canyon alongside a perennial stream. Street parking can be found on Dixie Canyon Place.
17174 Mulholland Dr
Los Angeles, CA 90049
Over 1,950 feet above sea level, San Vicente Peak was a great place for a NIKE missile control site during the Cold War. The site was closed in 1968, and in 1996 it became a nationally recognized park. The old tower (with its amazing views) was refurbished, and access to the tower and observation deck was added. Though most installations have been removed, signs provide a fun history lesson that comes with a moderately challenging hike. Bike trails extend past the missile control site, and limited parking is available at the base. Definitely don't bring a stroller here, though, as the rocky trail up to the site is jagged and can also get too hot for any canine companions.
1750 N. Altadena Dr.
Pasadena, CA 91107
626.398.5420
Park open daily from sunrise to sunset
Free Parking

The trail begins between the pond and the public parking area. The Junior Nature Trail is shorter (about a quarter of a mile) and well suited for little ones in and out of a stroller. Keep your eyes and ears open for lizards, birds, rabbits, and native plants. The climb to Henninger Flats is also doable, though much more strenuous. You'll pass a waterfall, cross over the Mt. Wilson Toll Bridge, and might even see Catalina Island on a clear day when you reach the top. All of the nature trail maps are available on the nature center's website.
1600 West Paseo del Mar
San Pedro, CA 90731
310.561.0917
Preserve open daily from sunrise to sunset
Free Parking
Dogs on leashes allowed
In addition to an education center, the Preserve offers 102 acres of restored land and miles of hiking areas. Have a look at the trail maps and descriptions to find one that suits your family. The education center is open on Wednesdays, Saturdays, and Sundays from 10:00 a.m.- 4:00 p.m.. (Map)

Those in the Palos Verdes "hiking know" also recommend the Palos Verdes Views trail. This pleasant 1.6-mile romp offers a stunning look at Catalina Island, and sometimes even San Nicholas Island, 70 miles from shore. Park at Del Cerro Park (where Crenshaw Blvd. ends in Palos Verdes) and head to the gate at the very end of Crenshaw. Beyond the gate, follow the fire road. Dogs are allowed on leashes but beware of ticks.
RELATED: Hike to the Hollywood Sign with Kids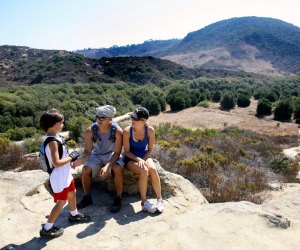 Aliso and Wood Canyons Wilderness Park. Photo courtesy of OC Parks
28373 Alicia Parkway
Laguna Niguel, CA 92677
949.923.2200
Open 7am - sunset
Parking: $3
Dogs on leashes allowed

A fun and doable family walk is the Dripping Cave. This moderate five-mile loop brings you to a cavernous space where stagecoach robbers actually hid out and stashed their goods years ago; burn marks from their fires are still visible. Park in the main parking area. The trailhead is just beyond the picnic area.
8471 North Coast Highway
Laguna Beach, CA 92651
949.494.3539
Dogs on leashes are allowed on multi-use trails, but not on backcountry trails or beaches.

Seventeen miles of hiking trails through 2,400 acres of native wilderness? Yes, please! Choose from a variety of mild to strenuous trails and loops that offer ocean views, riparian woodlands, and the splendor of Morro Creek. Start or end the day (depending on the tides) combing the tide pools. Take a peek at the many historic cottages lining the coast. Enjoy breakfast, lunch, or dinner at the Beachcomber Cafe. The cafe offers shuttle service from the Los Trancos parking lot. Parking is $15.

Finally, if a docent-led group hike is a better match for you than a self-led venture, check out The Santa Monica Mountains National Recreation Area. Outings abound throughout the Santa Monica Mountains. Choose from a Porch Talk with a Ranger on a variety of topics (they serve hot chocolate), a Full Moon Hike or A Family Nature Walk (to name just a few). Click on the interactive OUTDOORS Calendar of Events for more information. Kids 8-13 might also be interested in becoming a Junior Ranger.
Originally published January 14, 2012