Hiking in Los Angeles with Kids: The Best Hiking Trails for Families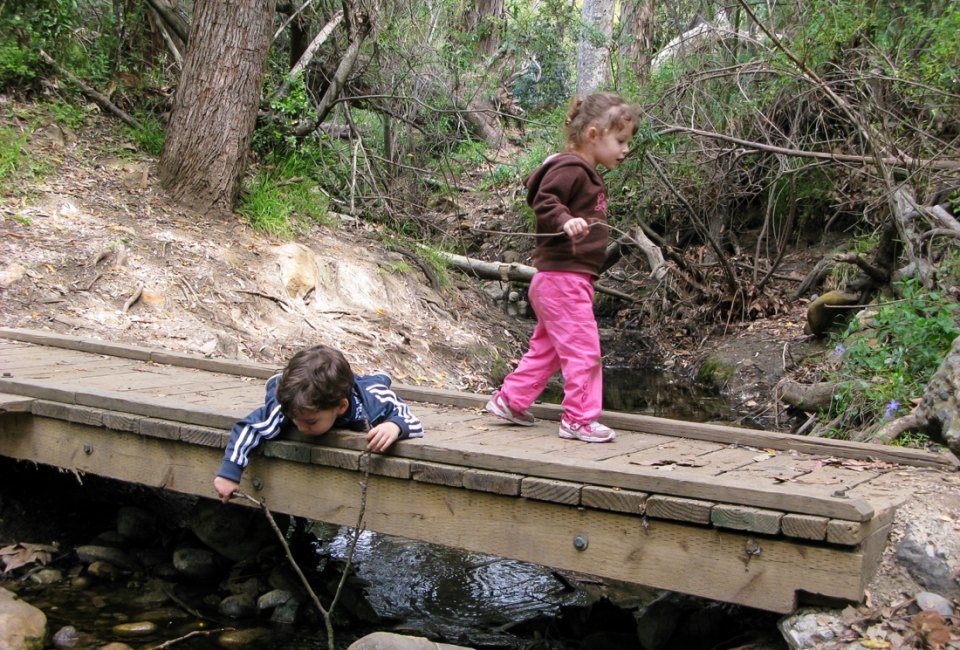 1/10/23
- By
Martha Hall
Some days are just better when everyone takes a hike. Long weekends, weekday afternoons, random days off from school—if the kids start to climb the walls, the answer is almost always to head for the trails and go hiking in Los Angeles. We've compiled a list of some of the best hiking trails in Los Angeles for you and your little ones (though if you're pushing someone up that mountain, you may want the stroller-friendly hikes in Los Angeles post). Each of the self-led hikes below is an LA classic hike that's not too hard and boasts spectacular views or fascinating finds for the whole family.
Explore all the best adventures and hikes in Los Angeles for kids like waterfall hikes in Los Angeles or LA hikes for young wildlife enthusiasts, both of which, and more are in our Hiking and Camping Guide for Los Angeles Families.
Remember the sunscreen, hats, sunglasses, snacks, and lots of water! Always check trail conditions before making the treks.
Urban Hiking in Los Angeles
Park Hours: Open daily from 5am-10:30pm; trails close at sunset.
Parking: $10 per hour
Dogs on leashes are allowed on trails.
Certainly one of LA's jewels, Griffith Park might have it all: a merry-go-round, an observatory, and an old train park. What's more, there are trails – lots of them. From toddler easy to teen challenging, kids will love the variety of hiking options in Griffith Park.
You can do a very short and shaded loop at Ferndell, breezing by a shady fern and succulent-lined brook, past stone retaining walls, and over footbridges and grab some pre- or post-hike grub at The Trails Cafe. Bonus, this loop is very stroller-friendly.
For a more challenging hike, one of the most iconic LA trails is the Charlie Turner Trail. Park at the observatory and begin your climb up Mt. Hollywood. On a clear day, you'll be rewarded with views of the San Fernando Valley, Glendale, and the west side, as well as a closer peek at the Hollywood Sign. The round-trip is less than three miles, with an elevation of roughly 1,000 feet. Grab lunch at Wolfgang Puck's Cafe at the End of the Universe inside the observatory when you've completed your hike and need a refreshment.
Another easy Griffith Park hike is the Fern Canyon Trail. Park at the first Merry-Go-Round parking lot and head beyond the T-bar gate. The trail goes uphill and passes the Old Zoo. The trail length varies depending on which way you choose to walk. Enjoy views of Glendale and Pasadena at the top of the 400-foot elevation trail. Fern Canyon Trail is not stroller-friendly.
Griffith Park trails are well-traveled on weekends (it's a popular destination) so beware of crowds. Morning or late afternoon hiking is best on hot days (hydrate and wear sunscreen), and watch out for horse poop.
RELATED: Hikes with Kids: Lake Hollywood Perimeter Trail
The views in Griffith Park are mesmerizing. Photo by Alexander Bermudez, courtesy of hikingproject.com
Park Hours: Open daily from sunrise to sunset
Parking: Free street parking - it's extremely limited on the blocks around the park entrance so you'll probably have to park a couple of blocks away. There's also free parking near the north entrance on Mulholland.
Dogs are allowed to be off-leash in designated areas.
Hike like a celebrity (or tourist) at Runyon Canyon Park! A favorite of people trying to "be seen," it's also a really pleasant walk that most kids can accomplish. The paths are paved, and the incline is gradual. If you've got some tiny tots with you, it's very stroller-friendly throughout. If your family has a four-legged friend, this hiking trail essentially doubles as a dog park. Plus, you really can't beat the views of Downtown, Mid-Wilshire, the Westside, and even Long Beach on clear days.
Park Hours: Open daily from sunrise to sunset
Parking: Limited free street parking
Dogs on leashes are allowed.
One of the most iconic symbols of Los Angeles, the Hollywood Sign is easily viewable from all over the LA basin. While most locals won't think twice about the old tourist attraction up on Mt. Lowe, one way to be a tourist in your own city is by hiking up to the mountaintop and taking it in close-up. You won't get so close that you can climb onto the big wooden letters, but you can get some pretty incredible photo ops. Start your hike from Canyon Drive in Bronson Canyon, where the trailhead for the Brush Canyon Trail begins.
Unfortunately, as of 2017, the easiest hike along the Hollyridge Trail has been closed, so your main option is the Brush Canyon Trail. The good news is that it's stroller-friendly because it winds its way up the mountain ridge on dirt fire roads. Want a shorter hike? Peel off to the Bronson Caves (AKA the Bat Caves, where the 1960s Batman TV show was filmed), which is a very easy 1/3 mile round trip hike that little kids adore.
RELATED: Hike to the Hollywood Sign with Kids

Set out on an adventure to the Bronson Caves or the Hollywood Sign—both hikes start at Bronson Canyon.
Park Hours: Open daily from sunrise to sunset
Parking: Free Parking Lot
Dogs on leashes are allowed.
Ernest E. Debs Regional Park is one of LA's more underrated parks, located just about halfway between Downtown LA and Pasadena. From its hilltop perch in the Montecito Hills, you'll get amazing views of the cityscape to the north and west. The park is huge and certainly less crowded than more famous green spaces in the city, like Griffith Park and Kenneth Hahn, so you'll feel even more like you're in a wild oasis in the center of the city. Debs Lake is a peaceful place for relaxation with hiking trails leading in every direction. The trails at Ernest E. Debs Regional Park are wide and flat (and some are paved), making them perfect for strollers.
Park Hours: Open daily from sunrise to sunset
Parking: Free
Dogs on leashes are allowed.
Elysian Park is another under-the-radar park on the city's Eastside. While more popular than Debs Park due to its proximity to Dodger Stadium, Elysian Park is still pretty tranquil compared with east-side neighbors like Griffith Park. There are plenty of grassy lawns and BBQ pits; after hitting the Elysian Park Trail, you can grill up some hot dogs or carne asada for lunch while the kids frolic. Some of the trails in Elysian Park are stroller-friendly, but most are not, so we find it easiest to leave the strollers at home.
Park Hours: Open daily from sunrise to sunset
Parking: Free
Dogs on leashes are allowed.

Why is this area such a favorite? The Sooky Goldman Nature Center, duck pond, reservoir, and traditional kish (Tongva hut) might have something to do with it. Add the fact that it's 605 acres and has five miles of trails to explore, and you get the idea. Trails vary from simple to moderately strenuous. Favorites include the roughly two-mile Hastain Trail with elevations that often offer an ocean view on a clear day. The trailhead can be reached by entering the park from either Beverly Hills or the Valley, and heading south on Lake Drive. Two trailheads and parking are available on the left side.
Or, meander around Franklin Canyon Lake (fun fact: the opening sequence of the Andy Griffith Show was filmed here). Kids of all ages can also enjoy an easy stroll around Heavenly Pond with its ducks and sometimes noisy bullfrogs. This trail map might help orient you, as will an initial visit to the Nature Center. Many of the trails in Franklin Canyon are stroller-friendly, though Hastain Trail is not.
Note: Be sure to stop at all stop signs in the park, to avoid unpleasant surprises (tickets) in the mail a few weeks later!
RELATED: Toddler-Friendly Nature Walks and Hikes in Los Angeles
City and nature meet in the middle at Kenneth Hahn State Recreation Area.
Park Hours: Open daily from 6am-sunset
Parking: $7 on weekends and holidays, free on weekdays
Dogs on leashes are allowed.
Another multi-activity destination, Kenneth Hahn not only has trails to explore but also delights with playgrounds, a duck pond, playing fields, a Japanese garden, and lots of open green space. There's even a disc golf course. This is a great hiking or walking spot if you have young kids. Trails are more like walking paths, and you can walk for as little or as much as you like, with a place to picnic and run around once you're done. Trail maps can be found in the park office, open daily from 8:30am-5pm.
Park Hours: Open daily from 8am-sunset
Parking: $2 per hour or $6 per day at the small parking lot on Jefferson Blvd, and at the top of the hill near the visitor center. Paid metered parking on Jefferson Blvd.
Dogs are not allowed on the trails.
Right in the middle of Culver City, you'll find a free nature wonderland perfect for a quick urban trek amid a busy day. This easy 1.3-mile loop trail is known for the intimidating — and very steep — Culver City steps. Luckily, you can surpass the steps entirely, making this trail suitable for younger children. Skip the steps and instead take the gradual dirt switchbacks all the way to the top, to reach the scenic overlook. Older kids and teens may enjoy the challenge of climbing the Culver Steps.
Once you reach the top, you'll get to take in sweeping views of the west side and might even be able to see the Hollywood Sign on a clear day. At the top of the overlook, you'll find public restrooms. The trail also connects to Culver City Park where kids can enjoy a playground, skate park, and a plethora of sports fields.
Best Hiking in Los Angeles in the San Gabriel Mountains
Park Hours: Open daily from sunrise to sunset
Parking: Free
Dogs on leashes are allowed.

The trail begins between the pond and the public parking area. The Junior Nature Trail is quite short (about a quarter of a mile) and well-suited for little ones in or out of a stroller. Keep your eyes and ears open for lizards, birds, rabbits, and native plants. The climb to Henninger Flats is also doable, though much more strenuous. You'll pass a waterfall, cross over the Mt. Wilson Toll Bridge, and might even see Catalina Island on a clear day when you reach the top. All of the nature trail maps are available on the nature center's website.
Note that the water elevation on the creek crossings can vary, so it is recommended to check conditions before attempting the trail with small children. Creek crossings can be slippery, so wear waterproof shoes with good traction, and bring an extra change of clothes, especially extra socks and shoes, in case your feet get wet.
Park Hours: Open daily from 8am-4:30pm
Parking: Free parking in the dirt lot at the trailhead. Street parking is available if the lot is full.
Dogs on leashes are allowed.
During the winter months when Southern California is having one of those incredibly warm days following rainfall, the Gabrielino Trail at Millard Canyon is a nice easy hike. For several miles leading into the San Gabriel Mountains, this path is paved and twists around the Arroyo Seco as it heads toward Pasadena. As you hike along the path, you'll see some incredible views of the Jet Propulsion Lab—and about a mile in, there's a great place to splash around in the water.
RELATED: Waterfall Hikes in Los Angeles Every Family Should Know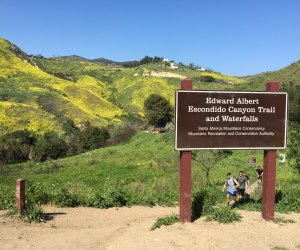 Trek past fields of gold and creeks to a waterfall on the Escondido Canyon trail. Photo by Roberta Brown
Great Family Hiking in Los Angeles in the Santa Monica Mountains
Park Hours: Open daily from sunrise to sunset
Parking: $12
Dogs on leashes are allowed.
The Edward Albert Escondido Canyon Trail leads families on a fairly gentle 3.8-mile loop, past climbing trees, wildflowers, and babbling creeks, to a satisfying waterfall (when in season). After a good rain, the water is generally gushing at Escondido Falls, the highest waterfall in the Santa Monica Mountains. The first .75 mile is along a paved road in front of expensive Malibu homes, but the trail turns more rustic once you join the dirt road marked, "Edward Albert Escondido Canyon Trail and Waterfall." While the waterfall will be epic after a rainfall, it also means that creek crossings might be knee-high.
To get to the trailhead: Take PCH to Winding Way in Malibu. Winding Way is a minor street 4.5 miles west of Malibu Canyon Road and 1.4 miles east of Kanan Dume Road, on the north side of PCH. Turn up Winding Way, and into a parking lot for the trail on the left at the bottom of Winding Way. Overflow parking along PCH is free, but read the signs carefully.
Park Hours: Open daily from sunrise to sunset
Parking: There is limited free parking at the end of Solstice Canyon Rd. Emphasis on limited. You can park on Corral Canyon Rd., but be sure you're pulled fully off the road. Be very careful walking from the small dirt lot on Corral Canyon to the trailhead. People drive slowly but the road is extremely narrow with lots of blind twists and turns.
Dogs on leashes are allowed.
Get to Solstice Canyon early if you want a good parking spot! It's not a surprise that this gentle hike is one of the most popular in Southern California. The first part of the hike takes place along a fire road and a small stream. It's mostly flat and pretty easy, even for smaller children to complete—and stroller-friendly! After about a mile, you'll reach the Roberts Ranch House ruins, which are fascinating for children to explore, and learn about the building's history.
The path to the waterfall is not stroller-friendly, but it's a short distance to the falls. You can either turn back from the waterfall or continue along the Rising Sun Trails for spectacular views of the Pacific Ocean and Santa Monica Mountains. The Rising Sun Trail sees some pretty steep elevation and is not stroller-friendly, nor is it recommended to take a kid under five up the hill—it has some pretty steep drop-offs along the narrow trail.
RELATED: Stroller-friendly Hikes in Los Angeles for Parents with Babies and Toddlers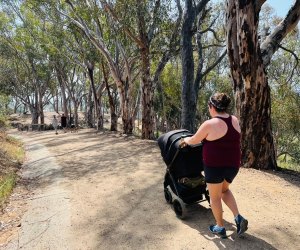 Take the baby for a scenic stroll at Will Rogers State Park. Photo courtesy of Mommy Poppins
Park Hours: Open daily from 8am-sunset
Parking: $12 per car
Dogs on leashes are allowed anywhere that doesn't lead out of the park.
Located near Pacific Palisades, Will Rogers State Park is one of the city's most popular parks. Inspiration Point Loop Trail will give you incredible views of the city and ocean, and because it's on a fire road, it's all stroller-friendly. Come for (free) polo in the summer, and say hi to the horses at the stables all year-round. The grounds of the Will Rogers house are perfect for picnicking, and on select dates you can take a docent-led tour of the house. With epically clean bathrooms, this is a wonderful place to spend the whole day.
Park Hours: Open daily from 8am-6pm
Parking: Free parking
Dogs on leashes are allowed.
Over 1,950 feet above sea level, San Vicente Peak was a NIKE missile control site during the Cold War. The site closed in 1968, and became a nationally recognized park in 1996. The old tower (with its amazing views) was refurbished, and access to the tower and observation deck was added. Though most installations have been removed, signs provide a fun history lesson that comes with a moderately challenging hike. Bike trails extend past the missile control site, and limited parking is available at the base. Definitely don't bring a stroller here, though, as the rocky trail up to the site is jagged. It can also get too hot for your canine companions.
Park Hours: Open daily from 8am-6pm
Parking: Free street parking on Dixie Canyon Place
Dogs on leashes are allowed.
Want a shady, relaxed hike next to a stream? This is your place. Located in a California black walnut and oak woodland above the San Fernando Valley in Sherman Oaks, Dixie Canyon Park is a shaded twenty-acre open-space preserve donated to the Conservancy by actor Warren Beatty (yes, that Warren Beatty) in 1986. A hiking-only trail runs up the center of the canyon alongside a perennial stream. Street parking can be found on Dixie Canyon Place. The trail is narrow and can be muddy.
Park Hours: Open daily from sunrise to sunset
Parking: $12
Dogs on leashes are allowed.
Easy to get to and bursting with things to see and do, Temescal Gateway Park is a simple and satisfying destination. The four-mile Temescal Canyon Loop is a popular trail with ocean views, a seasonal waterfall, and rock "climbing." Or park in the first lot as you enter the park (closest to Sunset Blvd.) and chart your own route along the creek. Have lunch or a snack at the big tree with a platform for seating. Temescal Canyon Loop is not stroller-friendly.
Park Hours: Open daily from 8am-sunset
Parking: $4
Dogs are not allowed on the trails.

Considered "the largest wildland within the boundaries of a major city," Topanga Canyon State Park offers acres to explore (14,000, to be exact). Park at Trippet Ranch (map) and begin one of several fascinating trails. For the adventurous, try the four- to five-mile (depending on how you go) loop around Eagle Rock. The trailhead is at the southeast corner of the Trippet Ranch parking lot. Or meander through lush meadows (especially after the rainy season) on the shorter Musch Trail. Or choose how long a hike you want in Santa Ynez Canyon. While there are several ways to access Topanga Canyon trails, Trippet Ranch is a favorite starting point as it provides picnic tables, information, and restrooms (phew).
RELATED: Family Travel Bucket List: Visiting California's Channel Islands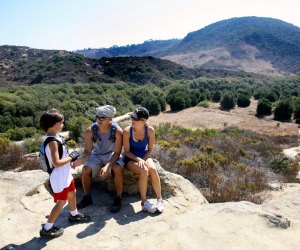 Hike in Aliso & Wood Canyons Wilderness Park where the stagecoach robbers used to hide. Photo courtesy of OC Park
LA-Area Hikes Worth the Drive
Park Hours: Open daily from 7am - sunset
Parking: $3
Dogs on leashes are allowed.

A favorite fun and doable family walk here is the Dripping Cave. This moderate five-mile loop brings you to a cavernous space where stagecoach robbers actually hid out and stashed their goods years ago; burn marks from their fires are still visible. Park in the main parking area, and the trailhead is just beyond the picnic area.
Park Hours: Open daily from sunrise to sunset
Parking: Free Parking
Dogs on leashes are allowed.
In addition to an education center, the Preserve offers 102 acres of restored land and miles of hiking areas. Check out the trail maps and descriptions to find one that suits your family. Those in the Palos Verdes "hiking know" also recommend the Palos Verdes Views trail. This pleasant 1.6-mile romp offers a stunning look at Catalina Island, and sometimes even San Nicolas Island, 70 miles from shore. Park at Del Cerro Park (where Crenshaw Blvd. ends in Palos Verdes) and head to the gate at the very end of Crenshaw. Beyond the gate, follow the fire road. Dogs are allowed on leashes but beware of ticks. The trails at White Point Nature Preserve are stroller-friendly!
Park Hours: Open daily from 6am-sunset
Parking: $5 an hour (with a maximum of $15 a day) at the Los Trancos parking lot, which is open year-round. Other lots are open Monday-Friday from October 1 to April 30 and charge the same rates.
Dogs on leashes are allowed on multi-use trails, but not on backcountry trails or beaches.
Seventeen miles of hiking trails through 2,400 acres of native wilderness? Yes, please! Choose from a variety of mild to strenuous trails and loops that offer ocean views, riparian woodlands, and the splendor of Morro Creek. Start or end the day (depending on the tides) combing the tide pools. Take a peek at the many historic cottages lining the coast and enjoy breakfast, lunch, or dinner at the Beachcomber Cafe. The cafe offers shuttle service from the Los Trancos parking lot.
RELATED: 11 Wonderful Wildlife Hikes for Kids in Los Angeles

Explore a teepee, waterfall, and more at Wildwood Regional Park. Photo courtesy of Mommy Poppins
Park Hours: Open daily from 7am-sunset
Parking: Free parking lot
Dogs on leashes are allowed.
One of the treasures of the Conejo Valley is Wildwood Regional Park in Thousand Oaks. This park has loads of hiking trails, with Paradise Falls being the most notable and popular one. The paths take you through a chaparral landscape where you'll see plenty of the valley's namesake rabbits, a teepee overlook, and even an always in-season waterfall.
Park Hours: Open Tuesday - Sunday from 8am-sunset
Parking: Free parking lot
Dogs on leashes are allowed.
It might feel like you've left Los Angeles and entered somewhere like Moab, Utah, when you arrive at Vasquez Rocks. These impressive other-worldly sandstone rock formations will leave you awestruck and are a perfect outdoor play land for any kid who loves to climb on rocks. Budding film buffs will also appreciate all the movies and television shows filmed here. The Vasquez Rocks trail is a 2.7-mile loop, and more adventurous families can extend the trek via the iconic Pacific Crest Trail (PCT).
If the stunning rock formations weren't enough, there is a fantastic Interpretive Center, too. Inside, you'll find pristine restrooms, real reptiles, albeit behind glass cases (though you'll probably do a double-take when you see that snake move), some fun tidbits about all the filming that has taken place there, and even a gift shop. Given how hot the area can get, you'll probably want to steer clear of this hike in the summer.<
Park Hours: Open daily from sunrise to sunset
Parking: Free parking alongside the road outside the Rose Valley Campground; $10 day use fee if you park in the Rose Valley Campground
Dogs on leashes are allowed.
If you've hiked all the hits and are looking for something different, the Los Padres National Forest might be your answer. Rose Valley Falls is an easy, short 1.1-mile hike that leads to an alluring waterfall. Since this trail won't take up much of your time, adventure-seeking families could add a second hike, like the Piedra Blanca Formations trail. This trail is another easy option for kids that leads to limestone rock formations, fit for fun exploration. These two trailheads are less than a 10-minute drive from each other.
A drive to Ojai is probably not worth the hassle just for Rose Valley Falls, but there are tons of other things for kids to do in this beloved Ventura County city. Check out some great ideas for kids to do on a day trip in Ojai, or even extend it to a whole weekend. Bart's Books and eating Ojai pixies (when in season) are absolute musts when in the area.
Originally published September 15, 2016
Additional reporting by Matt Matasci and Gina Ragland
Sign up for the Mommy Poppins Newsletter today!