11 Wonderful Wildlife Hikes for Kids in Los Angeles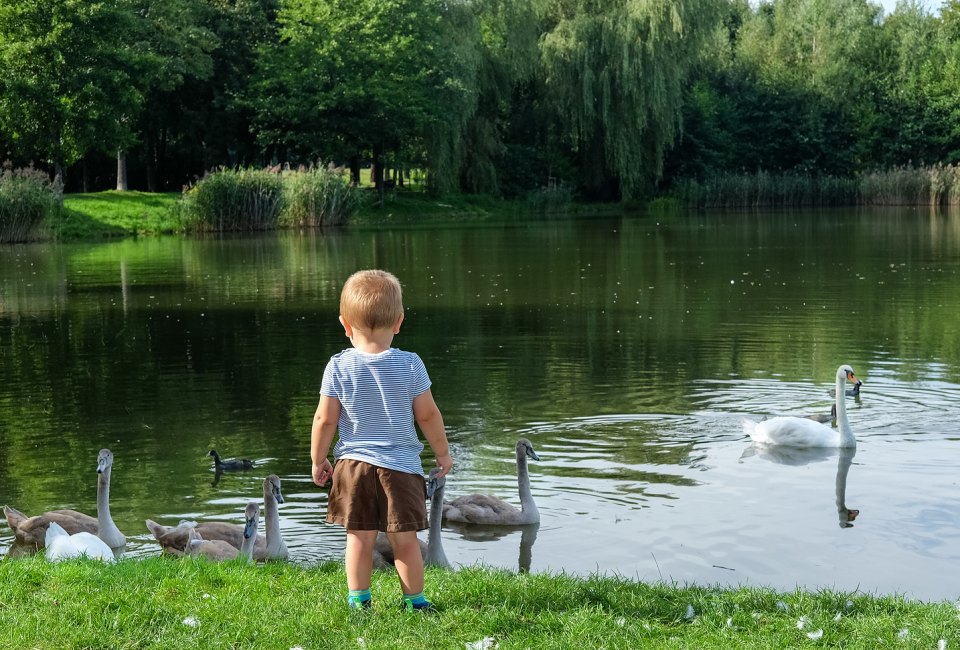 3/22/21
- By
Jean Kuo Lee
Los Angeles is a busy, bustling, metropolis filled with museums, cultural events, and fabulous restaurants. But even as all these favorite spots reopen, and the pace of life picks up again, sometimes families need to get in touch with nature, whether it's playing at the park, taking a family hike, or a toddler or stroller-friendly walk in the forest. Whatever age or stage the kids are at, getting out there and connecting with nature is so rejuvenating.
Thankfully, Los Angeles is full of places to get a dose of nature therapy, take a break from the screens, and slow down our rhythms to observe some wildlife. The following places are all amazing for birdwatching (one of the easiest ways for kids to get into wildlife in Los Angeles) as well as spotting other furry and scaly critters.

You never know what critter is around the corner at the Eaton Canyon Natural Areas. Photo by Melanie Wynne/CC BY 2.0
Wonderful Wildlife Hikes in Griffith Park and the Valleys
750 S. Santa Anita Ave.
South El Monte, CA 91733
Park hours: 8am - 8pm
Parking: $6 vehicle entrance fee on holidays and weekends
Go for a 2-mile loop around Legg Lake on foot or bike. (This is also a great nature walk with strollers.) It might take a while, though, because if your kids are anything like mine, they'll want to stop and look at the ducks and geese that are everywhere! You may also spot cranes, egrets, herons, and other water-loving birds. Bikes and pedal boats are also available for rent at this clean, family-friendly nature spot.
1750 N. Altadena Dr.
Pasadena, CA 91107
Park hours: 8am - 7pm
Parking: Parking is free, but timed reservations are currently required to access the natural area and trails.
This is our family's favorite place to learn about the wildlife. Aside from the excellent exhibit of animals and birds on display at the nature center (now open again!), Eaton Canyon is an excellent place to explore native California plants and one of the best places to spot birds of the region. If you venture off the main trail to explore the canyon floor quietly, you're sure to see plenty of birds you don't normally see in the bustling city. Last time we spotted red-headed California quail and bulgy-eyed woodpeckers. You may also see scat, paw prints, or owl pellets, which are a lot of fun to try and identify. Mountain lion prints, anyone? How about bear scat?
301 North Baldwin Ave.
Arcadia, CA 91007
Hours: 9am - 7pm
Parking: Parking is free, tickets are required and must be purchased in advance. General admission is $15 for adults, $5 for kids ages 5-12, and free for 4 and under.
More of a meandering nature walk than a hike, we love the arboretum as a great place to unwind and hang around the lake to watch the geese, ducks, koi, and many other aquatic creatures. The peafowl/peacocks are gentle, beautiful, and still exotic every single time. But beware of the aggressive geese! They're territorial and will let you know it. The arboretum is a wildlife sanctuary where the kids have spotted Mandarin ducks, turtles, Canadian geese, and Great Blue Herons. You will be surprised how many birds live on (or visit) this 127-acre plot of natural landscape. Be sure to keep those peepers peeled for bunnies and squirrels, too.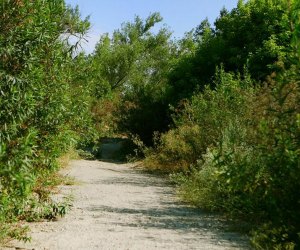 Mule deer and bobcats call the Hahamonga Watershed Park home. Photo courtesy of Visit Pasadena
Southeast corner of Oak Grove Drive and Foothill Boulevard
La Cañada Flintridge, CA 91011
Hours: Dawn - Dusk
Parking: Parking is free
Acquaint yourselves with the San Gabriel Mountains by exploring the rugged chaparral forests of the upper Arroyo Seco area. Because the park is right against the mountains, prepare to encounter not only birds but also bigger animals like mule deer, coyote, snakes, and even bobcats. Our friends have encountered mountain lions and bears here, so bring bear spray or wear a bear bell. (Bears have been very adventurous this year!) While you want to see wildlife by staying quiet and observant, if you're out in the woods by yourselves on a less-trafficked trail, you'll want to make some noise so no animals are surprised. This protected natural area has freshwater marshland and riparian zones, so there may be multiple water crossings on trails. Come prepared to get your feet wet!
6300 Balboa Blvd.
Van Nuys, CA 91406
Hours: Sunrise - Sunset
Parking: Parking is free
It's no secret that we love Lake Balboa for the lake, the waterfall, the paddle boats, and the Japanese Garden. It's a lovely green space in the city for humans and wildlife. You'll cross paths with swans and the many ducks that make their home on the lake. Pelicans and cormorants love it here, too. Just remember to keep them wild and resist feeding them your leftover sandwich bread!

Watch for birdies, like this cute little fluff ball, at Ernest E. Debs Regional Park. Photo by Robert Bieber/CC BY 2.0
4235 Monterey Road
Los Angeles, CA 90032
Hours: Dawn - Dusk
Parking: Parking is free
This 282-acre park is a large open nature preserve, excellent for birdwatching. Home to birds like American Kestrels, Great Horned Owls, Northern Flickers, and Yellow-rumped Warblers, Debs Park is a gem for budding ornithologists. Up to 140 species have been spotted here, so tell the kids you'll be crossing paths with birds from all over the world when you come to this urban oasis for wildlife. The Audubon Center (when it's open—it is temporarily closed still), is a fun place to stop by during your birding adventure. They supply a hiking trail map so you can best explore the reserve.
2900 N Vermont Ave.
Los Angeles, CA 90027
Hours: 5:30am - 10pm
Parking: Parking is free on the street at the base of the park, or at the Griffith Observatory
With 4,210 acres of natural wilderness area and landscaped parkland, you are bound to see wildlife at Griffith Park. It's home to mule deer, coyote, raccoon, gray fox, opossum, skunk, bobcat, and … a mountain lion! (That's right, there's a lonely mountain lion named P-22 who has been living in Griffith Park for the last nine years.) For a chance at spotting these animals (hopefully not P-22), stick to the less trafficked areas. Explore one of the many trails detailed on their trail map, or head over to the Bird Sanctuary or Dante's View.

See if your tot can spot a Little Blue Heron at the Madrona Marsh. Photo by Tom Benson/CC BY 2.0
Birdwatching and Wildlife Hikes by the Beaches and in OC
23200 Pacific Coast Highway
Malibu, CA 90265
Hours: 8am - Sunset
Parking: Parking is $12
The estuary at Malibu Lagoon is filled with birds. So many birds! Birds everywhere. Park in the parking lot and walk through the estuary to the beach. Along the way are signs pointing out what kinds of birds you'll see Brown Pelicans, gulls, terns, shorebirds, herons, egrets, and hummingbirds. Lucky ornithologists may even spot rarities like the Snow Goose, Red Phalarope, Black-legged Kittiwake, and Yellow Wagtail. Walk south toward the Malibu Pier, and you can see a different kind of wildlife—there are tidepools under the pier where barnacles, mussels, and hermit crabs live, and if you venture to the topside of the pier, kids can go fishing. The beach here is also known locally as Surfrider Beach, because (you guessed it!) you can also see a lot of surfers.
3201 Plaza Del Amo
Torrance, CA 90503
Hours: Tuesday - Friday from 10am-3pm and Saturdays from 10am-4pm
Parking: Parking is free
One of the last remaining vernal marshes in Southern California, the Madrona Marsh Preserve is an island of wilderness in the city. Pack up the binoculars, nature journals, and bird field guides for a visit to a truly unique, wild place. 101 species of birds, insects, spiders, frogs, reptiles, and small mammals in the preserve are special status native species that are currently under threat. Learn more about the marsh at the Nature Center, from its history as the home of the Tongva Gabrielino Indians to animal species like the Pacific Tree Frogs which can change their skin colors to match their environment. Entry is free.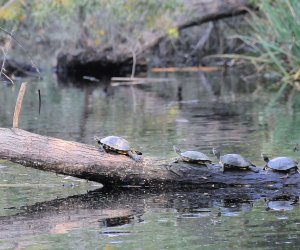 Kids love to look for turtles at El Dorado Nature Center. Photo by bighornplateau1/CC BY 2.0
7550 East Spring Street
Long Beach, CA 90815
Hours: 7am - 8pm
Parking: Parking ranges from $6 - $9 per day
The two-mile trail at El Dorado Nature Center in Long Beach is a well-shaded, relaxing walk under a canopy of fragrant trees. There are several ponds and lakes on the 105-acre grounds, which create an animal and plant sanctuary. Dirt and paved paths wind around this forest making it a beautiful natural area to explore that isn't too crowded. See this map for El Dorado East Regional Park. This is a perfect toddler exploration into wildlife, with no challenging terrain.
8548 E. Canyon View Ave.
Orange, CA 92869
Hours: 7am - Sunset
Parking: Parking is $3
This is the perfect way to end, with an OC park that many Angelenos aren't aware of. Calling all nature lovers! The willow groves, black cottonwoods, creek, and lake are beckoning you to visit them at this park tucked away into the hills. Hit the Lake View Trail to see the magnificent wildlife the water attracts. The kids will experience a deep immersion into nature whether they hike the panoramic East Ridge View trail, where rabbits and squirrels scurry along the Peters Canyon Creek Nature Trail or hike the lower Peters Canyon trail (beware the snakes!). See the park map to determine trail difficulty and length.
Sign up for the Mommy Poppins Newsletter today!