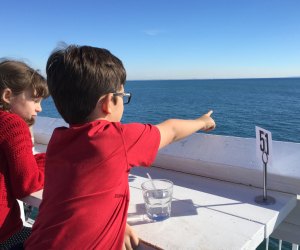 40+ Fabulous LA Restaurants with Outdoor Seating for Kids
If social media is any barometer, there are a lot of LA parents who are tired of making dinner every night. Not to mention breakfast, lunch, snacks, brunch, and dessert. Now that outdoor dining is open again, families can get back to eating out ... As soon as we can find restaurants with outdoor seating that have enough space to truly observe social distancing, are comfortably furnished, give kids space to play, and have fabulous food for adults & kids alike. As mythical as that sounds, it turns out there are a plethora of amazing outdoor restaurants in Los Angeles that fit the bill.
Whether you crave Mexican, pizza, vegan meals, dim sum, or afternoon tea, we found it. If you want to eat on the beach, dine with peacocks, or on a fairy light-strewn patio, it's on the list below. Bon appètit!

Eat in your own greenhouse at Lady Byrd Cafe in Echo Park. Photo by Ali Buck
Unique Restaurants with Outdoor Seating
Order breakfast, sammies, or dinner at the takeout window and then pick one of the picnic tables dotting the grounds. Kids can roam as free as the peacocks they'll be watching here (just keep an eye on them to make sure they observe social distancing—the kids, not the peacocks!).
This Echo Park cafe has given each table its own greenhouse enclosure for maximum social distancing in a beautiful patio garden setting.
It's like peanut butter and chocolate: two separately adored things that are somehow even better together. Griddle Cafe pancakes plus the views from Yamashiro equals an outdoor dining experience the whole family can't wait to repeat.
This funky, outdoor café hits the spot with organic sweet and savory breakfast items, bowls, sandwiches, salads, juices, and local coffee and beer. The Frogtown cafe is right alongside the LA River bike path and is a perfect pitstop as part of a biking outing (or rollerblading, scooting, or taking baby out in the stroller).
If you're thinking this is the mechanical bull bar where you maybe did shots once, you're right. But the bull is stabled right now, and both locations (Sunset Strip and Orange) are open and serving up great people watching and fabulous kid food on their outdoor patios. Kids should save up their sugar allotment, because they will definitely want both the Red Bear to drink (lemonade, soda, juices, and gummy bears) and the Cotton Candy Tower or Roast Your Own S'Mores Platter for dessert.

Here's where you can have the best pillowy pita and creamy hummus ever. Photo courtesy of Momed
Gorgeous Outdoor Restaurant Patios
While dinner is delicious, we love brunch on the massive patio at The Rose in Venice when dining with kids. The pastries are out of this world, and it's a perfect time to sit in the sunshine and share some of the most tempting options here with a never-ending cup of coffee.
With perhaps the best kids' menu in town (kid-pleasers done so well that parents find themselves picking off the plates), the backyard patio at this Eagle Rock staple feels as comfortable as eating in your own backyard—but much cuter (and tastier!).
If you haven't discovered this Middle-Eastern patio in Atwater Village, you're in for a treat. Choose from tables or couches where the family can relax outside and devour homemade pillowy pita and to-die-for burgers (lamb or beef).
Hello, gorgeous. This spectacular spot is lovely for a daytime meal, but when it really sparkles is at night. Kids love the food, parents adore the margaritas.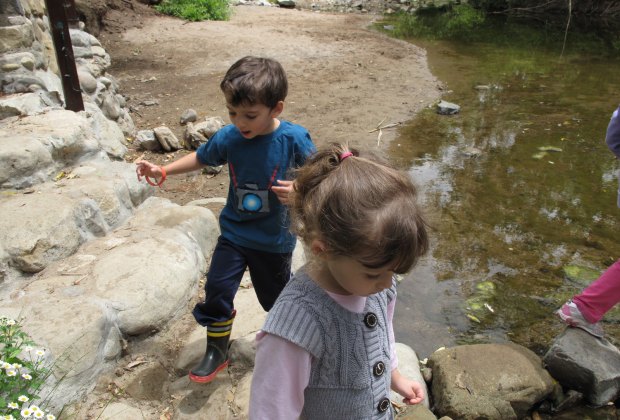 Parents can watch kids play in the best frog catching creek while finishing their meal at Inn of the Seventh Ray.
Even in pre-COVID times, you want to request one of the tables that are as far from the center of the restaurant as possible at this gorgeous farm-to-table spot in Topanga. That's because those creekside tables mean kids can go play (and catch frogs) in between bites of organic delicacies. Private gazebos are available to rent as well.
This Pasadena favorite has expanded its already huge patio, where kids can order from the incredibly reasonably priced kids' offerings while watching the trains go by. Parents can indulge in California classics (and fabulous cocktails). Service is stellar, and dessert is worth saving room for.
Bob's Big Boy has sidewalk seating and a giant parking lot patio. Photo by KarenBorterPhotography/CC 2.0
Specific Cravings and Iconic LA Restaurants with Outdoor Seating
The home of the french dip has set up plenty of outdoor dining, so parents can indulge in these gigantic meat creations. Kids can always get the PB&J, and everyone will love a slice of one of the old-school pies.
Ordering carhop style is our preferred service style at Bob's in Burbank, but the classic diner has also set up extra outdoor seating in the parking lot and on the patio.
Right across from Angel's Flight, the only full-serve restaurant at Grand Central Market has wonderful BBQ, beers, and mac and cheese for the kids. Don't forget an order of the famous brisket nachos for the table.
No matter how much you love dumplings, they're never as good when you have to reheat them at home. Rejoice! Now this dumpling haven has outdoor dining by reservation at four LA-area locations.
The Pasadena location of this LA tea room is serving afternoon tea outside, which makes a lovely weekend outing or birthday celebration. Reservations are suggested.
Order at the counter and then take a seat on the outdoor patio while you wait for the best roasted chicken and sides you've ever had. The fire pit helps stave off the chill from the ocean breezes.
Believe the hype—the meals at this family-owned restaurant specializing in Southeast Mexican foods are *chef's kiss*. And now we can enjoy them again, as the restaurant has opened an outdoor patio. This one isn't about the atmosphere, it's all about the food.

There's a ping pong table to occupy kids at Pitfire Pizza. Photo courtesy of Pitfire Pizza/NoHo
Outdoor Restaurants with the Best Pizza and Pasta
With limited outdoor seating, it's a good idea to make a reservation at either the Universal City or Hollywood location of this classic Italian restaurant. While the waiters aren't singing right now, the food is great and we really, really want to keep this iconic LA spot open—so let's all support this local, family-run business. (And your kids will adore the old-school pasta and pizza.)
Pitfire Pizzas have been beloved by families since the first one opened in LA almost 20 years ago. The largest location in North Hollywood has a massive outdoor dining space where the whole family can enjoy wood-fired pizzas (and parents can enjoy a beer to go with it).
Catch a movie in the car during carhop dinner service, or eat outside on the adorable outdoor patio at this Italian restaurant straight out of Naples (literally, not figuratively).
This Culver City (by way of Brooklyn) restaurant is now accepting reservations for dining in the outdoor tiki garden. There are other offerings on the Blunch and Dinner menus, but kids tend to gravitate to the Margherita Pizza, and parents should try the Bee Sting (the famous pizza with a drizzle of hot honey).
This Santa Monica pizza spot from the Rustic Canyon Family now has outdoor dining in the evenings. Not only is the pizza amazing, but you can order house-made dipping sauces on the side for the crust. Brilliant.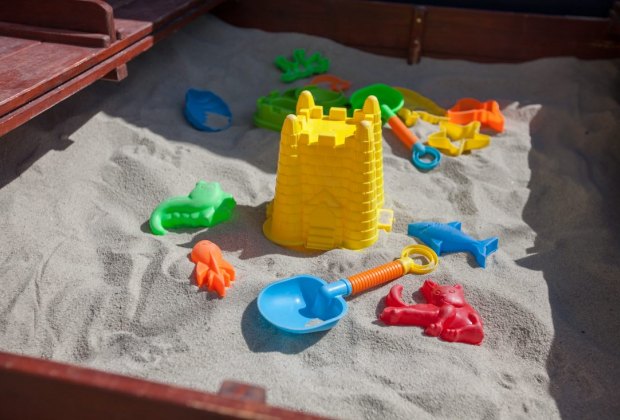 The table-adjacent sand box keeps kids busy. Photo courtesy of Rasselbock Kitchen & Beer Garden
Where You Can Relax at Outdoor Restaurants and Grab a Beer
This brand new spot in the historic Firestone Building just opened with an outdoor patio, beer made on-site, and tacos available from Chicas Tacos.
Truly the apex of the California beer garden, this Glendale pub has it all—from tasty microbrews crafted just feet away (Wolfpup is a yummy, sunny-day beer) to a delicious food menu packed with vegan options (deep-fried avocado tacos for starters), all on a spacious outdoor patio.
This Hollywood fave has spaetzle, an entire menu section devoted to schnitzel, and a long list of German import beers. The outdoor patio is kid and dog-friendly.
A Long Beach location from the same German parent company as Wirsthaus, this garden has a lot of the same spirit and offerings as the La Brea location. After you have a leisurely meal outside, you can stroll over to the outdoor exhibits at the Aquarium of the Pacific.
The brewery has a 15,000-square-foot outdoor area at its tasting room, and welcomes kids "happily." A $10 food purchase is required, per person, to sit outside and consume the beers on-site. There are food trucks (the schedule is on the website) Thursday-Sunday, and you can make a reservation for an outdoor table online.

The food is as gorgeous as the setting at Gracias Madre. Photo courtesy of Gracias Madre/Facebook
Where You Can Eat Healthy at a Restaurant with Outdoor Seating
Many True Food locations are only serving takeout and delivery, but this gorgeous patio, with a view into the giant open kitchen, is now open. The food is so spectacular that kids won't care that it's healthy. Vegan, vegetarian, and gluten-free options are available. A welcoming fire takes the chill out of the night air.
Come for the incredible plant-based food, stay for the gorgeous patio in the heart of West Hollywood. Oh, also stay for the tequila and mezcal-based cocktails. And the nachos. The new Newport Beach location also has a beautiful patio.
This vegan paradise with raw food options has a beautiful outdoor space serving brunch on the weekends and dinner nightly (except Sunday). We usually wouldn't call this the most kid-friendly food on the planet, but bring the kids for brunch and they will go wild for the Laduree x MK macarons and pastries available from the popup that is currently living here. You won't believe it's all vegan.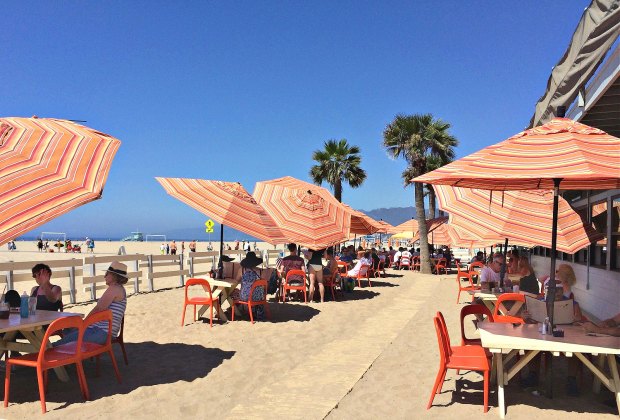 They can run and play for miles. Literally. Photo courtesy of Back on the Beach Cafe
Outdoor Restaurants By the Beach
This is where you want to eat seafood—right across from the beach! Scan the hand-written chalkboard menu for your favorite seafood dish; the selection is large, so you're sure to find it. Beer and wine are available, too. The patio is dog-friendly and shoes optional after your walk on the beach.
Talk about shoes optional, this restaurant adjacent to the Annenberg Beach House is right on the sand. While the pool here is closed, the beach playground is open, so kids can play while they wait for food. Or after they eat, while you relax in the sun. Reservations are available by phone or in person.
Grab breakfast, lunch, or dinner with your toes in the sand on this private Malibu beach. Remember that you must order $30 worth of food to cover 4 hours of parking here; order less or stay longer and you're on the hook for the $35 (weekday) and $50 (weekend) parking fee. Still, watch the clock and you can enjoy the same stretch of beach as the local billionaires. Portions are massive and the kid menu is a treat.
Both the Restaurant and the Cafe are open for outdoor dining, and while we love both, my kids pick the cafe every time. Here you can sit upstairs at a railing that hangs over the ocean. While the kids eat amazing quesadillas and orzo pasta, parents can nibble the best burrata fruit salad (it's addictive enough that I bought the cookbook to learn the secret to the sweet crunch on top) and sip a rosé sangria that makes you feel like all is right in the world.
Lobster rolls on the pier? Done. There are corn dog bites or chicken tenders, served with french fries and corn on the cob, for the kiddos.
This classic spot on the Redondo Beach Pier is now serving on its outside patio. There's even live music! Kids love the spaghetti and chocolate mousse, parents can enjoy the old-school seafood, live music, solicitous waiters, and the feeling of enjoying a quasi-date night.
Everything is purple at the Knott's Berry Farm Boysenberry Festival.
Outdoor Dining at Theme Parks
While Disneyland and Disney California Adventure Park are closed (though the gates will open soon, just for strolling, eating, and socially distancing with characters!), Disney fans can get their fill (literally) by eating at Downtown Disney. Restaurants with outdoor seating, such as Ralph Brennan's Jazz Kitchen, Naples Ristorante e Bar, Ballast Point Brewing Company, and more, are open and serving.
Tourist favorites like Buca di Beppo, Antojitos, and Bubba Gump Shrimp Co. are open for dining, as are loads of eat-while-you-walk options and sweet treats. Then walk the wide-open CityWalk, as empty of crowds as you'll ever see it.
Families craving a Knott's fix can rejoice—The Knott's Boysenberry Festival is back from March 5-May 2 with more than 75 one-of-a-kind boysenberry-inspired dishes, drinks, and more, plus the Wine and Craft Brew Tasting Garden. The event has been reconceived this year as a tasting festival taking place throughout the park (though the rides will be closed).
Starting in March, Legoland California is opening up the grounds for "Build 'N Play Days," where kids can play outside all over the park. Smokehouse BBQ, the Beer Garden, and Granny's Apple Fries are all open for dining inside the park. End the day dining on the outdoor patio at Dragon's Den, the restaurant at the Castle Hotel. (Non-hotel guests are welcome.)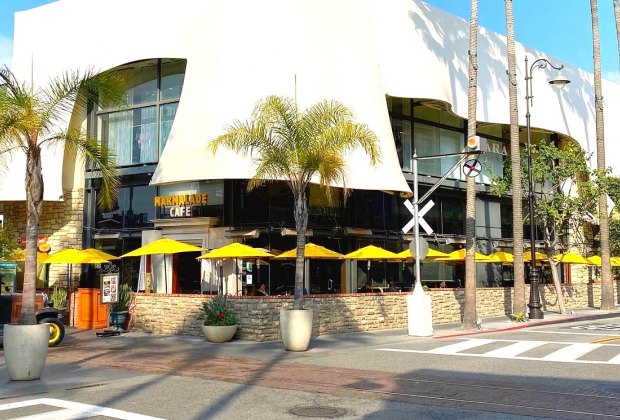 Marmalade Cafe is just one of the options with plenty of outdoor seating at the Grove. Photo courtesy Marmalade Cafe
Malls with Loads of Restaurants with Outdoor Seating
Not only can guests at the Grove eat at any of the restaurants at the Original Farmers Market (including The Gumbo Pot and Monsieur Marcel Bistro), which all have outdoor seating, many of the restaurants at the Grove have expanded their outdoor dining areas. The Cheesecake Factory, Marmalade Cafe, and Maggiano's Little Italy are all particularly beloved by kids.
Whatever food you're in the mood for, you can almost certainly find al fresco at the Americana. There's sushi at Katsuya, dumplings at Din Tai Fung, Mexican at Frida, steak and burgers at Bourbon Steak, or Italian at Trattoria Amici. All that and so many dessert options to bring home for later...
Whether you want a Wagyu burger and warm cookie at Hank's, sushi at Blue Ribbon, salad at edo little bites, or pasta at Porta Via, there's something for everyone at the upscale outdoor eateries in the Palisades. Just don't forget to leave room for dessert at Sweet Laurel's Bakery, which makes one of our favorite birthday cakes in town.
Hold onto your hat (or tummy?) because there's a lot to choose from at this giant outdoor mall, where you can also get tech support at the Genius Bar at the Apple Store, peruse an actual Amazon store, and bring home goodies to eat all week long from Eataly. But while you're here, you can dine outdoors at the Crack Shack, Shake Shack, and a whole bunch of places not named shack.