Best Family-Friendly Beer Gardens in Los Angeles: 14 Spots Where Kids and Parents Can Chill Together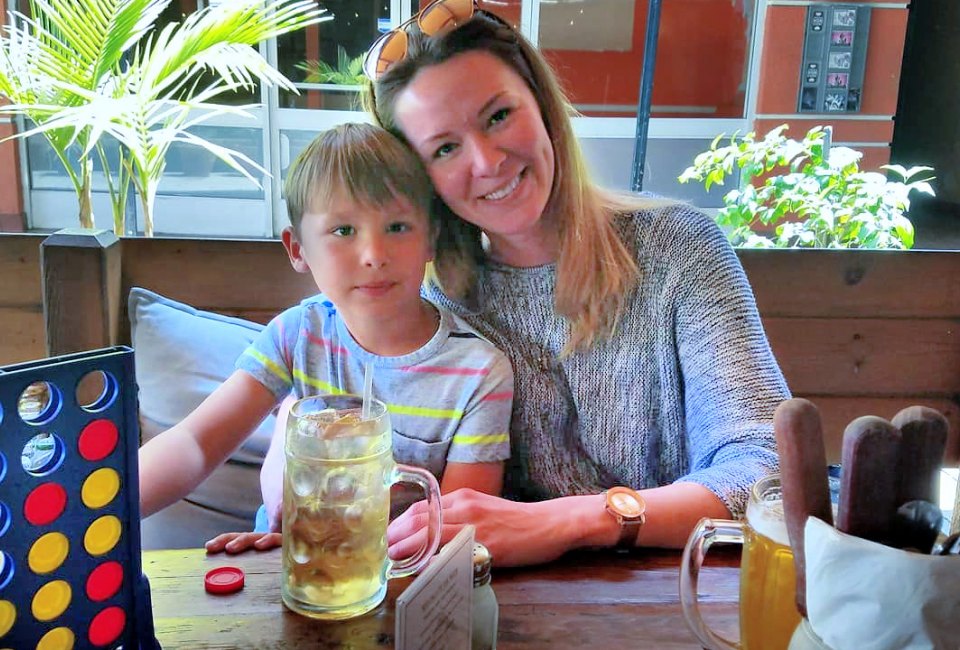 4/29/21
- By
Mike Anderson
After a long week of parenting, there's nothing more rejuvenating to me than sitting outside in sunny California gorgeousness and tossing back a cold beer and pretzel while my toddler runs around like a maniac. If these family-friendly wineries sound great but too far of a drive, a kid-friendly brewery right here in town may be just the ticket. Here's a list of inviting places in the Los Angeles area, broken down by region, where you can drink outside with the kiddos, ranging from super traditional German beer gardens to family-friendly brewpubs with outdoor spaces.
Best Places To Grab a Beer in the Valley
Truly the apex of the California Beer Garden, this pub right at the border of Atwater Village and Glendale has it all—from tasty microbrews crafted just feet away (Wolf Pup is a yummy, sunny-day beer) to a delicious food menu packed with vegan options (deep-fried avocado tacos for starters). There are TVs for those who like to watch sports and plenty of kid-friendly lawn games and toys/blocks—though due to COVID they're currently put away (but you can bring your own board or card games). Bonus for kids obsessed with trains: it's right off the tracks, so tons of Amtrak and Metro trains fly by. There's also a location in Anaheim.
Another great Glendale spot is Brewyard Beer Company. Located in a converted warehouse, the brewery's goal is to recreate rustic California Common-style beers, and that mission is also reflected in the décor and ambiance. There's a fully-functioning, old-timey flatbed truck that's been converted into a tabletop, and kids can even get in it for a photo! Another draw for kids is a large interactive mural which they can draw and write on. Brewyard doesn't serve food but a variety of local food trucks park outside—it's different trucks every day so be sure to check the website. There's a new outdoor beer garden now, created during the pandemic, but I hope it's here to stay.
This Old Town Pasadena favorite has expanded to a ton of franchises across the country. The original location has a lovely namesake Biergarten that is open again, filled with games for kids (which is much better than the sports bar-style interior). And of course, it has very fun, silly versions of hot dogs, sliders, and more, all served on King's Hawaiian rolls—which are so delicious you'll wonder why you ever used anything else.
The pandemic has made this already pretty family-friendly taproom and beer garden even better for kids. Located inside the plaza area around the Del Mar L Line Station (still getting used to the letter system!), the outdoor seating has been expanded beyond its small patio out into the courtyard, giving kids way more room to run around, play, and watch the light rail trains. Stone partners with The Luggage Room so you can have pizza and other snacks delivered right to your table while you enjoy your hop-centric beer.
RELATED: The Best Family-Friendly Wineries Near Los Angeles

Games to play. Photo courtesy of Wirtshaus
Best Family-Friendly Pint Places from Hollywood to Downtown
The latest addition to the LA brewing scene is All Season Brewing, which is in the historic former Firestone building on La Brea. This place looks awesome and has a cool retro Mid-Century style, an outdoor pet-friendly patio, food from Chicas Tacos, a wide selection of beer, and a full bar. After 7:30 it shifts to 21+ only, so plan to visit in the early afternoon, perhaps after a visit to one of the Miracle Mile museums or the La Brea Tar Pits.
Arguably the most traditional Deutschland style beer garden on the list, this Hollywood fave has spaetzle, an entire menu section devoted to schnitzel, and a long list of German import beers, which can even be served in that big weird boot you've seen on TV—and a bevy of other unique steins, including one shaped like R2D2. Bonus points for ping pong tables and for also being dog friendly, so you really can bring the whole family to join in the fun.
All right, I'm stretching my beer garden definition just a bit, because this DTLA place rules for kids ... sometimes. It does have a patio, so there is outdoor space, but the main feature is the massive indoor space featuring shuffleboard, darts, ping pong, and more. There's no kitchen, but there are cool food trucks parked outside Thursday through Sunday (see website for food truck schedules). Kids are allowed until 10pm. While Yelp reviews state that this brewery is "not good for kids," I'd argue otherwise. I wouldn't necessarily bring the tots on a Friday night (that goes for everything on this list, obviously), but Boomtown is family-friendly and used to host events that were great for kids and parents alike, and I hope they resume as soon as it's safe. In the meantime, TVs are set up outside, where you can catch the Dodgers and other LA sports teams.

Photo courtesy of Smog City Brewing
Beers by the Beach in Westside and the South Bay
After a day at the beach (or just hanging out in Venice), wind down and relax at Firestone Walker's brewhouse The Propagator. Technically a gastropub focused on beer, the restaurant at The Propagator has plenty of options for kids and a massive selection of highly-rated beers for the parents. The large space makes it easy for kids and strollers to navigate the dining room, plus the parking lot has been converted for outdoor dining during the pandemic.
The El Segundo location has a grandiose garden seating area to soak in that ocean breeze. What this place lacks in quiet subtlety it makes up for by being a fun, loud, over-the-top gastropub with a truly next-level tap list of hard-to-find microbrews, like SoCal stalwarts Beachwood BBQ, King Harbor, and Chapman, as well as farther-flung favorites like Lord Hobo. The menu is filled with fun comfort classics (I physically cannot get enough jalapeño poppers), so if your little rocker wants to headbang to Aerosmith in concert-style lighting while watching TVs lit up with games and classic rock shows, this is the spot.
Relax and take in the coastal breeze at Smog City in El Segundo, one of Southern California's best breweries. This brewery has a spacious outdoor patio area with family-style picnic tables, perfect for sipping some beer while you play a board game or the kids color in the provided coloring books created by a children's book illustrator. The taproom doesn't have food service, but a rotating schedule of food trucks is listed on the website, plus there are snacks like beef jerky and nuts.

Photo courtesy of Rasselbock Kitchen & Beer Garden
Places To Sip While Kids Play in Long Beach and OC
A Long Beach spot from the same German parent company as Wirsthaus, this garden has a lot of the same spirit and offerings as the La Brea location. Enjoy sausages made with elk or duck, and make sure to finish off with the famous apple strudel.
One of the hottest breweries in Southern California also has a 15,000-square-foot outdoor area at its tasting room, and according to the website welcomes kids "happily." The outdoor area is so big that often kids ride scooters and bikes through it. There are always food trucks, and it's walking distance to the San Pedro Harbor, so start practicing how to pronounce it (say it with me: "Brewery") and go down to enjoy a Picnic Lightning or a Friendly Wizard—two of my favorite beers I've had in a while.
Another staple of the Southern California beer scene is Hangar 24, and its Orange County location is very kid-friendly. The biggest draw for kids is the massive outdoor space where they can run, explore, and play. It's open for outdoor dining with ample outdoor seating though the menu is more geared towards adult tastes. However, it does offer fries and onion rings that kids can snack on while you sample the great beer selection, so the kids will be perfectly happy.
If you're headed to an Angels game and want to avoid paying ballpark prices for a snack and a drink with the kiddos, look no further than Karl Strauss. Right across the street from Angels Stadium, this brewery has a spacious semi-outdoor space and a full restaurant. While there isn't a kids' menu, there are bites that they'll love including build-your-own style mac and cheese, cheeseburgers, and chili cheese fries.
Sign up for the Mommy Poppins Newsletter today!