The Best Family-Friendly Vineyards and Wineries Near Los Angeles: Santa Ynez Valley Wineries and Beyond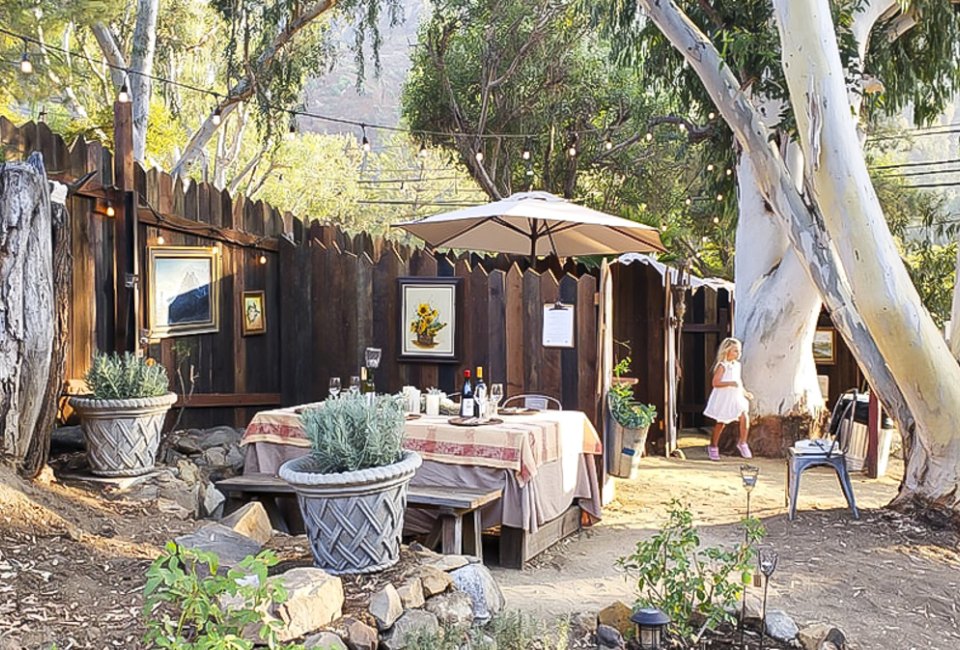 5/6/22
- By
Matt Matasci
We are blessed with a plethora of world-class wineries near Los Angeles. In nearly every direction you look, there are great opportunities for a day trip that includes kid-friendly wine tasting. Sure, you know of the long-established wine hotspots of Santa Barbara County like the Santa Ynez wineries and the up-and-comer sun-kissed Temecula wineries, but did you know there are great wineries in Malibu and even downtown LA? To help you find the most family-friendly places to enjoy a glass of vino while the kiddos frolic, we've gathered our favorite wineries near Los Angeles.
For a more in-depth look at the vineyard towns in Santa Barbara, check out our article on Santa Ynez Valley's Best Kid-friendly Wineries. Or, if your family is more into hops-based beverages, peruse our list of the Best Family-Friendly Beer Gardens in Los Angeles.
Malibu Wineries and Family-Friendly Vineyards Near LA
While the city of Los Angeles hasn't been considered a wine destination, a few wineries have popped up over the years. These are great options for a day of wine-tasting without the drive to Temecula or Santa Barbara County.
Located in Lincoln Heights, just northeast of Downtown LA, San Antonio Winery has been in operation for over 100 years. The Los Angeles location has wine tastings and an Italian restaurant called Maddalena that serves sandwiches, pasta, and even has a breakfast menu.
If you have kids who love to hike, consider a Malibu Wine Hike Tour. These tours are for all ages (though the terrain is too rough for strollers or wagons) and last about two hours. In addition to touring the vineyards, there are stops to view Chumash Native American cave paintings, organic gardens, and mountain top vantage points. The terrain is moderate so even smaller hikers can handle the trip. If your children aren't big on hikes, there are 4x4 tours and VW bus tours for groups.
RELATED: 30+ Things To Do in Santa Barbara with Kids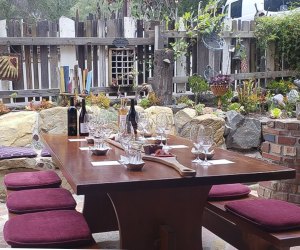 Wine flight plus takeout in the garden equals a heavenly day. Photo courtesy of Cornell Winery
The focus here is on the beautiful outdoor areas that surround this tasting room. There are plenty of places to sit and enjoy a wine flight or local craft beer, plus if you're hungry, there's a restaurant next door that does takeout. The seating is first come, first served; but with the winery requesting that guests limit visits to 2.5 hours, turnover is pretty speedy and there is rarely a long wait for a table.
Family-Friendly Santa Barbara and Santa Ynez Wineries
The Santa Ynez Valley reigns supreme when it comes to Santa Barbara County wineries. From there, most people considered Paso Robles the next best wine region. However, over the years more first-class wineries have popped up in the Santa Maria Valley and the northern parts of the County—which eliminates the need to drive an extra hour and a half. While it's still a bit of a drive to the Central Coast, once you're there the natural beauty and top-notch wines make the trip well worth it.
One of the biggest draws of Buttonwood Farm Winery are the sprawling grounds that lend themselves to endless exploration. The winery has fields of produce (including peach and almond trees) which are harvested and sold on-site. Keep an eye out for goats as you venture along the winery's rolling hills. Buttonwood has events throughout the year like a springtime scavenger hunt, a Crab Fest, concerts, stargazing, and more.
RELATED: Ultimate Guide to Weekend Getaways and Day Trips from Los Angeles

Play croquet, picnic, and spend the day at this gorgeous winery. Photo courtesy of Sunstone Winery, Facebook
Sunstone Winery in Santa Ynez has a rustic French atmosphere that is cozy and inviting. One of the first organic wineries in Santa Barbara County, the beautiful tasting grounds of Sunstone include lawn games like cornhole and croquet. You can bring a picnic or buy food at the winery to enjoy in the beautiful courtyard or at shaded tables.
While most of the tasting rooms on this list are located on sprawling vineyard properties, Coquelicot's tasting room is located right in the quaint, walkable downtown of Los Olivos. It's surrounded by storefronts, giving the tasting area the feel of a secret garden. There's plenty of room for kids to explore while parents relax with a glass of vino.
Kids love that Saarloos & Sons teams up with a local artisan bakery for wine and cupcake pairings! While they'll skip the wine, what kid doesn't love a sweet treat to tide them over while mom and dad are wine tasting? The tasting room is non-pretentious (they boast about throwing people out for being snobby!), perfect for bringing along children. Plus, there's a large grassy area next door where they can blow off some steam.
The emus are a pretty big draw, but not the only reason why Koehler Winery's tasting room is family-friendly. The room is located next to rolling hills lined with grapevines, and you can relax on the lawn and drink in the incredible atmosphere. Dogs are also welcome!
RELATED: 14 Family-Friendly Spa Resorts Near Los Angeles

Your pup is welcome, too, at Zaca Mesa. Photo courtesy of Zaca Mesa Winery, Facebook
There's plenty of room for kids and dogs at Zaca Mesa Winery, too! The outdoor tasting area is equipped with umbrellas for those hot Santa Ynez Valley summer days and heaters for when the wind starts to pick up. There's a giant chess board that kids love, and you can purchase items for grilling on the onsite grills. If you'd rather have your food prepared by the experts, there are occasionally local food trucks on-site.
From tires to beer, everyone knows the Firestone name. The family also runs a very successful winery—in fact, it was the first in Santa Barbara County! The winery is kid-friendly with a spacious grassy area and lawn games.
Did you know that Davy Crockett had a winery? This winery has been around forever, though it was recently remodeled and looks incredible. The spacious grounds give kids plenty of space to run and play without disturbing fellow wine aficionados.
Los Alamos' Bedford Winery is one of the most family-friendly wineries on our list. Located in the trendy town of Los Alamos, this tasting room has top-notch wine flights at a reasonable price. The books and toys on-site keep the kids busy while you enjoy Central Coast wines.
RELATED: AutoCamp Joshua Tree is Hip Glamping in the Desert

Bring a picnic and spend the day. Photo courtesy of Dierberg & Star Lane Vineyards, Facebook
Located in a giant, charming barn surrounded by a landscaped garden, Dierberg & Star Lane Vineyards in Buellton is the perfect wine-tasting destination for families. There's a well-manicured grassy area that's ideal for picnicking, too—food isn't served on location but you're encouraged to bring your own.
Standing Sun Wines is located in a massive warehouse that gives you a behind-the-scenes look at how wine is made. The indoor space also has a stage for live music, with events throughout the year. Art-lovers appreciate the Standing Sun Gallery next door.
This winery recently relocated to the suddenly-happening Industrial Way in Buellton, right next to Industrial Eats and in the same building as DorWood Distillery (for those who prefer spirits). Keep in mind this is a family operation, so space and hours are limited and you'll need to call ahead for groups of six or more. The biggest draw for kids is the wine and cookie pairings; while your kids will skip the wine, they'll love the artisan cookies.
RELATED: Explore Santa Ynez Valley, a California Paradise

Sitting on the dock of the bay, tasting wine... Photo courtesy of Beckmen Vineyards
At Beckmen Vineyards near the tiny town of Ballard, you can enjoy wine by the glass or bottle in a beautiful natural setting. Kids love exploring the ponds that are full of fish, tadpoles, and other wildlife. You can bring food and enjoy a tasting on the outdoor deck, or book a gazebo and enjoy a bottle of wine.
Rancho Sisquoc Winery is a bit off the beaten path, almost a mile off of Foxen Canyon Rd., due north of Los Alamos. The drive is well worth it, as the scenery is incredible and the wines even better! There's plenty of outdoor space at the winery for children to enjoy the natural setting and a picnic. There are also snacks available. Space is limited and you have to make a reservation for tastings.
Presqu'ile Winery is a bit newer on the scene and its well-appointed tasting grounds are impeccable. Not only are the buildings and grounds beautiful, but the views over the Santa Maria Valley are a draw in and of themselves. It's no surprise that Conde Nast named it one of the top 10 most beautiful wineries in California. Oh yeah, the wine is pretty good too! There are non-alcoholic beverages served for the kids—even a "pinot noir juice" tasting with crackers. The grounds are so beautiful and varied that kids can spend plenty of time exploring, leaving parents plenty of time for sipping. There's occasionally live music
Top Family-Friendly Temecula Wineries and Vineyards
Temecula is a bit of a hidden gem in Southern California, tucked between mountains in southwestern Riverside County. The area has a growing reputation as one of the best wine regions in California, which is saying a lot for a state that includes oenophile destinations like Napa Valley and Paso Robles. In addition to a rustic downtown area, there are plenty of family-friendly vineyards scattered in the countryside around the small city. There are literally dozens of wineries scattering the hills to the east of town, but here are a few of our family-friendly faves.
While the star of the show at Longshadow is the wine, kids will be thoroughly entertained by the many animals that call this vineyard home. There are horses, goats, and an alpaca that live at the winery, and Bonfire Nights with music, BBQ, and of course wine, every Saturday.

Peltzer Winery is a working family farm, as it has been for five generations. Photo courtesy of Peltzer Winery, Facebook
Peltzer Winery is a working family farm, as it has been for five generations. The winery has a rustic feel and plenty of animals on the grounds. There are annual events like the Spring Social with Easter egg hunts and live music and Christmas on the Farm. The Peltzer's roots are as a pumpkin farm in Orange County, and the winery honors those roots with its fall Pumpkin Farm event. During the event, families can enjoy pumpkins, gourds, train rides, pony rides, face painting, carnival games, a petting zoo, gem panning, and of course, pig races!
Wiens Family Cellars is a bit more of a traditional winery. While there aren't as many programmed activities for families, kids can climb, play, and explore the grounds—all within sight of wine-sipping parents. There is a large grassy area that's perfect for a picnic; when the temperatures rise in the summer, enjoy your wine and snacks under the large shaded canopy.
Unlike other wineries on this list, Wilson Creek Winery has an area that's specifically designed for children. The playground is located next to a man-made pond and has a climbing feature and swings, allowing parents to take a worry-free break with a bottle of almond sparkling wine while kids frolic. The sprawling grounds offer plenty of space to eat, drink, and relax, whether it's on the grassy lawns or the shaded dining areas.
Sign up for the Mommy Poppins Newsletter today!
i