25 Things To Do with Kids in Redondo Beach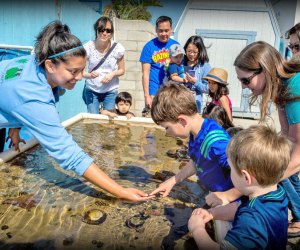 You may be a fan of our list of 100 Things to Do Lists with LA Kids, and perhaps you've also checked out our 25 Things To Do lists in Culver City, Burbank, or Hollywood. Well, if you're ready to do some more exploring, how about the South Bay? Whether you're a local wanting to try something new or from farther afield looking to spend a day (or even a weekend) at the beach, Redondo Beach has plenty of options to keep families with kiddos entertained. TIme to get off the freeway and enjoy the fresh ocean breezes!
1. Visit SeaLab, LA Conservation Corp's hands-on science center and aquarium.
2. Take in SoCal's longest-running kite festival, the Festival of the Kite. Bring your favorite kite or buy a new one, and have a blast.
3. Sure you can see some sea life from the pier—but visit the Looking Glass submarine for a view under the water.
4. Learn about Redondo Beach history at the Redondo Beach Historical Museum and Heritage Court.
5. Show off your drawing skills at the all-ages Chalk Art Festival in August. First 150 registrants get free chalk—and registration is free!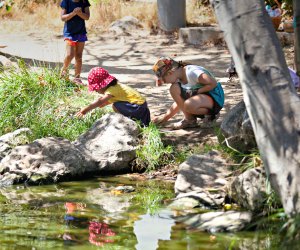 Get back to nature at Wilderness Park
6. Go camping at Wilderness Park.
7. Attend a kids club event at the South Bay Galleria.
8. Take a class at Canvas & Clay (formerly KidsArt).
10. Catch a musical or the LA Ballet at the Redondo Beach Performing Arts Center.
11. Spend a day at the beach. South of the Redondo Pier, RAT (that's Redondo and Torrance) beach is quieter and less tourist-y than other nearby beaches. Swim, bodysurf, or just relax while the kids wear themselves out!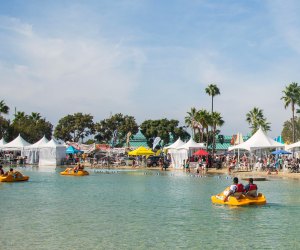 Seaside Lagoon offers a safe place to trying boating and cool off in the fountain
12. If your kids are young, the Seaside Lagoon offers an enclosed sand and saltwater playspace with a kids' playground, a snack bar, volleyball courts, lifeguards—and warm water!
13. Grab a Hawaiian shave ice at Wanna Chill.
14. Spend the day at the July 4th celebration—get your tickets early. Swimming at the seaside lagoon, kids' arts and crafts and other activities, kids' parade, music, and fireworks show are all included. Book cruise tickets and get the best view in town!
15. Go whale watching, December through April.
16. Kids love arcade games? Who doesn't! Don't miss the Redondo Fun Factory at the pier. Arcade games, skeeball—an an indoor Tilt-A-Whirl.
17. The Redondo Beach Public Library offers free events for both children and teens.
18. Attend a concert on the pier—there are holiday shows and a summer concert series, check the website for upcoming events.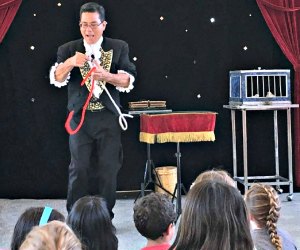 Be amazed at the Kids Club Magic Show at SB Galleria
19. Love lobster? The Redondo Beach Lobster Festival has a kids area with huge slide, face painting, and more.
20. Do the kids like fishing? Try ocean sportfishing! Half- and three-quarter-day trips are available.
21. Rent a kayak or paddleboat and paddle around the harbor.
22. On spring and summer Friday evenings, take a Cruise to Ruby's and check out all of the classic cars in the parking lot.
23. For a fun park day, Anderson Park has a huge play structure, basketball and tennis courts, and lots of grass.
24. Take a class in sewing, knitting, or crochet at Sew Creative Cafe. Boys and girls (and adults) are all welcome.
25. Take sailing lessons, or charter a sailboat (with certified instructor) at South Bay Sailing.
Photos courtesy of Redondo Beach Chamber of Commerce & Visitors Bureau