Best Fun Restaurants for Kids' Birthdays in Los Angeles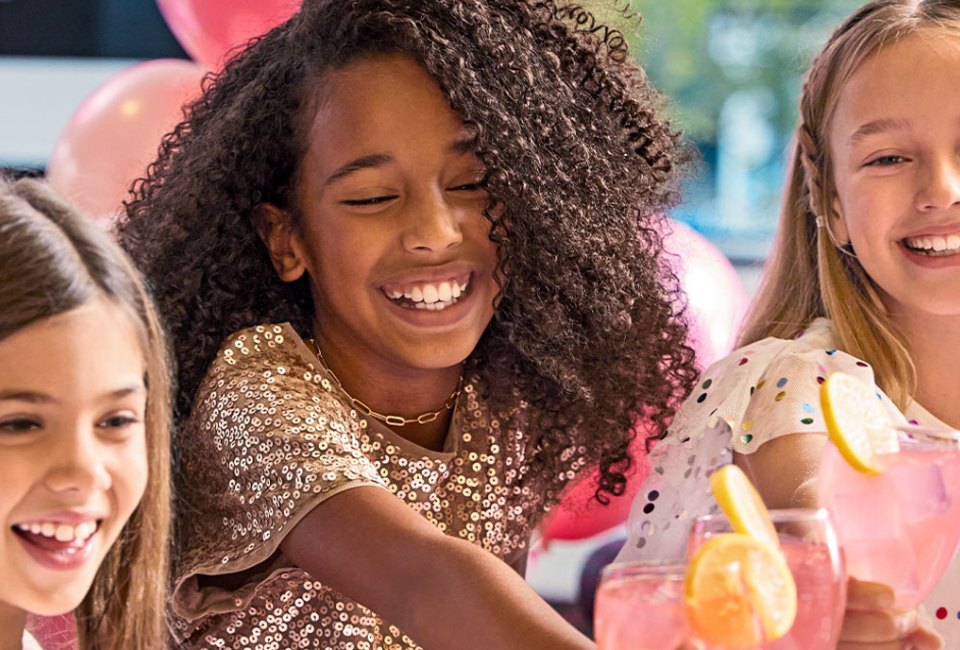 4/28/23
- By
Kylie Williams
Our kids' birthdays deserve special treatment, and luckily, Los Angeles has tons of unique restaurants to help make the celebrations extra special. So many places throughout Los Angeles take a "Happy Birthday" serenade to the next level with delicious desserts, outlandish decor, impressive culinary displays, and incredible settings. Read below for the best restaurants for kids' birthdays in Los Angeles.
For more birthday fun, try the craziest desserts in Los Angeles, enjoy birthday freebies, browse great places for indoor kids' birthday parties, and see even more ways to mark the milestone occasion in our Birthday Party Ideas Guide for LA Kids.
Top Restaurants for Kids' Birthdays on the Westside

What kid won't love celebrating their birthday on the beach? Photo courtesy of Paradise Cove
Kids' birthdays deserve a meal in paradise at this classic Malibu staple. Order simple with tacos or a burger, or go crazy with the giant seafood tower, but make sure you save room for a slice of the famous Mile High Chocolate Cake—it's over two pounds. After dinner, continue the fun with a stroll on the sand.
As of June 2023, the new American Girl flagship store will open at Westfield Century City—a mall we named as the best mall for kids. This larger store will feature a cafe with food to delight kids and grown-ups alike. The American Girl cafe features special seats exclusively for dolls so kids can bring their favorite American Girl for a meal. After dinner, your kiddo will love popping into the salon to style their dolls' hair or shop for new doll outfits in the retail area.
3. Gladstones — Pacific Palisades
The food is so good at Gladstones that you'll want to eat it all, but try to curb your enthusiasm because you'll want to save a few bites for a tin-foil leftover sculpture. The staff at Gladstones will wrap up any remaining food from your meal in a unique tin-foil animal sculpture for you to take home. Now, that's a memory the kids won't soon forget.
C&O's website says it best: "People generally don't leave here hungry." If your kids are pasta lovers, this might be the spot for a birthday dinner that will satiate bellies with delectable Italian food. We love this spot, so you'll likely see it on other lists, like our cool party places ideas for teens' birthdays.
RELATED: Perfect Spots for Your LA Baby's First Birthday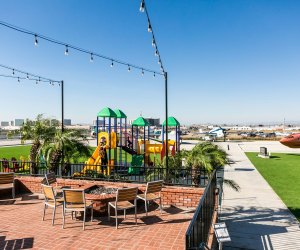 A playground and planes make for a great birthday. Photo courtesy of The Proud Bird Facebook page
If you want to celebrate a birthday with some of the best BBQ in LA, Bludso's is the place to go. The main Bludso's restaurant is on La Brea in West Hollywood, but there is also one in The Proud Bird. In addition to a phenomenal BBQ, The Proud Bird offers options for different cuisines and cultures in this food bazaar. Best of all? There is a playground outside, and kids can watch airplanes take off from LAX as they eat and play. This is the perfect spot for any little airplane enthusiast in your life.
6. Barton G. — West Hollywood
Picture this: cotton candy piled high and arranged on a bust to look like Marie Antoinette's hair, a "money-themed" chocolate dessert complete with a larger-than-life hundred-dollar bill, and a four-foot-tall ice cream cone. These are actual desserts at Barton G., the most outlandish, creative, and memorable dining spot in Los Angeles. Every dish on the menu serves surprises in ways you could never imagine. If you are into the bizarre or want a dining experience the entire family will remember, Barton G. is your place.
Family-Friendly Restaurants for Kids' Birthdays from Hollywood to DTLA
RELATED: 23 Top LA Parks for Birthday Parties Kids Will Rave About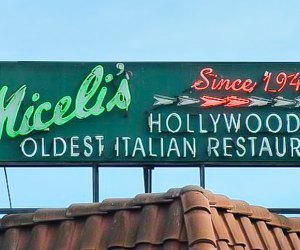 Birthday praises are sure to be sung here. Photo courtesy of Miceli's
7. Miceli's — Hollywood & Universal City
The best renditions of "Happy Birthday" are sung by the pros at Miceli's. This iconic showbiz spot features waiters and waitresses who serve up incredible Italian fare with a smile and a song. You're bound to hear a few favorite show tunes while eating your meal, as well as some classical standards and Italian arias.
Dinner and a movie? Yes, please! The Alamo Drafthouse Cinema offers more than just your average movie theater hot dog and nachos. Instead, patrons can order from a full menu and have their meal brought in while watching a blockbuster hit or a timeless classic. The award-winning food at Alamo Drafthouse Cinema includes churro popcorn, Brussels sprouts pizza, and a full kids' menu.
Every day is Halloween at this eerie restaurant channeling Alfred Hitchcock, Edgar Allen Poe, Edward Scissorhands, Beetlejuice, and other creepy characters. This nightclub/restaurant is perfect for the goths in your life. While Beetle House has a kids' menu, we added this one to our list specifically for the teens. The burlesque and nod to horror at this spot may be too intense for younger children.
This brand-new, steampunk-themed eatery and chocolate emporium is everything a kid could dream of. Chocoholics need to look no further for the perfect birthday destination. While you'll find plenty of chocolate, the restaurant also features some pretty dang good entrees and appetizers. Since you trekked to Universal City Walk, you might as well go to Universal Studios Hollywood and check out Super Nintendo World. After all, it is for your kid's birthday!
Do you have an arcade-game lover in your life? Button Mash combines an old-school arcade with creative food by a "frenetic" chef (their words, not ours). Button Mash allows kids to play in the arcade until 9pm, and you're sure to enjoy a few dishes that we guarantee you've never tried before. Start the b-day celebrations early with a daytime ball game at nearby Dodger Stadium if you've got a kid who loves baseball, then end with arcade games at Button Mash.
Great Places for Kids' Birthdays in Orange County
RELATED: 21 Teen Birthday Party Ideas in Los Angeles: Cool Party Places for Teens

Birthdays deserve crazyshakes. Black Tap photo courtesy of the Disneyland Food Blog
Located in bustling and magical Downtown Disney, Black Tap is famous for outrageous milkshakes. This order-at-the-counter spot serves craft burgers, chicken sandwiches, and fries, but your kids will flip when the waiter arrives with a Crazyshake topped with a slice of cake.
13. Saddle Ranch — Orange & Sunset Strip
Forget birthday cake. How about a cotton candy tower? The restaurant offers creative desserts the kids will love, including a mountain of cotton candy and a make-your-own s'mores platter that can be roasted outside on their fire pit. Saddle Ranch also serves up a mean steak. The most memorable part of your meal, though? Saddle Ranch has a mechanical bull—a big draw for kiddos and teens that want to try their hand at the cowboy life.
Harken back to the era of kings and castles at this unique dinner show in Buena Park. Your birthday boy or girl will never forget a roast chicken feast (eaten with their hands) while watching noble knights joust for the hand of a fair lady. If you want to take the birthday fun up a notch, opt for a birthday package, which includes cake, cheering banners, and a knighting ceremony.
RELATED: 20+ Great Los Angeles Party Entertainers Who Make The Party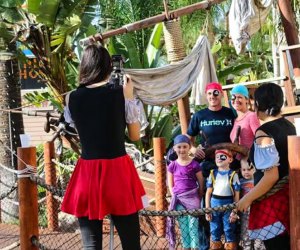 Embark on a swashbuckling birthday adventure. Photo courtesy of Pirate's Dinner Adventure
Right next to Medieval Times is another dinner show worth checking out. Dine like a swashbuckling scallywag at this themed dinner and show. If you sign up for emails, you'll receive free admission to the show on your birthday and a discount for additional adults and kids.
You don't have to pay for Disneyland admission to experience some "Adventureland" magic near the parks. Trader Sam's is located at the Disneyland Hotel and is a themed tiki bar full of magical fun. Kids are allowed to dine in the restaurant until 8pm when the restaurant transitions into a bar for the 21 and over crowd.
Best Restaurants for Kids' Birthdays with Multiple Locations
RELATED: 16 Los Angeles Restaurants Where Kids Can Play While Parents Eat

Step back in time as you take another trip around the sun. Photo by Nicole Wood Photography courtesy of Johnny Rockets
17. Johnny Rockets — Long Beach, Manhattan Beach, Hollywood, Universal City, Santa Clarita, Camarillo, Santa Monica, Anahiem
Roller skating waitresses (sometimes) and classic 50's fare make this retro diner an excellent place to share a birthday with family. The staff will often put on quite a show when tipped off that someone is celebrating, and kids will love sipping a milkshake while listening to classic 1950s tunes that they selected themselves at the table jukebox. Make sure to bring a pocketful of nickels.
18. Dave & Buster's — Long Beach, Torrance, Los Angeles, Thousand Oaks, Northridge, Irvine, Westchester, Arcadia
This giant arcade combining dining and playing will surely be a hit with kids and kid-at-heart. Dave and Buster's has multiple locations all over LA and is known for its lively atmosphere, addicting arcade games, and fun food.
Fun Restaurants for Kids' Birthdays Worth a Drive
As a child, The Melting Pot was one of my go-to's for family birthdays. At this fondue spot, dinner isn't just a meal- it's an experience. Diners get to savor an appetizer of cheese fondue, followed by a meat "hot pot" entree, and top it off with delectable chocolate fondue for dessert. The food is not only delicious, kids get a kick out of "making it themselves" and creatively combining sauces, veggies, and meats onto the metal skewers.
The Rainforest Cafe in Downtown Disney closed several years ago, but another location in Ontario Mills is still up and running. Enter Rainforest Cafe and find yourself smack in the middle of an African rainforest with gorillas, swaying elephants, swinging chimps, snarling jaguars, and more. Every 15 minutes or so, a "storm" washes over the rainforest, and animatronic animals start to move and chatter.
Rainforest Cafe is also home to an outlandish chocolate dessert called the "Volcano," which always gets a special announcement from the waiters and waitresses when ordered.
Sign up for the Mommy Poppins Newsletter today!