24 Awesome Indoor Kids' Birthday Party Places in Los Angeles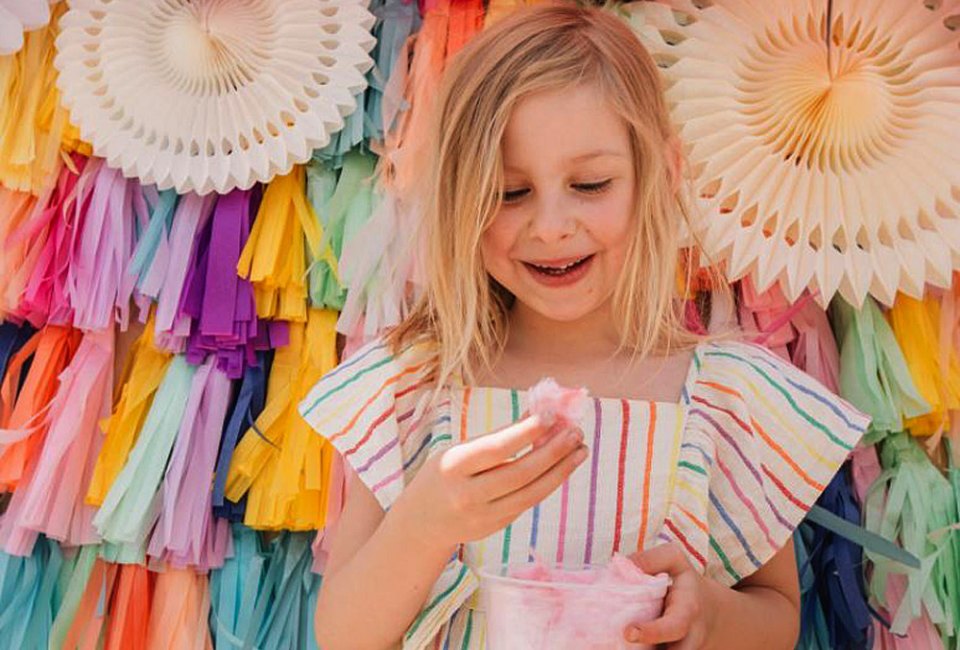 2/14/23
- By
Roberta B
Who needs indoor birthday party places for LA kids? One of the great things about living in Los Angeles is that most of the year you can simply claim a corner of a public park or throw down some blankets on the beach. But sometimes you need an indoor kids' birthday party place. Maybe it's winter, and you can't risk a sudden rainstorm. Or you want something really spectacular, like a kitten birthday party, a flying party, or to party with the dinosaurs. Or maybe, you just want someone else to do the setup and cleanup.
From rock climbing to ice skating and bowling to bounce houses, these are some of our favorite indoor kids' birthday party places for entertaining the masses without stressing about the weather, decor—or anything at all. Now you just need to book the party, order one of the best birthday cakes in Los Angeles, and be a guest at your own party. For cakes and all your birthday party needs, be sure to check out our Birthday Party Ideas Guide for LA Kids.
You know what else a birthday needs? Gifts! Get tried-and-tested favorite gift suggestions including Best Toddler Gifts and more in the Mommy Poppins Gift Guide for Birthdays and Holidays.
Indoor Kids' Birthday Party Places on the Westside
Located in downtown Santa Monica, the Cayton Children's Museum offers 21,000 square feet of more than 20 discovery-based exhibits, art studios, and multi-purpose rooms for immersive play. From a real-life helicopter to a miniature marketplace to immersive augmented reality, the Cayton lets children from infant to 8 years old experience the Cayton with their adults differently every visit. Several private rooms are available for parties, and a rental includes unlimited access to play in the museum, assistance with cake service, a dedicated Cayton representative, biodegradable tableware, bottled water for guests, and a discount at the gift shop.
Los Virtuality —West LA (also in Northridge)
This virtual reality gaming center can be anything to anyone. Cutting-edge VR technology allows kids to explore virtual worlds and compete against each other in more than 50 VR games, VR laser tag, VR escape rooms, and VR racing simulators. Birthday parties are held in a private arcade space with room for up to 30 guests to share 10 VR simulators and 4 racing stations. Options range from games appropriate for kids starting at age 7 up through the most popular teen games. Parking is free and food is BYO—plus there is a mobile VR unit if you want the party somewhere else.
This spot is perfect at any time of year. If the weather is fine, the patio is a great spot for cake, and the beach beckons after the party. If the weather is foul, no one cares when all the fun is indoors petting anemones and sea cucumbers and making faces at the sharks. A basic party includes private use of the space and touch tanks, and staff to help with party set-up and take-down; add-ons include decorations, individualized animal presentations, storytimes, and more. One flat fee includes up to 65 kids, making "the whole class" (plus siblings and parents!) an affordable option.
If your kids would rather spin and spin than hang with the marine biologists, a party just upstairs from the Aquarium can focus on another Santa Monica classic. The historic carousel remains open to the public during most parties, but the birthday crowd gets a private roped-off area and unlimited rides on the merry-go-round for up to 30 kids. For a little extra, each kid gets a token for an ice cream sundae at the Soda Jerks old-fashioned ice cream fountain that shares space with the Carousel.

A ride on the carousel followed by some ice cream makes for a great party. Photo courtesy of the Santa Monica Pier
Pamper & Play in West LA is a great choice for parties geared toward smaller children. Every party at the indoor play space is customized for your child—just tell them your child's favorite thing and they'll create a custom party based on that theme! Kids can use the trampoline, play house, play structure, and more. One special feature at Pamper & Play is that parties include play supervisors, who lead the kids in games and activities of your choosing, which can range from parachute games to arts and crafts to cupcake decorating. Even better for the grown-ups is a Parent Lounge that's 100% kid-free, so adult guests can relax in some peace and quiet as the party rages downstairs.
RELATED: Top LA Parks for Birthday Parties Kids Will Rave About

Can you spot the cats? Photo courtesy of Yelp
How's this for thinking outside the box (and we don't mean the litter box)? West LA's CatCafe Lounge will let a group of cat-loving little ones (or big ones, for that matter) come in together to enjoy a tea party among the cats and kittens. Just watch out they don't steal your cake! Private sessions for parties can be booked, or you can just make reservations to bring in a few kids together. Kids must be at least 7 years old to attend, and there is a maximum of 12-18 attendees.
Continuing on the pet theme, Playa Vista's Wallis Annenberg PetSpace is the perfect indoor birthday party idea for animal-loving kids! The space is geared for up to 20 kids ages 4-10. Parties include a guided tour of the space plus games and activities that help kids learn more about animals, pet care, and the bond between animals and humans. In addition to in-person parties, Annenberg also offers virtual party packages.
The Sender One climbing space provides an awesome indoor birthday party for kids that love to use their bodies! The Sender City party package can accommodate 20 participants (though you can have up to 30 with a fee per additional climber). Note that there's a required 1:2 parent-to-child ratio to help clip kids in and out of climbs. The party package includes one hour of climbing in Sender City and one hour in the party room.
RELATED: Teen Birthday Party Ideas in Los Angeles

STEM activities plus playtime, food time, and more are all included at Imaginology. Photo courtesy of Imaginology Kids
Indoor Kids' Birthday Party Places on the Eastside
The Imaginology Kids party package immerses your celebration in the Earth, Wind, Water, or Light Labs, an intellectually stimulating twist on a birthday party! Each party reservation is for two hours and includes playtime and time for food, drink, and cake at this Silverlake spot. There are three packages available, each offering STEM discovery activities and more, with the Deluxe Party giving you private use of the space.
Parties at Play Lab give you and up to 40 of your guests 3-4 hours of private use at this very cute space on Colorado Blvd. Tables and seating are provided by the play space and a staff member is present at the party to assist with your needs.
With locations Downtown at LA Live and on Hollywood Boulevard, Lucky Strike offers bowling parties with pizzazz. These bowling alleys are not that grimy spot on the corner with the vaguely disturbing shoes; Lucky Strike has an atmosphere that is slightly chic, slightly retro, and loads of fun. The food is better than those old-school bowling alleys, too.
RELATED: Animal Birthday Parties for Los Angeles Kids

Indoor skydiving makes for a birthday party they'll never forget. Photo courtesy of iFly Hollywood
Indoor Kids' Birthday Party Places in the Valleys
Yes, boys and girls ages 5 and up can enjoy a gymnastics lesson, especially when there's a foam pit to jump into. While the surrounding industrial park may be unassuming, this is a big space for kids to master their handstands and cartwheels under expert supervision. There's a separate room for birthday party cake and pizza eating, too.
If you want to throw a party unlike anyone else's, consider taking a crew of kids skydiving—indoors! Universal CityWalk's iFly is a clear plastic vertical wind tunnel, where your party guests ages three and up can don flight gear and ride the wind without the inconveniences of jumping out of an airplane. Kids are given lessons on how to ride the air currents, and a certificate for the skydiving time. A basic party package divides flights among the guests; add-ons can include a private party room and DVDs of the experience for party favors.
If laser tag is the ultimate indoor birthday party for your kiddo, look no further than Ultrazone in Sherman Oaks. These parties are individually hosted, meaning the venue will provide everything including food, play, and even clean up! Birthday party packages include two shared games of laser tag (meaning that they're not private, so non-party members will be participating), a private, decorated party room for two hours, a party host, and unlimited soft drinks. Food and game tokens for the arcade are not included in the cost of the party package, but are available as add-ons.
RELATED: Birthday Freebies for Kids: 60 Places To Get Free Stuff on Your Birthday

Choose from a wide range of party packages at My Little Paris. Photo courtesy of My Little Paris
One of the newest additions to the indoor party scene is My Little Paris Cafe & Play in San Gabriel. A French-themed play space and cafe, this play space offers a wide range of party options for little partiers (best for kids up to 7 years old) from the frugal to the fantastic. Parties can be held on weekends and weekdays, typically reserving your party semi-private or private access to the space for two hours.
Just because your kid has a winter birthday doesn't mean they can't have a pool party! Rent the space at Waterworks in Pasadena, which boasts a pair of indoor pools that are heated to a comfortable 92 degrees. You can rent the pool for several hours on Saturdays or Sundays, and Waterworks will provide pool toys and rafts while facilitating pool games for your guests. Of course, Waterworks also provides deck guards to keep everyone safe. This party is available for kids one and up, and is loads of fun for everyone from babies to teens.

This indoor track makes your party weatherproof. Photo courtesy of K1 Speed: Indoor Kart Racing
Indoor Kids' Birthday Party Places in the South Bay
Adventureplex in Manhattan Beach is more than just an indoor jungle gym. With a variety of structures like rope courses, a rock climbing wall, mazes, tunnels, and more, kids can spend hours exploring this play space. It's also a great place for an indoor birthday party, dubbed the Adventure Party. This package can accommodate up to 15 children and includes a party host. The three-hour celebration at Adventureplex includes one hour in the play structure, one hour in the inflatable play area, and one hour of dining in a private room. All parties at Adventureplex are now private parties, and are so popular that you'll need to book this one well in advance.
What kid doesn't love to go fast? K1 Speed: Indoor Go Kart Racing takes the thrill of racing and brings it inside, where you won't have to stress about weather conditions on the big day. K1 party packages require a minimum of eight riders and include two private 12-lap races, a one-hour party room rental, pizza, and soft drinks. There's a medal ceremony for the top three finishers (and of course, a medal for the birthday kid).
If your little one loves animals, particularly marine life, then the Aquarium of the Pacific is a great location for their next birthday party. The Aquarium is a bit of a hybrid between an indoor and outdoor party, with most of the aquarium exhibits located inside while the dining takes place on the outdoor rooftop veranda. Birthday packages include access to the Aquarium during regular business hours, 1.5 hours of meal service, beverages, boxed meals, and cake-cutting service.
Scooter's Jungle — El Segundo, Placentia, Ventura
My kids loved it when their friend had his party at Scooter's Jungle in El Segundo. This massive space features a variety of bounce houses and slides, and all parties are 100% private and are available all day, every day. Adult-sized inflatables mean that parents can bounce and play alongside their kids.
Parents of dino-lovers in Los Angeles are blessed with Wonder of Dinosaurs in Redondo Beach, where you can book a party room for the ultimate prehistoric birthday celebration. If you book a party room, the birthday kid is free, and you can simply pay for each guest's ticket. Guests have access to the activity room, which features a dinosaur exhibit with static and robotic dinos, mazes, bouncers, zoomers, and more. Plus, there are add-on activities like mini-golf, the "Triassic Train," a carousel, and "Ride-A-T-Rex."
Even More Indoor Kids' Birthday Party Places
Once we started thinking about the best indoor party spots in LA, it was hard to stop! Los Angeles has museums, skating venues, and recreation rooms at your local parks. So let these additional suggestions get your creative juices flowing for places where you could host the perfect indoor party for your little one.
Don't forget to check local museums when looking for innovative party ideas; most of our local museums offer fun, educational options. Some of the best ones to check for kids' parties are the California Science Center (which doesn't offer a party package, but will help you make a reservation for your whole group), the Discovery Cube, and Pretend City.
LA has more skating rinks than most people realize, and every rink offers birthday party packages. Parties can range in price from $125 to $875, depending on the rink, private vs. public, and how much staff you require. Skating parties offer plenty of exercise to burn off the cake and pizza, and a simulated winter experience for us winter lightweights in the Southland.
Ice rinks too cold for you? You might be surprised to know how many roller rinks there are around LA, playing tunes from our childhoods and offering a chance to strap on four wheels and take to the boards. This one is great for all ages and doesn't need to cost a lot.
Yes, it's possible to have a terrific indoor party at a public park, and it's generally a very affordable option. Most local parks have recreation centers with rooms available for party rental, and many of these spaces have more character than you might think. Take a spin around your part of town to see what you find; recreation centers sometimes require a little extra red tape to book, but they're usually not expensive.
Sign up for the Mommy Poppins Newsletter today!