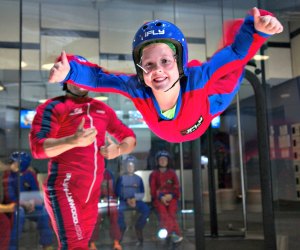 15 Best Indoor Birthday Party Ideas for LA Kids
There is a special kind of stress—both emotional and financial—that planning an indoor birthday party can cause if you have kids born between the months of November and March. Oh sure, everyone struggles with the great birthday party question, but those moms who gave birth in LA in August are pretty safe claiming a corner of a public park or throwing down some blankets on the beach. If you have a December baby, you may have tried that, but at some point probably cried "Never again!" LA might not have a proper winter, but it has a proper Indoor Birthday Party season, if only for the sanity of the parents. Allow us to share some of our favorite options for entertaining the masses without stressing about the weather.
Westside Indoor Birthday Party Ideas
1. Santa Monica Pier Aquarium
This spot is perfect at any time of year. If the weather is fine, the patio is a great spot for cake, and the beach beckons after the party. If the weather is foul, no one cares when all the fun is indoors petting anemones and sea cucumbers and making faces at the sharks. A basic party includes private use of the space and touch tanks, and staff to help with party set-up and take-down; the next package up includes an individualized animal presentation and educational program. One flat fee includes up to 25 kids, making "the whole class" an affordable option.
2. Santa Monica Pier Carousel
If your kids would rather spin and spin than hang with the marine biologists, a party just upstairs from the Aquarium can focus on another Santa Monica classic. The historic carousel remains open to the public during most parties, but the birthday crowd gets a private roped-off area and unlimited rides on the merry-go-round for up to 30 kids. For a little extra, each kid gets a token for an ice cream sundae at the Soda Jerks old-fashioned ice cream fountain that shares space with the Carousel.
3. reDiscover
Mar Vista's recycled art studio offers a variety of party packages in its spacious warehouse cum studio setting. Party themes revolve around taking things apart and re-purposing them as items of beauty and whimsy. Alternatively, keep the cost low by bringing a group of kids to open hours (currently available daily) for some tinkering and crafting in the studio's large tinkering space.
4. Cat Cafe Party
How's this for thinking outside the box (and we don't mean the litter box)? West LA's CatCafe Lounge will let a group of cat loving little ones (or big ones, for that matter) come in together to enjoy a tea party among the kitty cats. Just watch out they don't steal your cake!
5. Escapedom
An escape room is a great party plan for bigger kids who like a challenge. Even if they don't think they like a challenge, lock 'em in a room for a while and they change their tune. An hour of trying to solve an escape room together is a great, hyped-up bonding experience, and Escapedom handles the kid experience well, allowing parents to participate or watch via camera from a safe distance. There are locations in the
Valley Cities Indoor Birthday Party Ideas
6. Dream Elite Gymnastics
Yes, boys and girls can enjoy a gymnastics lesson, especially when there's a foam pit to jump into. While the surrounding industrial park may be unassuming, this is a big space for kids to master their handstands and cartwheels under expert supervision. There's a separate room for birthday party cake and pizza eating, too.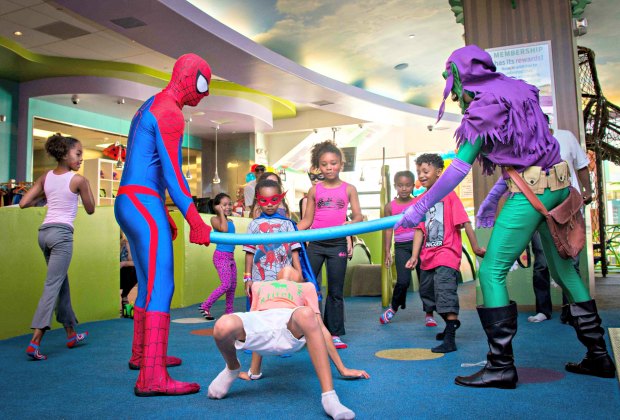 You never know who might turn up to a Giggles 'n' Hugs party. Photo courtesy of Giggles 'n' Hugs
7. Giggles 'n' Hugs
Don't want to have to think too much, just want the kids to eat healthy food and have a good time playing indoors? Sounds like you should call Giggles 'n' Hugs, the Valley's ultimate restaurant for kids. The play area entertains kids up to eight or nine years old, and party guests get a staff member playing, leading crafts, painting faces—whatever floats your kids' boat. Plus the food is delicious, and parents can even enjoy a glass of wine. Party packages range from booking a corner to the whole space.
8. iFly Hollywood
If you want to throw a party unlike anyone else's, consider taking a crew of kids skydiving—indoors! Universal CityWalk's iFly is a clear plastic vertical wind tunnel, where your party guests ages three and up can don flight gear and ride the wind without the inconveniences of jumping out of an airplane. Kids are given lessons on how to ride the air currents, and a certificate for the skydiving time. A basic party package divides 24 flights among up to 12 people; add-ons can include a private party room and DVDs of the experience for party favors.
9. Faeries and Dragons Parties
Faeries and Dragons is a party spot in the Valley that offers a woodland-themed indoor setting where belief in unicorns, elves, and fairies is encouraged. Party themes include magic, pirates, and princesses in addition to the obvious, and prices include food, drink, and entertainment for a small group of little ones, with extra time or goodie bags available upon request.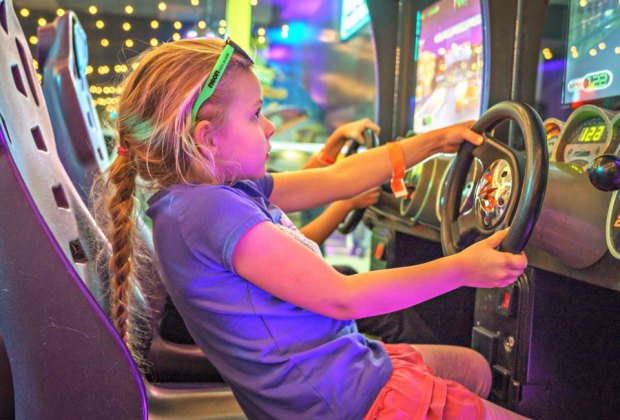 Driving back to the future at Neon Retro Arcade. Photo by Nicole Saiza Photography
10. Neon Retro Arcade
Kids love video games? Set them loose on an arcade full of old school video games, without needing a single quarter. Neon has locations in Northridge and Pasadena and charges a flat rate per hour for kids to play as many games as they can muster.
Various Los Angeles Indoor Birthday Party Locations
These ideas have locations all over Southern California.
11. Lucky Strike
With locations Downtown at LA Live and on Hollywood Boulevard, Lucky Strike offers bowling parties with pizzazz. These bowling alleys are not that grimy spot on the corner with the vaguely disturbing shoes; Lucky Strike has an atmosphere that is slightly chic, slightly retro, and loads of fun. The food is better than those old school bowling alleys, too.
12. Museums
Don't forget to check local museums when looking for innovative party ideas; most of our local museums offer fun, educational options. Some of the best ones to check for kids parties are the California Science Center, Kidspace, the Discovery Cube, and the Natural History Museum.
13. Ice Skating Parties
LA has more skating rinks than most people realize, and every rink offers birthday party packages. Parties can range in price from $125 to $875, depending on the rink, private vs. public, and how much staff you require. Skating parties offer plenty of exercise to burn off the cake and pizza, and a simulated winter experience for us winter lightweights in the Southland.
14. Retro Roller Skating Parties
Ice rinks too cold for you? You might be surprised to know how many roller rinks there are around LA, playing tunes from our childhoods and offering a chance to strap on four wheels and take to the boards. This one is great for all ages and doesn't need to cost a lot.
15. Public Parks
Yes, it's possible to have a terrific indoor party at a public park, and it's generally a very affordable option. Most local parks have recreation centers with rooms available for party rental, and many of these spaces have more character than you might think. Take a spin around your part of town to see what you find; rec centers sometimes require a little extra red tape to book, but they're usually not expensive. Don't forget state parks, too; Stough Canyon, Franklin Canyon, and Temescal Canyon, for example, all have great indoor spaces for a nature party in winter.
Originally published November 13, 2012