What's Open on Thanksgiving in Los Angeles? Places Open for Family Fun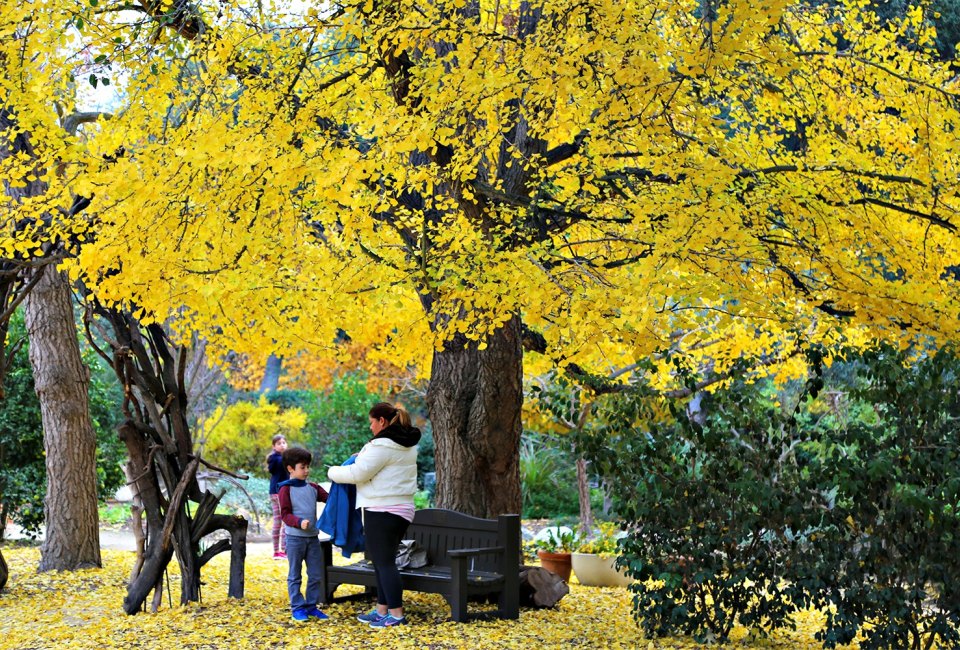 11/12/23
- By
Kylie Williams
What's Open on Thanksgiving in Los Angeles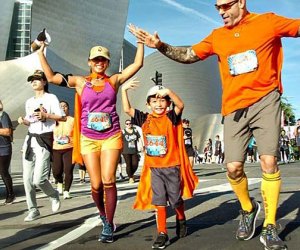 A morning trot means you deserve extra pie. Turkey Trot photo courtesy of Mommy Poppins
1. Run in a Turkey Trot
Get moving and burn some calories before the big feast with a 5K or 10K walk/run. The whole family can participate together; either the Rose Bowl Turkey Trot or the Downtown LA Trot is a great way to start the day.
All the same fish are there (plus the odd shorebird and Arctic fox), and while they're chowing down on krill and voles, you can have Thanksgiving lunch at the Aquarium.
The gardens are open on Thanksgiving, and this new exhibition, Thomas Dambo's Trolls: Save the Humans, is on display with folklore-inspired troll sculptures made from recycled materials. Stay for the evening and enjoy Astra Lumina, a fantastic walk-through light display that will put you right in the holiday season.

RELATED: Restaurants Open for Thanksgiving Dinner in LA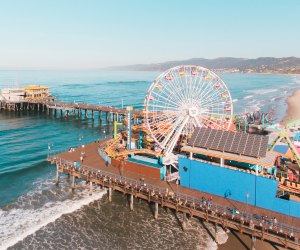 The Ferris wheel and carnival games dish up fun on the Santa Monica Pier. Photo courtesy of Pacific Park
The perfect ending to a SoCal Thanksgiving is a sunset ride on the iconic Ferris wheel at Santa Monica Pier. All the rides and games are open on Thanksgiving.
Kiddos might have a lot of pent-up energy before they sit down for Thanksgiving dinner, and luckily, there are hundreds of playgrounds throughout Los Angeles. Get some fresh air in the afternoon and spend some time at one of the many LA playgrounds.
RELATED: Thanksgiving Crafts and Activities for the Whole Family

Take advantage of the LA sunshine. Photo courtesy of Lake Balboa Bike Rentals
Why not rent a surrey and pedal around Lake Balboa so the whole family can work off that big meal together?
What could be more fun than hanging out with Mickey, Minnie, and all their friends at the happiest place on earth? Plus, Disneyland is famous for some pretty fantastic Thanksgiving meals.
RELATED: Best Thanksgiving Movies for Kids and the Whole Family

Who could resist a trip to Hogwarts? Photo courtesy of Universal Studios and Warner Brothers
The kids will surely tell you what they're thankful for if you take them to the Wizarding World of Harry Potter on Thanksgiving. Universal CityWalk is also open on November 23, so it's the perfect time to check out the new Toothsome Chocolate Emporium or do some pre-holiday shopping.
A hike through the iconic Griffith Park might be the perfect way to burn off those Thanksgiving calories and soak in the November sunshine. Note that while Grffith Park and its trails will be open on Thanksgiving, other popular attractions in Grffith Park, like the LA Zoo, Autry Museum, and Griffith Observatory, are closed on Thanksgiving.
Take a twirl around the rink at Ice at Santa Monica, a spectacular rink right in the heart of Santa Monica. This rink is open from 11:30am to 9:30pm on Thanksgiving Day. The Holiday Ice Rink at Pershing Square is also open on Thanksgiving Day.
RELATED: Thanksgiving Jokes for Kids They'll Gobble Up

Everyone can go snow sledding, but sand sledding is an LA right of passage.
Make a big impression on visiting relatives with the ultimate (and unique) SoCal activity. The berms should be ready for your inaugural sled runs by Thanksgiving.
Take a refreshing nature daytime stroll at Descanso Gardens. Note that Enchanted: A Forest of Light (Descanso's wintertime night attraction) is not open on Thanksgiving.
If you have teens, there's a good chance they'll prefer Riddler's Revenge to a boring turkey dinner.
RELATED: Holiday Volunteer Opportunities for Kids in Los Angeles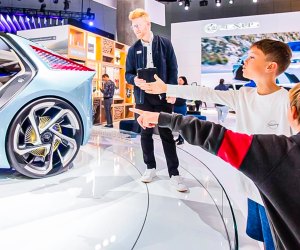 See the cars of the future at the LA Auto Show. Photo courtesy of the LA Auto Show
If you have car enthusiasts in your family, then the LA Auto Show is the perfect complement to a turkey dinner! The show is at the LA Convention Center and includes the return of the Electric Vehicle (EV) Test Track.
Burn a few calories so you can indulge at dinner with a hike on one of LA's many trails. Griffith Park and Runyon Canyon are our favorite places to hike. There are endless other trail options, like Solstice Canyon in Malibu, Elysian Park near DTLA, or Eaton Canyon in Pasadena. If your family holiday plans include wee ones, check out our favorite hikes for toddlers or the best stroller-friendly hikes.
Visit elephants, gorillas, and other zoo animals. Reindeer are also in town, and the zoo has a brand-new baby giraffe.
RELATED: Best Neighborhood Holiday Lights and Christmas Lights in Los Angeles

Explore the tide pools at Little Corona, Newport Beach. Photo by Ronaldo Farelli
The beach is one of the biggest draws for LA, but it's usually a bit too cold to get into the water in November. However, tide pools are great for exploring, no matter the weather. Check out our list of great tide pools in Southern California.
18. Go to the Movies
Sure, lots of us hit the movie theaters on Christmas Day, but Thanksgiving is another day when you need a few hours of peace and quiet and entertainment for kids and visiting family for a while. Disney's Wish opens for the holiday, and it's playing at the El Capitan, among many other LA theaters. Another popular Disney movie, Raiders of the Lost Ark, is showing at the newly reopened Vidiots on Thanksgiving evening.
What better time to visit the Academy Museum than Thanksgiving? See movie memorabilia and get a behind-the-scenes glimpse of movie-making magic. Plus, admission is always free for kids 17 and under.
Head down to Carlsbad for a winter wonderland! Legoland gets decked out for the holiday season, and it's open on Thanksgiving for a bricktastic day.
Sure, Knott's Berry Farm is known for chicken, not turkey, but what difference does it make if you're grabbing a bite between roller coaster rides? Plus, Knott's Merry Farm is in full swing on Thanksgiving this year.
Sesame Place is open on Thanksgiving and will delight your kids to no end. Even better, for the holidays, San Diego's newest theme park is transformed into a festive winter wonderland filled with holiday magic and surprises at A Very Furry Christmas.
Finally, wishing all of our readers a wonderful Thanksgiving!
Sign up for the Mommy Poppins Newsletter today!