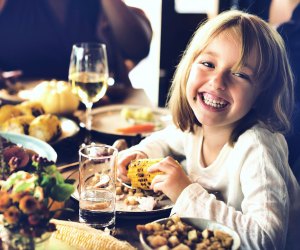 Restaurants Open on Thanksgiving in Los Angeles (That Kids Love!)
If your idea of a fun Thanksgiving dinner is enjoying family and friends while someone else cooks, then you'll need a list of kid-friendly restaurants open on Thanksgiving! Because, let's face it: sometimes, an ideal Thanksgiving does not involve hours of shopping, prepping, cooking, and cleaning while the TV is blaring football. So, have your feast and eat it, too, while enjoying conversation with family and friends. You might even have time for some Thanksgiving family activities, since someone else will be doing the dishes.
For a complete list of Thanksgiving family fun, from how and where to watch the Macy's Thanksgiving Day Parade to funny Thanksgiving jokes for kids to tell at the table, be sure to check out our complete Guide to Thanksgiving Fun for Families.
The cost, food choices, and ambiance can vary dramatically at these restaurants—as is to be expected. All of the restaurants on our list feature either special prices for children, kid-friendly food, or both. One hot tip: make reservations! Did you wait until the last minute and can't find a reservation open? There's always Marie Callender's—it only takes reservations for groups of eight and up.
Please note: As of November 4, 2021, the city of Los Angeles requires proof of at least one vaccine for dine-in. West Hollywood requires full vaccination to dine inside. Inquire about the restaurant's specific policy when making your reservation.
OUR LATEST VIDEOS
Restaurants Open on Thanksgiving on the Westside
$82 (five-course) / $40 (12 and under, three-course)
If you have a family with vegans and meat-eaters, this is the Thanksgiving destination for you. The menu features a 5-course meal for adults and a 3-course meal for children, including free-range turkey or the vegan option of "faux" turkey with all the fixins. Both options offer an assortment of salads, soups, and pies. The Inn's special kids' menu also includes the option of turkey or faux turkey. Nestled in Topanga, it is gorgeous every day of the year, but extra special on Thanksgiving. Indoor or outdoor seating is available.

Get anything from turkey and all the traditional sides to waffles, sushi, and more, at Culina. Photo courtesy of Culina
2. Culina — Beverly Hills
$139 (adult) /$65 (kids 12 and under)
After taking the last year off, Thanksgiving at Culina is back. The Beverly Hills restaurant offers its brunch buffet from 10am–6pm. The live breakfast station is available until 3pm and includes made-to-order omelets, eggs benedict, cheese blintzes, and more. After 3pm, the restaurant hosts an Italian Wild forage station with couscous, pastas, and more. For traditionalists, the Warm & Comforting station includes roast turkey, cornbread and poblano stuffing, and mashed potatoes. The menu also includes endless omelets, Belgian waffles, sushi, crab legs, and more. A special children's buffet features kid-friendly items including chicken tenders, sliders, tater tots, and cupcakes.
$115 prix fixe
Dear John's is back with indoor and outdoor dining this Thanksgiving. The three-course meal is hosted from 3pm-7:45pm and includes a mix of traditional Thanksgiving fare along with unique options like sand dabs in lemon caper butter and wild mushroom ravioli. The desserts are particularly appealing, with choices including Mascarpone cheesecake with raspberries, pumpkin pie with vanilla bean ice cream, or apple crumble pie with vanilla bean ice cream. While the price is the same for adults and kids, the fare is kid-friendly and delicious.
RELATED: Thanksgiving Activities Guide for Families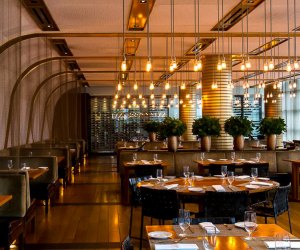 It's a splurge, but worth it, to have Thanksgiving at Craft LA. Photo courtesy of Craft LA
4. Craft LA — Century City
$150 prix fixe
Tom Colicchio's Craft LA is one of the most renowned restaurants in the city and it's open for Thanksgiving! The three-course family-style dinner includes salad or pork belly starters and main course options like free-range turkey, Alaskan halibut, scallops, or vegetarian pasta. Sides include stuffing, potato puree, green beans, glazed carrots, and cranberry sauce. Finish off the gourmet meal with pumpkin cheesecake or cranberry pound cake. This is our splurge pick for families wanting a traditional meal (that kids will love) that's a special occasion foodie delight.
Restaurants Open on Thanksgiving in the Valleys
$125 (adult) / $65 (12 and under)
This restaurant is easily accessible from the Valley side or the Malibu side and sits in the gorgeous Malibu Canyon. The Thanksgiving menu includes a four-course meal for adults and a two-course meal for kids 12 and under. Bison tartare or braised pork belly might start you off before a main course of turkey, elk tenderloin, black cod, or wagyu beef short ribs. Decadent desserts include pumpkin pie, fudge brownies, and bread pudding.
$89 (adult brunch) / $35 (kids 5-12 brunch)
Choose from entrees like chicken & waffles, pasta, and of course turkey at Castaway's three-course Thanksgiving brunch. For the adults, enjoy the bottomless Mimosa for $25. The brunch is served from 10am to 3:30pm with a la carte dinner featuring a traditional turkey special from 5pm to 9pm.

Once you discover this hidden spot, you'll find yourself returning again and again. Photo courtesy of The Front Yard
$75 (adults) / ($29 kids 12 and under)
The Front Yard gives thanks this year with their Thanksgiving dinner. The menu includes a choice of starter, appetizer, entree, and dessert, plus a la carte appetizers which can be purchased separately. Appetizers include steak tartare, crab cake, or mushroom ravioli, while entrees include chipotle smoked turkey, center-cut filet medallions, or Chilean sea bass. For the kids, there's a separate menu with sliced turkey breast and gravy with mashed potatoes. This tucked-away spot with a spacious patio has become a local staple; discover it for yourself. Reservations are required.
Restaurants Open on Thanksgiving in Central LA
$53 per guest
Fleming's has several locations throughout the city, including in Downtown LA, Pasadena, El Segundo, Rancho Cucamonga, Woodland Hills, Anaheim, and Newport Beach. The three-course meal includes soup or salad; turkey, filet mignon, or ribeye; and cheesecake or carrot cake for dessert. The shared sides include mashed potatoes, green beans and onions, and cranberry sauce. There's also a specific kid's menu, though it has mostly the same entrees, sides, and desserts as the main Thanksgiving menu.
RELATED: Best Holiday and Christmas Activities for Families in Los Angeles

Tucked away in an art gallery, Manuela itself is a work of art. Photo courtesy of Manuela DTLA
$75 (adults) / $35 (kids 10 and under)
Manuela's Thanksgiving feast has a family-style twist on the holiday meal. The first course and sides are shared amongst the table, family-style, while the main course and dessert are ordered individually. There are also vegetarian and vegan options that can be selected when reserving your table. This restaurant is tucked into a corner of an art gallery and is a wonderful and unique space with fantastic food.
Restaurants Open on Thanksgiving in Long Beach and the South Bay
$95 (adults) / $44 (kids 5 to 10)
The Terranea Resort has several dining options that are open on Thanksgiving but the centerpiece is its Thanksgiving Champagne Brunch. Located in the Marineland Ballroom, the buffet has five seatings from 10am–2pm and features a festive carving station, an omelet station, and French toast station plus menu options including seafood, pasta, braised meat, fresh vegetables, and a dessert bar. Four additional restaurants at the resort are also open on Thanksgiving.
11. Sevilla — Long Beach
$49.50 (Adults) / $24.50 (kids 10 and under, two course)
Though known for its Spanish-style tapas, Sevilla takes a traditional approach to its Thanksgiving menu. The three-course meal includes a starter, main dish, and dessert, while kids can pick an entree and dessert. The main course options include roasted turkey breast and blacked black forest ham or a duet of grilled Atlantic salmon and shrimp. If the appeal of tapas is too much for you to resist, the dinner menu is also available on Thanksgiving. There's even a takeout Thanksgiving menu for those who'd rather dine at home.

Save room for dessert at Tavern House Kitchen + Bar. Photo courtesy of Tavern House Kitchen + Bar
Orange County Restaurants Open on Thanksgiving
$60 (adults) / $28 (kids)
Tavern House is back with its 3rd annual Family Feast from 2pm to 7pm. The menu features a wide selection that ranges from traditional herb-roasted turkey and pepper roasted prime rib to more modern selections like the Santa Fe Caesar Salad and Spicy Ahi Poke. For dessert, choose from strawberry cheesecake, Southern pecan pie, or traditional pumpkin pie. If you don't feel like dining it, order ahead from the Thanksgiving To-Go menu.
Like Fleming's, Ruth's Chris Steak House is a large chain with locations throughout the country. In the LA area, restaurants are located in Irvine, Anaheim, Woodland Hills, Pasadena, and Marina Del Rey. This year the steak house is offering a dine-in Thanksgiving dinner as well as a takeout option. The dine-in menu includes roasted turkey breast, sausage and herb stuffing, and cranberry relish, and includes your choice of soup or salad; sides like potatoes, sweet potato casserole, or creamed spinach; and a chef's-choice dessert.
RELATED: Thanksgiving Jokes for Kids They'll Gobble Up

Enjoy a traditional Thanksgiving buffet. Photo courtesy of Cotton Bro via Pexels
Inland Restaurants Open on Thanksgiving
Enjoy Thanksgiving dinner with a view! This traditional Thanksgiving buffet features roast turkey, fresh fish, and carved ham and prime rib as entrées.
RELATED: Kid-Friendly Restaurants with Outdoor Seating in Los Angeles

Want to make sure you don't have a dried-out turkey? Get an over-ready brined turkey. Photo courtesy of Akasha
Restaurants for Thanksgiving Takeout in Los Angeles
Prices Vary - Available for pick-up or delivery
In the past, Akasha offered a dine-in prix fixe Thanksgiving dinner, but for 2021 has delivery or pick-up options only. With takeout from Akasha, you'll avoid dried-out turkey from reheating—instead, they have a "take and bake" oven-ready brined turkey that comes with herb butter, turkey stock, and easy roasting instructions. The sides include herb-roasted mushrooms, mashed potatoes, macaroni & cheese, candied sweet potatoes, roasted Brussels sprouts, and more.

Pies from the take-out menu at Terranea Resort. Photo courtesy of the resort
Turkey Meals: $290-$605, Vegan Meals: $180-$320
While Terranea has a great Thanksgiving buffet as mentioned above, they also have a Thanksgiving-to-go option if you'd prefer to enjoy their gourmet cooking from the comfort of your own home. The turkey meals include a cider-brined bird; sides like brioche and pear stuffing, whipped potatoes, sweet potato streusel, and herb-roasted vegetables; and a dessert selection that includes pumpkin, apple, or pecan pie. The vegan meals feature a mushroom, leek, and potato tart along with vegan Meyer lemon cheesecake for dessert.
17. Eataly — Century City
The gourmet chefs at Century City's outpost of Eataly have you covered this Thanksgiving. While you can opt to buy an all-natural, humanely-raised turkey to cook at home, you can also order a full Thanksgiving meal for takeout that includes roasted turkey breast, stuffing, gravy, cranberry sauce, and more.

Looking for something a little different this year? Photo courtesy of Moo's Craft Barbecue
If you're looking beyond boring turkey for Thanksgiving, Moo's Craft Barbecue in the Arts District is a mouth-watering option. While they do have a whole fully-cooked turkey for takeout, this option has already sold out! Luckily, there are plenty of other choices, including a whole prime brisket, turkey legs, brined and smoked whole turkey breast, pork spare ribs, and sausage packs. All entrees are chilled and ready for reheat. For sides, they have mac & cheese, potatoes au gratin, and sweet potato casserole; desserts include bread pudding or key lime pie.

This might be our favorite special meal takeout in town. Photo courtesy of the Huckleberry Cafe
The Thanksgiving take-out menu at Santa Monica's Huckleberry Cafe gives you plenty of options including various sizes of Mary's Organic turkeys, sold fully roasted or raw with an included roasting rack. The restaurant also offers roasted beef tenderloin, Scottish salmon, and for smaller gatherings, roasted organic turkey leg and thigh. There are many salad options as well as traditional Thanksgiving sides like stuffing, mashed sweet potatoes, roasted vegetables, gravy, and more.
$78.99 (feeds three) / $148 (feeds six)
Everyone's favorite family-style Italian restaurant offers takeout every Thanksgiving. This traditional turkey feast can be prepared cold for heat-and-eat or hot if you'd like it ready to serve on Thanksgiving. If you feel like adding on a few classic Italian dishes, no sweat—just add it to your order.
Happy Thanksgiving, and bon appétit!
Originally published November 7, 2016