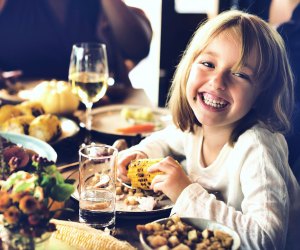 Where To Go for a Kid-friendly Thanksgiving Dinner: 15 LA Restaurants Open for Thanksgiving
If your idea of a fun Thanksgiving dinner is enjoying family and friends while someone else cooks, then you'll need a list of kid-friendly Thanksgiving Day restaurants! Because, let's face it: sometimes, an ideal Thanksgiving does not involve hours of shopping, prepping, cooking, and cleaning while the TV is blaring football. So, have your feast and eat it, too, while enjoying conversation with family and friends. You might even have time for some Thanksgiving family activities, since someone else will be cleaning the dishes.
Restaurants listed here feature children's pricing (typically under-10 or under-12); some have specifically kid-friendly dishes as well. Cost, food choices, and ambiance can vary dramatically—as is to be expected. Don't see a location or menu that suits you? Many restaurants are open on Thanksgiving; inquire in your area and you may be surprised. And don't forget the most important thing: make reservations! Did you wait until the last minute and can't find a reservation open? There's always Marie Callender's—it only takes reservations for groups of eight and up.
Restaurants for Thanksgiving on the Westside
1) Gladstones
17300 Pacific Coast Highway
Pacific Palisades, CA 90272
310.454.3474
$60 (adult) / $25 (kids) / Other items ala carte.

If dining seaside is what you had in mind for Thanksgiving, look no further than Gladstones. The beach classic offers a traditional 4-course Thanksgiving meal, but guests can also order off the menu. And kids who need to run off some steam before or after lunch can kick off their shoes steps away from the sand and surf.
2) Inn of the Seventh Ray
128 Old Topanga Canyon Road
Topanga Canyon, CA 90290
310.455-1311
$75 (5-course) / $65 (3-course) / $35 (12 and under, 3-course)

If you have a family with vegans and meat eaters, this is the Thanksgiving destination for you. The menu features a 3 or 5-course meal, including free-range turkey or the vegan option of "faux" turkey with all the fixins. Both offer an assortment of salads, soups, and pies. The Inn also has a special kids' menu (3-course) with the option of turkey or faux-turkey. Nestled in Topanga, it is gorgeous every day of the year, but extra special for Thanksgiving.
3) Tavern
11648 San Vicente Blvd.
Los Angeles, CA 90049
310.806.6464
$95 (adults) / $45 (kids)

This Brentwood restaurant offers dine-in Thanksgiving and a huge array of take-out options. Like many of the restaurants on the list, it has a fancy feel but is very kid-friendly and welcomes reservations for small or large groups.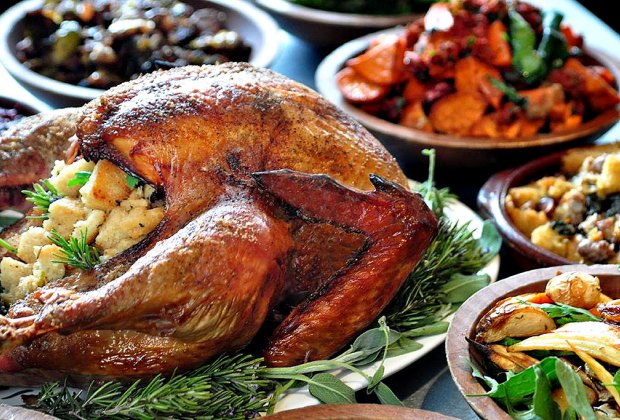 Let someone else do all the work this year. Photo courtesy of The Tavern Restaurant
Restaurants for Thanksgiving in the Valley
4) 94th Aero Squadron
16320 Raymer Street
Van Nuys, CA 91406
818.994.7437
$63.95/$25.95 (5-12) buffet
Dining among the vintage aircraft is always a novelty (we love the brunch), even if the flight paths are a bit quieter on Thanksgiving Day. The buffet (from 10am to 4pm) has everything from traditional turkey and prime rib to crab legs. There are bottomless mimosas, kids crafts, and fantastic views.
5) Saddle Peak Lodge
419 Cold Canyon Road
Calabasas, CA 91302
818.222.3888
$105 (adult) / $65 (12 and under)
This restaurant is easily accessible from the Valley side or the Malibu side and sits in gorgeous Malibu Canyon. The Thanksgiving menu includes a 4-course meal for adults and a 2-course meal for kids 12 and under. Choose from turkey, elk, sea bass, shortribs, bison, and an array of salads, pie, or brownie. Lunch is served noon to 8pm and reservations strongly encouraged.
6) Castaway
1250 East Harvard Rd.
Burbank, CA 91501
818.848.6691
$79 (adult brunch) / $35 (kids 5-12 brunch)
Would your family rather have a Thanksgiving brunch? Castaway offers brunch 9am-3pm and dinner 5pm to close. For the adults, enjoy the bottomless Mimosa for $22. The dinner beginning at 5pm is a la carte with a few Thanksgiving specials.
Restaurants for Thanksgiving in Central LA
7) Patina
141 South Grand Avenue
Los Angeles, California 90012
213.972.3331
$75 (adults) / $35 (kids)
The Patina Group is famous for their exquisite cuisine, and Thanksgiving is no different. This downtown restaurant at the Walt Disney Hall is open on Thanksgiving from 12pm-7pm and features a 6-course meal with a children's menu option as well. Valet parking is available for $8.
8) Truxton's American Bistro
8611 Truxton Avenue
Los Angeles, California 90045
310.417.8789
$29.65 (three-course set menu)
While Truxton's doesn't specifically have a kids' menu, the price for Thanksgiving dinner comes in lower than a lot of places for all ages, and the food at this warm, family-friendly, creative bistro has never let us down. The classic, three-course Thanksgiving turkey dinner with all the fixings is offered from 11am-5pm (with reservations) for both dine-in and take-out, at the Westchester location only.
9) Akasha Restaurant
9543 Culver Blvd.
Culver City, CA 90232
310.845.1700
$90 (adults) / $40 (10 and under) / 4 and under free / prix fixe menu
Akasha's largely locally sourced Thanksgiving menu features entrée choices of herb-roasted turkey, diver scallops, or a squash-based vegan dish. Starter and side choices are traditional. The pie buffet sounds fantastic and also offers vegan choices.
Restaurants for Thanksgiving in Long Beach and the South Bay
10) Terranea Resort
100 Terranea Way Dr.
Rancho Palos Verdes, CA 90275
310.265.2836
$105 (adults) / $47 (5–10) / Free (4 and under free)
With six seatings from 12:30pm to 5pm, Terranea does its Thanksgiving buffet in the Grand Ballroom, with live entertainment and champagne for toasting. Free-range turkey, prime rib, bass, and traditional soups, sides, and a variety of desserts are available at the multi-station buffet. A kids' buffet features pasta, chicken fingers, veggies, and a selection of ice cream and toppings. Four additional restaurants at the resort will also be open on Thanksgiving.
11) Aquarium of the Pacific
100 Aquarium Way
Long Beach, CA 90802
562.590.3100
$70 (adults) / $42.50 (3-11) / Free (2 and under free)
What could be better than a delicious Thanksgiving meal and then immediate entertainment for your whole family? The Aquarium offers a traditional turkey or Ham Thanksgiving lunch buffet in the cafe and on the veranda. Lunch is served 11am to 3pm and the Aquarium hours are 9am to 6pm. So you can see otters, sharks, and jellyfish before lunch and/or after. If you are Aquarium members, don't forget to ask for the lunch discount. Buy online or call to RSVP.
Restaurants for Thanksgiving in Orange County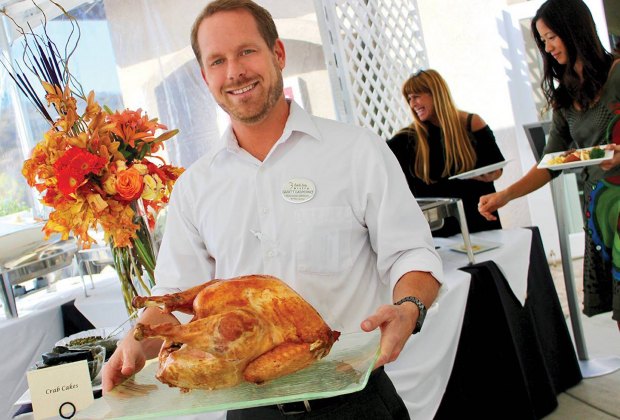 Turkey with a view of the bay... Photo courtesy of Back Bay Bistro
12) Back Bay Bistro
1131 Back Bay Dr.
Newport Beach, CA 92660
949.729.1144
$52 (adults) / $29 (10 and under) buffet
Enjoy roast turkey and New York strip carved to order, a wide selection of traditional salads and sides, soups, and traditional (and not so traditional) desserts—all with a view of Newport Bay. There are three seatings on Thanksgiving day: 10:30am, 12:30am, and 2:30pm. For those who prefer to stay home but don't want to cook, call ahead and order your Thanksgiving To Go (a prepared whole turkey and a selection of sides).
13) Anaheim White House
887 S Anaheim Blvd.
Anaheim, CA 92805
714.772.1381
$45 (adults) / $28.95 (12 and under)
The White House's Thanksgiving special is a very traditional turkey and sides plate. Dessert, appetizers, and drinks are not included. Serving is noon to 9pm and reservations are strongly encouraged.
14) Summit House Restaurant
2000 E Bastanchury Rd.
Fullerton, CA 92835
714.671.4111
Three-course prix fixe meal, individually priced based on choice of entrée. Kids' menu available ranging from $15.95 to $21.95.
The Thanksgiving menu features entrées of roast turkey, prime rib, lamb shank, halibut, or lobster tails. Kids' entrée choices are roast turkey, prime rib, or sliders, with choice of appetizers and desserts, too. Seatings are from 11:30am-8pm. Before you call, know that the restaurant is fully booked on Thanksgiving and usually has a huge wait list.
RELATED: Kid-friendly Restaurants in Downtown LA
Restaurants for Thanksgiving Inland
15) Pomona Valley Mining Company
1777 Gillette Rd.
Pomona, CA 91768
909.623.3515
$38/$14 (12 and under) buffet
Enjoy Thanksgiving dinner with a view! This traditional Thanksgiving buffet features roast turkey, fresh fish, and carved ham and prime rib as entrées. The buffet is open 11:30am to 8pm for Thanksgiving.
Happy Thanksgiving, and bon appétit!
Originally published November 7, 2016