50 Thanksgiving Crafts, Games, and Activities for Kids and Families
11/3/22
- By
Ally Noel
While the turkey is in the oven, you can set up a few of these easy Thanksgiving crafts for kids, including some place cards that will keep squabbling siblings from sitting too close. We've also got Thanksgiving games for everyone to play together, and Thanksgiving cookies that will tide kids over until the feast is ready. Because while Thanksgiving is all about spending time with family, sometimes you need to channel that togetherness time to keep everyone happy! From traditional Thanksgiving crafts for kids like handprint turkeys to a Great Yam Race for the whole fam, stuff a little fun into your family dinner this year with these Thanksgiving crafts and games.
For more Thanksgiving fun from Thanksgiving jokes for kids to when and how to watch the Macy's Thanksgiving Day Parade, check out our Thanksgiving Activities Guide for Families.
Preschool Thanksgiving Crafts: Easy Fun for Little Ones
1. Spice Dough
For many people, the scent of nutmeg, cloves, and cinnamon invokes the warm and cozy feeling of the holidays. This spice playdough not only smells like homemade pumpkin pie, but it will also keep little hands occupied during the Thanksgiving feast!
2. Fruit Turkeys
This turkey isn't just plump and perky; he's downright delicious, too. Make some Thanksgiving memories while making one of these fruit turkeys out of an apple.
3. Feed the Turkey
This easy-to-make preschool game will keep your little one entertained until you are ready to pull the turkey out of the oven. Feed the Turkey is a great way to work those fine motor skills and have a little fun.
4. Turkey Playdough Activity
While waiting for your pie dough to chill, get out some playdough and decorations and create this (time) filling invitation to play. Then, while your little ones works away, you can get back to cooking.
RELATED: 5 Simple But Cool Slime Recipes to Make with Kids

Handprint wreaths are so easy, you can make them with a baby. They make great keepsakes, too.
5. Handprint Wreath
Handprint crafts always hold a special place in my heart, and this handprint wreath certainly pulls at my heartstrings. Simply trace the outline of a hand onto construction paper and cut it out. Repeat until you have enough hands to form a circular shape. You can personalize this Thanksgiving craft by writing something everyone is thankful for on the handprints
6. Leaf Wreath
Cut a paper plate into a circle to create the base of your wreath. Next time you go on a walk, gather beautifully colored fall leaves. Simply glue the leaves onto the paper plate wreath to create a leaf wreath.
7. Thanksgiving Dinner Sensory Bin
This is another fun activity that will keep young kids busy while you run around the kitchen trying to make Thanksgiving magic happen. Fill your Thanksgiving Dinner Sensory Bin with corn kernels, play food, and other seasonal favorites like gourds and pumpkins.
8. Corn on the Cob Painting
Create colorful whirls and swirls of color by using an ear of corn to create unique patterns and prints. Making a corn on the cob painting is fun on its own, but you can take this craft to the next level by making your own napkins, placemats, or even a tablecloth.
RELATED: 100 Awesome Art Projects for Creative At-Home Fun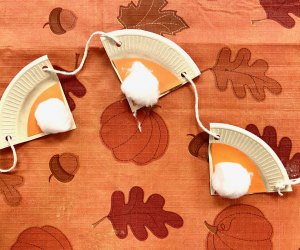 String garlands of pie around the house to get everyone ready for dessert.
Thanksgiving Crafts for Kids of All Ages
9. Pie Garland
Deck your halls with crafty slices of pie. This Thanksgiving art project uses paper plates and construction paper to create a pie garland so sweet, you might want to eat it.
10. Acorn Napkin Rings
Add a homemade touch to your holiday table with these easy-to-make acorn napkin rings. A toilet paper roll, some yarn, and acorns add just the right personalized touch to the holiday table.
RELATED: Painted Rocks Is a Fun Kid-friendly Scavenger Hunt
These rocks have a dual purpose: keeping kids busy and thinking about all we are grateful for.
11. Thankful Rocks
A festive spin on Kindness Rocks, we paint "things we are thankful for" on smooth rocks. You can display everyone's in a jar and watch your collection grow every year.
12. Turkey Joke Teller
Why did the turkey cross the road? I'm not sure ... but I am sure that this turkey joke teller will keep the kids happily occupied at the Thanksgiving table. Download the free printable for the kids' table. We've got a whole bunch more Thanksgiving jokes, too, so you can make your own joke tellers.
13. Cork Turkeys
You can use these cork turkeys as tabletop decor, place card holders, or just for fun. Collect some corks and create turkeys with a few feathers, construction paper, and some googly eyes.
14. Leaf Bowls
Preserve a little slice of fall foliage by making a leaf bowl centerpiece. Head outside and collect the autumn leaves—the brighter the better! All you need to complete the bowl is some glue and cling wrap! Use the finished product as part of a Thanksgiving tablescape.
RELATED: 20 Fun and Easy Toilet Paper Roll Crafts for Kids

Fall Luminaries are fun to make, and gorgeous when lit. Photo courtesy of Where Imagination Grows
15. Fall Luminaries
Add a fall glow to your holiday table by making a fall luminary. Use tissue paper and Mod Podge (glue works, too) to decorate the surface of a mason jar. Older kids can create more intricate patterns, while preschoolers enjoy ripping the tissue paper into smaller pieces.
16. Coffee Filter Turkeys
A cardboard tube and a coffee filter come together to create this fetching feathered friend. Recreate a turkey's beautiful plumage using a coffee filter and watercolor paints. Add details to your coffee filter turkey using scraps of construction paper.
17. Pinecone Turkeys
These playful pinecone turkeys add a little fun and whimsy to a holiday table. The shape of a pinecone and its scales make a perfect turkey with a little paint and some pom-poms.
18. Thankful Pie Spinner
Help kids express their gratitude by making a thankful pie spinner. This craft is not only cute, but it also teaches kids to express things that they are thankful for.

Falling Leaves sensory bottles are like a snow globe made with fall leaves. Photo courtesy of The Soccer Mom Blog
19. Fall snow globe
Put an autumnal twist on the classic snow globe by filling your jar with leaves and twigs. Fall snow globes are fun to make on their own or as part of your tablescape.
20. Pony Bead Pumpkins
Kids of all ages will enjoy threading the wide holes of pony beads onto pipe cleaners. Set out a table of beads and pipe cleaners with these directions and watch family members gather to create these fun pony bead pumpkins.
21. Toilet Paper Pumpkins
No one will ever know that these adorable pumpkins are just rolls of toilet paper wrapped in fabric! The supplies for this project are budget-friendly, so you can make a whole bunch of these to place on your Thanksgiving table or around the house as seasonal decor.

RELATED: 30 Easy Paper Crafts for Kids for an Arty Day at Home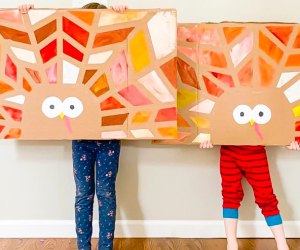 Turkey Tape Resist Art is a fun art project, and looks amazing! Photo courtesy of Busy Toddler
22. Turkey Tape Resist Painting
Not only is Busy Toddler's turkey tape resist painting fun to make, but the results are stunning.
23. Yarn Wreath
Wrap a polyurethane ring (you can find them at any crafting store) in seasonal colors of yarn like orange, yellow, brown, or gold. Once the ring is completely wrapped, use a hot glue gun to add fall decorations.
24. Beaded Calico Corn
The size and shape of pony beads do a beautiful job representing the calico colors in Indian corn. These beaded calico corns are created only using pipe cleaners and a variety of colors of pony beads.
RELATED: 5 Fun Mocktail Recipes for Kids Celebrations

This little guy is ready for his close-up.
Irresistible Thanksgiving Cookies
25. Easy Turkey Cookies
Five store-bought ingredients are all you need to transform an Oreo cookie into an adorable little turkey. Bonus points: you get to use up some of that leftover candy corn from Halloween!
26. Thanksgiving Turkey Cookies
Yummy yummy yummy, we've got turkey cookies in our tummy! Spend some quality time with family making some adorably delicious Thanksgiving turkey cookies.
27. Pilgrim Hat Cookies
Store-bought cookies and Reese's peanut butter cups come together to create these sweet little pilgrim hat cookies.
28. Acorn Candy Cookies
These little acorn cookies are perfect as a stand-alone treat, but they can also be used to decorate pies, cakes, and cupcakes. You can use store-bought cookies or give it a personalized twist by using your favorite cookie recipe. (These cookies not only look perfect, but they taste incredible!)
29. Oreo Ball Turkeys
Your guests will just want to gobble up these Oreo Ball Turkeys. Use our favorite Oreo ball recipe as the base of this no-bake kitchen craft. Pretzels, M&Ms, and candy eyes are then added to create the perfect turkey.
RELATED: Best Board Games for All Ages for Family Game Night

Get some belly laughs in before filling that belly at Thanksgiving dinner.
Thanksgiving Games for the Whole Family
30. Pie Face
Playing Pie Face has become a bit of a family tradition at my house. This "no skill needed" game of chance is always good for a few good belly laughs.
31. Thanksgiving Family Feud
I call fowl play! It's all fun and games with Thanksgiving Family Feud. You can host your own version at home, based on the popular television show. Use this tutorial to get started.
32. Thanksgiving Charades
One word. Sounds like "wavy." Thanksgiving charades is a great game to play with the entire family, young and old. Download this free printable to get the game started.
33. Sweet Potato Race
A little family competition can be a good thing. Give each player a raw yam. Using only a soup spoon to push the yam around, see who can cross the finish line first.
34. Turkey Trivia
How much do you really know about turkeys? Have the kids do a little research (or download this printable) about our feathered friends and use the info for a dinnertime game of trivia.
35. Turkey Bingo
Who has room for dessert? Have a little fun while you digest your dinner by playing a round or two of turkey bingo.
36. Thanksgiving Pictionary
Everyone is an artist, and that's what makes Pictionary the perfect game to play with the entire family. Thanksgiving Pictionary puts a festive spin on this classic game. It's a perfect game for emerging readers, too.

A scavenger hunt is just the thing for the whole family and kids of all ages. Courtesy of Play Party Plan
37. Photo Scavenger Hunt
Can you take a photo of "someone catching a football?" How about "playing in the fall leaves" or just "wearing a scarf?" Send the kids on an epic adventure with this fall photo scavenger hunt.
38. I Spy Thanksgiving Game
Patiently waiting for your meal to be served is no easy task—especially for kids. Place these I Spy Thanksgiving sheets around the table to keep everyone happily occupied til it's turkey time.
39. Minute To Win It Thanksgiving Games
It only takes a minute to have a whole lot of fun. These quick and easy Thanksgiving games are simple and use commonly found objects around the house.
40. Thanksgiving Gratitude Jar
Grab any sized glass jar, and set out small cards of paper and markers. Have everyone write something they are grateful for on a sheet of paper; younger kids can simply draw a picture. Make sure to include your name and date and put your card into the jar. Each year, invite guests to add to the gratitude jar.
41. Thanksgiving Scavenger Hunt
This fun printable scavenger hunt will get all your guests up and moving as they search for things they are grateful for. Family members can work in teams, or independently as they search for items around the house.
42. Roll a Turkey
Roll a Turkey is a quick and easy game that uses pieces of candy and dice and challenges your tablemates to see who can fill up their turkey first. This is a perfect game to play while you are waiting for your next course to arrive.
RELATED: How To Make a Duct Tape Wallet

Handprint turkey place cards are a classic, and a great way to welcome family to the table.
Thanksgiving Place Cards Set the Stage
43. Handprint Turkey Place Cards
These are easy to make but add such a lovely personalized touch to the table. We folded over a piece of cardstock to create our place card, then created a handprint turkey on each one. It's really fun to pull these out each year and see how much everyone has grown.
44. Word Search Place Card
Game + place cards = fun at the kid table. Use an online word search generator like Puzzlemaker or Word Search Maker to make an original word search for your family. Place a pencil at each table setting and see who can find all the words first.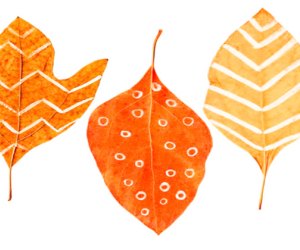 Download printable leaf artwork courtesy of Intimate Weddings
45. Autumn Leaves
No leaves? No problem! These adorable little printable leaves add a touch of fall to any tablescape. Just download this printable, or create your own with pieces of scrapbook paper.
46. Gilded Leaf Place Cards
Bring shimmer and shine to your Thanksgiving place settings with these beautiful DIY gilded leaves. Add a touch of glamor to real leaves by covering them in gold paint and hand painting everyone's name on them.
47. Pumpkin Place Cards
Styrofoam balls, yarn, twigs, and paint undergo a transformation and turn into adorable pumpkin place cards. Once made, these little pumpkins last for years to come.
48. Fall Leaf Place Cards
First, you get to go outside on a walk to gather leaves. Then glue them to folded pieces of paper and voila, instant, easy, and free fall leaf place cards.
49. Thumbprint Turkey Place Cards
Their thumbs will only be "so big" for "so long." So, take some time to create these precious little thumbprint turkey place cards with your little one. Believe me, your future self will thank you in about ten years.
50. Pine Cone Place Cards
Left to their own devices, pine cones do a perfect job at holding a name card in place. You can level up your pine cone place cards by adding a touch of paint or glitter to each one.
Photos by the author unless otherwise noted
Originally published November 15, 2020