Online Robotics Camp
Young Gates - Kids Online Personalized Classes

Artificial Intelligence with Scratch Online Camp
Young Gates - Kids Online Personalized Classes

Spark Math: Free Trial Class
Virtual
Sign up for our free newsletters.
Kids Craft: Coffee Filter Snowflake Garlands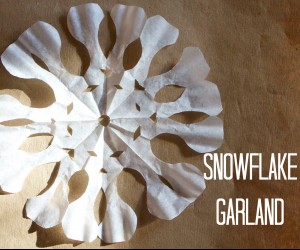 1/8/15
- By
Ally Noel
No matter what the weather is like outside, this easy craft can turn your home into a winter wonderland. Since round coffee filters are already the right shape, with just a few folds and cuts you can create a whimsical flurry without even needing to put a hat on. You can keep them winter white or add a swirl of rainbow with water color paint.
Materials:
Round Coffee Filters
Scissors
String (to make the garland)
Glue or Tape
Watercolors
Brush
1. Smooth out the coffee filter until it is a flat circle.
2. Fold the filter in half to form a semi-circle. Then fold it in half, and in half again to create a rounded triangle
3. Using your scissors, cut triangles, rectangles, and semi circles out from along the edges of the filter.
4. Unfold the coffee filter to reveal your one of a kind snowflake!
Just like real snowflakes, each of of these is an absolute original. Use a glue gun or tape to adhere the snowflakes to a piece of string to hang around your home.
Show us what you make. Share it on Facebook, Twitter or Instagram and tag @mommypoppins so we can see your creations too!
Kids' work is to play. WeeWork is a Mommy Poppins series offering an easy daily activity for grown-ups and children to do together, making kids' work an important part of your day. We aim to inspire together time, creativity and fun using only your imagination and things around the house. You can see all our WeeWork activity posts here.