No-Bake Dessert Recipes Easy Enough for Kids
7/22/21
- By
Ally Noel
When the temperature rises, the last thing you want to do is turn on the oven! These 12 easy recipes will delight your family's sweet tooth while keeping the kitchen as cool as a popsicle. Once your child knows how to use a stand mixer and a measuring cup, most of these no-bake dessert recipes can be done independently (or with just a little supervision). While a few of these no-bake desserts require the help of a microwave for melting, nothing will turn up the heat in your kitchen. Stay cool while watching your child whip up something delicious.
1. Strawberry Cheesecake
Ingredients
2 ½ cups strawberries, stemmed and hulled
1 ½ cups heavy cream, whipped
12 oz. cream cheese, softened
½ cup sugar
1 premade graham cracker crust (homemade or store-bought)
Directions
In a stand mixer, blend the cream cheese, heavy cream, and sugar until smooth. In a food processor, puree the strawberries. Slowly pour the pureed strawberries into the cream cheese mixture until all the ingredients are blended. Pour the mixture into the graham cracker crust and let sit in the refrigerator for at least 4 hours. Top with whipped cream before serving.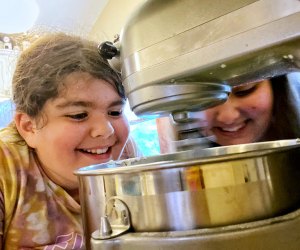 Dump and mix recipes let kids watch as dessert practically makes itself.
2. No-Bake Energy Balls
Sometimes we can all use a little pick-me-up, and that is just where these No-Bake Energy Balls come in! This recipe from Eating Bird Food is loaded with wholesome ingredients like rolled oats, peanut butter, and honey. Store them in the fridge or freezer for a healthy snack at any time of the day.
3. Peanut Butter Lasagna
In this easy dessert, Nutter Butter cookies are layered with chocolate pudding and whipped cream—YUM! This recipe from Buns In My Oven is perfect for all those peanut butter lovers out there. This easy-to-follow recipe is a perfect indoor activity that the whole family will enjoy making (and eating) together.
Even the youngest chef can make this cake!
4. Ice Cream Sandwich Cake
Ingredients
12 ice cream sandwiches
Caramel sauce
Chocolate sauce
Whipped cream (or Cool Whip)
Sprinkles
Directions
No measuring required! Line a freezer-safe container with parchment paper. Make sure to leave a little extra on the sides so you can easily remove the cake when finished. Create the first layer of the cake by lining the bottom of the container with 6 ice cream sandwiches. Cover the first layer with caramel sauce. Place the remaining 6 sandwiches on top of the caramel sauce to create the second layer. Cover in chocolate sauce and place in the freezer for an hour. Remove from the freezer and cover the top of the cake with whipped cream and sprinkles. Serve immediately.
RELATED: 8 Fun Popsicle Recipes to Make with Kids
After dipping in chocolate, these Oreo balls can be rolled in nuts, sprinkles, or Oreo crumbs.
5. Oreo Balls
Ingredients
36 Oreo cookies
8 oz. cream cheese
Chocolate melting wafers
Directions
Pulse the Oreo cookies in a food processor until they become fine cookie crumbs. Using a mixer, blend the cream cheese into the cookie crumbs until it is well combined. Roll the cookie crumbs into small balls and place them on a parchment-lined tray. Place the tray in the freezer for 15 minutes. While the balls are in the freezer, melt the chocolate wafers according to the package directions. Remove the balls from the freezer and dip them into the melted chocolate. We added a little bit of white chocolate for decoration—you can also roll them in nuts, sprinkles, or leftover Oreo crumbs.
6. Pineapple Fluff
This Pineapple Fluff recipe is so easy to whip together. It's also completely customizable—all you have to do is switch out the canned fruit and pudding flavors. Even better is that you can mix the whole thing in one bowl, making clean-up a breeze, too!
RELATED: From Disney's Dole Whip to Ikea Meatballs: 6 Secret Recipes Revealed

Look mom, no oven!
7. Dirt Dessert
Dirt Dessert is a favorite around Halloween (or Earth Day), but since it's no-bake, we like it in the summer, too. It's made of crushed cookies layered with pudding and garnished with a gummy worm for that extra taste of realism. This childhood classic is easy to make and is the perfect alternative to cupcakes for just about any celebration.
8. Popsicles
Popsicles are the perfect summer snack. These delightful little ice pops can cool you down on even the hottest of summer days—all you need is a popsicle mold and a freezer to make one of these 8 Fun Popsicle Recipes.
RELATED: The Most Irresistible Dessert Board Recipes for Kids
For the sophisticated young chef, this tart Key Lime Pie is a palate pleaser.
9. Key Lime Pie
Key Lime Pie is the perfect dessert for just about any summer occasion. The light citrusy flavor is perfect for pool parties or backyard barbecues, and parents enjoy it as much as kids. You can use a store-bought graham cracker crust and bottled lime juice to make this recipe even easier for young kids to follow.
10. Homemade Ice Cream
Did you know that you don't need a fancy ice cream maker to whip up a batch of delicious homemade ice cream? Since there are no knives or hot ovens involved, kids can make this recipe all on their own. They will have a great time experimenting with different flavors and techniques. Bonus Points: Shaking ice cream by hand is quite a workout!
RELATED: No-Bake Easy Mug Cake Recipes to Make With Kids

Your favorite chocolate plus your favorite candy turns into your new favorite dessert.
11. Chocolate Candy Bark
Ingredients
Candy: M&Ms, Sour Patch Kids, Gummy Bears, etc…
Chocolate melting wafers
Directions
Place a sheet of parchment paper on the kitchen counter. Prepare chocolate wafters according to package directions. Pour a layer of melted chocolate onto the parchment paper. Cover with a layer of candy. Cover the layer of candy with a layer of chocolate and place it in the freezer. Once the chocolate has set, break it up into smaller pieces and enjoy. Kids love getting creative with this one!
12. Cookie Salad
Now, this is a salad that every kid can get behind! Cookie Salad is a festive mix of cookies, pudding, mandarin oranges, and whipped topping. It can be served as dessert or is the perfect side dish for that holiday ham. If you're not a stickler for tradition, try mixing things up by swapping in Oreos or chocolate pudding.
All photos by the author
Click Here to Sign Up!
i