6 Secret Recipes Revealed: Disney's Dole Whip, Sprinkles Cupcakes, Ikea Meatballs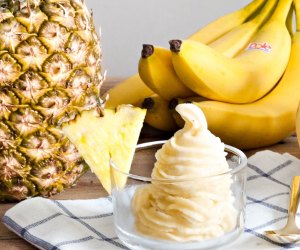 5/5/20
- By
Kimberly Rae Miller
Is quarantine making you go a little stir crazy? Do you wish you could go to a restaurant and let someone else cook for your family tonight? Well, while we can't magically make the world reopen, we have the scoop on some family-friendly secret recipes, and we're sharing them with you. Whether you're jonesing for some comforting Swedish meatballs from Ikea's cafe, or want to whisk yourself away on a virtual vacation with a scoop of Disney's iconic Dole Whip, consider whipping up one of these top restaurant recipes in your kitchen.
For more easy-to-make recipes, check out our Mommy Poppins-approved one-pot meals, or bow out and let the kids take over the kitchen and cook our kid-friendly Mother's Day brunch recipes. For more ways to keep kids busy at home, check out our Stay-at-Home Guide and our list of great ways kids can help during coronavirus.

Disney's iconic Dole Whip recipe includes just three ingredients. Photo courtesy of Dole
Disney's Dole Whip Recipe
Disney's gift to the quarantined masses has been to release parkgoers' favorite recipes on its blog and app. One classic treat is the cool and refreshing Dole Whip. Not only is it delicious, but it's also easy to make with kids.
Recipe makes 1 serving
Ingredients
1 scoop vanilla ice cream
4 ounces pineapple juice
2 cups of frozen pineapple
Directions
Add all ingredients into a blender and process until smooth. For the classic Dole Whip presentation, add the mixture to a piping bag fitted with a star tip and swirl it into a cone or cup. No piping bag? You can simply snip the corner off a Ziploc bag and use it to create your iconic swirl.
RELATED: Giant List of Virtual Tours, Field Trips, and Museums with Free Educational Programming Online
Ikea's Swedish Meatballs Recipe
What we wouldn't give to take advantage of Ikea's Smaland playspace and food court right about now, but while a trip to everyone's favorite Swedish furniture store must wait, you can enjoy some of its famous (and kid-friendly) meatballs at home!
Recipe serves 4
Ingredients
For the meatballs
1 pound ground beef
½ pound ground pork
1 clove garlic, minced
1 medium onion, diced
1 egg
5 tablespoons whole milk
¾ cup breadcrumbs
Salt and pepper, to taste
For the cream sauce
3 ounces heavy cream
¾ cup water or beef stock
Soy sauce, to taste
Salt, to taste
White pepper, to taste
1 tablespoon flour
Directions
For the meatballs: Combine the ground beef, garlic, onion, egg, and breadcrumbs. Add milk, salt, and pepper, then form into balls. Let meatballs rest in the fridge for up to two hours.
To cook, preheat the oven to 350°. While oven heats, brown the meatballs on all sides in a pan on the stovetop. Then, transfer to a baking sheet and cook in the oven for 30 minutes.
For the cream sauce: In the pan you used to sear the meatballs, make a sauce by adding beef stock or water to the pan along with the heavy cream. Once combined, thicken with white flour. Season to taste with soy sauce, salt, and white pepper.
Serve alongside french fries, boiled potatoes, or a garden salad.
RELATED: Crafts for Kids: 100 Awesome Art Projects for Creative At-Home Fun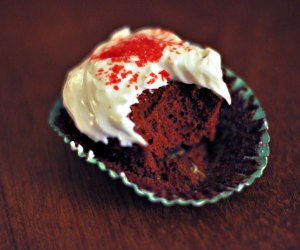 Quarantine wouldn't be complete without some over-the-top at-home baking. Red velvet cupcake. Photo by CycloneBill/CC BY 2.0
Sprinkles Red Velvet Cupcake Recipe
Let's face it, there's no shortage of baking in quarantine, but if you're craving one of Sprinkles' signature cupcakes, I highly recommend The Sprinkles Baking Book, which includes this recipe. One note: I find the frosting a little too sweet for my taste, and cut the recommended sugar by half.
Recipe makes 12 cupcakes
Ingredients
For the cupcake batter
1 ½ cups all-purpose flour
3 tablespoons unsweetened cocoa powder
1 teaspoon baking soda
1 teaspoon fine-grain sea salt
⅔ cup buttermilk, shaken
1 ¾ teaspoon white vinegar
1 teaspoon pure vanilla extract
¾ teaspoon red gel food coloring
10 tablespoons unsalted butter, slightly softened
1 cup, plus 2 tablespoons, sugar
2 large eggs
For the cream cheese frosting
1 (8-ounce) package of cream cheese, slightly softened
½ cup unsalted butter, slightly softened
⅛ teaspoon fine-grain sea salt
3 ¾ cups confectioners' sugar, sifted
½ teaspoon pure vanilla extract
Directions
For the cupcakes: Preheat the oven to 350°. Line a 12-cup cupcake tin with liners. In a bowl, whisk flour, cocoa powder, baking soda, and salt together.
In a separate bowl, combine buttermilk, vinegar, vanilla, and food coloring.
In the bowl of a stand mixer, fitted with the paddle attachment, beat the butter and sugar on medium-high speed for 2-3 minutes until the mixture is light and fluffy. Reduce the speed and add the eggs, one at a time, beating until the mixture is creamy, 1-2 minutes.
Slowly add half of the flour mixture. Once combined, add the buttermilk mixture and then the remaining flour mixture. Scoop the batter into the prepared cupcake tin, and at bake at 350° until a toothpick inserted in the middle of one comes out clean, approximately 17-19 minutes, depending on your oven. Allow the cupcakes to cool completely before frosting.
For the frosting: In the bowl of a stand mixer, fitted with the paddle attachment, beat the cream cheese, butter, and salt on medium speed until light and fluffy, approximately 2 minutes. Reduce the speed to low, gradually add the confectioners' sugar, and beat until incorporated.
Increase the speed to medium, add the vanilla, and beat until fully blended, 1-2 minutes more, making sure not to incorporate too much air into the frosting. Use a spatula or piping bag to frost the cupcakes.
RELATED: Broadway Shows and Other Top Entertainment Streaming Online for Free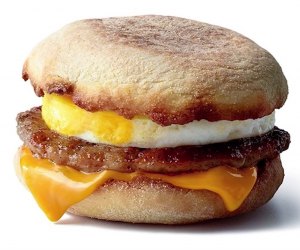 Who needs fast-food when you can whip up an iconic McDonald's Egg McMuffin in your kitchen? Photo courtesy of McDonald's
McDonald's Sausage Egg McMuffin Recipe
If your kiddos are missing those special treats from the golden arches, create one of its signature breakfast sandwiches at home with staples you probably already have on hand.
Makes one sandwich
Ingredients
1 English muffin, toasted
1 2-3 ounce pre-cooked sausage patty (alternately, make your own using sausage meat seasoned with salt and pepper and heated on a grill pan until fully cooked)
1 egg
1 slice of American cheese
Directions
Create the signature round egg by brushing the inside of a metal ring with a little oil and placing it in your skillet. Add enough water to cover the base and bring it to a boil. Once the water is boiling, crack your egg into the ring and cook for 2-3 minutes. Assemble the ingredients, and voila: a fast-food treat homemade with fresh ingredients.
RELATED: 30 Daily Celebrations to Break of the Monotony of #stayathome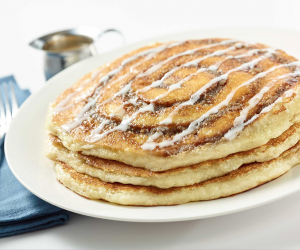 The Cheesecake Factory's Cinnamon Roll Pancakes are a double treat, combining two breakfast favorites into one special recipe. Photo courtesy of The Cheesecake Factory
The Cheesecake Factory's Cinnamon Roll Pancakes Recipe
The Cheesecake Factory has released several recipes for customer favorites on its website to help the hungry masses ride out quarantine with full bellies. Enjoy a truly decadent brunch with the family by making its signature Cinnamon Roll Pancakes.
Recipe makes 8 pancakes
Ingredients
For the pancake batter
1 ¾ cups all-purpose flour
1 tablespoon baking powder
1 teaspoon kosher salt
2 cups buttermilk
2 eggs
1 teaspoon vanilla
2 tablespoons, plus 2 teaspoons vegetable oil, divided
1 cup cinnamon swirl (see below)
½ cup vanilla icing
Powdered sugar (optional garnish)
For the cinnamon swirl
3 tablespoons butter
5 ounces brown sugar
¾ teaspoon cinnamon
1 tablespoon cream
Directions
For the batter: Mix flour, baking powder, and salt in a mixing bowl and set aside. In a separate bowl, combine buttermilk, eggs, vanilla, and 2 tablespoons oil.
Fold the moist ingredients into the flour mixture until combined. Some lumps are natural, so don't overmix the batter.
For the cinnamon swirl: To create the cinnamon swirl, melt the butter in a small pot. Add the brown sugar and cinnamon, stirring until the sugar dissolves. Finally, add cream and whisk to incorporate. Set aside.
To assemble the pancakes: Use the remaining 2 teaspoons of vegetable oil, as needed, to coat a griddle or non-stick pan. Heat the pan and ladle batter into it, creating 6-inch round pancakes. Drizzle equal amounts of cinnamon swirl onto each pancake in a spiral motion.
Cook for 2 minutes or until air bubbles appear over the surface of the pancake. Flip and cook for another 1-2 minutes. Drizzle with store-bought vanilla icing, and sprinkle with powdered sugar (if using), then serve.
RELATED: Mommy Poppins' Picks for Virtual Events to Enjoy From Home

Chicken skewers from P.F. Chang's are fun to eat and easy to prepare. Photo courtesy of P.F. Chang's
P.F. Chang's Chicken Teriyaki Skewers Recipe
If you're looking for a chicken recipe, children and adults will enjoy, the chefs at P.F. Chang's are spilling their secrets on the restaurant's blog and releasing the ingredients of its Chicken Teriyaki Skewers. Bonus: They're simple to make and fun to eat, which is always a winning combination with kids and adults alike.
Recipe makes 4 servings
Ingredients
1 pound boneless, skinless chicken thighs, cut into 1-inch pieces
¾ cup teriyaki sauce, divided (P.F. Chang's recommends its brand, which is available in stores)
5 scallions, cut into 1-inch pieces
4 10-inch wooden skewers, soaked in water
1 teaspoon toasted sesame seeds
Directions
Place the chicken pieces in a shallow container or a food-storage bag, and pour ½-cup teriyaki sauce over the top. Let chicken marinate in the refrigerator for 4 hours or up to overnight.
After chicken has marinated, thread the chicken and scallion pieces on to each skewer, tightly packing. Finally, grill the skewers for 15-20 minutes, turning occasionally and brushing with remaining sauce. Once the chicken is no longer pink, remove skewers from the grill and garnish with sesame seeds before serving.
This article contains some affiliate links, which means we might earn a small commission if you make a purchase. There is no extra cost to the reader. We only recommend products and services that we have personally used or have thoroughly researched.