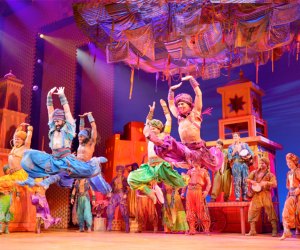 Broadway Shows and Other Top Entertainment Streaming Online for Free
Any theater lover knows the show must go on, and a global pandemic certainly hasn't slowed our entertainment options, it's just repackaged them for online, at-home consumption. One glimpse at our weekly events roundup proves just how many virtual entertainment options are available. From the bright lights of Broadway's Great White Way to London's National Theater, the Sydney Opera House, and world-famous orchestras and dance troupes, now's the time to nab some VIP seating and catch a front-row view of all the top entertainment streaming online for FREE right now.
Whether you want to introduce your kids to iambic pentameter, they've memorized the Hamilton cast recording, or need a new piece of choreography to master or concertos to memorize, we've found 25 picks for spectacular streaming entertainment. Our picks range from some of our favorite family-friendly Broadway shows to spectacular streaming concerts and dance performances at world-famous performance venues.
Now, don your fanciest yoga pants, prop your feet up, and enjoy a night out ... in.
Broadway Productions and Other Streaming Theater Performances
1. Disney on Broadway has an entire YouTube channel full of fun, kid-friendly picks. We could watch the iconic opening scene of The Lion King on repeat, and we love this Arabian Nights dance tutorial.
OUR LATEST VIDEOS
2. Register for a FREE seven-day trial of BroadwayHD and stream a different show every night. Be sure to stream a few matinees, too!
3. Enjoy some high-class culture with London's Shakespeare Globe Theatre's streaming productions. A new play is added to its YouTube channel every two weeks.
4. If full-length plays are too much for your crew, maybe a sonnet will fill your culture quotient. Join Sir Patrick Stewart on Instagram for a daily Shakespearian sonnet reading.
5. Andrew Lloyd Webber fans can catch the composer's most famous musicals online every week. Debuting at 7pm London time (2pm Eastern, 1pm Central, and 11am Pacific) each Friday, the shows remain online for 48 hours. Visit The Show Must Go On for the current pick.

6. Stream selections from London's National Theatre Live series on YouTube. Each performance remains online for a week after its airing.
7. Catch The Selfish Giant as a work-in-progress piece performed by the American Lyric Theatre. The Oliver Wilde fairy tale is currently being transformed into a touring opera, and its writers weigh-in with a post-show discussion.

8. Go under the big top and catch the making of Cirque du Soleil's Alegria or see a variety of other streaming picks from the artistic giant.
9. Children's author David Walliams' best-selling book, The Midnight Gang, has been turned into a musical of the same name and is available to stream for the next 30 days. Can't get enough of Walliams' work? Catch his daily streaming storytimes.
10. If you missed the first wildly popular Disney Family Singalong, fear not: A second one is set for Mother's Day, Sunday, May 10. So, tune your pipes and set your DVR.

11. Transport yourself to Central Park's Delacorte Theatre for a Public Theater production of Much Ado About Nothing.
Concerts, Music, and Opera Performances Streaming Online Right Now
12. The Metropolitan Opera streams virtual performances of its Live in HD series, with selections including Aida, Roméo et Juliette, Madama Butterfly, and more.
13. For ultra kid-friendly picks, there's even a Metropolitan Opera for Kids series dedicated solely to kid-friendly performances, which include interactive educational opportunities before the shows stream.
14. For an international selection, consider streaming a performance from The Opéra National de Paris.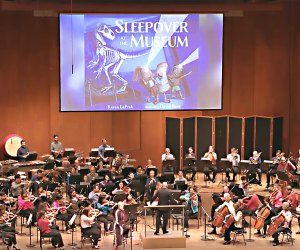 Karen LeFrak's "Sleepover at the Museum" follows the story of Mason and his friends on their adventures at the Museum of Natural History. Photo courtesy of the New York Philharmonic
15. Catch a storytime and music mash-up with the New York Philharmonic's performance of Sleepover at the Museum, a children's story accompanied by an original composition, both written by Karen LeFrak.
16. Take in the majesty of the Sydney Opera House and enjoy a diverse lineup of digital programming, including live recordings, podcasts, behind-the-scenes footage, and even a special section dedicated to kid-friendly picks.
17. Enjoy a colorful slice of Mexican culture with Xcaret México Espectacular, a music and dance extravaganza usually performed for a crowd of 6,000, which brings alive the country's history through a vibrant, passionate production.

18. Lincoln Center at Home presents its popular #Concertsforkids series online with six diverse performances for families to enjoy.
19. Hear selections from the LA Phil at Home on the organization's website, which is sharing previously recorded concerts, plus more intimate recent performances from its artists in their own homes.
Streaming Dance Performances to Enjoy at Home
20. Revel in the together-but-apart choreography of Alvin Ailey's dancers performing Ode. The renowned company has been sharing tons of other content on its Ailey All-Access website, plus it offers classes, too.
21. See the graceful dancers of Ballet Hispanico and enjoy live Q&As with its dancers, choreographers, and artistic director following the performances.
22. Enjoy selections from the San Francisco Ballet's archives in its SF Ballet@Home series.
23. The New York City Ballet is getting in on the virtual performances, too, offering a Digital Spring Season with new videos added Tuesday and Friday nights and available for viewing for 72 hours.
24. Washington, D.C.-based venue the Dance Place streams a variety of performances from the diverse companies that were meant to perform on stage there this spring.
25. Catch selections from Russia's Bolshoi Theater, which has been releasing its most popular ballet performances for limited online runs.