Submerge: NYC Marine Science Festival
Hudson River Park Pier 84

Sugar Skull! A Dia de Muertos Musical Adventure
The Sheen Center for Thought & Culture

Cirque-tacular presents 'The Art of Circus'
BMCC Tribeca Performing Arts Center
Fizzy Chalk Fireworks: The Science of Homemade Fizzy Sidewalk Chalk Paint
6/29/23
- By
Liz Baill
Bring some snap, crackle, and fizz to your 4th of July festivities—without the fire hazard—by making colorful, homemade fizzy chalk fireworks. This STEM activity adds some sizzle to your summertime sidewalk chalk using just a few basic ingredients: baking soda, cornstarch, food coloring, and vinegar. And if being festive and educational isn't enough, note that this project kept my kids busy for a solid 45 minutes. So occupy the littles while you fire up the barbecue and watch them delight in their bubbly explosions that are fit for the 4th.
For more science fun, check out our 64 favorite science experiments for kids or these super simple science activities for preschoolers. All this and more can be found in our Guide to Science Experiments for Kids.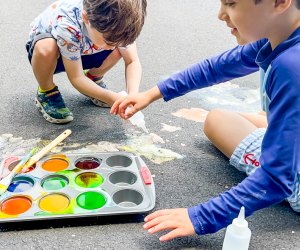 Why use regular old sidewalk chalk when you can make your own that pops and fizzles?
How to Make Fizzy Sidewalk Chalk Paint
Ingredients and Supplies
1 cup of corn starch
2 cups of baking soda
White vinegar
Food coloring
Muffin tin or several bowls
Paintbrushes
Squeeze bottle
RELATED: 40 Classic Outdoor Games for Kids

The paint uses household ingredients you likely already have in your pantry.
Steps
1. Mix 1 cup of cornstarch with 2 cups of baking soda.
2. Slowly add water while stirring. Keep adding water until the consistency is like paint. It might remind you a bit of oobleck as you stir.
3. Pour your mixture into several smaller bowls or a muffin tin. Tip: If using a muffin tin, don't fill it to the top like we did (mom fail). Just fill it partway so that you have room to mix your colors.
4. Now that your paint is divided up, add a few drops of food coloring to make several different colors of paint.
5. Head outside! Paint with your chalk mixture on the street or sidewalk. Give the paints a mix from time to time as you work.
6. Now for the fizzy fun! Fill a squeeze bottle with white vinegar and squirt some on the chalk paintings.
Watch the drawings sizzle and fizzle, transforming the artwork into your very own fireworks show. Just like our volcano science experiment, the vinegar in the bottle reacts with the baking soda in the paint, putting on a sparkling spectacle. Now sit back and bask in your kids having a blast without the boom this Independence Day and all summer long!
All photos are courtesy of the author.

Sign up for our free
newsletters.
Mommy Poppins is a family activity website that helps people find things to do with kids.
©
2023
MommyPoppins. All Rights Reserved.
mp-prod4-v4.32.99
Click Here to Sign Up!
i