The Very Hungry Caterpillar Show
DR2 Theatre

NYC Easter Brunch Cruise 2023
Event Cruises NYC

Easter Fun Cruise with Egg Hunt 2023
Event Cruises NYC
Sign up for our free newsletters.
Make a Glitter Volcano Eruption with this Science Experiment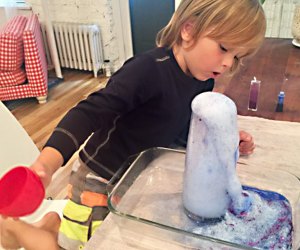 7/18/20
- By
Rosalind Muggeridge
Young scientists will love watching their creation erupt before their eyes in this cool science experiment! Kids engineer their very own eruption, all while learning about how mixing different acids and bases creates an explosive reaction. One of our 64 Easy Experiments for Kids Using Household Stuff, this simple science experiment uses items you probably have on hand: white vinegar, baking soda, food coloring, and glitter.
Read on for a simple way to bring a little bit of sparkle into your day.

No special trip to the store is required for this volcano!
You Will Need:
Glass vase
Large pan to contain the mess
White vinegar
Baking soda
Food coloring
Glitter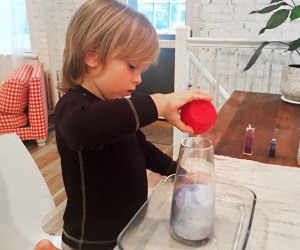 Even little ones can mix up up the simple ingredients.
Step 1: The Baking Soda
Place the vase in the pan. Add 2-3 tablespoons of baking soda to the vase.
Step 2: Choose Your Colors
​Add 6-7 drops of food coloring and 1-2 teaspoons of glitter (pick any colors you like) to the vase.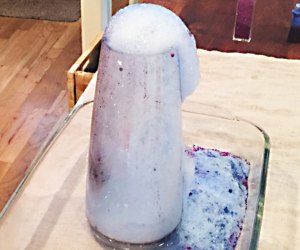 Watch the eruption of your sparkly, glittery volcano!
Step 3: Get Ready for the Fun Part!
Quickly pour in about 1/2 cup of vinegar and watch what happens next! Add more vinegar as needed.
Step 4: Experiment With Other Materials
After the eruption, try repeating the experiment with other ingredients around the house. What does pepper look like in the volcano? Does adding dish soap or salt alter the results? What about pasta noodles? Play around with different materials, make predictions, and follow your child's lead!
Find this science experiment and more ideas in our 64 Easy Science Experiments for Kids article or peruse our STEM Guide for Kids for more hands-on experiments.
Photos by the author