How To Make a Duct Tape Wallet
7/21/22
- By
Ally Noel
You don't need fancy art supplies to make some fun crafts with kids. A simple household item like duct tape is an amazingly affordable and easy-to-use crafting material, and it comes in a variety of fun colors and designs. A duct tape wallet is the perfect starter project to learn how to use duct tape for designing and crafting. It's so easy, in fact, that it made it onto our ultimate summer bucket list! Once you get the hang of creating "duct tape fabric," the possibilities are endless.
Read on to learn how to make a duct tape wallet with children. For more fun art projects for kids—some of which use duct tape as well—check out our lists of 21 rainbow crafts for kids and 100 awesome art projects for creative at-home fun.
Materials Needed to Make a Duct Tape Wallet
Scissors
A non-stick cutting surface, such as parchment paper
A ruler
Duct tape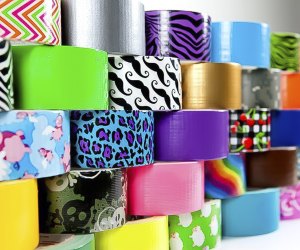 Find duct tape in all sorts of fun patterns and colors. Photo courtesy of the Malden Public Library
How to Make a Duct Tape Wallet

1. Make an eight-by-eight square of "duct tape fabric."
To do this, lay five eight-inch pieces of duct tape on the non-stick surface sticky side up. Then, lay five more eight-inch pieces of duct tape across the sticky side.
When you are finished, trim off the excess duct tape and even up the edges. The result should be an eight-by-eight square that is not sticky.

2. Fold up the bottom third of the duct tape square to create a pocket.

3. Secure the edges with a piece of duct tape.

4. Trim off a roughly 1.5-inch strip of the duct tape fabric from the top of the square. Create another pocket with the strip by securing it to the inside of the wallet.
And voilà—you've got yourself a duct tape wallet! Once you've gotten the hang of how to make a duct tape wallet, you can use duct tape of different colors and designs to customize your creations.

Sign up for our free
newsletters.
Mommy Poppins is a family activity website that helps people find things to do with kids.
©
2023
MommyPoppins. All Rights Reserved.
mp-prod4-v4.32.99
We use cookies and other data collection technologies to provide the best experience for our customers.
Learn More