Interactive Puppetsburg Show at Brooklyn Greens
Brooklyn Greens
Submerge: NYC Marine Science Festival
Hudson River Park Pier 84

Cirque-tacular presents 'The Art of Circus'
BMCC Tribeca Performing Arts Center
The Best Easy Playdough Recipe
6/20/23
- By
Liz Baill
If you need the world's easiest homemade playdough recipe, look no further. My kids love playing with clay, but our store-bought playdough always seems to dry out or end up jumbled in a mixed-up mash of muddy colors. That's when we take matters into our own hands and whip up an easy batch of homemade playdough.
And when I say easy, I mean EASY. This playdough recipe uses only three ingredients that we always have in the kitchen—flour, salt, and oil. I candidly shudder at playdough recipes that include ingredients like "cream of tartar". (Who has that on hand? Not me, anyway…)
Read on for our easy playdough recipe that comes together in just a few minutes. Then visit our Boredom Busters for Kids guide for more at-home activities, from awesome art projects to fun Magna-Tiles building ideas.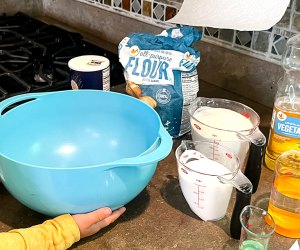 All it takes to make homemade playdough is water plus three common ingredients.
Easy Homemade Playdough Recipe Ingredients
2 cups of flour
1 cup of salt
1 tablespoon of cooking oil (we used vegetable oil)
1 cup of water
RELATED: "I'm Bored, What Should I Do?" 100 Things To Do When Kids Are Bored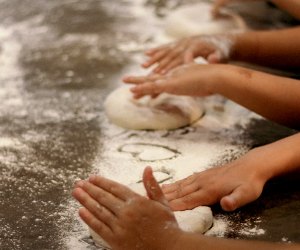 Mixing and kneading the dough is almost as fun as sculpting with it. Photo by Daria via Pexels
Easy Homemade Playdough Directions
It's almost silly to write out steps for this, because you basically just mix it all in a bowl and voila. But for the sake of being thorough…
1. Combine the flour with the salt and mix.
2. Add oil. Mix.
3. Slowly (unless you're my 4-year-old) add water while stirring until you get the right consistency.
4. Use your hands to knead the dough, adding water if it still feels gritty or adding more flour if it's too sticky. It's a little bit of this, a little bit of that situation.
5. Knead until it's a smooth playdough consistency.
6. Start playing! Sculpt it, smush it, stretch it. Experiment with cookie cutters and rolling pins, or drive a toy car across the clay to make some tracks.
RELATED: 75 Indoor Activities for Kids on a Rainy Day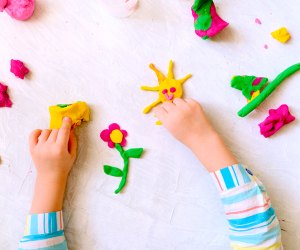 Add a few drops of food coloring to make different colors of playdough. Photo by Mommy Poppins
How to Level up your Easy Playdough
Color It
Evidently, you can add a few drops of food coloring to your clay to make it colored, but we were too lazy for that. We're also in recovery from a past food-coloring experiment that had our hands dyed blue for days. Still, it's worth keeping this option in mind!
Bake It
This was (again) beyond our level of effort, but you can bake your clay creations at 250 degrees Fahrenheit in the oven. Cooking time varies depending on the thickness of the clay, so check it every half hour until it's slightly browned around the edges. Air drying overnight is also an easy option.
Paint It
Once your clay is dry, you can paint it with tempura or acrylic paint. Get fancy and add a layer of Mod Podge for a glaze.
Unless noted, photos by Liz Baill

Sign up for our free
newsletters.
Mommy Poppins is a family activity website that helps people find things to do with kids.
©
2023
MommyPoppins. All Rights Reserved.
mp-prod4-v4.32.99
Click Here to Sign Up!