How To Have a Blast at Six Flags Magic Mountain with Kids of All Ages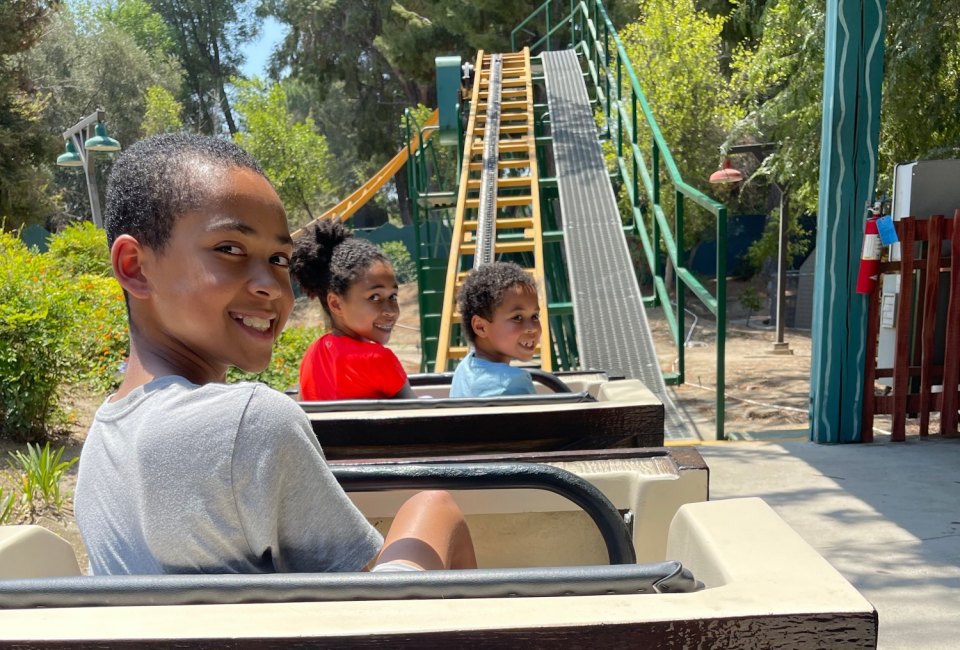 7/20/21
- By
Angela Marie Hutchinson
Six Flags Magic Mountain in Valencia offers endless adventures for the entire family: from the magical carousel to heart-pumping roller coasters, there's an activity for everyone. Although it was a scorching hot 100-degrees for our recent visit, my husband and our three children (ages 6, 10, and 13) plus their grandmother, all had a wonderful time! It's a great place to create memories together—you just need a good game plan. Below are my tips for planning a visit to make sure your whole crew has a wonderful day.
For more inside tips and tricks to enjoying all the best theme parks and water parks in SoCal (including how to get discounted tickets to all the amusement parks!), check out our guides to Disneyland, Universal Studios Hollywood, Legoland California, and more.

From the smallest to the tallest, everyone has fun.
Most Important Tip: Map Out Your Day
Downloading the Six Flags app before visiting is really helpful—it allows you to access the map of the park, order food and drinks in advance, and access photos from on the rides. First, check out the map and get a sense of where everyone in your family wants to go. The roller coasters and activities for small children are located in Bugs Bunny World, but there are also other rides for small children throughout the park that spin and fly, yet won't scare littles (or bigger kids who don't like big rides). Our family always starts at Bugs Bunny World, and we save the more thrilling rides later on in the day. I have found that letting the younger kids experience their rides first means they can rest and eat while older children are waiting in long lines for the big kid rides.
Think About Your Thrill Levels
We measured our youngest child before we arrived at the park so we could keep his height in mind when selecting which rides we wanted to make sure to hit. The park's rides fall into three categories: kids rides, family rides, and thrill rides. On the Six Flags website, you can filter the rides so you can get a sense of the type of rides your children can do alone or with you. Know your kids and how much of a thrill they're ready for, and plan your rides accordingly.
After Bugs Bunny World, we found some rides we could enjoy as a family. Canyon Blaster is a great first-time ride to experience a light stomach drop; it's almost impossible to get off this ride and not be smiling. This was our favorite family roller coaster and our kids rode it a few times.
Wheeeeeeee!
For this and all roller coasters, remember not to wear glasses and hats—my family thought it was hilarious that I lost my sunhat on the Canyon Blaster. Another fun (but slightly more dizzy-making) ride for the whole family is The Flash Speed Force, but be sure to ask the ride operator where the smallest person should sit—you definitely want to avoid your child getting squished. As a family, we also enjoyed the Jet Stream, where you can hop into a boat for a winding watercourse and a nosedive into the stream for a (much needed) cooling splash.
After the kid rides and family rides, the littlest members of your party might be getting a little tired, so it's a perfect time for the bigger kids to tackle the big drops. Meanwhile, there are other things for little guys to do...
Everyone is a winner. Photo courtesy of Six Flags Magic Mountain
Games and Attractions
The arcade games are a nice break from the long lines of the rides. Although you do have to pay for the games individually, small children get to win a toy on most arcade games even if they don't win the game. When live shows are fully up and running, they also make a nice break for tired little kids (and parents), while bigger kids are on the big rides. Sweet shops are also great places to grab an ice cream sundae, funnel cake, or sliced caramel apple for a little instant energy.
You can have your funnel cake, and eat it, too. Photo courtesy of Six Flags Magic Mountain
Food & Snacks
Although there is a One-Day Dining Pass available, the small vendor spots often with shorter lines do not accept the daily dining pass. I would pass on this pass ... For my money (and time) the best option is to use the Six Flags app to purchase food in advance and select the time for pick up. The pick-up lines were much shorter (often there's no line at all) for anyone who orders food and drinks through the app.
When the weather is hot, the restaurant lines seem to get really long, really fast as everyone is looking to purchase cold beverages. So, be sure to also pack cold water or frozen water bottles—it won't just save money, but it's a crucial time-saver. If you have a grandparent, or anyone who needs breaks from the walking and the heat, there are a couple of indoor air-conditioned restaurants where they can relax and can also serve as a great meeting spot if your group splits up to hit different rides.
Silly glasses or hats make for pictures that leave kids giggling now and later.
Making Memories Last
For young kids that may not have been to an amusement park with unlimited rides before, Six Flags can be a thrill, because often the lines are shorter for the kid-pleasing rides. So when lines are short for a ride they enjoy, consider letting them go on again and again to really hype up the already exciting experience. Favorite rides for little ones include Daffy's Adventure, Elmer's Weather Balloons, the Grand American Carousel, Pepe Le Pew's Tea Party, Speedy Gonzalez Hot Rod Racers, and Sylvester's Pounce and Bounce.
Six Flags is a great place to make Boomerangs and family selfies for social media memories. If your child has a cool costume or fun sunglasses, this is the perfect place for them to showcase a kooky sense of fashion. We love to dress up or wear silly hats to the park and take a ton of pictures.
Mask Mandate Updates
For vaccinated guests, masks are not required, in accordance with the latest guidance from the CDC. However, masks are required for unvaccinated guests while indoors. When we went, there were no temperature screenings nor social distancing requirements. Most children were not wearing their masks, including young children that appeared to be under 12 years old. If this is a concern of yours, be sure to bring masks for your kids. And check the website as these rules are subject to change when and if conditions change.
And away we go...
Tickets & Parking
Hot tip: You can enter to win 2 free tickets when you sign up for the park newsletter (it's at the bottom of the page, and you can always unsubscribe later). I definitely recommend buying tickets in advance online (you can save 50% off the admission price at the gate by purchasing tickets in advance), and if possible come on a weekday when tickets are less expensive. Six Flags also offers discounts on tickets purchased in advance for groups of 10—since Six Flags is a park where you may wish to break off into smaller groups (and it's always handy to have someone be the bag holder!), consider visiting with a big group of friends or family.
If you buy your tickets online, there is an option to purchase your parking pass for $25. I actually don't recommend doing this, even though you'll save money. If you have young children or have a difficult time walking long distances, keep in mind that the parking tram may not be active when you arrive. So, springing for VIP parking (for $40) may be worth it if you have strollers and multiple young children. If you buy your parking ticket in advance, you cannot upgrade to valet. You can only pay for the valet by itself and lose your $25 parking pass. Valet Parking allows you to drive right up to the gate, which is especially helpful for large families.
Little rides can provide the biggest thrills of the day.
My Top Ten Tips for a Fun Day at Six Flags Magic Mountain
1. Check the Six Flag website before you go and look for the thrill level of the rides.
2. Measure your kids, so you know if they'll be allowed on a ride before waiting in line.
3. Enter to win 2 free tickets when you sign up for the park newsletter.
4. Purchase tickets online to save money.
5. Purchase Valet Parking upon arrival to the park, not online.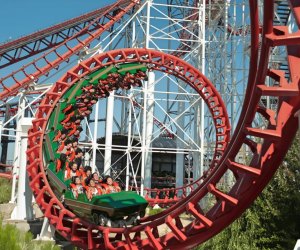 It's called the "Thrill Capital of the World" for a reason. Photo courtesy of Six Flags Magic Mountain
6. Bring a backpack of cold and frozen water bottles.
7. Pack your lunch and snacks. If you don't want to carry them all day, purchase your food through the park's app well in advance of kids getting hungry!
8. Buy the photo pass after the first ride that offers it (or prior to visiting). It's really fun to have these goofy pictures of the whole family.
9. Post about your experience and tag the park—you may get featured on their stories.
10. Don't forget to wear comfortable shoes. This park covers a lot of ground, and sore feet make for cranky people!
All photos by the author unless otherwise noted.
Places featured in this article:
Sign up for the Mommy Poppins Newsletter today!
i