Water and Amusement Park Discount Tickets in LA: How To Find Price Breaks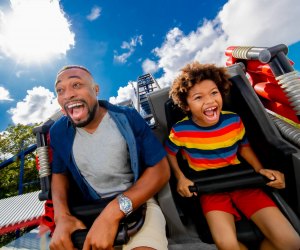 6/18/21
- By
Meghan Rose
Amusement parks are a fantastic way to spend a summer day with the kids. But let's face it: between the price of admission, parking, food, and souvenirs, the cost really adds up—especially for large families. How can you save big at theme parks and water parks? For everything from discounted days to membership money-savers and more, here are our tips for scoring discounted admission at theme parks, amusement parks, and water parks across SoCal.
If you're looking for toddler-friendly options, check out our listing of the best amusement parks for toddlers.
Get a Go City - Los Angeles Pass
If you have plans to visit multiple attractions in the Los Angeles area (we're looking at you visitors to LA, Angelenos with visiting relatives you'll be squiring around town, and even locals who want to explore the city during summer vacation!), it's worth it to look into a Go City - Los Angeles All-Inclusive Pass or Explorer Pass which includes entry to Legoland, Universal, Warner Bros., Knott's Berry Farm, Six Flags Magic Mountain, the Aquarium of the Pacific, the San Diego Zoo, and the LA Zoo. There are two options which allow you to use your pass within either 14 or 60 days.
Get Discount Tickets at Theme Parks
Disneyland and Disney California Adventure Park
Disneyland discounts are a rare bird, because the park already has more visitors than it can handle. Though the park has eliminated the annual passport program (which was the best way for frequent visitors to save money), it does promise that something new is coming. Until it does, there are a few ways to save a little money on tickets: The easiest way is to be flexible in choosing the date of your visit. This summer, a one-day one-park pass can cost as little as $104, and as much as $154, depending on the day. Simply checking the ticket availability calendar can save you a bunch.
If you're planning on going to Disneyland for multiple days, you can save up to $35 per pass when you buy through AAA. You must buy at least a 2-day park hopper pass for this discount to apply.
And if you're planning a Disneyland trip for a special event, and would like to spend the night at a Disneyland hotel, book through Costco travel to save on a vacation package. With a 2-night stay, you can get a $185 Disney Gift Card, an exclusive keepsake, and 10% off at Downtown Disney.
Unlike Disneyland, Legoland almost always has a "Kids Go Free" deal running. Right now, the discount code is even available on the website. Also, Legoland still has Annual Passes available, and if you plan on going more than a couple of times a year, a pass can add up to big savings.
If you have more kids than adults to bring along, and happen to have a AAA membership, you can save up to 30% by purchasing tickets through AAA.
In the past, Legoland has also offered discounts for teachers; members of the military; and through businesses like Burger King, McDonald's, Subway, Costco, and more. So far in 2021, these discounts have not been reinstated, but it's always worth calling Legoland to see if those discounts are available again.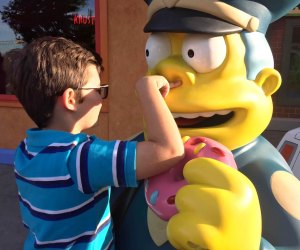 Get up close and personal with the Simpsons and friends. Photo by Mommy Poppins
Much like Disneyland, Universal Studios does not offer many discounts, and often the best bet is to check the website and try to plan a visit on a less popular (and less expensive) day. However, Universal does offer annual passes for Southern California residents, and the least expensive option is about the price of two days in the park.
Military discounts are available, but you must be able to have access to a military base in order to purchase tickets at a Military Ticket Office. These discounts are not available at the Universal Studios box office. A AAA membership can save you up to 30% when you purchase online. And select colleges and universities offer discounted tickets for current students and alumni. Check the website to see if your alma mater is a participant!
Once again, the tried and true method of saving money at this park is to buy your tickets in advance online (you can save 50% off the admission price at the gate by purchasing tickets in advance), and to look for the less popular dates. You can also save big with a season pass—and an added perk at Six Flags is that on select dates, you can bring a friend for free. So think about splitting a season pass with a friend!
Other discounts currently offered at Six Flags include big discounts on tickets purchased in advance for groups of 10 or more, so consider going on the same day as another family and ordering your tickets together.
Six Flags Magic Mountain offers a discount on every general admission ticket purchased for active military members and veterans. AAA members usually receive $5 off the general admission with the "Show Your Card and Save" program.
This isn't really a discount, but you can enter to win 2 free tickets when you sign up for the park newsletter!
Note: In-person military and AAA discounts are not currently available, as all tickets must be purchased online. You can purchase discounted tickets through AAA, but often the discounts are off of full-price tickets, and Magic Mountain typically offers their own discounts online, which can be even lower. So check the Magain Mountain website, first!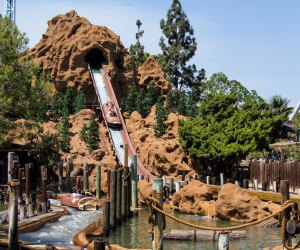 Splash down Timber Mountain Log Ride. Photo courtesy of Knott's Berry Farm
Much like at the other parks, Knott's varies pricing by the day and offers a yearly pass, so it's worth it to try and choose the date of your visit carefully and consider purchasing an annual pass if you'll return.
Knott's Berry Farm offers free admission to the military on select Military Tribute Days; check the website for a list of these dates.
Knott's often offers discounts with AAA cards (save up to 40% when you buy tickets through AAA) or via Costco, so check those websites to see if a deal is currently running. Sometimes you can even find discount tickets on Goldstar!
Admission to Pacific Park on the Santa Monica Pier is free! However, rides sell individual tickets, and at $5-$10 per ride, this can turn into a very pricey outing, fast. The best way to experience Pacific Park is to purchase an Unlimited Ride Wristband. Currently, Unlimited Ride Wristbands are only available for purchase inside the ride area Monday-Thursday (excluding holidays). Wristbands can be purchased at the ticket booth at the following rates: $20 for ages 7 and under, $40 for ages 8 and over.
Note: For a discount on wristbands, Pacific Park usually offers a 10% discount for active-duty military personnel and immediate family members. You can also present a AAA or CAA card, or get great discounts to groups of 12 or more guests. However, these discounts (and all other discounts and promotions—including Annual Passes and Groupons) are not currently available. Check with Pacific Park to see when they begin to offer discounted admission.
Adventure City is one of the least expensive theme parks in town, so it does not typically offer discounted admission. You can buy combo tickets, which basically gets you a free Souvenir Icee Sipper. (It's worth it, because you will definitely end up purchasing a Fun Card to feed the animals, so may as well get a free drink!)
You must currently buy tickets online, but once capacity limits change and you can purchase tickets at the gate, try inquiring about Military discounts. In the past, the park has offered a slight discount per ticket to military members with ID and their families (up to 6 people). Groupon has also offered tickets in the past.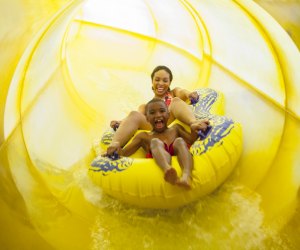 Escape into a water paradise at Great Wolf Lodge. Photo courtesy of Great Wolf Lodge
Get Discount Tickets at Water Parks
Great Wolf Lodge offers a variety of discounts on the website's deals page, with varying seasonal discounts for members, multiple-night stays, booking in advance, and more. Currently, you can find deals for AAA or AARP members, as well as deals for first responders.
Great Wolf Lodge is another place that has been known to have deals on Groupon, so it's always worth a look!
Season passes start at only $23 more than a day pass (and you can save $10 more if you buy the season pass online!). You can also save big when you purchase tickets for a group of 15 or more.
Due to limited capacity, Buccaneer Bay is not currently offering any discounts. However, they have been known to offer great deals (over 50% off day passes) on Groupon, so start with a search there, as soon as capacity opens up!
A season pass at Hurricane harbor pays for itself in two visits, so locals who may wish to return will find that a great way to save money. You can also save $5 when you purchase tickets in advance for a specific date.
Most military bases offer discounted admission tickets at their MWR/ITR offices. However, there is no military discount at the park ticket offices. Groups of 15 or more people are eligible for a group discount. AAA members receive $2 off the general admission with the "Show Your Card and Save" program when presenting your membership card at any of our water park ticket booths (good for up to six discounted tickets). This discount is not currently available as all tickets must currently be purchased online.
Season passes are not currently available, as DryTown is honoring those purchased in 2020, but check back soon to see if more will be made available for 2021.
Soak City is owned and operated by Knott's Berry Farm, and many of the same discounts apply. You can always save big with a season pass, or on tickets for groups of over 15 people.
DropZone has savings for season pass members as well as seniors, Riverside County employees, and military members with an ID. Discounts are available at the gate.
In past summers, DropZone has offered half-price admission on Mondays and Wednesdays in the evening. That deal is not available (yet) in 2021, but check the website before going to see if that discount has been reinstated before planning a visit!