Adventure City: A Theme Park for Little Kids in the Heart of Anaheim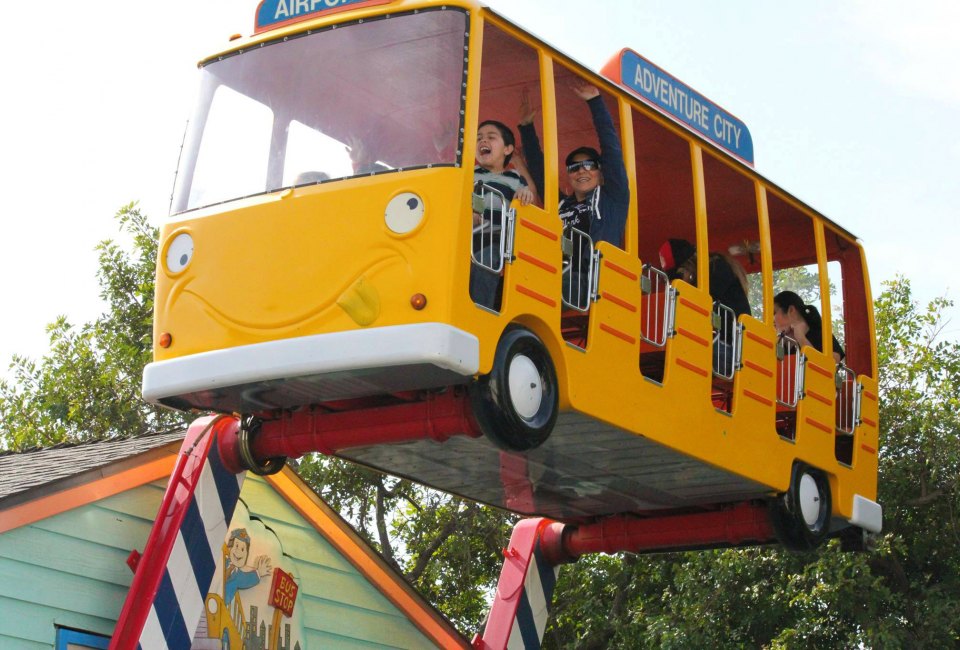 7/2/17
- By
Dana Zepeda
Disneyland is, without a doubt, Anaheim's most popular tourist attraction. But to avoid the crowds (and prices) at the Mouse House, in-the-know locals often prefer to visit the smaller, less crowded theme park mere miles away: Adventure City is a park aimed at the youngest riders, with height requirements and thrill levels that heavily favor the preschool set.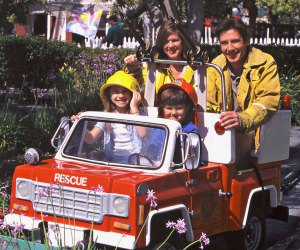 Is there greater joy than the whole family in the same fire engine?
What Adventure City lacks in size and famous character appearances, it more than makes up for in ease of use. This 22-year-old theme park can be navigated without exhaustion and has lines that don't require much patience. It's perfect for the tot set, with rides like the Giggle Wheel (a miniature Ferris wheel), a carousel, mini plane and balloon rides, and the Adventure City Express Train.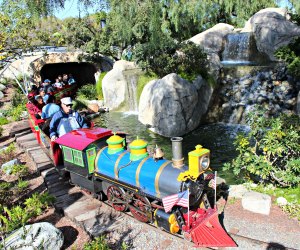 The delightful Express Train ride has been on this site since 1938.
My four-year-old absolutely adored the petting zoo, where I let her and her brother loose to brush and feed the goats (for a nominal extra fee). My seven-year-old was more impressed by the roller coasters; he couldn't get enough of Rewind Racers and Freeway Coaster, both of which gave me vertigo but prompted my two kids to plead, "Again, again!"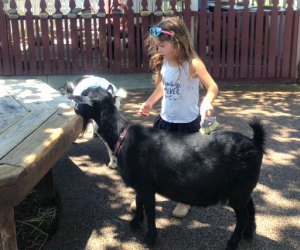 Some goats got a good grooming that day. Photo by author
My son also loved the arcade, which was jam-packed with video games like Jurassic World, SpongeBob SquarePants Pineapple Arcade, and Fishbowl Frenzy. After using up the money on his fun card—which can be purchased inside or at the front desk—he cashed in his tickets for a handful of candy and trinkets at the well-stocked prize counter.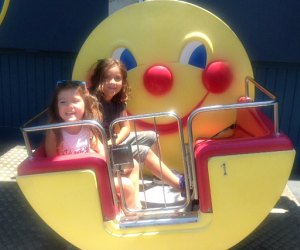 The Giggle Wheel lives up to its name. Photo by the author
Adventure City also features a rock climbing wall, a children's theater, and a Party Tree House, which is available for birthdays and other special events. Several camps were visiting on the day we were there, but the good news is that even so we never had to wait in line for more than five minutes.
Another bonus: the "rain room" near the entrance offers a chance to cool off on a hot Southern California day. The day we visited, it was 90 degrees outside, and my kids were grateful that they could run back and forth in the misters all day.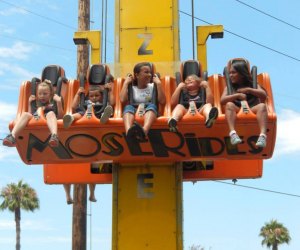 The toughest height requirement in the whole park is the 38" for Drop Zone.
The only real drawback to this park is the possibility that older kids could grow bored quickly. It's easy to run out of things to do after a couple of hours, since there are fewer than a dozen rides. That said, you can't beat the price at just $18.95 per person for unlimited rides, shows, and attractions. Parking is free, and you can pack your own food to eat at the picnic tables outside if you prefer not to buy concession snacks.
All in all, this is a great place to take young kids if you don't want to commit to long lines, crowded restaurants, and over-the-top admission prices. I know it's one adventure that my family will embark on again!
All photos courtesy of Adventure City unless otherwise noted
Places featured in this article:
Sign up for the Mommy Poppins Newsletter today!