Best Amusement Parks Near Los Angeles for Preschoolers
5/9/21
- By
Matt Matasci
Southern California is world-famous for family-friendly theme parks like Disneyland and Knott's Berry Farm, but the swoops and thrills of many of the rides can be too much for younger kids. That doesn't mean you have to wait until kids grow up to visit your favorite amusement park—you just need to know the secrets to finding the rides, play spaces, and dedicated spaces that are best for preschoolers. Also, the LA area has several amusement parks with gentle rides and tame attractions that provide just the right amount of thrills for toddlers and preschoolers.
Skip the uncertainty of wondering if an amusement park is age-appropriate for your preschooler with this handy guide, filled with insider tips and secrets to getting the most out of these theme parks with even the youngest members of the family.
Many Los Angeles area theme parks and amusement centers are only open to California residents and require advance ticket purchase, reservations, or both. Please check with an amusement park for how to purchase tickets and other guidelines or restrictions for visitors, as this information is changing frequently in the spring and summer of 2021. All venues require that guests wear masks and practice social distancing, in accordance with California state guidelines.
When it comes to amusement parks in SoCal, the conversation starts with The Happiest Place on Earth. The world-famous park is geared towards family-friendly fun, though there are certain parts of the park that are definitely best for the under-five set. In fact, we even have tips on how to have fun with a baby at Disneyland!
Preschooler-friendly Fantasy Land is the first stop at Disneyland for parents of tiny tots. That's where families will find gentle rides like Dumbo the Flying Elephant, Peter Pan's Flight, and Alice in Wonderland. It's also the site of two of my favorite rides with absolutely nothing scary at all: It's a Small World and King Arthur's Carousel. When it's time to play, take a break and let little ones explore Minnie's House in Toonland. If you are at the park with older kids who want to hit the big kid rides, bring your little one to Critter Country for the Many Adventures of Winnie the Pooh ride, which kids can happily ride over and over until big siblings are ready to rejoin the group. And finally, as soon as tots get cranky, bring them to the Enchanted Tiki Room, where the talking birds can coax a smile out of anyone.
On the California Adventures side of the park, our favorite spot is Pixar Pier, where your preschooler could spend all day going back and forth between the fixed gondolas (not the scarier sliding ones!) at Pixar Pal-A-Round and Jessie's Critter Carousel.
Checking wait times and ordering food through apps keeps kids from getting fretful. Photo courtesy Disneyland Resort
There are strollers available for rent at Disneyland, though if you want to take the stroller route I'd recommend bringing your own from home. At the end of the night, there's only one thing worse than having to convince a knocked-out kid to wake up and walk a long way back to the car—having to carry them!
The Disneyland Baby Care Centers on Main Street and Pacific Park (in California Adventure) are must-have knowledge for any parent of small children. Not only are these centers usually not very busy, there are diaper-changing stations and little toddler-sized toilets that are easy for little people to sit on, plus they won't terrify your child with the noisy automatic flushing that happens in the rest of the park bathrooms. Another tip for making things better for kids is to use mobile ordering to skip long lines at the food vendors.
The Giggle Wheel at Adventure City lives up to its name. Photo by Dana Zepeda
Just a few miles away from Disneyland is a favorite of locals with toddlers, Adventure City. A visit to this theme park is a much more low-key experience, not just because the tickets are significantly less expensive, but because the park is smaller and geared towards small children. You'll be able to ride an unlimited number of times with your general admission pass, so if your little guy gets obsessed with a ride, you can literally spend an hour in one place.
Kids at Adventure City can drive a fire truck or police car on the Rescue Ride, be their own engineer on the Crank 'N' Roll mini-train and tour the park on the Express Train. There's also a petting zoo where kids can pet and feed farm animals (there is an extra charge for food to give the animals, but it's minimal).
The Rain Room, where misters keep you cool on hot days, and the Thomas the Tank Engine Creative Play area are two of our favorite spots for little guys, and unfortunately, these two attractions are currently closed due to COVID-19 restrictions. Adventure City is currently open Friday–Sunday with timed entry tickets.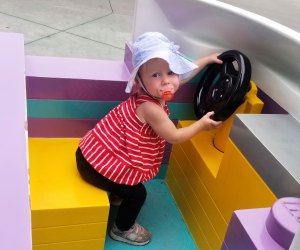 You barely need to be able to walk to drive at Legoland. Photo by Matt Matasci
For those in the know, Carlsbad's Legoland is quite possibly the best theme park in Southern California. This unique LEGO-themed park is great for kids that can't get enough of the iconic block toys, but there's really something for everyone. It's one of the few on this list that's easily as fun for a three-year-old as a 13-year-old (or 33 or 43-year-old). There's no way your family won't get pumped up while walking through the entrance as songs like "Everything Is Awesome!!!" and "Catchy Song" blare over the loudspeakers.
Many of the rides at Legoland are geared toward the smallest set of kids. Unlike parks such as Knott's Berry Farm or Six Flags, where preschooler-friendly rides are relegated to a small area, Legoland has something for this age group in every part of the park. Sky Patrol is a perfect first ride for kids and the Lego City Deep Sea Adventure is also great for kids as young as 2. Little speed demons ages 3-5 can check out the Junior Driving School. For rides where you basically just float or drive along and enjoy the scenery, check out the Coast Cruise, Fairy Tale Brook, Legoland Express, and Safari Trek. See? So much here for even the littlest theme park adventurer!
The playgrounds scattered around the park are one-of-a-kind and very impressive. Be sure to stop at Granny's Apple Fries for a snack before hitting the Hideaways Playground. And the Duplo Playground is a spot where toddlers will happily play all day long.
During the summer, the water park is open as an extra add-on ticket and is good for small children. If you need to take a break from the action and just chill out a little bit, the aquarium near the park's entrance is a great place to escape the heat and check out the exhibits. And The Lego Movie World is opening May 27, with a new carousel and spaceship playground for younger kids.
Strollers can be rented at Legoland, and while the parking lot at this theme park is much smaller (and closer) than at Disneyland, I'd still recommend bringing your own stroller.
The park is currently open every day but Tuesday and Wednesday, but after May 25 is open every day.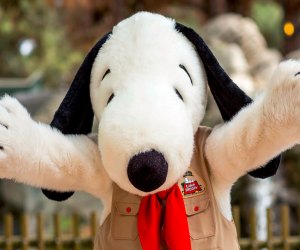 Snoopy welcomes the youngest guests to Camp Snoopy at Knott's Berry Farm. Photo courtesy of Knott's Berry Farm
One of the first theme parks in America, Knott's Berry Farm has a long history as a kid-friendly spot. While lately its focus has been more on thrilling roller coasters that teens love, there's a lot for preschoolers to do at the park.
The Peanuts-themed Camp Snoopy is an obvious starting point for parents with small kids. My kids are not thrill seekers, so they really enjoyed the Balloon Race, the Flying Ace, and the Rocky Mountain Trucking Company. The Huff and Puff, which is a handcar-style train ride completely driven by tot power was my daughter's favorite and she went back over 10 times. One cool feature on Knott's website is they allow you to view rides by thrill level, so you'll have a good idea of what is appropriate for your kids. Most Camp Snoopy rides don't have a height requirement and are very gentle, but others, like the small roller coasters, provide a bit more thrill for adventurous tots.
Outside of Camp Snoopy, there are other unique experiences and rides that are appropriate for kids under five. The Ghost Town section of the park features the Calico Railroad, which has been operating at the park since it opened in 1952. There's a carousel in the Fiesta Village and if your kids aren't afraid of heights, check out the Sky Cabin at the Boardwalk. Across the street from Knott's Berry Farm is Soak City, the park's accompanying water park that features a wave pool, lazy river, and a lot of waterslides, though many of the slides have height restrictions and may be too intense for smaller kids.
Knott's Berry Farm tickets are currently limited to California residents, making it a great time to take advantage of smaller crowds. Soak City is currently closed but Knott's will be releasing information on its reopening soon.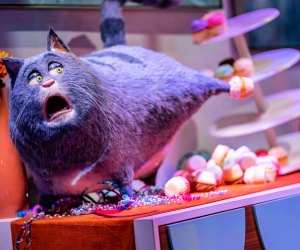 The all-new ride "The Secret Life of Pets: Off the Leash!" is perfect for tiny tots. Photo by Hamilton Pytluk/Universal Studios Hollywood
With all its thrills and behind-the-scenes movie magic, Universal Studios Hollywood is a blast for bigger kids. But what can you do with your preschooler? Many of the attractions are definitely not toddler-friendly (looking at you Jurassic Park) but there are eight rides and attractions with height requirements at or under 40 inches. These include Kung Fu Panda Adventure, the new The Secret Life of Pets: Off The Leash ride, and Despicable Me Minion Mayhem. The studio tour doesn't have a height restriction, but the jolts and themes are a bit much for most kids under 6.
Besides the rides, much of the fun of Universal Studios is getting an up-close look at the studio and meeting the many colorful characters walking around the park. There are many meet-and-greet opportunities, and Universal's Animal Actors is a must-see show for kids that love animals. Kids also love the Waterworld show, which gets most seats wet, to the thrill of kids of all ages. Preschoolers will also love DinoPlay and Super Silly Fun Land, the latter featuring a Minions-themed splash pad area. Unfortunately DinoPlay and Super Silly Fun Land are currently closed due to COVID-19 restrictions, but hopefully will reopen soon.
Universal Studio also offers a Family Center, which is a lifesaver for parents of small children. The rooms at the Family Center include a chair and some kid's toys, making it the perfect place to change a diaper, nurse your baby, or just wind down for a few minutes away from the hustle and bustle of the park.
Universal Studios Hollywood is currently open and offering tickets to California residents as well as fully vaccinated out-of-state visitors.
Look who is coming to SeaWorld at the upcoming Sesame Street Place. Photo by Jason Lindsey/Sesame Place
SeaWorld is a theme park that gets kids excited and with its compact layout is easy to navigate – it's even smaller than LEGOLAND. Doubling as an aquarium/zoo and theme park, there's a lot to love about this park, but if you've got small fry, it's really all about one area: the Sesame Street Bay of Play. Here, kids can watch the park's animal education presentation R is for Rescue, groove at the Furry Friends Dance Party, hear Big Bird host a storytime, and meet (in a socially distanced way) with Sesame Street characters like Abby, The Count, and more. There are also kid-friendly rides like Abby's Sea Star Spin, Elmo's Flying Fish, and Oscar's Rockin' Eel. Stroller rentals are available.
The really exciting news is that the Bay of Play is just temporary, while Sesame Street Place is being built. The park will feature seven dry rides and 11 water attractions plus a wave pool. Other attractions include live shows, a parade, and an interactive Sesame Street Neighborhood with favorites from the show like Abby Cadabby's Garden, Big Bird's Nest, and more.
It's important to note that a few years ago the park came under fire for practices around its animal shows, particularly the Orca Experience. Luckily, there have been major changes made to the show—including halting their orca breeding program and changing the show to be more educational and not about making the animals perform tricks they would never do in the wild.
While the outdoor animal exhibits at SeaWorld have been open for several months, the amusement park rides reopened in April. The fully reopened park has limited capacity, and the splash pad and playground areas remain closed at this time.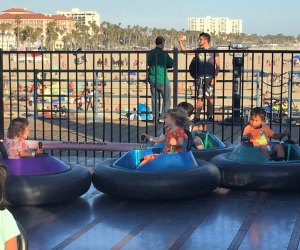 Bumper carts at Pacific Park. Photo by Matt Matasci
Located on this historic Santa Monica Pier, Pacific Park is one of the most family-friendly LA amusement parks because it's compact enough to navigate easily but big on fun. Most of the park's 12 rides are geared towards older riders, but there's an entire section of rides for little kids. The Frog Hopper has a 36" height requirement, while the Sea Planes, Inkie's Wave Jumper, and Inkie's Air Lift all have no height requirement (if accompanied by a grown-up). My daughter's favorite ride at Pacific Park was hands down the Little Cars version of the Sig Alert EV bumper cars, which made buying the unlimited ride pass well worth the cost. Carnival-like games are another point of interest for small kids, giving them something else to do when they're done with the rides.
The park has resumed ride operation but unfortunately doesn't have unlimited ride wristbands available at this time. The downside of this is that if your kid loves a ride, you may end up spending a decent chunk of change on rides. The upside of Pacific Park is it's totally free to enter, so if you arrive and your tot is only interested in a ride or two, you aren't out the cost of admission.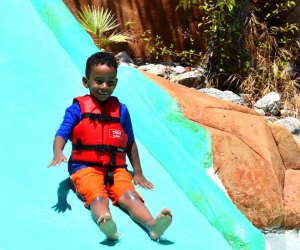 Little Dipper Lagoon at Raging Waters caters to the the smallest guests. Photo courtesy of Raging Waters
As California's largest waterpark, one of the biggest draws of Raging Waters for parents of preschoolers is the fact that they price tickets according to size and not age. Kids under 36" are free of charge, and there's plenty for them to do at this massive water park in San Dimas.
There are two areas of the park that are made specifically for the smallest visitors. Kid's Kingdom and Little Dipper Lagoon both have a height maximum of 48", meaning your kids will be able to get comfortable and enjoy water play with kids their size and you won't have to worry about them getting mowed down by an overzealous big kid. Kid's Kingdom is described as a "maze of plastic tubes and tunnels" with slides, monkey bars to swing on, and waterfalls for maximum soakage. Little Dipper Lagoon is similar in style, though even more geared towards the smallest age set, with small slides and pools.
The Amazon Adventure is a three-foot-deep lazy river and is toddler-friendly, though kids under 36" must wear a life jacket at the attraction. Other attractions at that park that are suitable for preschoolers are Splash Island Adventure and Volcano Fantasea, both water-based playgrounds which have a 36" height requirement.
Tickets to Raging Waters are available only to California residents. The park is open Saturdays and Sundays until the end of May, at which point it's open every day but Monday and Tuesday.
Six Flags Magic Mountain is primarily a roller coaster park that's best for tweens and teens, but there's actually an entire section of the park that's dedicated to little kids, with Looney Tunes-themed rides. Favorites include Daffy's Adventure, Elmer's Weather Balloons, the Grand American Carousel, Pepe Le Pew's Tea Party, Speedy Gonzalez Hot Rod Racers, and Sylvester's Pounce and Bounce. While there are activities to keep small children busy, Six Flags Magic Mountain isn't a park I'd recommend visiting with just a preschooler. However, if you've got a family where kids range in age (and interest in roller coasters), you don't need to leave the littlest members at home!
Six Flags Magic Mountain has been open with rides since April 1. Tickets are limited to in-state visitors and parties are asked to limit their group to three or fewer households.
Some photos in this post were taken prior to the pandemic.