Santa Anita Park Spring Carnival
Santa Anita Park

KidStock
Pretend City Children's Museum

Online Robotics Camp
Young Gates - Kids Online Personalized Classes
Sign up for our free newsletters.
A New Sesame Street Theme Park Is Coming to San Diego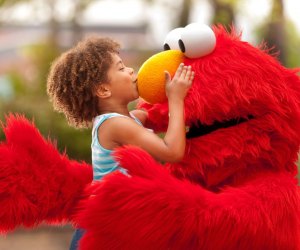 10/23/19
- By
Li Starr
Ever feel envious of Philadelphia moms who have access to an entire Sesame Street theme park? Wish you had more Elmo in your life? Or maybe you wish Julia was just a short dive away? All your dreams will come true in the spring of 2021, when the list of things to do with kids in San Diego grows to include a Sesame Place theme park—only the second all-Sesame Street theme park in the US.
The first Sesame Place on the West Coast will be moving into SeaWorld's Aquatica digs and will be, of course, highly immersive with family rides, water slides, live character shows, parades, and interactive experiences. Even more exciting? Sesame Place San Diego will be opening a Certified Autism Center (CAC), mirroring its Philadelphia park.
Staff-wide autism sensitivity training will be completed prior to the park's opening. Pre-planning resources, including a sensory guide, will be available, too. Quiet spaces with adjustable lighting and comfortable seating have been incorporated into the park's design. Would you expect anything less from the creators of Julia?
SeaWorld has been Sesame Workshop's exclusive partner for almost 40 years (who knew?) and, if you're not in Philadelphia or San Diego, SeaWorld Orlando recently opened Sesame Street Land with six themed rides and over 30 educational ways to play.
"We share Sesame Workshop's goal of educating and entertaining generations of children, and the opening of a second park, the only one of its kind on the West Coast, furthers our company mission to provide guests with extraordinary experiences," says Marc Swanson, Interim Chief Executive Officer, SeaWorld Entertainment. "We are thrilled to be able to grow the presence of Sesame Place theme parks in the United States, and San Diego is the perfect complement to our Philadelphia location."