Lake Balboa: A Family Day out in this Awesome San Fernando Valley Park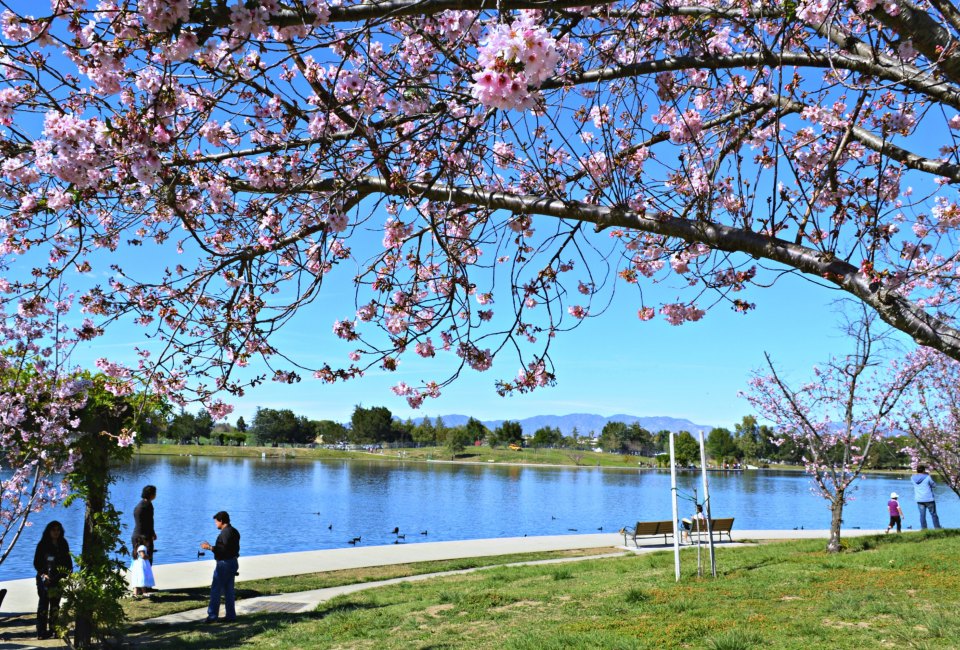 8/29/18
- By
Li Starr
What if there were a lake in Los Angeles County big enough to accommodate swan pedal boats, fishing, and kayaks? What if it were home to dozens of ducks and geese, and there were playgrounds and a 1.3 mile jogging path? What if there were cherry blossom trees and even a Japanese tea garden? Sounds nice, right?
It turns out there is a magical place like this in the San Fernando Valley's Anthony C. Beilenson Park—and there's plenty of free parking, too. Lake Balboa may not get as much press as Echo Park Lake, but that hasn't kept it a secret; it gets crowded on weekends, when people bust out boom boxes and jumpy houses for birthday parties and barbeques. But stop by on a weekday, and a stroll by the lake can be much more meditative.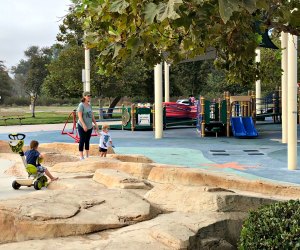 Photo by author
When my kids were little, I'd load them into the car, pop them in the stroller, and walk around the lake with the handful of retirees and joggers to enjoy the peace and quiet (give or take some duck quacking). Pro tip: if you're hoping for an early nap, this place is magic. The jacaranda trees, cherry blossom trees, wisteria are always lovely to see in bloom, and the paved path is wide and smooth enough for a stroller. Little ones will definitely want to take a gander (pun intended) at the ducks and geese, though be cautious, as the geese can be cranky. Pelicans, cormorants, and even swans have also been known to stop by, but pay attention to the signs posted and don't feed them.
Once you've taken a walk past the waterfall at the far end of the lake, make your way back to the Balboa end of the park to let the kids go wild in one of the two playgrounds (one for toddlers, the other for big kids) that sit across from one another. The toddler playground has swings, activity centers, and tons of sand (bring a bucket and shovel), while the bigger playground for older kids has multiple slides, swings (even a tire swing) and a tiny castle for kids to explore.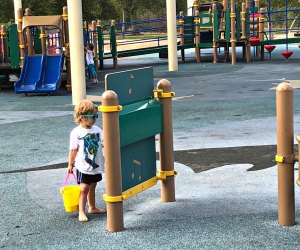 Photo by author
Not enough? The lake has new swan paddle boats available for rent, as well as bicycles and some photo-worthy bicycle surreys big enough for the whole family. There are green spaces for picnics and plenty of park benches and picnic tables, too. And while the lake isn't a swimming lake, there is fishing to be done.
You might be tempted to visit The Japanese Garden, which is on the Woodley Ave. side of the park and has its own entrance. The 6 1/2 acre spot is actually three gardens wrapped into one. There's a Zen meditation garden (karesansui) containing Tortoise Island, a three-Buddha arrangement of stones, plus a wisteria arbor. Next is an expansive Chisen or "wet-strolling" garden with waterfalls, lakes and streams, greenery, and hand-carved stone lanterns. At the end of this path is the Shoin Building, which has an authentic tatami mat teahouse and adjacent tea garden. But before you rush to hand over the entry fee ($5 for adults, $3 for kids under 12) for a relaxing stroll, take note: the place often stinks, literally.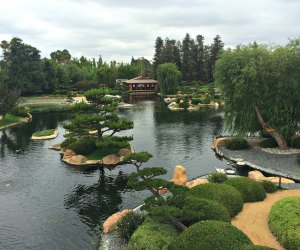 Japanese Garden. Photo by Sergei Gussev/CC BY 2.0
The garden is part of the Tillman Water Reclamation Plant, and though the website says the plant doesn't process solids, sludge, or scum, that doesn't change the fact that on some days the garden smells like a backed-up toilet. While it's beautiful, the stink was enough to make me cut my visit short both times I've visited (I was hoping the stinkiness was just a fluke the second time, but no such luck). While some of my friends say they've never noticed a smell, given that the rest of the park is free (and doesn't smell) and has its own waterfall, it's hard to rationalize stopping in to see some stone lanterns and a teahouse for a fee.
Like many LA parks, this one has a noticeable homelessness population, though it has decreased since an encampment was removed last year. The main thing to remember about Lake Balboa, though, is that when the weather's nice this is a spot where kids can play, run, and even meet a duck or two without the crowds that dominate parks on the other side of the hill.
Places featured in this article:
Sign up for the Mommy Poppins Newsletter today!