See Knott's Berry Farm Like a Local: Inside Tips for a Great Visit With Kids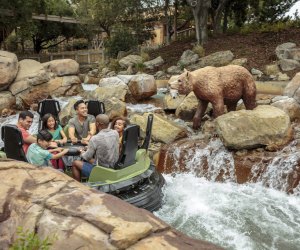 6/19/22
- By
Jean Kuo Lee
If you haven't taken the family to Knott's Berry Farm yet, you are in for an only-in-SoCal treat. Located in Buena Park, this 160-acre theme park has roller coasters for thrill-seeking teens but also little rides for tiny tots. Not only that, Knott's Berry Farm is also a great place to walk around, play games, eat some truly delicious food, and enjoy a trip to historic or cultural-themed lands. From scream your lungs out drops to palling around with Snoopy, the whole family will love a day at Knott's Berry Farm. Read on for tips on how to get the most out of your visit.
For more inside tips and tricks to enjoying all the best theme parks in SoCal (including how to get discounted tickets to all the amusement parks!), check out our guides to Disneyland, Universal Studios Hollywood, Legoland California, and more in our SoCal Theme Park and Water Park Guide.
The Secrets to a Perfect Day at Knott's Berry Farm
You could certainly visit Knott's Berry Farm without any pre-planning and still have a blast. The grounds are small enough to walk through in one day. But with many things to see and do, having a game plan helps you get the most out of your day.
Get the Knott's Berry Farm App
My first tip is to download the Knott's Berry Farm app. If it's your first time visiting and you're unfamiliar with the grounds, the map provides real-time feedback on where you are in the park. So if you're trying to find Silver Bullet, the coaster that nearly everyone loves, just pull out the nifty interactive map and let it point you in the right direction. The reason my family loves the app is that it tells you wait times for popular rides and if any rides are temporarily down for maintenance. If one ride has a wait time of, say, 180 minutes (yes, the lines can get that long!), you might opt to ride another one with a shorter wait time (as in 45 minutes). Lastly, you can use the app to filter according to your needs. Looking for the nearest restroom? The app tells you where and how to get there. Trying to find rides and attractions for toddlers? The app gives you a list that's perfectly age-appropriate for your kids. Whether you're looking for food, show times and show locations, or shops, the app's interactive map has it all laid out. It even marks your parking spot so you can get back to your car at the end of the day!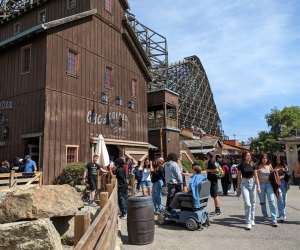 Thrill seekers can ride on giant roller coasters.
Do You Need a Fast Pass?
Now that you've got the app, you'll want to decide whether you're planning for big kids or little ones, because your strategy will differ vastly depending on the age range of your children. If you have mostly older elementary kids and above, then you'll have to consider spending prolonged time waiting in line for the coasters and thrills. If you want to ride more than a handful of these rides, you might want to consider purchasing the Fast Lane pass. It allows you to go straight to the front of the line, a privilege well worth the cost! Whereas normally you would only be able to squeeze in three to four of these popular rides in one day, with a Fast Lane pass you can ride all fourteen in one day. Conversely, if your kids are younger, you won't need a Fast Lane pass. Just skip all that waiting and head straight for Camp Snoopy where the miniature rides have barely any lines at all.
RELATED: 10 Reasons to Get to Sesame Place San Diego

Little ones who prefer rides without scary drops can opt for the spinning Hat Dance ride.
Knott's Berry Farm Rides By Areas
Fiesta Village
Nestled amidst a cozy Spanish-style village plaza you'll find carnival games, arcade games, and eight rides. Our favorite high thrill ride for big kids is the Jaguar, where you venture into the dark bowels of a Mayan temple, snaking through tunnels and emerging for the thrilling ride at the top. The minimum height requirement is 48" and lines can be long, so the Fast Lane is recommended. Little ones (36" high if accompanied by an adult) can opt for the fun, spinning Hat Dance ride.
RELATED: Best Amusement Parks near Los Angeles for Preschoolers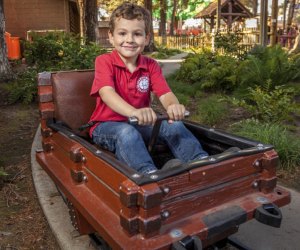 The Huff and Puff ride at Camp Snoopy is pint-sized fun.
Camp Snoopy
This adorable land is a trip down memory lane for Peanuts fans! Everything is toddler-friendly and a milder version of the rides in the rest of the park. Woodstock's Airmail (minimum height of 36") emulates drop-style thrills for pint-sized kids. While the little ones are busy with the fourteen rides available here, an older child can enjoy the thrills and screams on the Sierra Sidewinder (48" minimum height for kids to ride alone).
Boardwalk
While Camp Snoopy is geared towards younger kids, Boardwalk is geared towards older kids—and adults—who are looking for aggressive thrills. Here you'll find Supreme Scream (48" minimum height) where daredevils will love being dropped 30 stories in 3 seconds. For something more sedate, younger kids love the Pacific Scrambler (minimum height 36" if accompanied by an adult) for a ride that will have them spinning and sliding.
RELATED: Take a Ghost Town Vacation in Calico, CA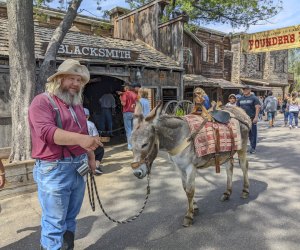 Go back in time to the Wild West and meet a blacksmith, dressmaker, and jailer. Photo courtesy of the author
Ghost Town
The last themed area is our favorite. We love it not just for its awesome rides, but also for the living history aspect you can enjoy during Summer at Knott's. Go back in time to the Wild West and meet a blacksmith, dressmaker, and jailer from the 1800s. Young kids love to ride around town in the Butterfield Stagecoach, pulled by four horses. If they're not too busy panning for gold, attending a dance, or watching a show on the various stages in Ghost Town, older kids like to take a ride down the Calico River Rapids (minimum height 46").
What to Eat at Knott's Berry Farm
Eating a Knott's Berry Farm is a real treat because this is one theme park that prides itself on quality food and dining. So skip the quickie food vendors in the park and leave room for the famous fried chicken and boysenberry treats. Here are my family's top recommendations.
Grizzly Creek Lodge (in Camp Snoopy)
Enjoy a meal out on the patio next to Grizzly Creek Falls with selections like hamburgers, hotdogs, pizza, chicken tenders, salads, and Camp Snoopy Kids meals.
Cantina (in Fiesta Village)
Get your favorite Mexican specialties right in Fiesta Village. Choose from burritos, tacos, and nachos and dine under the shade of a tree in the Cantina's courtyard.
Boardwalk BBQ (in Boardwalk)
If the thought of smokehouse sausages, pulled pork, baked beans, cornbread, and mac n cheese has you salivating, then definitely head over to the Boardwalk BBQ where delicious BBQ satisfies any smokey meat cravings.
Ghost Town Grill (in Ghost Town)
For a truly immersive experience, consider the Ghost Town Grill. Here you can get hearty sandwiches, soup or chili in a bread bowl, the classic boysenberry pie, and other daily chef specials. The kids can order off the special kids' meal menu. Not only is the food delicious, diners get a western table service experience during summertime, watching the blacksmith at work and the cowboys performing a showdown.
Fireman's BBQ (in Ghost Town)
Here you'll find the tastiest BBQ chicken, giant turkey legs, baked potatoes, and flank steak sandwiches. Definitely order the jalapeno bread and the fire-roasted corn on the cob! Located in the heart of Ghost Town, follow the delicious aroma to find this outstanding BBQ joint.
RELATED: Where to Find the Best Fried Chicken in Los Angeles

Try the Chicken Waffle Slider! The fried chicken is a perennial favorite.
Mrs. Knott's Chicken Dinner Restaurant (in California Marketplace)
The classic fried chicken from Mrs. Knott's original recipe is something you simply must try. The biscuits, boysenberry jam, and chicken noodle soup are also delicious. After a long day at the park, consider a good, old-fashioned fried chicken dinner here where the portions are large and the fare is fresh to fortify your drive home. The good thing is, Mrs. Knott's Chicken Dinner Restaurant is located just outside the theme park, so you can come dine here even if you aren't planning a trip into the park.
Special Events and Programs at Knott's Berry Farm
Peanuts Celebration
This multi-weekend event celebrates beloved Peanuts characters with decorations, themed treats, and photo opportunities. Festivities begin at the start of the new year, continuing until March.
Boysenberry Festival
In the springtime, Knott's Berry Farm celebrates its origins with a Boysenberry Festival featuring boysenberry-themed dishes, live entertainment, and fun activities.
Summer at Knott's
From mid-May to September, guests enjoy a fun experience on the streets of Ghost Town where actors populate the stores and businesses as Ghost Town residents. At night, Summer Nights bands play on various stages. Expect fireworks every Fourth of July weekend!
Knott's Scary Farm
From mid-September to the end of October, enter the largest and most haunting Halloween experience in Southern California. At night, the theme park is transformed into haunted mazes with over a thousand scary creatures roaming about! This one is for big kids.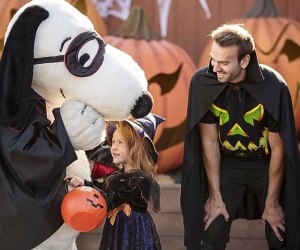 Knott's Spooky Farm is perfect for kids who love scare-free Halloween Fun.
Knott's Spooky Farm
Knott's Spooky Farm is for kids who find Knott's Scary Farm too scary. Taking place during the daylight, kids can take part in trick-or-treating, Halloween activities, and spooky surprises.
Knott's Merry Farm
From mid-November to January 1, the park transforms for the merry holidays with Christmas displays and seasonal decor. See shows like Merry Christmas, Snoopy, listen to live Christmas carolers in the streets, make crafts in Christmas Crafts Village, and experience the Snow and Glow.
What to Know Before You Go to Knott's Berry Farm
No cash is accepted anywhere at Knott's; it has converted to a cashless theme park. Use prepaid cards (available at cash-to-card kiosks around the park) or bring your credit card, debit card, or online payment method.
Single and double-seat strollers and wagons are available for rent inside the Ghost Town Stroller Shop on a first come, first served basis.
Check the website for scheduled ride closures before purchasing tickets; it's a bummer for kids to show up on a day their favorite ride is closed.
If you are planning on purchasing Fast Lane passes, save $5 by purchasing online.
Although the website says that no outside food or drink is allowed inside Knott's Berry Farm, the park is lenient with snacks and bottled drinks as long as these are tucked away inside a bag.
For those who must consider special dietary needs, Knott's Berry Farm has created helpful lists of dining places for every food restriction.
Consider Season Passes if you know you'll want to visit more than one time in a year. And to save on dining, consider a dining package.
Knott's Berry Farm Tickets and Hours
Knott's Berry Farm is located at 8039 Beach Blvd. in Buena Park. It is open seven days a week year-round, except for Christmas. The park is open daily at 10am, and closing hours vary with the season. and ticket prices start at $69 a day. Check the park's website for updates to hours and admission before you visit.
Photos courtesy of Knott's Berry Farm unless otherwise noted.