Sesame Place San Diego: 10 Reason To Get to SoCal's Best New Amusement Park
4/14/22
- By
Kristen Schrass
We are spoiled with so many amusement parks in California, but the new Sesame Place San Diego truly offers something different. There are rides for all ages, a musical show, a parade, thrilling water slides, an interactive replica of the iconic main street of Sesame Street, and character meet and greets, all while being a certified autism center. So, in my best Count Von Count voice, here are "1, 2, 3, 4, 5, 6, 7, 8, 9, 10 ah, ah, ah, 10 reasons to get to Sesame Place San Diego."
If you are planning to travel to San Diego to visit Sesame Place, don't miss our San Diego Family Travel Guide and this list of the Best Things To Do in San Diego Besides the San Diego Zoo—or if you are planning to add the zoo to your travel plans, check out See the San Diego Zoo Like a Local: Inside Tips for a Great Visit With Kids.
Since first airing in 1969, Big Bird, Oscar, Bert, Ernie, Elmo, Cookie Monster, Grover, Telly, Rosita, Abby Cadabby, Julia, and more have been entertaining children through their TV screens, helping them learn, laugh, and grow through life's joys and even life's more challenging moments. But now in San Diego, California, the young and the young at heart, can meet these furry friends in person and experience the warmth of the sun as it sweeps those clouds away at the new Sesame Place Amusement Park. It's my son's new favorite place, and if you've got a toddler or preschooler, I think it's about to be yours, too.

Elmo's Rockin' Rockets is a gentle ride for kids and their adults. Photo courtesy of Sesame Place San Diego
10 Reasons To Get to Sesame Place San Diego
1. Gentle Sesame Street-Themed Rides for Little Ones
As soon as you enter the theme park you are greeted by the first of eight Sesame Street-themed rides, the Sunny Day Carousel. Even tiny tots will love this colorful, perfectly paced childhood delight that will allow them to take in all the wonders of main street Sesame Street as they whirl around on a Muppet-esque pony. For more fun for even your youngest Ernie-enthusiasts, it's time to board the Rub-A-Dub Sub, an Ernie bath time-themed ride that shoots out toddler-thrilling bubbles as it goes gently round and round, to and fro. Elmo's Rockin' Rockets, allows your adult-accompanied littles to blast off into space.
For your more adventurous kids over 38 inches tall, there is the Cookie Climb, where you have to pull yourself to the top to reach Cookie Monster's Cookie and then enjoy a thrilling ride down, and Super Grover's Box Car Derby, a fast-paced, smile-inducing rollercoaster. There is also a swing ride, Abby's Fairy Flight, and a soaring balloon ride, Sesame Street Soar & Spin, themed with multiple Sesame Street characters that gives you a great birds-eye view of the whole park.
2. Rosita's Harmony Hills
Not a ride or a waterside, on Rosita's Harmony Hills guests can climb, crawl, and create beautiful "música." As someone who visited the park with a toddler who is hesitant to go on rides, Rosita's Harmony Hills offers a just-right thrill that inspires creativity, while still getting the wiggles out. Important to note: any children under 5 must be accompanied by an adult on the hills.
RELATED: Best Amusement Parks Near Los Angeles for Preschoolers

Honker's Dinger Dash is fun for water-confident kids. Photo courtesy of Sesame Place San Diego
3. Sesame Street Themed Water Slides
There is no separate admission to get to enjoy rides and slides here—just pack your suit, grab a life vest, and get wet. Just for guests under 48 inches tall there are Elmo's Silly Sand Slides; these 6 smaller slides splash into a pool only a foot or two deep, so it is also a nice place to splash while accompanying your less-swim-confident littles. For the more water confident guests 42 inches and up, there is Bert's Topsy Turvy Tunnels, Ernie's Twisty Turny Tunnels, Honker's Dinger Dash, Oscar's Rotten Rafts, and Snuffy's Spaghetti Slides. Though, of all the water slides, the one that draws the eye of every guest is Cookie Monster's Mixer. For the most adventurous guests (48 inches and taller), this 6-story family raft ride sends you on a swirling, swishing, splashing adventure before dropping you through a giant funnel, visible from long before the parking lot, for a fun final splashdown!
4. The Count's Splash Castle
There may be nothing more thrilling—or giggle inducing—than watching your friend or loved one be surprised by a 500-gallon bucket of water dropped on their head. Laughs and water thrills are on the menu at this multi-level, interactive, water play attraction featuring multiple water slides and loads of hands-on fun with hoses, jets, geysers, and more. Though only for guests 42 inches and taller, all will enjoy just watching the water mayhem that takes place at Count's Splash Castle.
5. Big Bird's Beach and Rambling River
Water slides may not be for everyone, and if you care to take in a more relaxing time at the water park with your littles, these water attractions may be more your speed. Few can argue with the equal parts fun and relaxing joy of hopping in a raft and taking a sun-soaking trip down a lazy river, or the simple childhood joy of jumping waves. Plus, if your kids are tall enough (over 48 inches) to take to the waves by themselves, Big Bird's Beach is the perfect place to enjoy some time in a private cabana or on a comfortable lounge chair.
RELATED: Adventure City, a Great Theme Park for Little Kids

Kids and parents will be grinning from ear to ear after meeting favorite characters.
6. Replica Interactive Main Street Sesame Street
The rest of the park could have never existed and my 3-year-old would have spent his whole day on the park's main Sesame Street, as happy and content as could be. The street our children have come to identify from the beloved PBS program is complete with the iconic 123 Sesame Street brownstone, the Bike Shop, and Big Bird's Nest, plus several buttons and fun interactive elements that will make your toddler feel like they are enjoying a day on the real Sesame Street. They can play a touchscreen game at the laundromat, knock on Oscar's garbage can, and even join Elmo in his world. You can even invest in a bubble wand at Hooper's Store, and find special starred spots all over Main Street where your wand will unleash a little bit of extra, zippity-zap Abby magic. (For kids and parents who have experienced the wonder of the interactive wands at the Wizarding World of Harry Potter, this is the same technology.) Finally, for us parents looking for the perfect Instagram-able moment at the park, the photo opportunities here are abundant.
7. Character Meet and Greets
There may be no better feeling than watching your child's face light up as they meet some of their favorite characters in person. You'll find most of the gang on Sesame Street's Main Street, but they will also be circling the entire park. During our day at the park we saw, met, and took pictures with Elmo, Cookie Monster, Big Bird, Abby Cadabby, Grover, and the Count, but you might also find Telly, Bert, Ernie, Oscar, Zoe, and Julia wandering about for pictures and hugs. The Sesame Place Official Park App provides information, places, and times to see your favorite characters. Looking back on the pictures from these meet and greets might keep me and my husband smiling for a lifetime.
RELATED: See the San Diego Zoo Like a Local

Experience performances and more all themed from your favorite friendly neighborhood.
8. Welcome to Our Street Musical Show
Elmo, Abby, Rosita, Grover, and Cookie Monster star in this musical show about friends working together to create the perfect welcome show. The show is full of laughs and reasons to clap, sing, and get up and dance alongside your kids. Hopefully, they won't make fun of your dance moves—yet! The Sesame Street Theater is outdoors, so show up early if you want to find a shady spot.
9. Sesame Street Party Parade
This colorful musical parade is part show with dancers doing jump-rope and hula-hoop tricks and part traditional parade with colorful floats featuring all your favorite Sesame Street characters and the people that you meet in your neighborhood. It wouldn't be a party without confetti, so the parade ends with a thrilling bang of confetti and streamers falling from the sky. Ask an employee about the parade route and the best places to view the festivities; unsurprisingly, the Sesame Place staff is incredibly friendly and helpful. In fact...
RELATED: Legoland's Water Park Keeps it Cool in the Summer

Sesame Place San Diego is a certified autism center.
10. Sesame Place is a Certified Autism Center
Unique to most amusement parks, Sesame Place team members receive specialized training to ensure they have the requisite knowledge, skills, temperament, and expertise to cater to all children, including those with special needs. Posted at every attraction is an IBCCES Sensory Guide which provides insight on how a child with sensory processing issues may be affected. There are even quiet rooms and guides on where to watch the parade for a more low-sensory experience. If you want to learn more about how Sesame Place is making the amusement park accessible to all, check out the website.
RELATED: Best Hotels in San Diego for a Family Vacation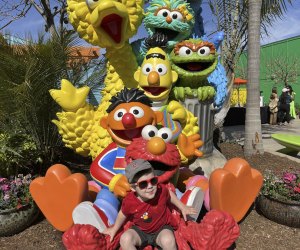 After a day at Sesame Place San Diego, there is no way to forget how to get to Sesame Street.
Know Before You Go to Sesame Place
Tickets to the park should be purchased online in advance.
Parking at the park starts at $30 and can be purchased online in advance.
Sesame Place is part of SeaWorld Water Parks, so if you plan on visiting both Sesame Place and SeaWorld while in San Diego, there are special ticket rates available.
Download the Sesame Place Official Park App before you go for parade information, showtimes, and where and when to meet your favorite characters.
Complimentary rafts, life vests, and adult changing areas are available. The rafts and life vests are first come, first serve.
If you are visiting with a baby, there are baby changing stations in every bathroom, and guest services can help you with a bottle warmer.
Private cabanas are available by reservation on Sesame Place's Official Park App.
There are many dining options available in the park including Grover's Grill for beef burgers and Impossible burgers, Telly's Trattoria for pizza and a healthy garden salad, Oscar's Grouchy Grub for healthy wraps and salads, plus more options scattered throughout the park. Adults can even find a cold beer to crack open while sitting poolside.
Bring and reapply your sunscreen. The park is almost entirely outdoors and is located in Chula Vista, CA—which is pretty far south and gets hot. Even on a cool day, sunburns can appear.
If spending the night, stay close to the park. Though it is called Sesame Place San Diego, the park is actually located in the city of Chula Vista. So, if you want to get an early start you may want to stay close to the actual park. There are few options for accommodations near the park, but at about the shortest distance, a 15-minute drive away, is the Hampton Inn and Suites Imperial Beach. The hotel offers spacious and comfortable studio-style suites complete with a kitchenette, an essential amenity for this traveling family. Plus, with a Cookie Monster-approved lobby breakfast of cereal, eggs, and a waffle bar, you will be all set for a successful day at Sesame Place.
Sesame Place San Diego is located at 2052 Entertainment Circle in Chula Vista, CA. The days that Sesame Place is open vary by season, so check the website before planning your visit. Tickets start at about $65 and children under 2 are always free. Season passes are available.
All photographs by the author unless otherwise indicated.