Restaurants Open on Thanksgiving in Los Angeles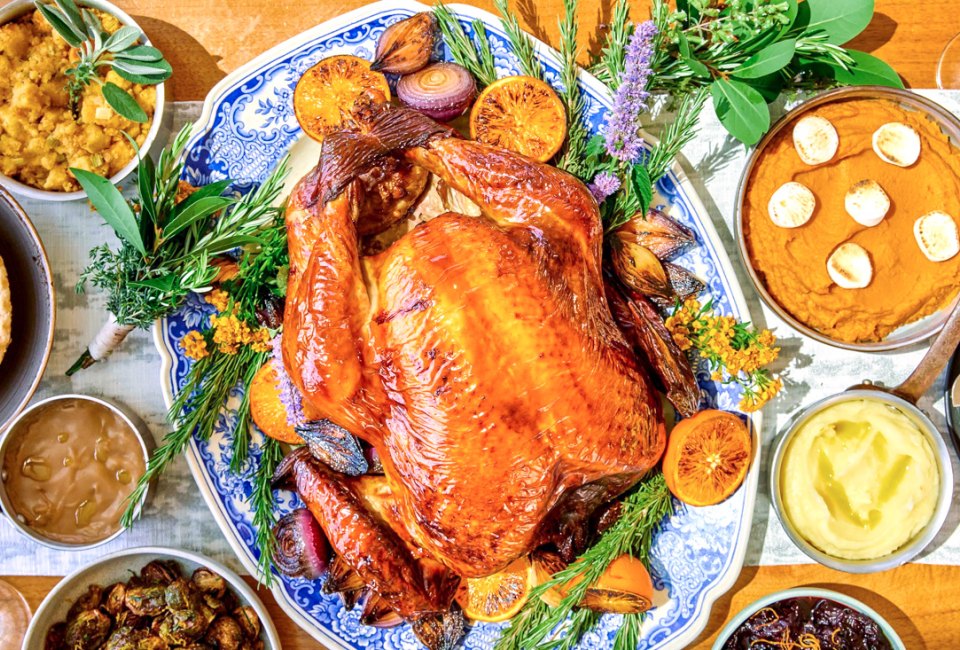 10/27/23
- By
Audrey M
Thanksgiving in Los Angeles has plenty of kid-friendly restaurants open on the holiday for families to enjoy without needing to cook or clean. Let's face it: sometimes, an ideal Thanksgiving does not involve hours of shopping, prepping, cooking, and cleaning while the TV is blaring football. So, have your feast and eat it, too, while enjoying conversation with family and friends. You might even have time for some Thanksgiving family activities since someone else will be doing the dishes.
For a complete list of Thanksgiving family fun, from how and where to watch the Macy's Thanksgiving Day Parade to funny Thanksgiving jokes for kids to tell at the table, be sure to check out our complete Guide to Thanksgiving Fun for Families.
Restaurants Open on Thanksgiving in Los Angeles
The cost, food choices, and ambiance can vary dramatically at these restaurants—as is to be expected. All of the restaurants on our list feature special prices for children, kid-friendly food, or both. One hot tip: make reservations! Did you wait until the last minute and can't find a reservation open? There's always Marie Callender's—it only takes reservations for groups of eight and up, so a smaller family can just show up!
Westside Restaurants Open on Thanksgiving
$96 for adults (five-course meal), $46 for kids 12 and under (three-course meal)
The Inn of the Seventh Ray's Thanksgiving menu features a 5-course meal for adults and a 3-course meal for children, including Mary's apple cider-brined free-range turkey. Both options offer an assortment of salads, soups, and pies. The Inn's special kids' menu also includes the option of turkey. Nestled in Topanga, it is gorgeous every day of the year but extra special on Thanksgiving in Los Angeles. Indoor or outdoor seating is available; when eating here with kids, we love to bundle up and sit outside so they can play creekside when they get restless.
RELATED: Thanksgiving Activities Guide for Families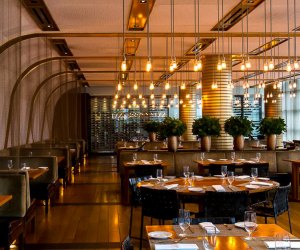 It's a splurge, but worth it, to have Thanksgiving at Craft LA. Photo courtesy of Craft LA
2. Craft LA — Century City
$170 prix fixe (three-course meal), children five and under are free
Tom Colicchio's Craft LA is one of the most renowned restaurants in the city, and it's open for Thanksgiving in Los Angeles! The three-course prix-fixe dinner includes salad or tuna starters and main course options like free-range turkey, Alaskan halibut, or Wagyu ribeye. Sides include stuffing, potato puree, green beans, and cranberry sauce. Finish off the gourmet meal with pumpkin cheesecake or Dutch apple pie. This is our splurge pick for families wanting a traditional meal (that kids will love) that's also a special occasion and delight for foodies. Note that Thanksgiving Day will be the last day of restaurant service for Craft LA before it permanently closes the Century City location.
$125 prix fixe (three-course meal)
The three-course meal is hosted from 3pm - 7:45pm and includes a mix of traditional Thanksgiving fare, along with unique options like sand dabs in lemon caper butter and wild mushroom ravioli. The desserts are particularly appealing and include Mascarpone cheesecake with raspberries, pumpkin pie with vanilla bean ice cream, or apple crumble pie with vanilla bean ice cream. While the price is the same for adults and kids, the fare is kid-friendly and delicious.
$117.81 per person, kids three and under are free
City Experiences is hosting a series of Thanksgiving Day brunches across the Southland. Departing from Marina Del Rey this year, the cruise has a Thanksgiving dinner and a brunch cruise. The dinner cruise is two and a half hours long and includes a buffet-style Thanksgiving dinner, while the brunch cruise is two hours long with a mix of classic breakfast and lunch dishes. With so many things to look at from the boat, kids will be entertained while parents linger over the meal. Consider this Thanksgiving in Los Angeles with an ocean view!
5. Lunetta — Santa Monica
$110 per person (three-course meal)
Lunetta's Thanksgiving menu offers both traditional fare and unique entrees. The turkey dinner includes potato gratin, candied yams, stuffing, and cranberry sauce, but if you're feeling a little adventurous, there's also slow-roasted osso bucco or roasted sea bass. Starters include scallops, crab cakes, and potato sweet garlic marcona almond soup. Takeout is also available for a slightly higher price.
$92 per person (three-course meal), $68 for children 12 and under (two-course meal)
What's better than Thanksgiving dinner at a restaurant? Dinner with a view! Geoffery's famous space in Malibu is the perfect place to enjoy Turkey Day with the family. Their Thanksgiving menu has starters like crab cakes, a Caesar salad, an olive salad, sweet potato gratin, and more. The mains include eggplant marinara, sea scallops, filet mignon, and, for the more traditional at heart, roasted turkey roulade. Dessert includes a choice of pumpkin cheesecake, chocolate bars, or cassava cake.
Restaurants Open on Thanksgiving in the Valleys
RELATED: Macy's Thanksgiving Day Parade: Where to Watch, What's New

Outdoor dining by the fire for the whole Thanksgiving crew. Photo courtesy of The Front Yard
$85 per adult; $35 for children 12 and under
The Front Yard gives thanks this year with a special Thanksgiving dinner from 12-8pm. This buffet-style dinner includes roasted butternut squash soup, tandoori roasted turkey, and a banana split station! This tucked-away spot with a spacious patio has become a local staple. Discover it for yourself.
Brunch: $96 adult brunch (four-course meal), $35 brunch for kids 5-12
Choose from brunch entrees like steak and eggs Benedict, fried chicken and waffles, and, of course, turkey at Castaway's four-course Thanksgiving brunch experience. For the adults, enjoy the bottomless mimosas for $30. The brunch is served from 10:30am to 4pm, with an a la carte seasonal dinner featuring a traditional turkey special from 5pm to 9pm.
RELATED: 50 Thanksgiving Crafts, Games, and Activities for Kids and Families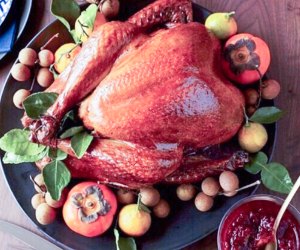 Got turkey game? Photo courtesy of the Saddle Peak Lodge
$120 for adults (four-course meal), $65 for kids 12 and under
This restaurant is perfect for Thanksgiving in Los Angeles, as it focuses on old-fashioned games, which is what our traditional turkey used to be. Sitting in stunning Malibu Canyon, it's also a beautiful place to escape for Thanksgiving dinner. The Thanksgiving menu includes a four-course meal for adults and a two-course meal for kids 12 and under. Bison tartare or braised pork belly might start you off before a main course of turkey, elk tenderloin, or roasted salmon. Decadent desserts include pumpkin pie, fudge brownies, and bread pudding.
$29.95 per person
Feast on an affordable Thanksgiving meal at a Burbank staple. The food will be homey, making it feel like you might be sitting at your own kitchen table even though someone else is cooking for you. Meals come with a choice of Thanksgiving turkey or honey-baked ham and include classic sides like mashed potatoes, yams, stuffing with the turkey only, and pumpkin pie. Dine-in and takeout options are available from 10:30am to 7:30pm.
Central LA Restaurants Open on Thanksgiving
$125 for adults, $55 for children 11 and under
Located in Downtown's swanky Proper Hotel on Broadway, Caldo Verde's menu puts a Portuguese spin on the classic Thanksgiving dinner. The main course is herb-roasted organic turkey with sides like sourdough stuffing, sweet potatoes with roasted shallots, brussel sprouts with pancetta, and of course, cranberry sauce. For the vegans in your family there is a animal-product-free spread that includes stuffing, brussel sprouts, sweet potatoes, and fingerling potatoes.
RELATED: Best Holiday and Christmas Activities for Families in Los Angeles

Tucked away in an art gallery, Manuela itself is a work of art. Photo courtesy of Manuela DTLA
$90 for adults, $35 for kids 10 and under
Manuela's Thanksgiving feast has a family-style twist on the holiday meal. The first course and sides are shared amongst the table, while the main course and dessert are ordered individually with choices including smoked turkey breast & dark meat confit, diver scallops, smoked maple glazed Col. Newsom Preacher ham, and more. There are also vegetarian and vegan options that can be selected when reserving your table. This restaurant is tucked into a corner of an art gallery and is a wonderful and unique space with fantastic food.
$57-82 per adult meal (depending on entree; three-course meal), $17-$29 per kids' meal (depending on entree)
Fleming's has several locations throughout the city, including Downtown LA, Pasadena, El Segundo, Rancho Cucamonga, Woodland Hills, Anaheim, and Newport Beach. The three-course meal includes soup or salad; turkey, filet mignon, or ribeye; and cheesecake or carrot cake for dessert. The shared sides include mashed potatoes, green beans, and cranberry sauce. There's also a specific kid's menu, though it has mostly the same entrees, sides, and desserts as the main Thanksgiving menu, with the addition of a mac-and-cheese for picky eaters.
Restaurants Open on Thanksgiving in Long Beach and the South Bay
$131 for adults; kids three and under are free
If you want to enjoy Thanksgiving dinner out on the water, City Experiences offers a Thanksgiving dinner cruise departing from Long Beach. The cruise is two and a half hours long and includes a chef-prepared, buffet-style dinner, DJ entertainment, and cocktails for purchase.
15. Sevilla — Long Beach
$49.50 (three-course meal)
Though known for its Spanish-style tapas, Sevilla's theme for a three-course meal this year is "Thanksgiving from Another Feather," which means a non-traditional beer glazed duck is on the menu, followed by a unique spin on a pumpkin dessert: pumpkin empanadas. If the appeal of tapas is too much for you to resist, the dinner menu is also available on Thanksgiving.
$135+ for adults, $60+ for kids 5 to 12, kids under 5 are free
The Terranea Resort has several dining options that are open on Thanksgiving in Los Angeles, but the centerpiece is its Thanksgiving Ballroom Buffet. Located in the Palos Verdes Ballroom, the buffet has six seatings from 12:30pm – 5pm. It features a festive carving station plus menu options, including seafood, pasta, braised meat, fresh vegetables, and a dessert bar. Kids are sure to love the fresh apple cider pressing station! Additional restaurants at the resort are also open on Thanksgiving. There's no prettier spot for Thanksgiving, and you can walk off the meal with a cliff or tidepool hike after dining.
Orange County Restaurants Open on Thanksgiving
RELATED: Thanksgiving Jokes for Kids They'll Gobble Up

Save room for dessert at Tavern House Kitchen + Bar. Photo courtesy of Tavern House Kitchen + Bar
$70 for adults, $30 for kids
Tavern House is back with its 5th annual Family Feast. The menu features a wide selection that ranges from traditional herb-roasted turkey and pepper-roasted prime rib to more modern selections like the Santa Fe Caesar Salad and Vegetable Cornucopia Plate. For dessert, choose strawberry cheesecake, Southern pecan pie, or traditional pumpkin pie.
$44 for adults, $17 for kids
Like Fleming's, Ruth's Chris Steak House is a large chain with locations throughout the country. In the LA area, restaurants are in Irvine, Anaheim, Woodland Hills, Pasadena, and Marina Del Rey. This year, the steak house is offering a dine-in Thanksgiving dinner as well as a takeout option. The dine-in menu includes roasted turkey breast, sausage, herb stuffing, and cranberry relish. Plus, it includes your choice of soup or salad, sides like potatoes, sweet potato casserole, or creamed spinach, and a chef 'choice dessert.
Inland Restaurants Open on Thanksgiving
$49.99 for adults, $20 for kids
Enjoy Thanksgiving dinner with a view! This traditional Thanksgiving buffet features roast turkey, carved ham, prime rib as entrée, and loads of fresh pies and pastries for dessert. Make sure to reserve a table because the restaurant does sell out.
Restaurants for Thanksgiving Takeout in Los Angeles
RELATED: Best Thanksgiving Movies for Kids and the Whole Family

This might be our favorite special meal takeout in town. Photo courtesy of the Huckleberry Cafe
Prices vary per item
The Thanksgiving take-out menu at Santa Monica's Huckleberry Cafe gives you plenty of options, including various sizes of Mary's Organic turkeys, sold fully roasted or raw with an included roasting rack. The restaurant also offers roasted beef tenderloin, Scottish salmon, and, for smaller gatherings, roasted organic turkey leg and thigh. There are many salad options, as well as traditional Thanksgiving sides like stuffing, mashed sweet potatoes, roasted vegetables, gravy, and more.
Prices vary per item
With takeout from Akasha, you'll avoid dried-out turkey from reheating—instead, they have a "take and bake" oven-ready brined turkey that comes with herb butter, turkey stock, and easy roasting instructions. The sides include herb-roasted mushrooms, mashed potatoes, macaroni & cheese, candied sweet potatoes, roasted Brussels sprouts, and more. Gravies, desserts, and more options let you assemble the perfect no-cook Thanksgiving feast for your family. Just be sure to order by 3pm on November 15! Meals can be delivered or picked up on November 22 or 23.
22. Farmshop — Santa Monica
Prices vary per item
With "farm" in the name of this restaurant, it's no surprise that Thanksgiving offerings are sourced from California farmers and artisanal purveyors. These include the main meats, which are Diestel Family Farms turkey and Snake River Farms Kurobuta ham. Classic Thanksgiving staples are available, and more indulging items, like caviar, are also available. Orders must be placed in advance, and pick-up dates are on November 21 or 22, as well as on Thanksgiving morning on November 23 from 8am to 11:30am. Farmshop is located in Brentwood Country Mart.
23. Eataly — Century City
Prices vary per item
It shouldn't be a surprise that you can pick up a delicious Thanksgiving meal from Eataly inside the Westfield Century City Mall, the best mall for kids in LA. Thanksgiving dinner can be hassle-free by pre-ordering from Eataly by Sunday, November 19. Top-notch ingredients and chef-curated dishes will help elevate the holiday. Put an Italian spin on Thanksgiving with available charcuterie platters and prepared pasta. Eataly's Thanksgiving menu is overflowing with interesting options.
$105 (feeds three) or $160 (feeds six)
Everyone's favorite family-style Italian restaurant offers takeout every Thanksgiving in Los Angeles. This traditional turkey feast can be prepared cold for heat-and-eat or hot if you'd like it ready to serve on Thanksgiving. If you feel like adding on a few classic Italian dishes, no sweat—just add them to your order.
25. Urban Plates — Multiple locations
$174.95 per meal
Urban Plates has locations all over the Southland, from Pasadena to Playa Del Rey to Brea in Orange County. Their turkey family feast (serves 6-8) includes antibiotic and hormone-free herb-roasted cage-free turkey breast, mushroom stuffing, gravy, cranberry relish, sliced artisan bread, and a choice of two sides. Sides include mashed potatoes, herb-roasted potatoes, roasted Brussels sprouts, carrots & beets, and mushroom stuffing. You pick up the meal chilled, with heating instructions provided.
Happy Thanksgiving, and bon appétit!
Originally published November 7, 2016. Updates made by Matt Matasci
Sign up for the Mommy Poppins Newsletter today!