The Proud Bird's Aviation Park: a New Airplane Playground by LAX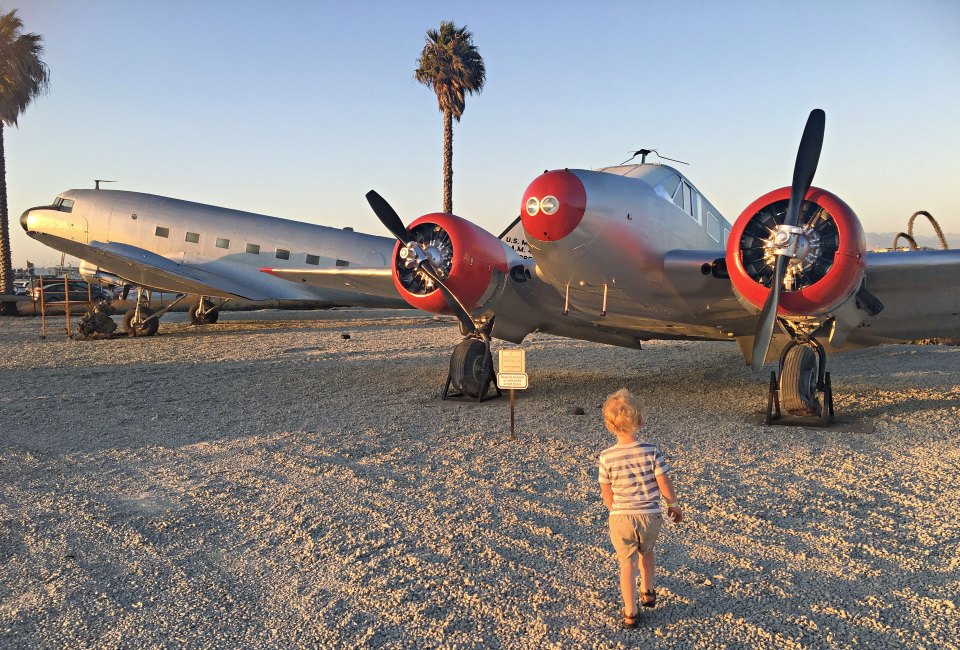 9/22/19
- By
Lindsay Halladay
When you have a kid like mine (obsessed with airplanes, grilled cheese, and curvy slides at playgrounds) then a well-timed trip to the new Aviation Park at The Proud Bird is an afternoon dream come true. We were excited to attend the new playground's recent opening day festivities, featuring models of life-size fighter planes, a view of the jets landing at nearby LAX, face painting, snow cones, and lots of playtime. Whether you're already heading to LAX to pick up the in-laws, flying off for vacay, or desperate for a new park to break up the after-nap routine, The Proud Bird is definitely worth a visit.

The Proud Bird Aviation Park is adjacent to the outdoor dining area. Photo courtesy of The Proud Bird Events Center
The Proud Bird is an aviation-themed food bazaar that recently unveiled its new Aviation Park, featuring 16 remodeled fighter planes and a children's turf area with a great little playground, located adjacent to LAX airport. I know what you're thinking: should I really drag my kids, and myself, through the heart of LA traffic for a playground? Well, if you're already planning a trip to LAX, for pick-up or for travel, this is a less stressful and tasty alternative to eating at the airport—and a great place to run off some energy before heading to your terminal. Parking is really convenient (in a huge lot), plus there are nearby pay lots to leave cars more long-term and catch a rideshare to the terminal.
A few of the remodeled fighter planes are already visible as you approach The Proud Bird's entrance, which on our visit elicited more than a few "wows" from my kid. In the front atrium, there are really cool historical displays with factual tidbits and artifacts that my husband, the history buff, loved. Most of the indoor displays are more suited for school-aged kids, but my toddler enjoyed a cute place to press a button and watch the propellors on the wall spin.
Outside are the remaining fighter jets, my son's fave being the Beechcraft Model 18 with its red and silver paint. While you can't touch or view the insides of the planes, their cool factor combined with watching countless jets fly right overhead and land at LAX still felt awesome. The outdoor playground is big enough for a good number of kids to romp, and still small enough to track your kiddo in the crowd. My son went down the yellow curvy slide at least 70 times. Around the playground are picnic tables, and above is a big dining patio where food and drinks are brought out to you.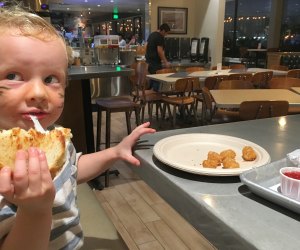 Yummy grilled cheese and face painting = pure bliss.
Speaking of food, there's certainly no shortage of options, from Texas-style BBQ from Bludso's (it's legit my friends), to pizza, salads, sandwiches, an Asian menu, and a full bar. I had a healthy, roasted veggie sandwich, and the kids' grilled cheese and tater tots were large enough to share—and exceptionally good even by adult standards. The indoor dining area to the right of the bar was less crowded and features a cool line of high-top tables that resemble seats on a fancy jet.
Will there be traffic if I'm traveling here during rush hour from, say, anywhere? Pretty much, so plan accordingly. If you're coming for just a fun visit to get out of the house, then definitely avoid the morning and evening rush. Full disclosure: we sat in traffic to and from The Proud Bird. But when my son says, "That was awesome!" four times while walking to the car, well, that's all the convincing I need.
Photos by Lindsay Halladay, unless otherwise noted
Places featured in this article:
---
The Proud Bird Food Bazaar and Events Center
Sign up for the Mommy Poppins Newsletter today!
i