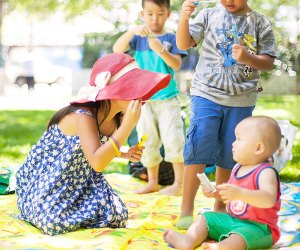 Perfect Spots for Your LA Baby's First Birthday
Congratulations! You made it through baby's first year, and now it's time to celebrate. If you're like me and totally not into hosting your child's first birthday party at home (read: cleaning, shopping, cooking, decorating, hosting...cleaning again), don't worry. The weather in LA is so beautiful that outdoor birthdays are possible nearly any time of year. If that's not your speed, the Southland boasts plenty of awesome indoor options as well. Here are 12 great spots of both varieties—from pricey to free with one surprise at the end—to smash a cake and tire out the kiddos so everyone can go home and take a well-deserved nap.
1. The Great Escape Club
3525 Glenhurst Avenue
Los Angeles, CA, 90039
323.922.6100
Located in hip Atwater Village, this venue boasts a whimsical indoor play area with a bouncy house, slides, ball crawl, children's climbing wall, and more. The real draw, though, is the outdoor area with green turf and picnic tables. Party packages include private playtime, a party coordinator, plus set-up and clean-up. Higher end packages include food and refreshments for both kids and adults, plus a few other perks. Free parking is located behind Dunkin Donuts on Glendale Avenue. Private parties can be scheduled weekends from 10am to 9pm in 2-3 hour slots, and weekday nights from 5:30pm - 7:30pm.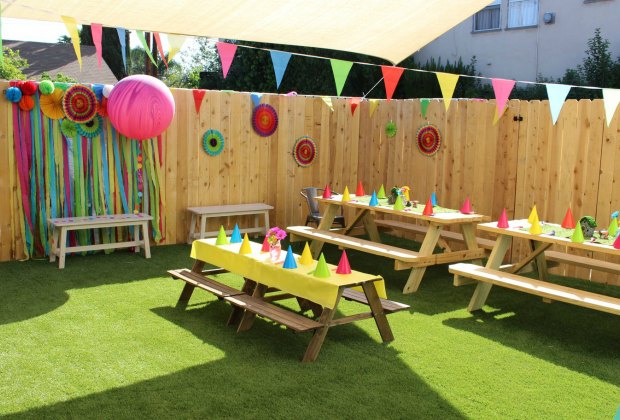 Turning one? Time to party! Photo courtesy of The Great Escape Club
2. Underwood Family Farms
3370 Sunset Valley Road
Moorpark, CA 93021
805.253.2957
Kick the party off with a trip around 40 acres of beautiful farmland on the Underwood Family Farms wagon. These outdoorsy parties include unlimited pony rides, a bouncy house, trails, petting zoo, and electric train rides (in other words, plenty of memorable photo ops). There's even a separate area for the littlest ones with animals to feed, wooden play train, sandbox, and slide. Parties are held March thru December, from 9am-3pm in 2.5 to 3-hour increments with prices varying depending on harvest or non-harvest visits.
3. Travel Town Museum
5200 Zoo Drive
Los Angeles, CA
323.662.5874
Travel Town is my favorite spot for something affordable, truly adorable, and cool for adults, too (plus free admission!). You can reserve the outdoor picnic areas, or simply picnic somewhere nearby in Griffith Park and afterward come by to check out the vintage trains. Rides on the mini train around the property are $2.75 per person (tots under 18 months—which includes the birthday baby!—ride free) and totally worth it. Party packages here include party space, mats, and wooden tracks to build model trains. Open weekdays 10am to 4pm and weekends 10am to 5/6pm, depending on the season.
4. The Coop
11118 Ventura Blvd
Studio City CA 91604
818.760.961
Ready to go all out? The Coop is your place. They have adorable party themes ranging from princess and wild west to disco and midsummer night whimsy. The impressive 3,600 square feet of indoor/outdoor play includes a ball pit, slides, rope climbing tube, bouncy house, and more. Free parking lots are located behind the building. Parties are held in 2-hour increments from 10am to 6pm on weekends, anytime after 3pm on Fridays, and from 6pm to 8pm during the week.
RELATED: 10 Prime Spots to Hang with a Baby on the Eastside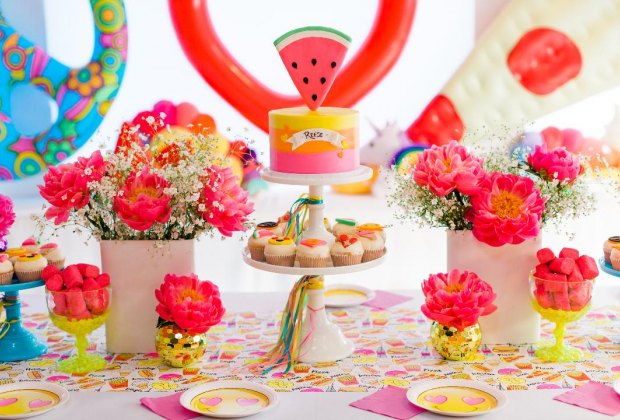 The Coop goes all out. Photo by Katie Jackson
5. Kidspace Museum
480 N Arroyo Blvd
Pasadena, CA 91103
626.449.9144
Kidspace is an exciting option for kids of most ages, with plenty of places to explore indoors and out. Most are science and physics related but many seem just for play (tricycles, a dress-up area, and splash pad). The sandy play space, rocky stream, foam climbing, and musical instrument sections are highlights for any crawlers. You'll get the party space for 2 hours plus admission to the museum for guests all day. Parties include specialists who facilitate games and activities, invites, and thank you cards, catering, plus goodie bags for each child. Packages are available weekdays and weekends, daytime, or evening. Yearly members get 10% off packages.
6. Garfield Park
1000 Park Ave
South Pasadena, CA 91030
626.403.7380
Most parks are a fun and affordable option for kids' parties. Garfield Park is a particularly lovely, quiet park with a fully shaded play area, jungle gym, and tons of open space. The giant gazebo is picturesque, but it books up fast, so be sure to check availability far in advance online. There are also a few first-come, first-served picnic areas, plenty of free parking, and on-site restrooms.
7. Douglas Park
2439 Wilshire Blvd
Santa Monica, CA 90407
310.458.8300
This city park not only has a playground, picnic areas, and big boulders for climbing on, but also a very nice clubhouse for those scorching-hot LA days. Best of all, though, is the lovely stream and pond where the kiddos can visit the ducks and turtles (and their babies in springtime!). Picnic areas are on a first-come, first-serve basis, but the clubhouse needs to be reserved far in advance. Parking is metered on the streets around the park's perimeter. The whole park is just one city block, so bathrooms are never far away.

Crescenta Valley Park has plenty of shade. Photo by Brian Johnson
8. Crescenta Valley Park
3901 Dunsmore Avenue
La Crescenta, CA 91214
818.249.5940
Rarely is this picturesque oak-lined park overcrowded, which is part of the charm. There are always a few shady picnic tables available and swaths of green fields where the kids can run and play. The playgrounds on the east have less grass and more picnic tables, while the west end near the climbing walls has the reverse. Grab the best photo ops by holding your party late in the day with all the dreamy, filtered light.
9. Lake Balboa
6300 Balboa Blvd
Van Nuys, CA 91406
818.756.8187
Wow. This park in the San Fernando Valley is a stunner and has everything you need for a great outdoor party: big beautiful lake with walking path, lots of ducks and birds to feed, swan boat rides (ok, maybe not for the baby, but they're very cool), plus a separate play ground for the little kids in your group. The park is enormous, which means lots of picnic tables to choose from (first come, first serve), several different areas, and yes, an ice cream truck, complete with the classic ice cream truck songs, is never far away. The lovely views of the San Gabriel mountains alone will ease all the birthday stress. The park is open everyday for your enjoyment from sunrise to sunset.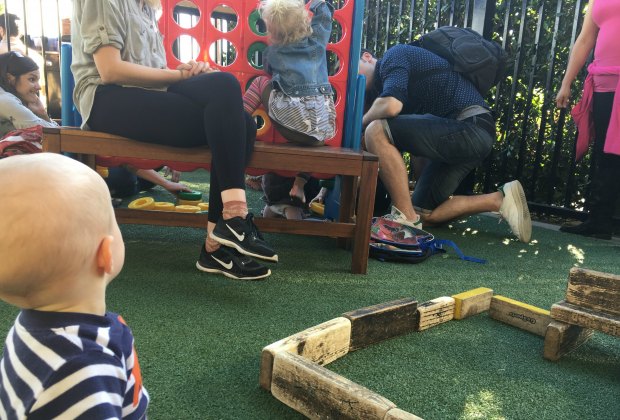 Golden Road Brewery. Photo by Lindsay Halladay
10. The Little Gym
2196 Foothill Blvd, Suite A
La Canada, CA 91011
818.249.4496
If you're looking for a more legit gymnastics experience, this is the place. My local is located in the family-friendly valley town of La Canada-Flintridge, though there are also locations in Torrance, Lakewood, and Thousand Oaks. The Little Gym is a great place for kids to flex their tumbling muscles and burn off all the birthday treats. Whether your kid is walking or crawling, the instructor-led games, music, LEGO building and physical activities keep the littles engaged and happy for the whole two hours. With set-up, clean-up (yes!), a private room for 20, balloons, custom Evites and a special t-shirt for the birthday kid, this place books up fast.
11. Descanso Gardens
1418 Descanso Dr
La Canada, CA 91011
818.949.4200
Since we are on this side of town, let's talk about the gorgeous, uber-kid-friendly Descanso Gardens. For the price of admission (adults $9, kids 5-12 $4, free under 5) you have access to an adorable cafe with seating (first come, first serve), big grassy play areas, the Enchanted mini train ride ($3 a ticket), a Japanese garden where kids can say hi to the koi fish and ducks, and long meandering walking paths for a stroll. Get more bang for your buck by coupling your birthday party with any number of the special programs: story time, bloom walks, music events, and more. Hours are 9am-5pm daily, with the last entrance at 4:30pm.
12. Golden Road Brewery
5410 W San Fernando Rd
Los Angeles, CA 90039
213.542.6039
Ready to think outside the box? This one is more for the adults than the littles, but let's be honest—you deserve a tasty beer for making it through this first year! Golden Road Brewery is surprisingly baby- and kid-friendly, with its large picnic table seating, kids' menu, and cute lower patio with fake grass and toys. The giant Connect Four-type game is a great photo op. The only drawback here is the noisy sports crowd and the train that occasionally roars by. Other locations include Downtown LA and Anaheim.
Top photo by Kiwi Huang/CC BY 2.0