Travel Town in Griffith Park: Train Rides for Little Tank Engines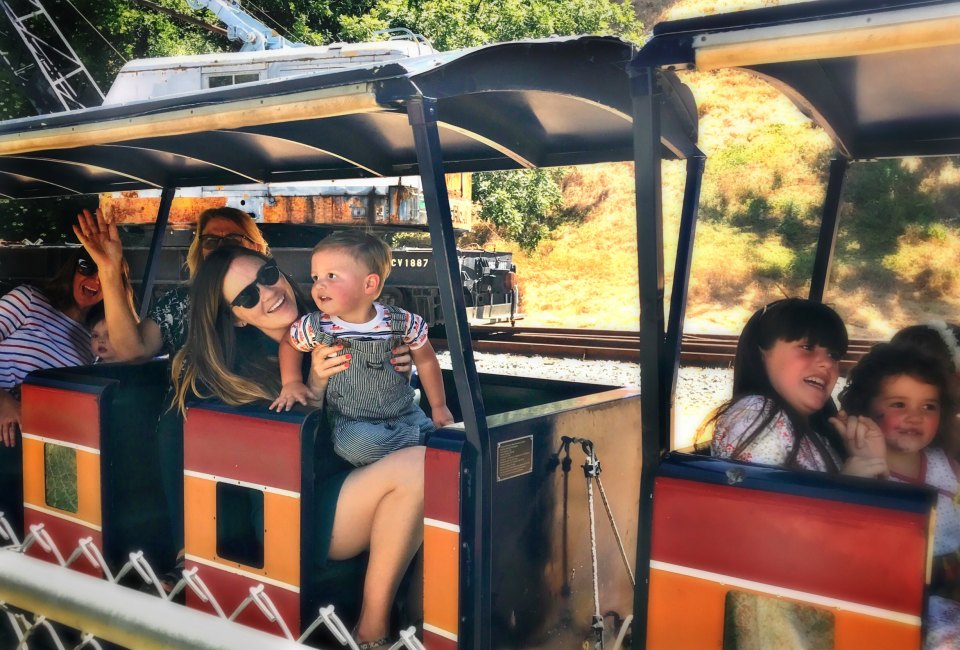 5/18/17
- By
Lindsey Hunter Lopez
Have a train-obsessed kiddo? If riding back and forth on the Metro line isn't enough for your little engine, it's time to explore the train options in Griffith Park—the crown jewel of which is the park's train-filled Travel Town Museum. The museum itself is free, and rides on the miniature trains costs less than $3 per person, making it a perfect place to visit with toddlers, or host a birthday party full of tank engine fans.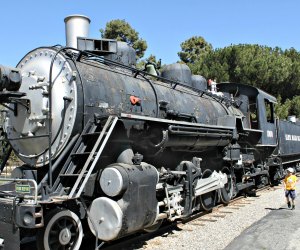 Can't you hear the whistle blowing? Photo by Travis/CC BY 2.0
Travel Town opened in 1952, the dream of one man, William Frederickson Jr., who wanted to give LA kids the chance to crawl all over and explore a variety trains for themselves. Over the years the recreation project has collected donations of several vintage and retired engines, until the depot feels an awful lot like the one Thomas and his friends doze in overnight. Open daily with free admission and parking, the museum is a wonderful spot to spend a morning or an afternoon among the locomotives. Ongoing restoration projects offer trainspotters a chance to check out all sorts of cool rail cars from days gone by; big and little kids can become instant experts on the Diesel Switcher, the Stanley Diamond, and other railway gems.
In addition to exploring, train enthusiasts can also get their fill of shopping. The Travel Town gift shop is a treasure trove of wooden tracks, Brio, and Chuggington train toys, not to mention the collection to end all collections of Thomas the Tank engine. Books, films, and other train gear are also available—it's one-stop shopping for a certain demographic. You know who you are.
RELATED: 25 Things To Do in Los Feliz with Kids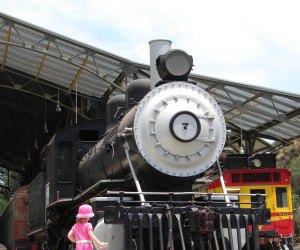 Some trains merit a special outfit. Photo by Gareth Simpson / CC BY 2.0
When train loving kids grow up, they become docents at this museum. The second Saturday of the month is usually the day for docent-led tours of the vintage passenger cars (check the schedule before heading out). Travel Town members are also invited for periodic play days; and the annual Depot Day in October is a grand festival of all things train.
Although Travel Town offers what is probably the most well known of the park's train rides, there are two other spots to ride the rails in the park as well. Griffith Park and Southern Railroad, next to the pony rides on the opposite side of the park from Travel Town, is a small scale train ride that follows a one-mile track through little scenes and scenery, open daily. The other train ride in the park that isn't Travel Town is the lesser known Los Angeles Live Steamers Railroad Museum. This one is near Travel Town but is run by a separate non-profit group of train enthusiasts, who only open to the public on Sundays. Donations are requested for this model train ride, which is especially popular at Halloween time, when it becomes the park's famous Ghost Train.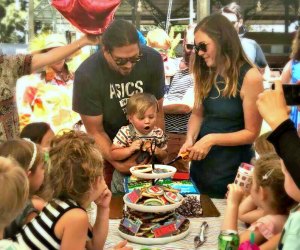 Trains and birthday cake: a match made in heaven
But perhaps one of the best things about Travel Town is that it's a fantastic birthday party venue. We booked the Union Pacific picnic area through LA Recreation and Parks for my son's recent Thomas the Train themed second birthday, and it was pretty ideal. (Pro tip: the popular Pennsylvania picnic area gets nabbed first, so planning well ahead helps.) Our all-day spot included a canopy for sun protection and three picnic tables, all for under $100. It was spacious, and we had views of trains all around—though another great option for smaller parties is an air-conditioned vintage railway car. After our Thomas cake was cut (I love Eagle Rock's Ruby Bakery), we did a group ride on the Travel Town Railroad, which loops the perimeter of the museum twice, in vintage coaches gleaned from Gene Autry's Melody Ranch.
Party and event rentals are booked online; just create an account and search for availability. If you'd like additional entertainment, like a Thomas play date, call the museum shop at 323-662-4253 after booking your space. For general visitor information check out Travel Town's website, or call the Operations Office at 323-662-5874.
Travel Town is open every day of the year except Christmas—Monday through Friday 10am to 4pm, and until 5pm on Saturday and Sunday. Parking is also free!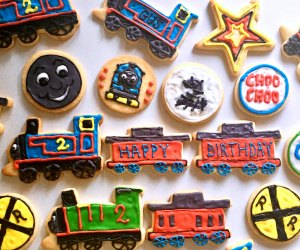 Really useful engines are cookies.
All photos by author unless otherwise noted
Places featured in this article:
---
Travel Town, Griffth Park
Sign up for the Mommy Poppins Newsletter today!