Disneyland with a Baby? All You Need Is This Game Plan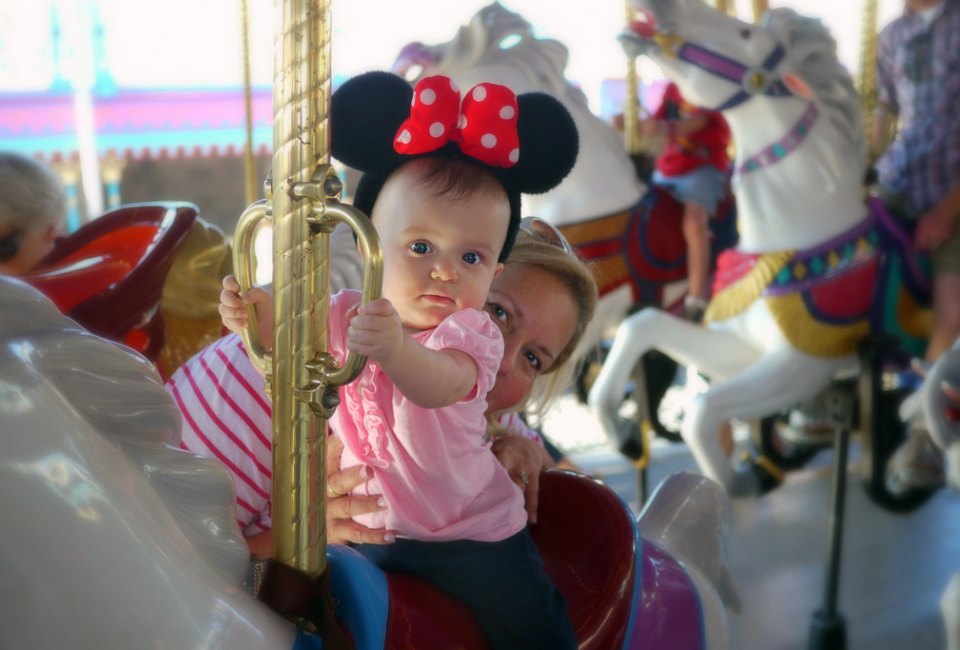 10/13/23
- By
Gina Ragland
Disneyland with a baby might seem like a big undertaking, but it's more doable than you might think. Sure, your baby may not remember their memorable Disneyland day, but photos will be stored on your phone for years, proving that your little one did go to Disneyland as a baby.
From the Baby Care Center to no-height requirement rides, Mickey's Toontown, dance parties, and air-conditioned spaces, Disneyland with a baby is as breezy as a palm tree swaying in the Southern California sky. Keep reading below for the best tips for having the most magical day at Disneyland with a baby.
Discover the best hotels to stay in Anaheim near Disneyland, and see what other activities there are for kids in Anaheim that go beyond Disneyland. There are more baby-friendly theme parks to explore in our SoCal Theme and Water Parks Guide.

Disneyland with a baby is a breeze and MIckey's Toontown has tons for babies to do.
Disneyland Tickets
A major perk of doing Disneyland with a baby is the cost-savings of theme park tickets. Children under three years old do not require a ticket or reservation to Disneyland or California Adventure theme parks.
Adults or siblings over three years old require a theme park ticket and same-day reservation to the theme park you plan to visit that day. It's common for reservations to fill up in advance, so it's best to reserve which theme park you plan to attend on a specific date as early as possible.
If you plan a last-minute Disneyland trip and find out the devastating news that reservations are no longer available on a specific day, there is a workaround to still get into that theme park for the day through a Park Hopper. When purchasing a Park Hopper, you can hop between Disneyland and California Adventure after 11am, even if one of these was not the initial theme park you made a reservation for.
Getting to Disneyland
There are two main ways to get to Disneyland: driving or walking. I've done both ways with a baby and found walking into the park from a nearby Anaheim hotel within walking distance was slightly easier. When driving to Disneyland for the day, which is very common if you live in Southern California and can be back home by the evening, you can pay to park in one of the following parking structures:
Mickey & Friends Parking Structure
Pixar Pals Parking Structure
Toy Story Parking Area
When exiting the parking structures on foot as you make your way toward the theme parks, you'll reach the security checkpoint. Everything needs to be taken out of a stroller when going through security. After going through security, a ride on the tram will take you to the theme park entrances.
The tram is free, but it's the part of the whole experience that will cause the most hassle with a stroller. All items in the stroller will have to be taken on the tram, and the stroller itself will need to be folded up on it, too. It's important to know that you'll need plenty of extra hands to get everything on and off the tram. Then, you'll have to do it all over again when exiting the park after a long day.
Nearby Anaheim Hotels
I mentioned that walking into Disneyland was one of the ways to enter the park with a stroller and possibly the easier way, in my opinion. If you plan on visiting Disneyland for multiple days, you'll most likely need a hotel. While staying at one of the Disneyland Resort hotels might be appealing for convenience, if you're on a budget, there are much more affordable options nearby that are within walking distance to the main entrances.
I recently stayed at the SpringHill Suites by Marriott on South Harbor Boulevard in Anaheim. While my family had to pay for parking to stay at the hotel, a free breakfast was included. It's not common for Anaheim hotels to include a free breakfast, so this was one of the reasons we decided to book a stay at this hotel. It was an easy walk to and from Disneyland and California Adventure, taking only about 15 minutes one way. We weren't the only ones walking into the park—many families were doing the same thing.
Staying in a nearby hotel that's walkable to the parks gives the option of returning to the hotel during the day. This option might be helpful with a baby who may need a quiet place to nap. Some nearby hotels also have water slides and pools, which are great for breaks on hot days for older siblings. The Anaheim Howard Johnson even has a splash pad where standing babies can test the waters.
For more local hotel suggestions, check out our favorite hotels in Anaheim within walking distance of Disneyland.
Strollers at Disneyland with a Baby
RELATED: See Disney California Adventure Park Like a Local

Stroller parking can be found all throughout Disneyland.
Should you bring a stroller to Disneyland? This question commonly surfaces. I've taken my son's stroller to Disneyland on several occasions and have never had issues. I honestly couldn't imagine not having it!
There is designated stroller parking throughout the theme parks. Sure, there tend to be tons of strollers parked in those areas, but it's still easy to spot yours among the sea of strollers. Like anywhere else, don't keep valuables in the stroller when you leave it unattended. I bring a small purse for my wallet, phone, and keys that I take with me when going on rides.
Some tips for strollers I recommend are to bring along a portable stroller fan as it can get hot in Southern California. If you plan to purchase souvenirs and don't want to leave them unattended in the stroller, then keep in mind that stores are open late, and you can grab souvenirs on your way out of the park.
If you plan on flying to Disneyland and don't want to bring your stroller to avoid further baggage, single and double-stroller rentals are available. Stroller rentals are outside the entrances of the parks, east of the main entrance of Disneyland.
Baby Care Center & Family Restrooms
RELATED: Things To Do with Los Angeles Babies Before They Turn 1

Amenities galore can be found in the Disneyland Baby Care Center off of Main Street.
A trip to Disneyland with a baby would not be complete without a stop, or multiple stops, to the Baby Care Center. There is one in Disneyland, located at the end of Main Street and next to First Aid. I skipped the Baby Care Center a few times due to the long lines to get inside. Sometimes, a diaper change needs to happen quickly.
There are some great amenities inside this air-conditioned bliss for babies and parents. The changing tables are very comfortable. Small toilets are available for toddlers; there's a vending machine with baby supplies for purchase, like formula, food, diapers, and pacifiers, and a nursing room.
Most Disneyland bathrooms have changing tables. The changing tables are not as nearly as comfortable as the ones in the Baby Care Center. There are also nine family bathrooms located throughout Disneyland. The family restrooms will show as companion restrooms on the Disneyland app.
Disneyland App
Speaking of the Disneyland app, this tool will be your best friend at the theme parks. Download it ahead of your visit and familiarize yourself with it. The app will show ride wait times in real-time, entertainment showtimes, some character meet and greets, and it's how to mobile order food.
The Best Time of Day at Disneyland
It's not a secret that babies are early risers, which allows for the luxury of entering Disneyland with a baby early. You'll want to be walking into the parks when they open at 8am. Why? Because this is the "golden hour" where the least amount of people are in the park and ride times are shortest.
Dumbo is a Disneyland with a baby must-do ride, and wait times can get up to 40 minutes, but first thing in the morning, it won't be longer than a five-minute wait. Mickey & Minnie's Runaway Railway can reach up to a 60-minute wait; Jungle Cruise and Buzz Lightyear's Astro Blasters can reach 30-minute waits. But all these are walk-on rides first thing in the morning with little to no wait times.
By 10am at Disneyland, we've already gone on at least five rides. The less time waiting in line with a baby, the better. I highly recommend pushing through as many rides as you can in the morning, hitting the ones you want to go on. Some rides like The Many Adventures of Winnie the Pooh and the King Arthur Carousel will always have shorter wait times. Utilize the Disneyland app to determine what rides have short waits in the afternoon when the park is busiest.
No-Height Requirement Rides for Babies at Disneyland
RELATED: Adventure City: A Theme Park for Little Kids in the Heart of Anaheim

Baby will love spotting all the animatronic animals on the Jungle Cruise.
There are likely many more rides that babies can go on at Disneyland than you may have thought. A baby can go on any ride that doesn't have a height requirement. These include the following rides by the themed lands in the park:
Adventureland
Jungle Cruise
This ride is one of our favorites to take our son on. He loves animals, and it's an outdoor ride with lots of fun and entertainment for him to see along the way.
Critter Country
Many Adventures of Winnie the Pooh
There's usually a short wait for this one at all times of the day, so it's a good ride when the park is busy in the afternoon.
Davy Crockett Explorer Canoes
While there is no height requirement for Davy Crockett's canoes, you are out on the water in a literal canoe, so it might not be the best ride for a baby.
Fantasyland
Alice in Wonderland
Note that this is a dark ride, so babies who don't like dark spaces may not like this one.
Casey Jr. Circus Train
It's a cute little train in Fantasyland, but it is small, so tall parents may feel cramped on the train.
Dumbo the Flying Elephant
We love riding Dumbo as a family. It's a very short ride and goes higher in the air than you may expect.
"It's a small world"
My son was not a fan of this iconic boat ride. It was a little longer than we expected, and he was eager to get off the boat.
King Arthur Carousel
A classic carousel in the middle of Fantasyland that tends to have short wait times.
Mad Tea Party
If babies don't like to be constantly spinning in circles, then it might not be the best ride for them.
Mr. Toad's Wild Ride
Similar to the Mad Tea Party ride, this is a spinning ride, as well.
Peter Pan's Flight
We have not gone on Peter Pan's Flight as it always has long wait times. It's one of the most popular rides in the park, so we've skipped this one to avoid waiting in a long line.
Pinocchio's Daring Journey
While I have not personally gone on Pinocchio, it's another dark ride and is known to be scarier than other family-friendly rides in Fantasyland.
Snow White's Enchanted Wish
Another dark ride, though when it's hot, this ride might provide some respite, and it's short at only two minutes in length.
Storybook Land Canal Boats
This darling boat ride is another good one to save for when it's busy in the park, as it usually has short wait times. The first passenger of the day gets to sign a special book.
RELATED: Best Amusement Parks Near Los Angeles for Preschoolers

Taking a ride on Dumbo is a rite of passage when at Disneyland with a baby.
Frontierland
Mark Twain Riverboat & Sailing Ship Columbia
Both are 15-minute boat rides that you board in Frontierland. Note that strollers are not allowed on either vessel.
Tom Sawyer Island
The island is better suited for active toddlers as there are many fun caves and hidden corners to explore. It's often one of the least busy areas of the park, as well. Strollers are not allowed on Tom Sawyer Island.
Mickey's Toontown
Mickey & Minnie's Runaway Railway
We walked on to this ride first thing in the morning with no wait, though it can reach high wait times later in the day. There is a pre-show that involves some fog and a loud explosion, which scared my son, but apart from that, he seemed to enjoy all the visuals and seeing his favorite Disney characters on this ride.
New Orleans Square
Haunted Mansion
I have done this ride without my son, and although a baby can go on Haunted Mansion, I wouldn't take my son on it due to the darkness and some scarier components.
Pirates of the Caribbean
We go back and forth on bringing our son on this ride and have decided he's not ready. Our concern is that this is a dark ride that lasts 15 minutes, so if he is not into it, we're stuck on it.
Tomorrowland
Astro Orbitor
If your baby liked Dumbo, then they might like this one too, as it's similar but with rocket ships.
Buzz Lightyear Astro Blasters
Astro Blasters is one of our favorite rides to do with our son. I let him help me fire the lasers, and the attractive visuals of the ride always entertains him.
Finding Nemo Submarine Voyage
We've avoided this ride with a baby because it's a 14-minute ride that occurs in a cramped space and goes into complete darkness at one point.
Rider Switch
Do you know about Disneyland's Rider Switch policy? First, ask a cast member at an attraction's entrance about the service to confirm it's available on that particular ride and to receive a Rider Switch pass.
Rider Switch allows both parents to enjoy a ride that a baby or young child may not want or can't yet go on. When two parents wait in line with a child, one parent can ride the attraction when it reaches their turn. After that parent exits the ride, they can switch with the other parent, who bypasses the initial line with a minimal wait time, so they can also enjoy the ride.
Mickey's Toontown
RELATED: The Best Playgrounds in Los Angeles

Don't miss the padded and gated infant area in Mickey's Toontown!
Babies will have a blast at the immersive Mickey's Toontown. Prepare to spend a fair amount of time here, as there are many fun things for babies to enjoy.
Behind Goofy's house (which itself is fun to explore with many interactive gadgets) is a padded and gated play area for infants. This infant space is a fun spot for babies to get out of the stroller and stretch their little legs in a safe environment.
Green turf spaces and rubber surfaces are throughout Mickey's Toontown, perfect places for babies to crawl around. Go past Mickey's house to the back of Toontown, and you'll find a cave ideal for taking a calm, quiet break in the shade.
RELATED: Best Splash Pads, Splash Parks, and Water Playgrounds in Los Angeles

Playing in the fountain is encouraged at Mickey's Toontown.
Don't forget to bring an extra change of clothes when visiting Mickey's Toontown. My son is obsessed with water tables, and the fountain in the middle of Toontown is a large water table intended for kids to splash around in. He always gets soaked when playing here as he splashes in the water and cools down when it's hot outside. Thankfully, a family restroom is right around the corner of the fountain in Mickey's Toontown.
As your baby grows, they'll enjoy the many play spaces and colorful roller slides in Goofy's How-To-Play-Yard. There are also fun photo ops throughout Toontown with different cars babies can sit in and lots of unique houses and structures to walk into and explore.
Characters at Disneyland
The first time my son went to Disneyland and saw a character, which happened to be Goofy, he started crying. Babies might not be into character photos just yet. But if they are, you don't have to wait in lines for character meet and greets or pay for an expensive character brunch.
Characters are always out and about in Disneyland. On my most recent visit, I counted 27 character sightings in a single visit! You will run into many characters throughout Disneyland. There are common sightings in Fantasyland and Mickey's Toontown.
Disneyland Entertainment
RELATED: Insider's Guide to Griffith Park: More Things To Do Than Most Angelenos Know

Babies will enjoy all the live music playing throughout the park.
If your baby is like mine, they probably have a short attention span and are likely not ready to sit through one of the shows at Disneyland yet.
My son loved the Disneyland band playing in front of Sleeping Beauty's Castle. What made it even more special was that Belle jumped in and started dancing with the band. It's moments like this where babies can easily enjoy music in the park and clap along without needing to sit through a long show.
Dining at Disneyland with a Baby
One of the best things about Disneyland is that they allow you to bring your own food and drinks into the park. This generous policy is especially helpful when going to Disneyland with a baby as you can take their favorite snacks, milk, and other food items they may need that might not be available in the actual park. I usually bring a whole bag of snacks for my son, an insulated water bottle, and a cooler bag that includes ice packs, and bottles of milk.
There are tons of delicious dining options in Disneyland with kids' meal options. The kids' meals at Disneyland often include macaroni and cheese, a Cuties orange, a fruit pouch, and a milk carton.
Mobile ordering food through the Disneyland app will save time waiting in long food lines. Orders can be placed early in the day for later pick-up times. Note that seasonal food items often sell out early and are best to mobile order as early as possible.
RELATED: NEW Tiana's Palace Opens in Disneyland

Kids' meals and high chairs can be found all over Disneyland.
My favorite quick-service spots to eat in Disneyland are the Jolly Holiday Bakery, Tiana's Palace, Hungry Bear Restaurant, and Red Rose Taverne. A tip is that if you need a break from the sun, Red Rose Taverne has an indoor dining section with air-conditioning. Another tip is that there's a family restroom on the bottom floor of Hungry Bear.
If you forget the baby food in a rush to get out the door, there are several fruit carts in Disneyland with fresh produce, and you can purchase milk in the Starbucks on Main Street. Healthy kids' meals and dietary snacks are available for kids, too. Also, don't forget that baby food is available in the vending machines at the Baby Care Center.
Whatever you do, there is no need to purchase water at Disneyland. You can go to any restaurant and ask for water. They will give a cup of water for free. There are also water refill stations throughout the park.
High chairs are never an issue at Disneyland. There are many available at all the dining locations. Sometimes, they may just be tucked away in a corner and might take a minute to locate, but they are always there!
Air-Conditioned Spaces at Disneyland
Southern California is known for its near-perfect weather all the time, but it can get hot in Anaheim. Months you may not expect to be hot, like September and October, can sometimes be the warmest months of the year.
Disneyland is mostly outside, so you may want to escape the heat for a bit, especially when at Disneyland with a baby. I've mentioned a few air-conditioned spots in the park, like dark rides, the indoor seating section of Red Rose Taverne, and the Baby Care Center.
RELATED: Anaheim Restaurants near Disneyland: Family-Friendly Places to Eat Near the Park

Woody's Ho-Down is hiding in plain sight in a Frontierland souvenir shop.
Walking through the souvenir shops will provide some air-conditioning relief, and a bonus is that many of the Main Street shops are all connected. The Pioneer Mercantile Store in Frontierland has some fun experiences like Woody's Ho-Down. There are similar amusements in The Penny Arcade on Main Street.
One of the most often-overlooked places to go in Disneyland for some air-conditioning is Great Moments with Mr. Lincoln. This audio-animatronic historical show might not be the most exciting entertainment for babies, but it will provide a much-needed break in a typically near-empty attraction. There are also some Walt Disney artifacts to peruse as well.
Special Disneyland Mementos
Disneyland buttons are available for free at souvenir shops that mark special occasions. We got my son a button that commemorated his first Disneyland trip.
When getting babies their first Mickey or Minnie Mouse ears, a little-known fact is that you can get those ears personalized and embroidered with a child's name.
Finally, it can be challenging to get a nice family photo with a baby as usually, Mom or Dad has to be the one to take the photo. Disneyland has a PhotoPass Service where photographers take pictures of guests at iconic landmarks at both theme parks.
California Adventure
RELATED: 3 Days in Los Angeles with Kids: Itinerary by a Local Mom

Don't skip California Adventure.
If you only have time for one theme park, then Disneyland with a baby is the park to choose. Babies will get more out of Disneyland as there are more rides they can go on and all the baby-friendly spaces they can utilize at Mickey's Toontown. California Adventure, while smaller, can still hold its own, and there's plenty to do with a baby.
The entrances to California Adventure and Disneyland are adjacent to each other, making it easy to walk from one park to another.
Baby Care Center & Family Restrooms
Like Disneyland, there is one Baby Care Center in the park next to the Ghirardelli Soda Fountain and Chocolate Shop. Five family restrooms are also in California Adventure.
No-Height Requirement Rides for Babies at California Adventure
Hollywood Land
Monsters Inc. Mike & Sulley to the Rescue!
This is a gentle, dark ride and one of the most popular rides in the park. Prepare for potentially long wait times.
Paradise Gardens Park
Golden Zephyr
Consider this as California Adventure's version of Dumbo or Astro Orbitor.
Inside Out Emotional Whirlwind
This is another Dumbo-like ride that spins in the air, except the vessels are hot air balloons.
The Little Mermaid — Ariel's Undersea Adventure
Little ones will enjoy the popular songs that play through this ride. It typically has lower wait times, making this one a good ride if it's a busier day in the park.
Pixar Pier
Jessie's Critter Carousel
A fun and unique carousel that's Toy Story-themed. It's right next to Toy Story Midway Mania! making it easy to ride one after another.
Toy Story Midway Mania!
Disneyland has the Buzz Lightyear game ride, and California Adventure has the Woody and Jesse game. Tuck the baby on your lap as you go for a high score. This ride is pretty popular, so there tend to be long waits.
Pixar Pal-A-Round
You know it as the Ferris wheel-looking ride with Mickey's face on it that appears in countless Disneyland photos. Swinging and non-swinging options are available, though non-swinging might be better suited for a baby.
Avengers Campus
Web Slingers: A Spider-Man Adventure
Getting a high score on Web Slingers with a baby on your lap might be challenging, but it's a plus that little ones are allowed on this one.
Redwood Creek Challenge Trail
RELATED: The Best Toddler Playgrounds in Los Angeles

Climb through tunnels in the California Redwood Creek Challenge.
A play space made to look like a redwood forest is a fun area for kids. While it's much more suitable for older children as it includes ziplines and rope bridges, there are a few things babies might be able to do, like playing safely on some of the rope nets near the ground.
Once your baby starts toddling and is more active, there's a tunnel that my son loves climbing through. Some smaller slides and caves to explore may be of interest, too.
Entertainment & Air-Conditioned Spaces at California Adventure
While Disneyland certainly has more rides for babies, California Adventure has some fun and engaging non-ride attractions for younger kids.
RELATED: Kidspace: An Insider's Guide to LA's Beloved Children's Museum

This air-conditioned show is pure Disney music magic.
Mickey's PhilharMagic
Babies and adults alike will love this show. At only a 12-minute run length, the theater, even on hot days, is nearly empty, providing a relaxing space to cool down. If your baby likes music like mine, they will thoroughly enjoy this show as it's full of iconic Disney songs and characters.
Disney Junior Dance Party!
This dance party rocks with music from Disney Junior shows, and bubbles float through the party. The dance party lasts 30 minutes and occurs several times throughout the day. Check the exact times on the Disneyland app. The theater where the dance party takes place is directly across the street from Mickey's PhilharMagic.
RELATED: NEW Babylist Flagship Showroom Opens in Beverly Hills

Little ones will love dancing amid bubbles.
Turtle Talk with Crush
Babies might not understand the concept of Turtle Talk with Crush—basically, Crush from Finding Nemo talks to kids and answers questions in real-time. But they may still appreciate the air-conditioning and undersea fun of seeing a sea turtle in an aquarium-like setting.
Animation Academy
Located in Hollywood Land, this is where you'll find Turtle Talk with Crush. But there are other interactive experiences inside that include a Sorcerer's Workshop where you can visit the Beasts' library, animation drawing classes, and a gallery in the Animation Courtyard. All in all, it's another good place to take a break with a baby.
Grand Californian Hotel
There's an entrance to the Grand Californian Hotel right near the Redwood Creek Challenge Trail, and anyone can go onto the premises, whether you are a guest at the hotel or not. The lobby is an ideal place to rest with a baby.
Soothing piano music sometimes plays, and a TV in the lobby plays Disney cartoons. It's another relaxing air-conditioned spot. The one thing to keep in mind is that you will need to go back through security when re-entering California Adventure theme park.
Dining at California Adventure with a Baby
Like Disneyland, many delectable dining options at California Adventure are baby-friendly and offer kids' meals. High chairs are also commonly found at all of the dining options. Some recommended California Adventure eatery options include San Fransokyo Square, Flo's V8 Cafe, and Carnation Cafe.
Top photo by Eduardo Merille/CC BY 2.0
All other photos taken by the author, Gina Ragland.
Places featured in this article:
Sign up for the Mommy Poppins Newsletter today!