The Best Toddler Playgrounds in Los Angeles: 15 Top Tot Lots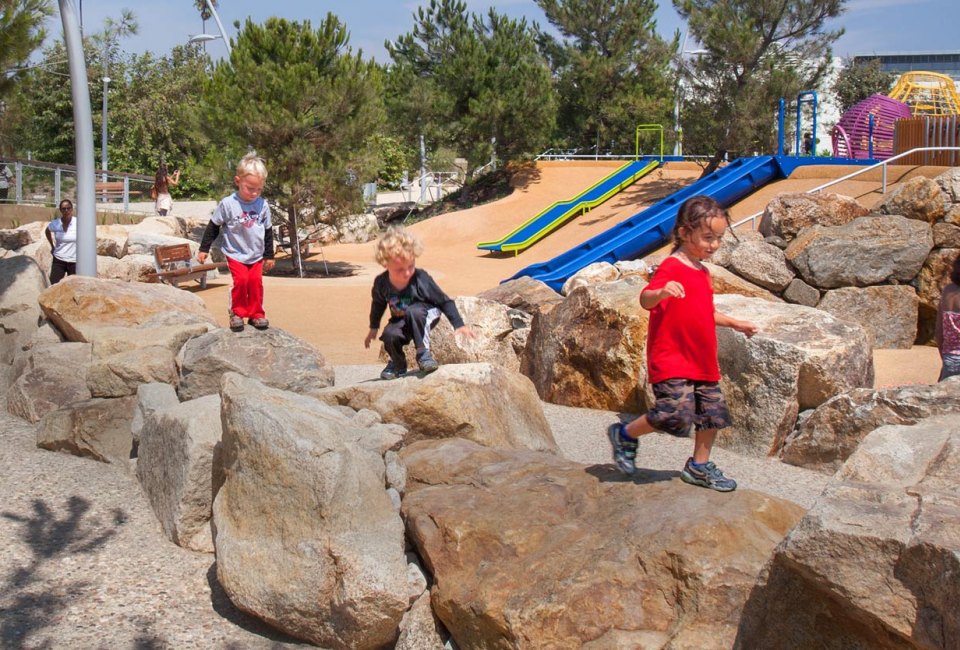 5/4/21
- By
Matt Matasci
When it comes to finding the best playgrounds for preschoolers in Los Angeles, there's a definitive checklist of needs and wants. Of course, kids that young are often happy running wild with some sticks. But if you're going to brave LA traffic and seek out a playground, you want to make sure it has it all. Most important is safety—play structures that are designed with younger kids in mind. I can't tell you how many times I've had heart palpitations when my three-year-old climbs up to a 10-foot-high platform without guardrails! You also want a park geared towards smaller children, so you don't worry about that roving pack of 10-year-olds playing Among Us.
Your little explorer is also looking for something new and exciting. Toddlers may be tiny, but their sense of adventure is enormous! These tot lots and toddler playgrounds in Los Angeles are amazing for kids under five, filled with age and size-appropriate equipment that will make toddler's hearts race, but leave parents breathing easy.

Slide down a snail at Vincent Lugo Park. Photo courtesy of the City of San Gabriel
Best Toddler Playgrounds in the Valleys
Reese's Retreat is a great spot to visit after swimming lessons at the Rose Bowl Aquatic Center or a trip to Kidspace Children's Museum. Called the "Pirate Park" by locals, this playground is worth the drive to Pasadena from any part of town. The playground, which is designed for kids of all abilities, is built like a pirate ship. It comes complete with faux-cannons, a plank to walk, and a variety of ramps and preschooler-friendly climbing structures, sure to stimulate kids' big imaginations. Of course, the thing that gets my kids begging for repeat visits is the (very well-maintained) sandbox that comes complete with a running water feature—it's like playing with beach sand in Pasadena. I love this park because the sand and smaller climbing structures are great for even kids who are barely walking, but the imaginative world of the playground keeps kids entranced and playing as they grow.
What child under five isn't enamored with firefighters? Let your preschooler live out their first-responder dreams at Woodland Hills Costanso Fire Station 84 Park. Similar to how Reese's Retreat is built like a pirate ship, this park features a playground designed to look just like a fire engine. Ironically, this playground is almost best for the pre-potty trained set, as there is no bathroom at the park. Luckily there are plenty of places with bathrooms in the immediate vicinity (Whole Foods and Trader Joes both have bathrooms and are only about a block or two away).
Located about a mile from the San Gabriel Mission, Vincent Lugo Park is the most historically significant playground on this list. The San Gabriel park is a mid-century marvel with a sandy playground area that features 14 different sea creature sculptures. Now kids don't care about historical significance, but it's like nothing else little guys have experienced at other playgrounds. These figures are great for even the smallest children to climb, slide, and play on—though keep in mind they're from another era so there aren't the soft plastics and rubber flooring that we're used to today.
It gets hot in the San Gabriel Valley–uncomfortably hot. For those summer days when even the shadiest park won't cut it, Garvey Park in Rosemead is your go-to. The park features a massive "splash zone" that feels like a full-on water park but is small enough to feel safe with the youngest kids. There are different fountain features for kids to play with, as well as a huge pool to swim in. Outside of the water park are plenty of grassy areas and a playground that's set back far from the street.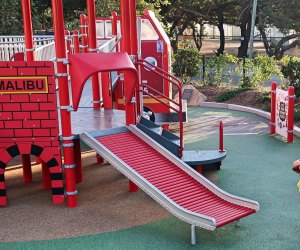 To the rescue at Malibu's The Playground at the Park. Photo courtesy of Jackie Jones
Top Playgrounds for Toddlers on the Westside
Don't mix this park up with its similarly-named neighbor on Mulholland; this Coldwater Canyon Park is located in the city limits of Beverly Hills at the corner of Beverly Dr. and Coldwater Canyon Blvd. The park is centered around a small, gentle wading creek that runs through the park—an instant attraction for younger children. The park is extremely well maintained and is noted for its exceptionally clean bathrooms, so it's a good place for kids who are in the middle of potty training! The play structures are divided between an area for ages 2-5 and one for kids 5-12. The play areas aren't fully gated from the street but the open areas of the playground face Sutton Way, a quiet residential cul-de-sac. Bring blankets and snacks and get ready to spend the day, as kids can change how and where they're playing the minute they get bored, from playing in the creek to climbing on the play structures to playing ball in the grass.
One of the most exciting parks in Southern California is Santa Monica's Tongva Park. Built on a former parking lot that's just a block from the beach, it takes up nearly a full city block. The park is named after the indigenous Tongva people who lived in the area for thousands of years and is built to honor nature. In addition to an amphitheater, garden, and picnic areas, there's a creek that runs through this park too! The play equipment is gentle and simple—there are no thrilling slides or spinning rides—but there are so many things for little ones to explore, they never get bored. Winding pathways provide lots of space for little kids to explore and the splash pad is perfect for hot summer months. And when you're done with the park, head over to Santa Monica's famous beach boardwalk and pier.
A few miles away from Tongva Beach is South Beach Park in Santa Monica's Ocean Park neighborhood. This little playground scores extra points with my kids for its whimsical and imagination-inspiring design. The play area is designed to appear as if a giant schooner washed up on shore, with its "sails" serving as much-needed shade from the summer sun. The park is right next to the Strand bike path (officially known as the Marvin Braude Bike Trail) so if you have a bike trailer or bike seat this is the perfect basecamp for a ride along the coast.
Cross Creek is a new retail development in Malibu and, like The Grove in LA, it comes with its own kid-friendly amenities. The shopping center is anchored by Whole Foods and features many smaller storefronts to grab a meal to go and enjoy a picnic before romping at The Playground. The Playground at Cross Creek is designed by the people behind Shane's Inspiration (see below) with accessibility and inclusivity in mind. The design of The Playground is inspired by first-responders, featuring a fire truck, police car, and Malibu lifeguard stand, so kids can give imaginations a workout playing real-life heroes.

The undisputed champ of LA playgrounds is Shane's Inspiration at Griffith Park. Photo courtesy of Landscape Structures
Favorite Toddler Playgrounds from Downtown to the Eastside
If Vincent Lugo Park in San Gabriel is the most historic park on this list, Shane's Inspiration is arguably the most famous. It's also the real deal. The first all-inclusive and universally accessible playground in Los Angeles, this Griffith Park institution is simply massive. Other playgrounds on this list are recognized for their intimacy or quirkiness, but Shane's Inspiration is so large and all-inclusive that you'll spend hours exploring the playground. After renovations in 2019, the park is better than ever. While the size means you may encounter bigger kids sharing the equipment, there are whole structures and sections designed just for the toddler set.
York Park is one of the smaller parks on our list and is an adaptive re-use of a gas station along York Blvd. in trendy Highland Park. Despite (or perhaps because of) its size, this gated park is a great place to take your preschooler to explore and discover. The modern and whimsical play structure is designed like the base of a tree and right beside it is a slide that looks like the coils of a python. This pint-sized park packs a whole lot in; just like your pint-sized preschooler. When it's snack time, head across the street to the now-iconic Café De Leche — even better, when the Bob Baker Marionette Theatre reopens, pair a trip to York Park with a show at the LA kid's institution.
One of the hidden gems of Echo Park and Central Los Angeles is Patton Street Park. This little park is tucked into a neighborhood in Echo Park on the south side of the 101. The big draw of this park for the smaller crew is its highly detailed pirate ship play structure as well as the little metal slide that's built into the side of a hill. Though the park's footprint is small, it makes the most of its space with lots of shade trees and winding paths for exploration. The park is also gated, a big plus for an urban park.
One of my kids' favorite destinations is Grand Park in Downtown LA. The biggest attraction is the fountain at the far northeastern corner of the park along Grand Avenue. My kids have spent hours splashing around in the inch-deep water that bubbles out from gentle fountains around the "splash pad." However, if this is the only stop you make at Grand Park, you're missing out: At the base of LA's iconic city hall is the Grand Park playground with an undulating rubberized surface along with abstract climbing structures and play features. The ground is soft and safe, and every inch of the playground is designed to encourage kids to climb and explore (safely).

Ride a sea turtle at Glen Alla Park. Photo courtesy of the City of Los Angeles
Top Playgrounds for Toddlers in the Beach Cities
With a name like Polliwog Park, you know this Manhattan Beach green space is going to be kid-friendly. Built around a large pond, Polliwog Park has plenty of large grassy areas for rowdy romping and quiet picnics, plus a recently revamped playground structure aimed at the small set that pulls little kids in for some climbing play. The colorful structure celebrates the city's coastal location, with a lighthouse and pirate ship-inspired climbing structures. As a bonus, the pond attracts all sorts of wildlife like turtles, geese, and ducks that will keep your kids entertained after the playground loses its allure.
Another nautical-themed (hey, we're talking beach cities and SoCal kids here) park is Glen Alla Park in Marina Del Rey. The gated park features a large sandpit area centered around a giant whale sculpture that's great for climbing and playing pretend. This park was recently renovated so all the equipment is in great shape, and you feel safe letting even your wobbliest walker play on it. Unlike most climbing walls, the one at Glen Alla Park is gradually sloping so even the smallest climbers feel safe and can scale the summit. If your kids are as obsessed with dogs as mine are, they'll love that this playground is right next to a dog park.
If your kids love planes, Hilltop Park in El Segundo is a must-visit. As the name implies, this park is at the top of a hill in the middle of El Segundo, just a few miles from LAX. As your preschoolers enjoy the age-specific play structures, they'll be able to see planes coming in for a landing in the distance. The playground is right next to the city's water tower and is divided into a bigger kid structure and a structure for little guys, so you feel plenty safe giving your youngest explorers plenty of space to feel autonomous. It doesn't get too terribly hot by the coast in El Segundo but for those especially sunny days, the playground is outfitted with large shade umbrellas.
Sign up for the Mommy Poppins Newsletter today!
i