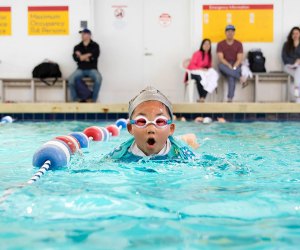 10+ Great Private Swimming Classes and Swim Schools for LA Kids
Time for swimming lessons? Finding goup swim classes at a local YMCA or community pool is usually easy and inexpensive; but since quality on these classes can vary widely (even within a single facility), we're here to tell you where Angelenos who are serious about getting the job done keep their kids afloat—and it doesn't have to cost a mint. Private and semi-private swim lessons don't necessarily require a private pool, and they do get kids on the fast track to independent swimming. Several popular swim instructors and schools make use of public pools or swing deals with private pool owners to make private instruction accessible to everyone. Check out these great options for getting kids safe in the water...
1) LA Surf and Swim
The legendary Coach Syd of LA Surf and Swim is the guy responsible for the highest number of successful swimmers on the Westside. He and his team apply a zen-like calm that eases the fears of students from infant to toddlers to older kids, usually in tandem, semi-private lessons. The school also offers ocean swimming classes and surfing lessons. Lesson times can be booked individually online, or call for more info, with several location options in Venice and Santa Monica.

2) Swim Right Academy Championed by Lenny Krayzelburg
The inland side of the 405 has long been the territory of swim school impresario and Olympic gold medalist Lenny Krayzelburg, whose academy location at the JCC on the Miracle Mile, boasts a patented learn-to-swim method developed by the Olympic star himself. Two other locations give kids in the Valley a chance to get their strokes down the Krayzelburg way at the West Hills JCC, and Westside families can go to a private location on Bundy in West LA. Classes include private, group, parent and tot, as well as a pre-swim team training. When you sign up, the first lesson is free.
3) Swimming Los Angeles
Swimming LA was founded by champion swimmer, Matt Harrigan. Check out his videos on the website where he explains the intellectual and social-emotional benefits of early-age swimming. Locations include pools in El Segundo, Santa Monica, Pacific Palisades, and Encino, and monthly tuition guarantees 4 classes per week.
4) Jim Herrick Swim School
Valley Village families sing the praises of Jim Herrick Swim School, another that's been in its neighborhood for multiple generations. Herrick's personal, laid back, stress-free method is taught by everyone at the school. Private lessons and classes are available and can be paid one at a time or monthly. Classes include private, parent and me, and pre-swim team.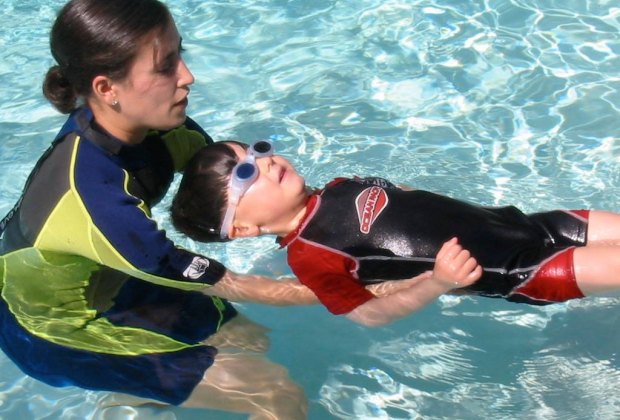 Photo courtesy of Head Above Water Swim School
5) Head Above Water
Head Above Water offers almost as many locations as Starbucks – if Starbucks delivered. Families with private pools can arrange home visits, and everyone else can choose from West LA, Toluca Lake, and Bel Air. Lessons are all private, with the exception of semi-private Parent & Me classes, and available to buy per lesson, in blocks, or weekly for the same lesson every week. Having a pool party? They also offer Lifeguard services.
6) Water Otters
Water Otters in Winnetka operates on the assumption that swimming is 10% learning to swim and 90% comfort in the water. The school's private outdoor pool is heated and shaded. Lessons options range from Baby & Me to older kids to special needs. Lessons take place in three week cycles and meet three times per week or you can buy a package of lessons.
7) kidSwim
With locations in Cheviot Hills, Hancock Park, and Mar Vista, kidSwim is a developmental swim school for kids 5 months and up. The unique program teaches motor, sensory, and communications skills aligned with the American Academy of Pediatrics guidelines. Private lessons start at age 2, and sessions take place in six week cycles.
8) North Valley Swim
Servicing Los Angeles and Santa Clarita, North Valley Swim brings lessons to you, including private lessons. Lifeguarding and CPR lessons are also available.
9) LA Swim Safari
Another in-home option, LA Swim Safari focuses on learning through play, in a child's own pool.
10) Waterworks Aquatics
Private swim lessons are available for students of all ages, and Waterworks Aquatics has multiple locations in both Los Angeles and Orange County. Semi-private lessons promise to eliminate "dead time" by encouraging both students to remain active throughout the lesson.
11) One with the Water
Harmony, inclusion, and mastery are the tenets of One with the Water swim school, which specializes in guiding students to feel safe and comfortable in the water. The school also has expertise with special needs students and offers locations in Culver City, Burbank, Santa Monica, and Los Angeles.
Note: Beverlywood Swim School, a staple of the LA swimming scene for 40 years, closed its doors in 2019.
Post originally published August 7, 2011