NEW Tiana's Palace Opens in Disneyland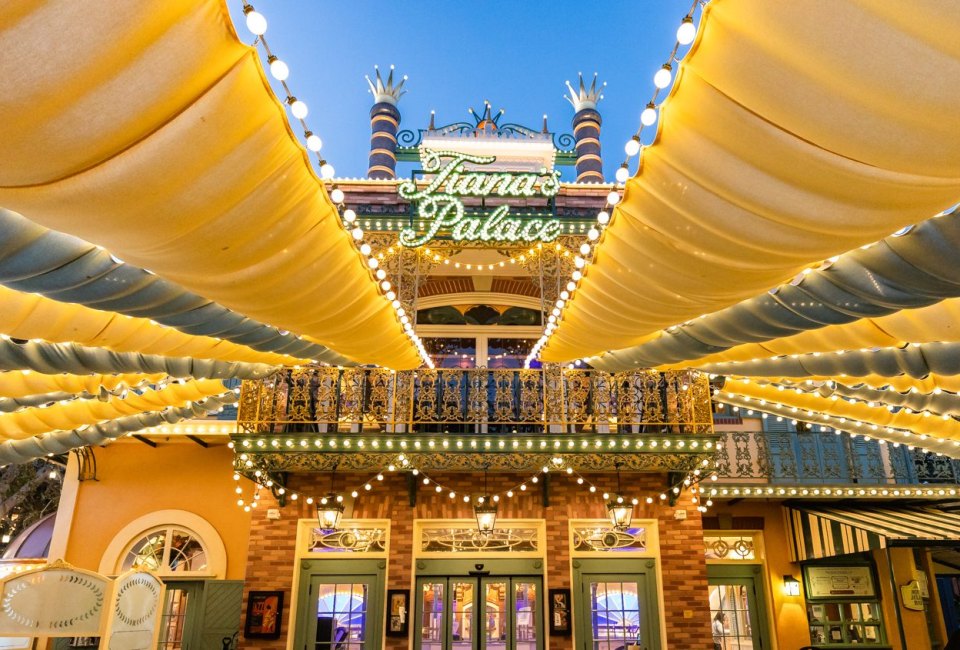 9/9/23
- By
Gina Ragland
Step inside Tiana's Palace at Disneyland, and you'll hear jazz playing, dishes clanking, and the lively chatter of hungry Disneyland diners vying for a taste of New Orleans.
Tiana's Palace recently opened in Disneyland, smack in the middle of New Orleans Square. The newest dining option at Disneyland gets inspiration from the beloved animated film The Princess and the Frog. Keep reading below for everything you need to know about dining at Tiana's Palace.
For more Disneyland tips, check out these Disneyland hacks you need to know, see how to do Disneyland with a baby, and plan more thrills with our SoCal Theme Parks and Water Parks Guide.
Tiana's Palace at Disneyland
Tiana's Palace will transport you to the middle of the French Quarter as you dine al fresco under yellow and gold awnings with jazz music in the background and comforting, flavorful food on your plates. Many intricate details adorn the restaurant, from hand-written letters to Tiana, hand-written menu cards, and lily pad light fixtures.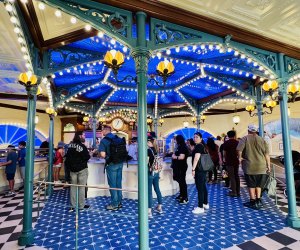 Cajun and Creole food is served cafeteria-style inside Tiana's Palace. Photo courtesy of Gina Ragland
The interior of Tiana's Palace is where to order and get food. There are no tables inside Tiana's Palace. All tables for dining are outside, giving Tiana's Palace an inviting facade as it overlooks The Rivers of America. There is plenty of shade cover with overhead awnings.
You can also mobile order food from Tiana's Palace and still enjoy it on one of the many outdoor tables.
Dessert First at Tiana's Palace
One of the unique components emphasized at Tiana's Palace is "dessert first." These are easy directions to follow as the lemon-glazed beignets will tempt you on one of your many plates. It's encouraged to eat the beignets before your entree, and kids will probably love this flipped food progression.

The house-filled beignets are a staple at Tiana's Palace. Photo courtesy of Disneyland Resort
It would be a difficult feat to go to Tiana's Palace and not try the show-stopping beignets. The house-filled beignets are filled with lemon icebox pie and topped with lemon glaze. Tiana's beignets are very different from the Mickey beignets that you can find elsewhere in Disneyland.
Exciting New Orleans Food
Full-flavored New Orleans Creole and Cajun staples are served cafeteria-style on lunch trays for lunch and dinner. Portion sizes are plentiful, and it would be surprising if you left still hungry.

I tried the Muffuletta Sandwich, which could have easily rivaled any Muffuletta in New Orleans, making it a solid sandwich option. The Red Beans and Heirloom Rice side that came with my Muffuletta was especially tasty and flavorful. I also tried the Beef Po'boy, which was delectable. The Muffuletta was good, but the Beef Po'boy was even better.

The delicious food at Tiana's Palace will stuff you to the brim! Photo courtesy of Gina Ragland
The 7 Greens Gumbo with Chicken & Andouille Sausage is one of the main stars at Tiana's Palace, in addition to the beignets. The gumbo has a nice kick and is spicier than most other foods at Disneyland. Palettes that appreciate heat now have a more adventurous food option.
If you have any room left in your tummy, the Buttermilk Cornbread is also a must-eat. The portion size of the cornbread is very generous. I enjoyed dipping the cornbread into my Red Beans and Heirloom Rice, which proved a wise choice.

Tiana's Palace is full of interesting menu options. Photo courtesy of Gina Ragland
Coffee lovers can get a nice caffeine kick from Joffrey's Coffee Chicory Cold Brew. I'm an avid coffee drinker and especially liked the sweet cream atop the cold brew. I'll admit that this coffee was particularly strong, so if you need a boost, it's worth getting to accompany that sweet beignet.
Tiana's Palace caters to many dietary restrictions. Select signature menu items are available gluten/wheat allergy-friendly, egg allergy-friendly, fish/shellfish allergy-friendly, milk allergy-friendly, peanut/tree allergy-friendly, soy allergy-friendly, and sesame allergy-friendly. The 7 Greens Gumbo is also available as a plant-based option.
Dining with Kids at Tiana's Palace

Several kids' meals are available at Tiana's Palace. Photo courtesy of Gina Ragland
A few kids' meal options are available at Tiana's Palace. One of these options has baked macaroni and cheese as the main course. I confess that I may have eaten more of the addicting baked macaroni and cheese myself than my son did. He very much enjoyed an apple fruit pouch, though.
The kids' meals also include a Cuties Mandarin orange, apple fruit pouch, and a choice of a small bottle of water or a small carton of milk. Other kids' meal options include a Roasted Chicken Drumstick and Toasted Ham and Cheese Sandwich. A kid-friendly tip is that many high chairs are available at Tiana's Palace.
If the little ones prefer their usual snacks, don't forget that Disneyland allows you to bring outside food and beverages, so long as they are not in glass containers nor require heating, reheating, processing, or refrigeration.

Transport the whole family to the French Quarter. Photo courtesy of Gina Ragland
Take a break from the always-bustling theme park to sit down and enjoy some seriously delicious and hearty food. The New Orleans fare at Tiana's Palace stuffed me to the brim and filled me and my family up so much that we needed to-go containers. Tiana's Palace is a fantastic addition to the already stacked lineup of Disneyland dining options that the whole family will enjoy.
Places featured in this article:
Sign up for the Mommy Poppins Newsletter today!
i