Super Nintendo World at Universal Studios Hollywood is Now Open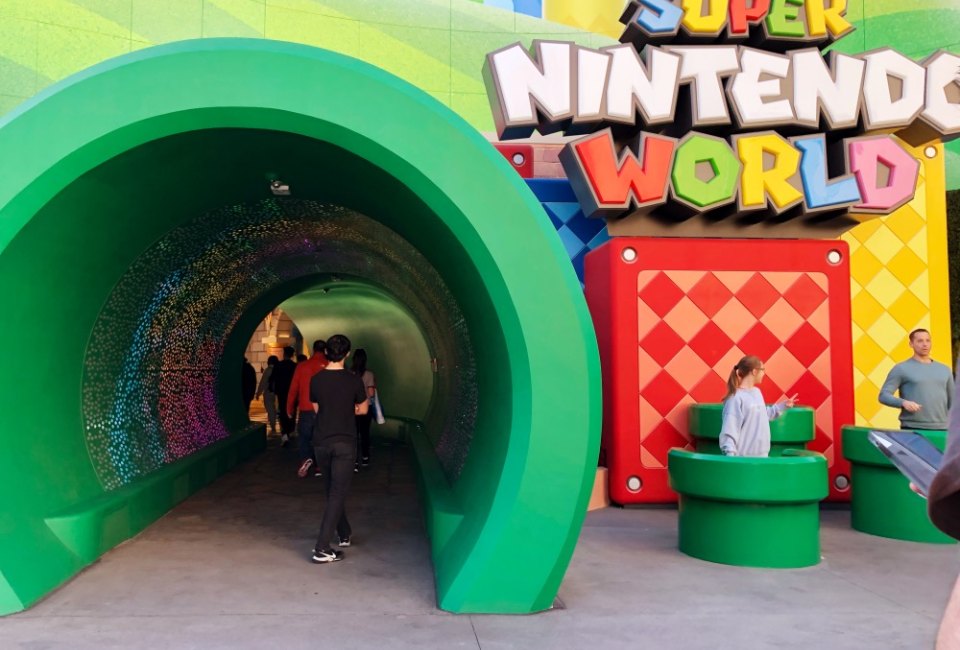 2/17/23
- By
Meghan Rose
Super Nintendo World is now open at Universal Studios Hollywood! My family—including my video game-obsessed teen son and video game-averse teen daughter—got a sneak peek, and I'm here to give you all the details. Mario Kart: Bowser's Challenge is the first ride to open, along with the Toadstool Cafe, 1-UP Factory retail store, and an immersive play area. What's it like? Is it worth the hype?
Read on to get the scoop on all things Mario, Luigi, and Princess Peach at the newly expanded land at Universal Studios Hollywood. And get all the latest happenings at local theme parks in our SoCal Theme and Water Parks Guide.
What is Super Nintendo World?
Southern California's Universal Studios is the first Super Nintendo World in the United States. (The very first Super Nintendo World opened at Universal Studios Japan in early 2021 to rave reviews.) The world of Mario, Luigi, and Princess Peach comes to life in this new area of Universal Studios Hollywood that truly feels like you've gone through a portal and landed right in the middle of a video game. The world contains a ride, a restaurant, a store, and an interactive play area.
After taking the escalators down to the lower level of Universal Studios park, right past Jurassic Park: The Ride and Revenge of the Mummy, you're ready to enter Mario's world. To enter, go through the Warp Pipe and come out in Super Nintendo World. It's impressive. It's loud. If you grew up like I did, playing Super Mario Bros. 2 on your brother's NES, this is a sharp dose of nostalgia. If you grew up playing Super Mario 3D games on a Switch, like my kids, this is your video console come to life.
The set design and world-building are incredible—you really feel like you're in a video game. To be honest, the music and constant coin pinging can wear on your nerves if you're over 15 or sensitive to noise. But kids who have always wanted to live in a video game will go bananas.
RELATED: Mommy Poppins' SoCal Theme and Water Parks Guide
Mario Kart: Bowser's Challenge uses augmented reality. Photo courtesy of Universal Studios Hollywood
Mario Kart: Bowser's Challenge
The sole ride in the land is Mario Kart: Bowser's Challenge. It's located in Bowser's Castle, where you hop into four-seat Mario Kart vehicles, put on AR (augmented reality) goggles, and head off to collect coins and defeat Team Bowser. In theory, at least. When my family visited, the 2-hour wait time deterred us from riding the ride. Which was a real bummer, because without the ride, you start to realize that there's not really much else here. And the Super Nintendo World isn't so much a world as it is one really cool ride set in an amazing staging area.
However, another member of our LA team also got the chance to visit, and the wait time was much shorter. So she and her 11-year-old got to hop on the ride. Her daughter's review was, "This ride is incredible, a 10 out of 10!"
Though we decided not to wait for the ride, we did want to explore Bowser's Castle a little more. The really helpful staff working here—easily identifiable in Mario outfits of red shirts, blue pants, and red caps—directed us to a tucked-away staircase near the entrance of the ride. From here, we could wander up to the upper landing and get a great view of the whole world.
RELATED: Sesame Place San Diego is SoCal's Best New Amusement Park
A bird's-eye view of Super Nintendo World, from the top of Bowers's Castle.
Power-Up Bands and the Interactive Element
In addition to the ride, there is an interactive element to the world. If you buy a Power-Up Band (for $40), you can play the games surrounding the ride and rack up points. The bands come in different character designs, including Mario, Luigi, Princess Peach, Yoshi, Toad, and Princess Daisy. The character you choose defines the team you play on. The wristbands sync up with a downloadable app, and help you score points for your team and yourself.
You can check your score on the Checkpoint Screen next to Toadstool Cafe. You can play the games without purchasing a Power-Up Band; just ask one of the staff to start the game for you. However, the real fun of these games is scoring points, so if you want to get the most out of the interactive experience, you'll need to buy a band.
RELATED: Water and Amusement Park Discount Tickets in LA
Food that's not just cute; it's also quite tasty! Photo courtesy of Universal Studios Hollywood
Dining at Super Nintendo World's Toadstool Cafe
Just like the Three Broomsticks restaurants in the Wizarding World of Harry Potter section of the park, Toadstool Cafe features food from this universe. Also like Three Broomsticks, the food is cute, clever, and pretty tasty. My kids liked the Mario Burger, complete with a mustache etched on the bun and a little hat. I enjoyed the Super Star Chicken Salad, because I'm a sucker for tasty dressing and adorable star croutons. (You can see both, above.) The desserts are adorable, but my kids skipped them in favor of the boba drinks, which were super tasty and refreshing.
Let's-A-Go?
My family's takeaway was that it's best to set your expectations. The new area of the park is impressive and immersive. But it's also best to visit knowing that it's not really a whole world (yet), but rather is one very cool ride. If you have a kiddo who loves video games, and you're willing to get the Power-Up Band, this makes for a really fun part of the day at Universal Studios. However, I'm not sure that it's a destination in and of itself. And definitely try to plan your visit for when lines won't be as long!
Of course there's a store! Next year's Halloween costumes, perhaps?
Strollers & Potties in Super Nintendo World
The bathrooms are brand new, large, and sparklingly clean. The only difficulty here for strollers is getting them down the neverending escalators to the lower level of the park. However, Super Nintendo World is so busy and relentlessly loud that younger babies and toddlers may be easily overwhelmed. If you have kids dying to check this world out and are also at the park with babies or toddlers, this might be a good time for the family to split apart, and you can bring the younger kids somewhere else, like the nearby Dino Play Area.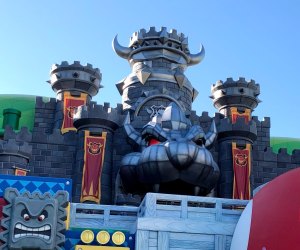 Bowser's Castle dominates Super Nintendo World, and it's huge and impressive.
Admission to Super Nintendo World
Super Nintendo World admission is included with admission to Universal Studios Hollywood. The theme park is open daily, and hours change seasonally. You can purchase One-Day General Admission tickets online or at the front gate starting at $109, and California Neighbor Passes for the year start at $179. To miss the crowds, you can also currently get a $20/person Super Nintendo Worlds Early Access Ticket, which will get you in an hour before the park officially opens!
Directions and Parking at Universal Studios Hollywood
Universal Studios Hollywood is right off the 101 freeway, and you'll need to park at the parking structures at the end of the Citywalk. Parking is $30 before 5pm for general parking. You can also take the Red Line and exit at Universal City, getting to the theme park on the new Metro pedestrian bridge at the corner of Lankershim and Universal Hollywood Dr.
Places featured in this article:
---
Universal Studios Hollywood
Sign up for the Mommy Poppins Newsletter today!
i