The 17 Most Insane, Over the Top LA Desserts to Treat (and Wow) Kids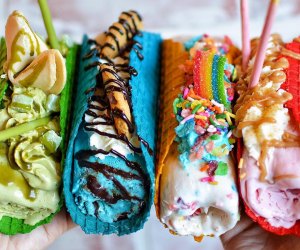 5/21/21
- By
Meghan Rose
Summer is coming (after one looooonnnnngggg school year) and kids really deserve a treat. Your Instagram, Pinterest, and Facebook feeds are packed with incredible-looking sweets, but are they just eye candy? Or are they a treat for the tummy as well?
We sought out the very best, most amazingly outrageous, over-the-top desserts around Los Angeles, and taste-tested them with kids to discover if they are as good as they look on the gram. We picked the most insanely awesome treats in LA to see if they held up—and these made the cut. These delicious desserts are all a perfect end-of-school treat, a we-survived-this-year celebration, or even a birthday cake replacement. From taco ice creams to towering candy wigs, dive into the most impressive sweets in LA.
Must-Try Ice Cream Desserts in LA
Garden Grove and Huntington Beach
Ice cream tacos? That's a taco Tuesday we could go for at my house. It's not just rolled ice cream, it's rolled ice cream in a taco shell. It's adorable meets darling in one big, tasty package. If you're not familiar with the phenomenon of rolled ice cream, it's ice cream that's flash-frozen on a metal place and rolled into shape.
Usually, it's formed into tiny rolls that are arranged to stand up in a cup and hold toppings. Here, it's made into one giant roll and plopped into a sweet taco shell. Ice cream, taco shell, and toppings are all fully customizable, and kids get a kick out of watching their ice cream being made to order.
Over 20 locations across the Southland
I took my kids to the very first Afters in Pasadena just a few years ago for the Cookie Monster ice cream. They were so entranced by that, they didn't even sample the Milky Bun, Afters' claim to fame. But since then, we've fixed our error, and now when we need a decadent ice cream treat we get the Cookie Monster (still everyone's favorite flavor) stuffed inside a fresh glazed donut. Wow. No wonder there are now over 20 locations.
All the toppings you want, plus ice cream and waffles. Photo courtesy of The Dolly Llama Waffle Master
DTLA, Koreatown, Sherman Oaks
Ice cream + waffle + topping = super happy kids! That's my kind of math. Waffles come in the giant fresh bubble variety, wrapped in a cone and stuffed with ice cream and toppings, or in OG Liége form, which comes with scoops of ice cream on top, or in a pair as a waffle ice cream sandwich. If you don't need ice cream, you can just get a waffle on a stick!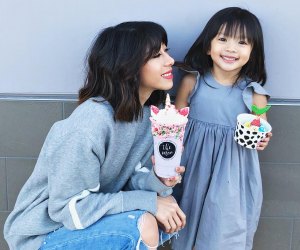 Ice cream mermaid tales and milkshake unicorns come in every flavor. Photo courtesy of The Moo Gelato
Huntington Beach
Unicorn everything please! Especially when it's this tasty. Moo Gelato turns your ice cream cone (or milkshake) into a unicorn, mermaid, unicorn-mermaid, or even mouse-eared wonder.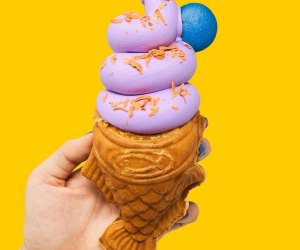 Soft serve in a fish sounds like a poem by Dr. Seuss. Photo courtesy of SomiSomi
Fullerton, Garden Grove, Huntington Beach, Glendale, Irvine, Long Beach, Little Tokyo, Koreatown, and Santa Monica
This is the ah-boong ice cream that you've seen on Instagram. The fish-shaped cones are stuffed with soft serve and toppings and are as tasty as they are adorable.

Mile High Chocolate Cake is served by the beach. Photo courtesy of Paradise Cove
Over the Top Cake and Cookie Desserts in LA
Malibu
Six amazing layers of deep, dense chocolate cake with a fudge frosting make up the Mile High Chocolate Cake. And did I mention that you order and eat this treat on a private stretch of ocean in Malibu?
Los Feliz
All the cakes here are to die for, but it's all about the bundt. The Chocolate Fudge Bundt Cake, specifically. It's the most California of cakes, with Sees chocolate baked in the batter and big curls of Sees chocolate on top. It's really your duty as an Angeleno to eat this.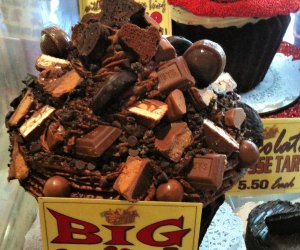 That's a normal sized cupcake to the right... Photo courtesy of Malibu Kitchen
Malibu
Big is the name of the game at this delectable deli in the Country Mart. Each cookie is bigger than a dinner plate and will feed a family of four. But for special occasions, get the cupcake. It's roughly the size of a layer cake, and there's just something delightful about eating a maxi-mini dessert.
Mid-City and Studio City
Cupcakes are so early aughts. But ... these marshmallow-topped and chocolate-dipped delights are a mix between a Mallomar and a cupcake, and they're irresistible.
Atwater Village
Oversize? Nope. Too sweet? Not really. Insanely over the top? Nah. But the adorable cookies at The Village Bakery make our list because they make kids say "Awwwww" every time they see them. And unlike most of the gorgeously decorated sugar cookies you can buy at chain coffee shops, these don't taste like cardboard. In fact, they're addictive. Which is great, because you'll want to come back and see what's new for every holiday. (Every occasion has amazing treats, but Halloween is when the bakery really goes all out.)

These 2 amazing desserts include edible money and cotton candy wigs. Photo courtesy of Barton G.
Outrageous LA Desserts that Defy Categorization
West Hollywood
Would you like a cotton candy wig? Or a dulce de leches s'mores tart served with a giant white chocolate dollar bill? How about a 4-foot-tall ice cream cone, served in a sandpit of graham crackers? All that, and more, is possible at this super special occasion restaurant that dazzles.
Highland Park and DTLA
These DIY donut flavors are bonkers, and kids delight in making crazy concoctions. Choose a base donut, a filling, a glaze, and toppings to create your wildest donut dreams. For the moment the DIY options are on hold, but the pre-selected creations are amazing. My little chocoholics like the Fudgegazi (donuts are named after bands), which is "a raised donut filled with chocolate cream, topped with chocolate glaze and chocolate chips." The options are endless and change frequently.
Sunset Strip and Orange
The most impressive thing on the menu is the Cotton Candy Carnival, but kids also go crazy for the giant roast your own S'mores platter. Both are literally bigger than your head. Of course, that's if you even leave room for dessert, because one of the drink options here is the Red Bear, which is lemonade, Sierra Mist, a mix of juices, and gummy bears. It's also your sugar allotment for a week.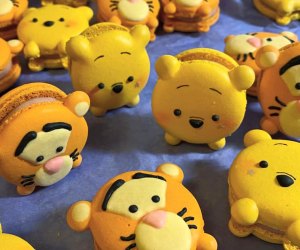 Macarons from the Hundred Acre Woods. Photo courtesy of VickiMacs
Playa del Rey
These macarons are custom made to order and come in the cutest animal shapes! Feeling like Pooh and Tiger? Or maybe like the cast of Frozen? There are also just adorable animals and the perfect design for any holiday and occasion.

Now that's a colorful dessert! Photo courtesy of B Sweet Dessert Bar
West LA
Ube coffee cake in neon purple and Cookie Monster Cake are incredible tasting color explosions, but the chef's specials are also out of this world. (Bantha Blue tres leches cake was for Star Wars Day, anyone?)
Mid-City and North Hollywood
All the retro treats here are delightful and delicious, but the one that's really entrancing for kids is the big, thick pop pies, which are homemade versions of the famous toaster pastry treats.

Those animal cookies are hand placed in each bar. Photo courtesy of Compartes Chocolate Bars
Available at the Compartes stores in Brentwood and Century City, and grocery stores everywhere!
Candy bars making the list? Yep, when each and every bar is made and decorated by hand in LA and comes in kid-pleasing, eye-popping flavors like Pink Elephants. That's a chocolate bar decorated with the iconic pink and white animal cookies and sprinkles.